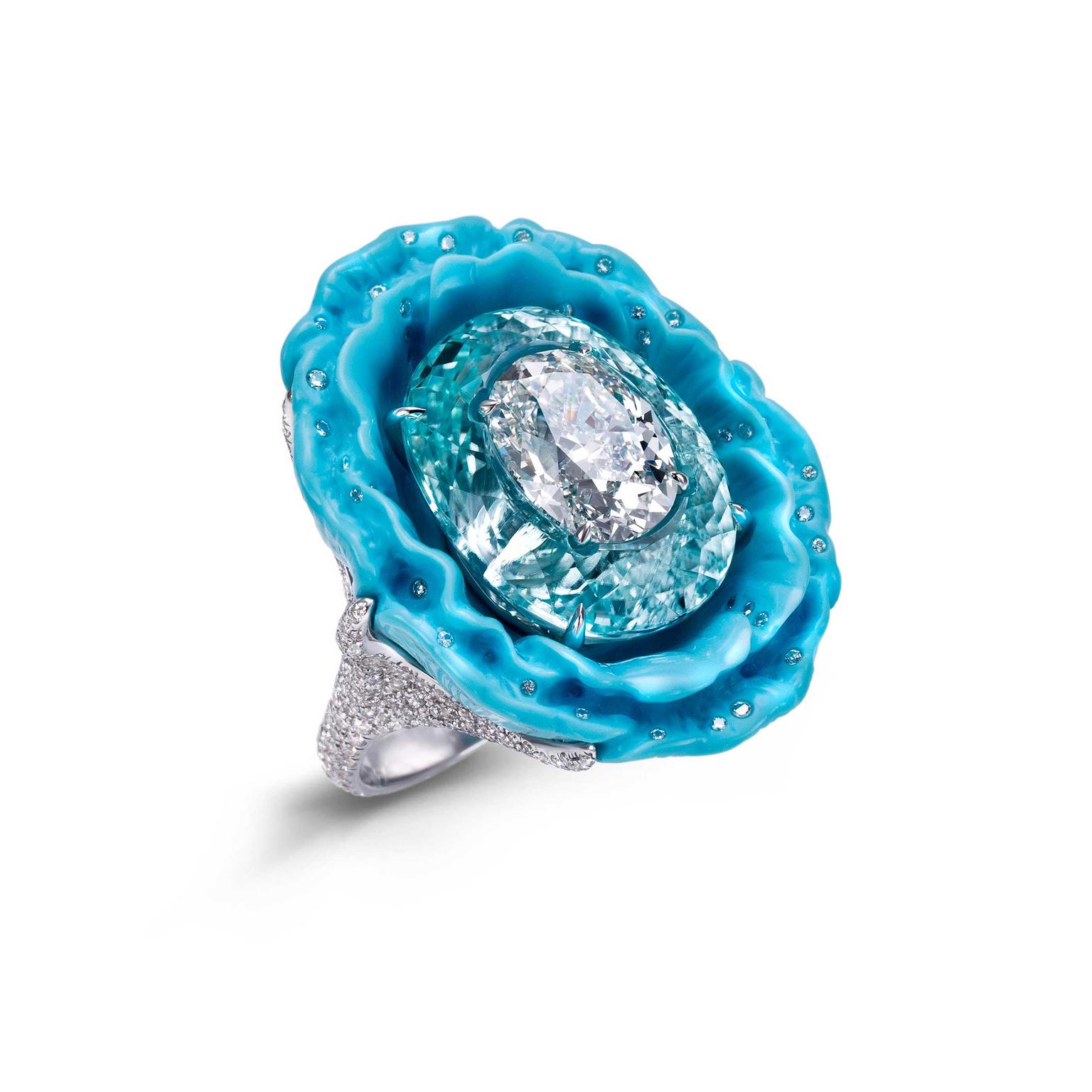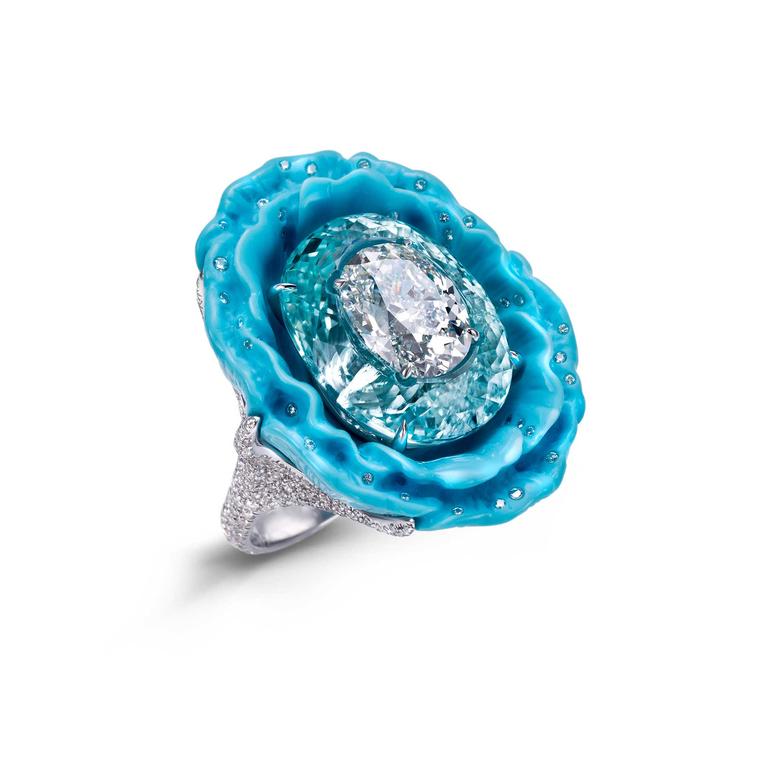 By Åse Anderson
With less than four months to go, I think it is safe to say that 2015 will always be synonymous with turquoise jewellery. If there were an accolade for gemstone of the year, this bright coloured beauty would easily be the front runner. There was scarcely a high jewellery collection this year that didn't incorporate turquoise in aquatic shades of green or blue, either on its own or combined with other gemstones.
Turquoise gets its name from the French for "Turkish stone" as the azure semi-precious gem was first transported from the central Asian mines to Europe via the bazaars of Istanbul. A perennial summer favourite, turquoise consists of a hydrous phosphate of copper and either aluminium or, in the case of stones mined in the US, chalcosiderite (iron), which results in a greeny colour. Pure blue turquoise is very rare and most stones found on the general market have dark veins running through them.
View more turquoise jewellery taking centre stage here
This year, the overriding high jewellery trend has been to combine smooth, opaque turquoise with other coloured gemstones in jewels brimming with energy and joie de vivre. The blue-on-blue effect is simply sublime in Boghossian Jewels' turquoise ring. Shaped like a flower, delicate turquoise petals, carved by hand, surround a 2.52ct oval-cut diamond set into a Paraiba tourmaline using the Swiss Maison's signature Art of Inlay technique.
These vibrant turquoise earrings that feature in Chopard's 2015 Red Carpet collection turned heads when Spanish actress Bianca Suarez wore them at this year's Cannes Film Festival. Swimming-pool blue turquoise sits alongside berry-hued rubellite, green tsavorites and white diamonds in what has to be one of this year's most memorable jewels.
Read more about the Chopard Red Carpet collection here
As one would expect from a brand renowned for its flamboyant creations, the de GRISOGONO Melody of Colour jewellery collection is a riot of contrasts, with violet amethysts emphasising the pale blue-green of the turquoise beads.
Inspired by the legendary silk route that took traders to the ancient cities of Venice and Samarkand, the new Piaget high jewellery collection is called Secrets & Lights - A Mythical Journey. An extraordinary collection from a Maison at the very pinnacle of creativity and craftsmanship, it recreates the vibrant colours and magnificent architecture of these two cities using the finest gemstones. Perfectly formed sky blue beads sit prettily on turquoise bracelets and rings, only to tumble down extravagantly on three-strand turquoise necklaces decorated with diamonds and emeralds.
In the new Van Cleef & Arpels high jewellery collection, entitled Seven Seas, a cascade of blue gemstones brings to life the constant movement and changing faces of the world's oceans. A majestic turquoise necklace with matching earrings recall the calm and luminously azure waters of the Adriatic sea, while the myriad shades of blue dancing across the Mediterranean are recreated in a turquoise bracelet set with lapis lazuli, pearls and diamonds.
Read more on turquoise jewellery
Tourmaline and rubellite earrings from the Chopard jewellery Red Carpet collection, set with 74 turquoises, 20 rubellites, diamonds and tsavorites.

Secrets and Lights ring from Piaget jewellery in white gold, set with a cushion-cut emerald, 12 marquise-cut diamonds, four turquoise beads, and 130 brilliant-cut diamonds.

Piaget jewellery launched its Secrets and Lights collection this summer, which includes this three-strand turquoise necklace and pink gold bracelet set with 105 marquise-cut diamonds, five turquoise beads, and 717 brilliant-cut diamonds.

Secrets and Lights necklace from Piaget jewellery in rose gold, set with a cushion-cut emerald, 84 marquise-cut diamonds, 208 turquoise beads, and 430 brilliant-cut diamonds.

This Van Cleef & Arpels turquoise necklace from the new Seven Seas high jewellery collection, with matching earrings, recalls the calm and luminously azure waters of the Adriatic Sea.

The varying shades of the Mediterranean come together in this Van Cleef & Arpels Rouleau Azur bracelet, set with lapis lazuli, turquoise, pearls and diamonds, from the new Seven Seas high jewellery collection.

Boghossian flower ring featuring an oval-shaped diamond inlaid into a Paraiba tourmaline, surrounded by carved turquoise petals.