By Beth Bernstein
As nature re-awakes our thoughts turn to flowers and the insects that inevitably accompany them. And of the most captivating insect to grace our skies, streams and meadows has to be the iridescent-winged dragonfly.  The delicate and ancient anispotera is one of the few creatures to move between water, land and air fascinating men and women for centuries and a constant source of inspiration to jewellers.
View more animal-inspired jewellery here
Throughout history, the symbolism of the dragonfly reflects its agile movements and its various abilities in nature. In certain cultures it is believed that dragonflies reflect change and transformations in life, specifically embracing change rather than fearing it, with the ability to handle whatever changes may occur.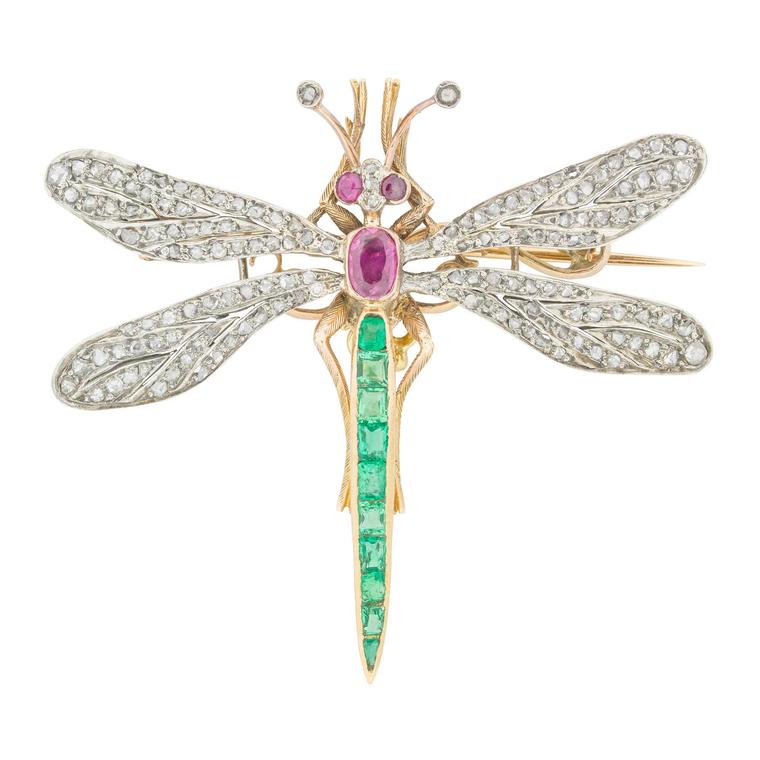 Just as every insect became a popular motif during the Victorian era, the dragonfly was no exception. Although many of the Victorian styles were beautiful in silhouette (above), they were crafted from gold and coloured gemstones and somewhat static. It wasn't until the Art Nouveau period (below), when the rebellious artistic forms of expression took hold, that dragonflies landed onto dresses, wrists and fingers with a new-found beauty. Both time periods were inspired by the Japanese paintings of dragonflies reflecting the ability of light and joy to shine through.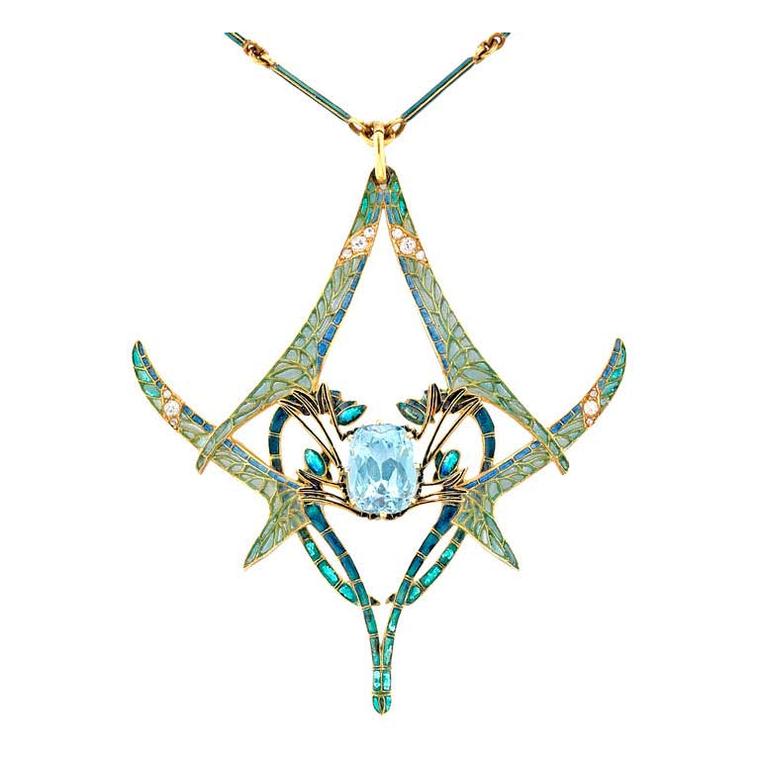 But as the artistic boundaries of Art Nouveau and its techniques were pushed, so the meaning of jewellery was reinterpreted. Revolutionary René Lalique led the movement, along with master jewellers such as Boucheron, Vever, Fouquet, Falize and Gaillard. All forms of nature became part of the language of this movement, with dragonflies and butterflies being highly characteristic.
The slight veins and subtleties of the wings lent themselves to the Plique-à-Jour method of enamelling, which recreated the iridescent wings with unwavering precision. The positioning of the wings seemed as though they were just hovering. The dragonfly embodied many of the themes that the Art Nouveau style evoked: nature; sensuality; metamorphosis from one physical form to another; and a more fantastical approach as in the case of Lalique's dragonflies turning into women.
Dragonflies as brooches made a comeback in the early 21st century, and are still a buzz today. Jewellers such as Lydia Courteille (above) have interpreted in meaningful and larger-than-life gem-set and enamelled pendants, rings and earrings, which can be worn as various ornaments - the nature of which gives a nod to the past and gives any woman a reason to desire rather than fear insects on her dress or in her hair.
Updated by Maria Doulton April 2018
View more antique brooches here
A La Vieille Russie Victorian dragonfly pin featuring an en tremblant diamond body with peridot and diamond wings, set in silver and gold, circa 1890.

Bentley & Skinner emerald, ruby and rose-cut diamond Victorian dragonfly brooch, with two pairs of pierced veined wings pavé set with rose-cut diamonds, silver set to a yellow gold mount, circa 1880.

Macklowe Gallery circa 1880 oxidised silver and 18ct gold dragonfly brooch with diamonds and sapphires. The brooch is designed in a three-dimensional motif with realistic engraved legs and antenna details.

Bentley & Skinner Art Nouveau René Lalique plique-à-jour dragonfly pendant with a cushion-shaped aquamarine.

J. Baptista early 20th century dragonfly brooch with naturalistic details in gold, baroque pearls, rubies and turquoises. Can also be worn as a pendant.

Linda Horn Art Nouveau dragonfly pin, attributed to Eugène Feuillâtre, mounted en tremblant, its wings detailed with Plique-à-Jour enamel and edged in rose-cut diamonds. Its head features green enamel eyes and a diamond. 

Shreve, Crump & Low 21st century platinum and 18ct yellow gold dragonfly earrings set with cabochon emeralds and full-cut diamond accents. 

Lydia Courteille heirloom of tomorrow ring of brown diamonds, green garnets, green turquoise and rubies set into oxidised gold.

Fred Leighton finely carved translucent white jade dragonfly brooch, studded with red spinel wings, centred upon a red spinel body and a diamond tail set in 18ct white gold.