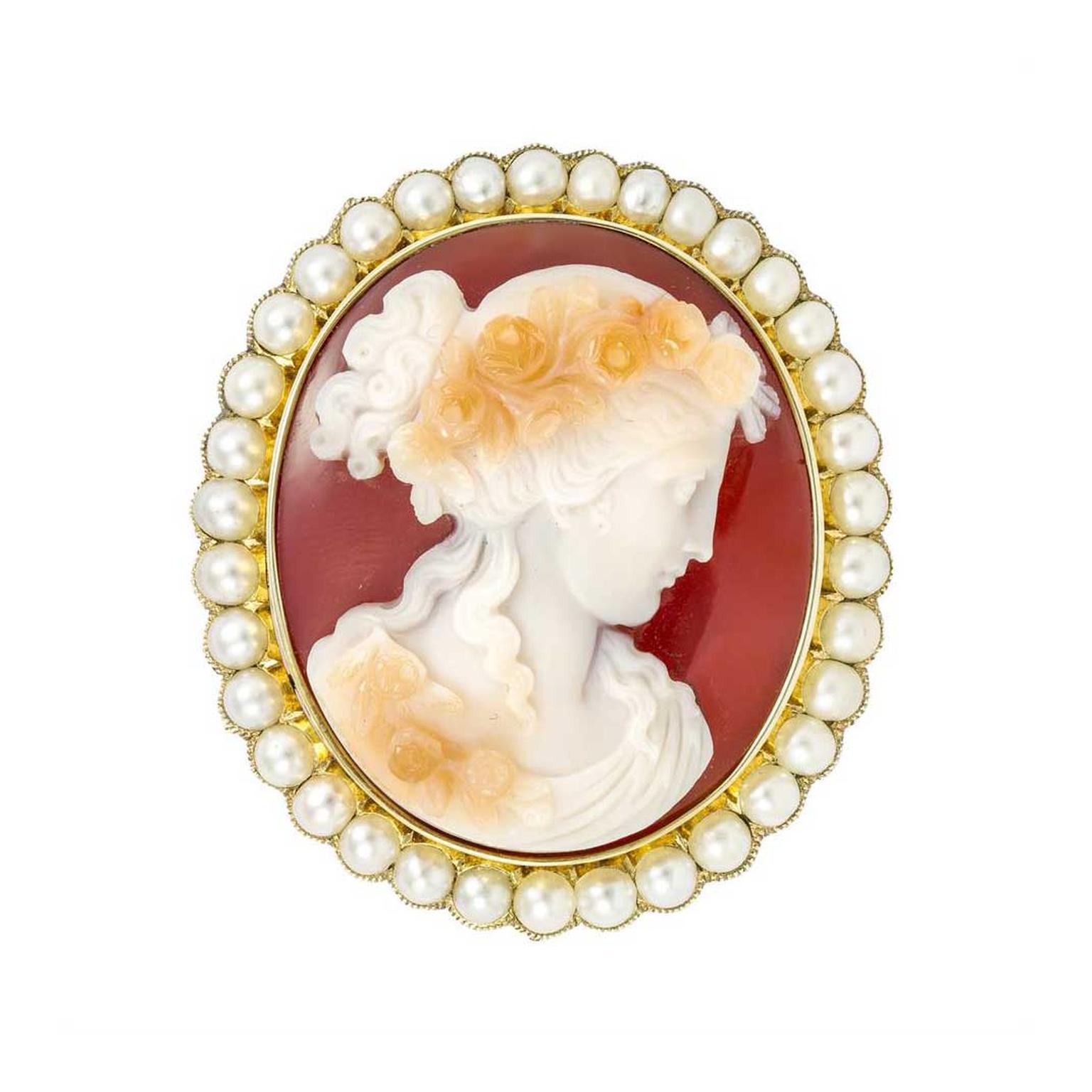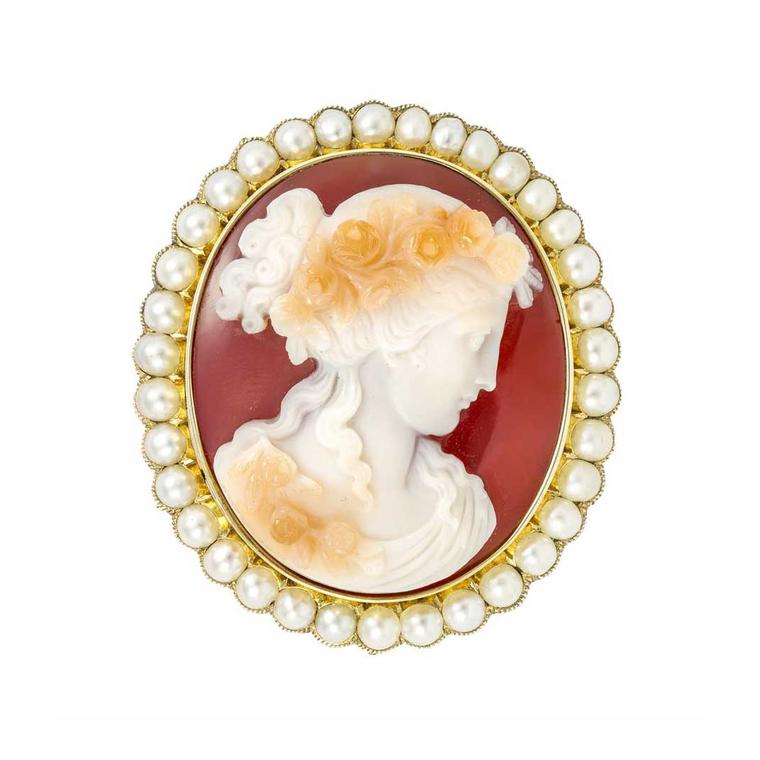 During the past few seasons I have spotted more and more brooches turning up on the runway and the red carpet. Worn in the hair, on the neckline and with deep v backs, pinned to the waist of a dress or gown or scattered over all styles of jackets, brooches are back on the fashion scene. Not only have they returned to recent high jewellery collections by Chanel, Boucheron, Chaumet and Chopard, they are once again on the mind of collectors, too, who are seeking out antique brooches of all types and descriptions. 
Cultural influences such as Queen Elizabeth II, below, who celebrated her 90th birthday this year and has a close affinity for brooches, and the new generation of women who think of jewellery as more than just bling, are shedding a new light on these adornments of the past. But brooches didn't start out as jewels. They began life as functional, utilitarian items that were used to secure pieces of clothing, like a loincloth. The first recorded brooches were made of thorns and flint, while pins crafted from metal date back to the Bronze Age.
Read all about the Queen's brooches.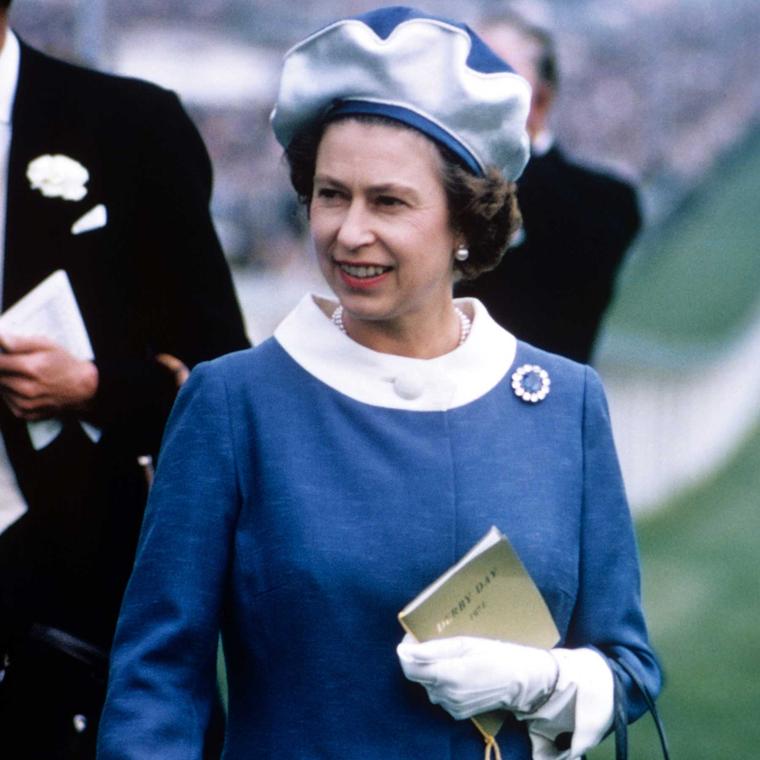 Although brooches became more ornamental during the Byzantine period, they were still most commonly worn as a fastener for a scarf or a shawl, which eventually evolved into more elaborate designs worn to accessorise rather than hold together the fashions of the day.
Whether you are interested in the style, the symbolism, the sentiment or all three, sit back and enjoy our retrospective of brooches through the ages.
Celtic brooches (or Viking brooches)
Utilised as cloak fasteners and worn by Celts and Vikings, the first Celtic brooches were seen in the Early Medieval period in Ireland and Britain and feature a long pin attached to a ring. The pin moves around the ring, which is open, allowing the pin to pass through without leaving a permanent hole in the clothing. In Viking times, brooches were worn everyday by both men and women, and were available with a diverse level of detailing.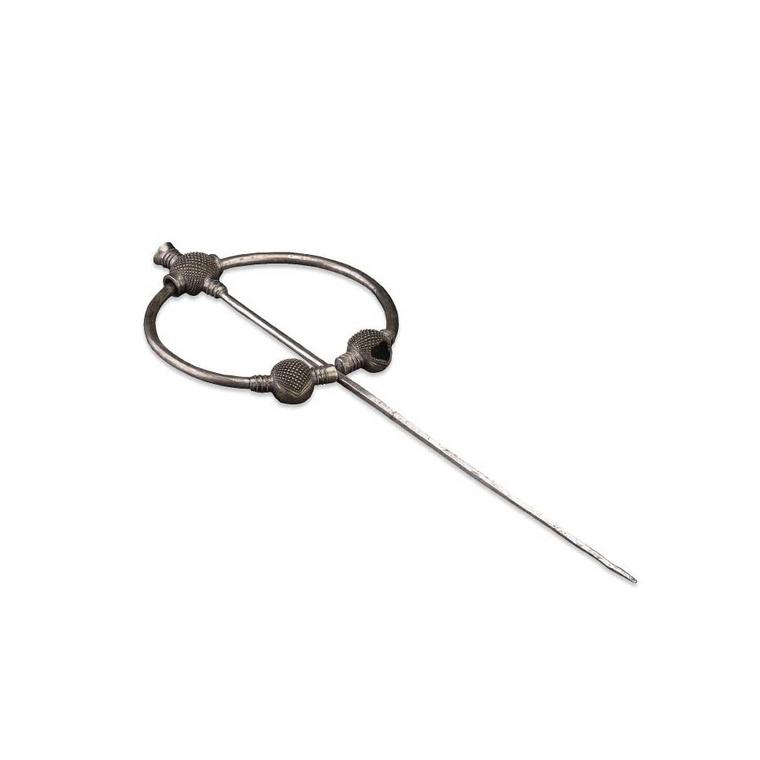 Mourning brooches
Like all forms of mourning jewellery, brooches were worn after a bereavement and to commemorate loved-ones that had passed before. Although mourning jewellery had been around since the 16th century, mourning brooches took on various designs and details during the height of their popularity in the 18th and 19th centuries. In early Georgian times, they were often a provision in wills, to be distributed to esteemed family and friends. In the late 18th century, mourning miniatures came into vogue. These navette and oval-shaped brooches under glass, like the one below, depicted sepia scenes of sorrow, mounted on ivory, and often incorporated hair and seed pearls (representative of tears). They were inscribed with the name and date of birth and death of the deceased on the back and sometimes had a compartment for hair.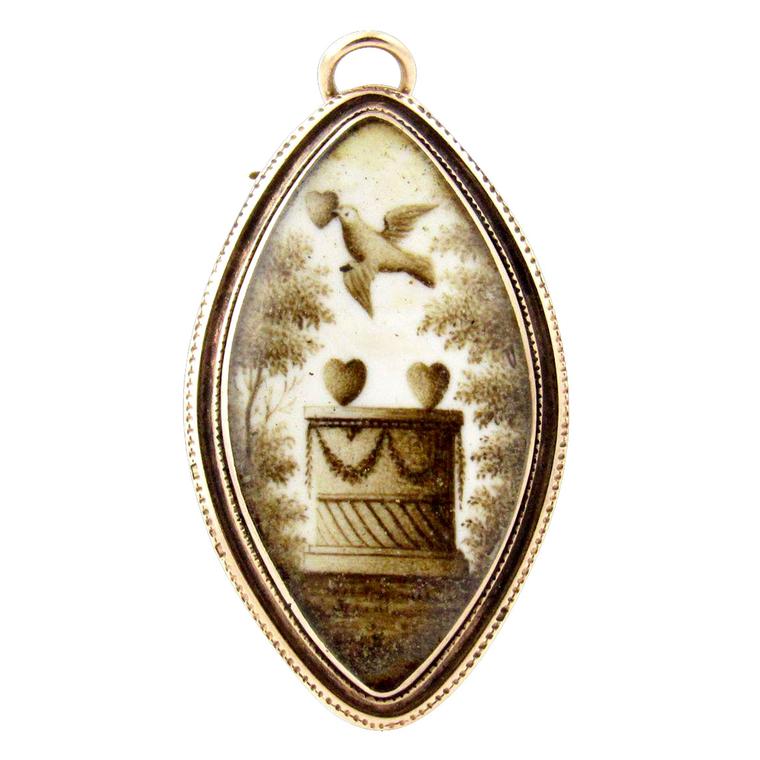 The other, most widely recognised, form of mourning brooch is one containing the hair of a lost loved-one. Although not all hair jewellery is a memento of death, in this context, hair is woven under crystal or glass, with designs that represent eternity and stones that represent loss and tears.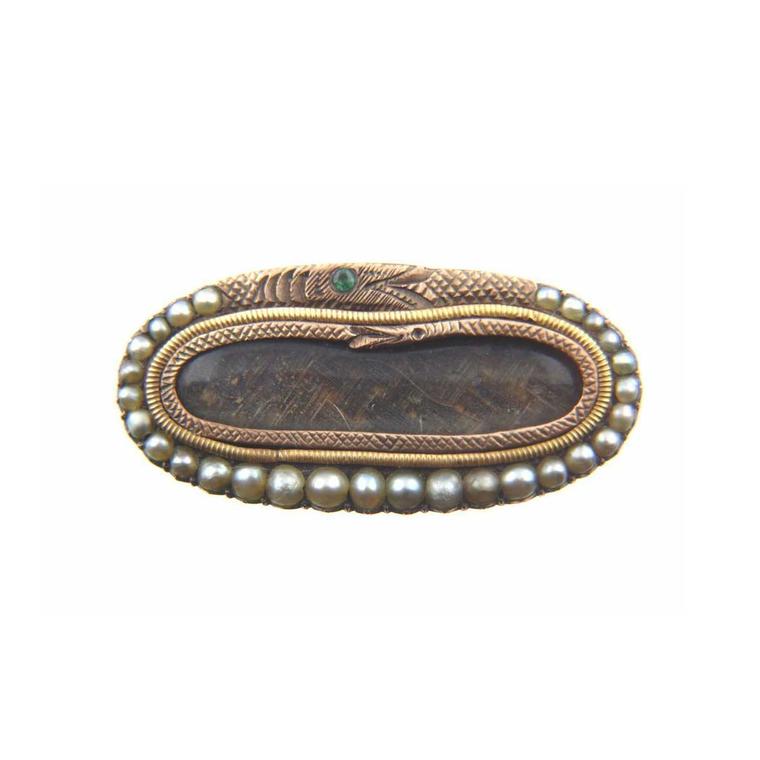 Mourning brooches are most widely associated with Queen Victoria's two-decade-long mourning of Prince Albert. During the Queen's mourning, hair brooches as well as black jewellery of Whitby Jet, vulcanite and other black fabricated and natural stones provided the materials for brooches in various sentimental motifs.
Aigrette brooches
Feather-shaped and set with flat-cut garnets or diamonds in silver or silver-topped gold, the aigrette was the height of fashion during the 17th and 18th centuries and once again in the 19th and 20th centuries. Worn in the hair and often attached to a diadem, aigrette brooches were often very detailed, with tiny birds flying around the plume.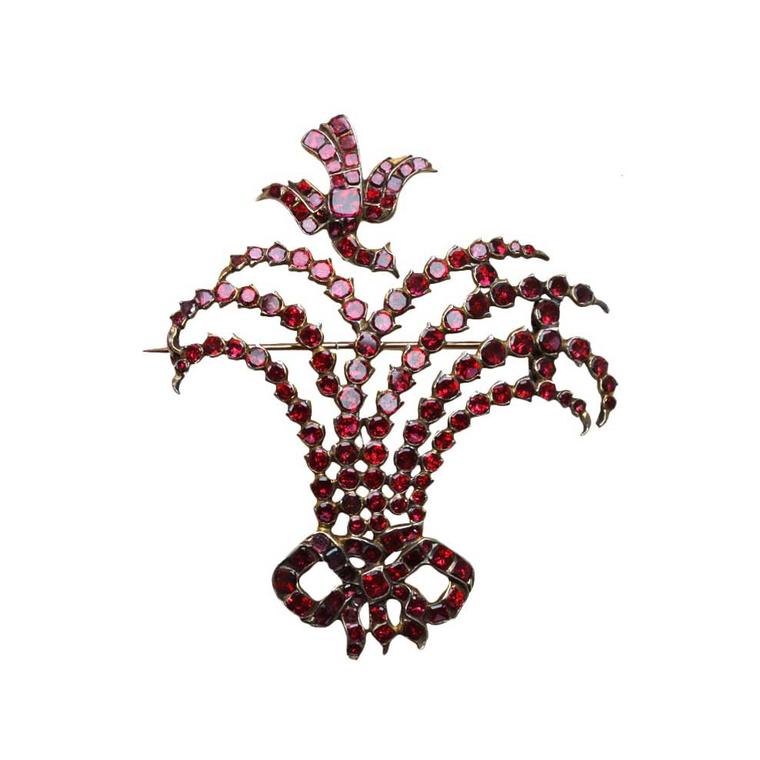 En tremblant brooches
En tremblant is a French term meaning to tremble and defines a type of brooch, most often a floral spray, where the centre of the flower is attached to a mechanism that allows it to move when worn. These types of brooches were set with rose-cut or old-mine cut diamonds, or both, and were fashionable in the 18th and 19th century, before the advent of electricity. The trembling effect was most striking when the diamonds moved in candlelight.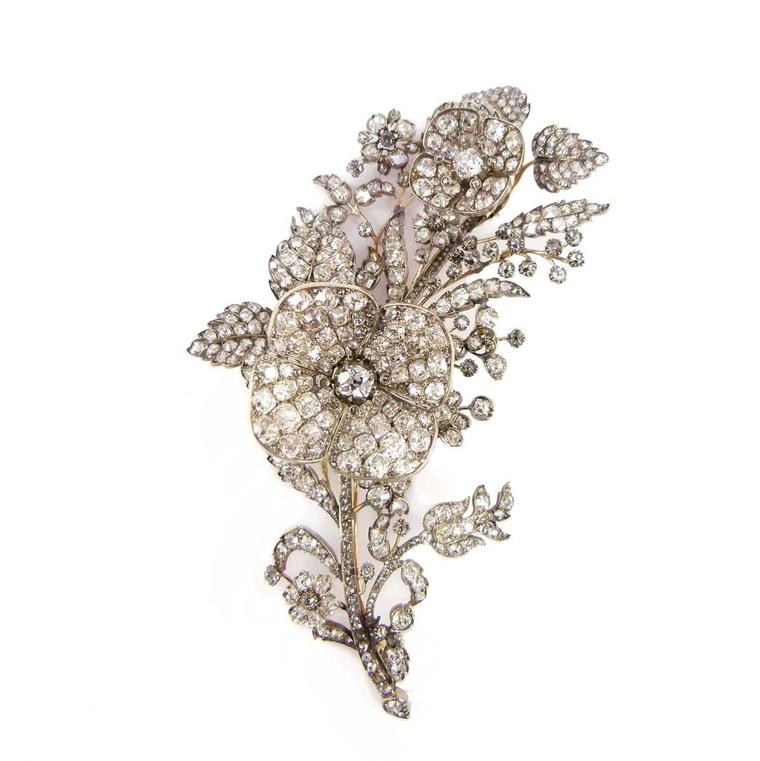 Grand tour brooches
To reflect cultural sophistication in the latter part of the 19th century, the Grand Tour was the standard European vacation for the upper classes. While travelling through Venice, Florence and Rome, tourists bought these small jewellery souvenirs of their trip, the subject of which included ancient Roman architecture and pictorial scenes, flowers, animals and birds.
Grand tour brooches were predominately depicted in two types of mosaic inlays, pietra dura and glass tessera. Pietra dura, in Italian, means hard stone, and the inlay process involved precisely cutting and fitting like a puzzle semi-precious stones of malachite, lapis, aventurine and turquoise to create scenes or motifs on a black background. The micro mosaic technique was used to create landscapes, birds and all styles of flowers and floral bouquets in miniature, crafted from inlaid glass tessera or rods fitted closely together.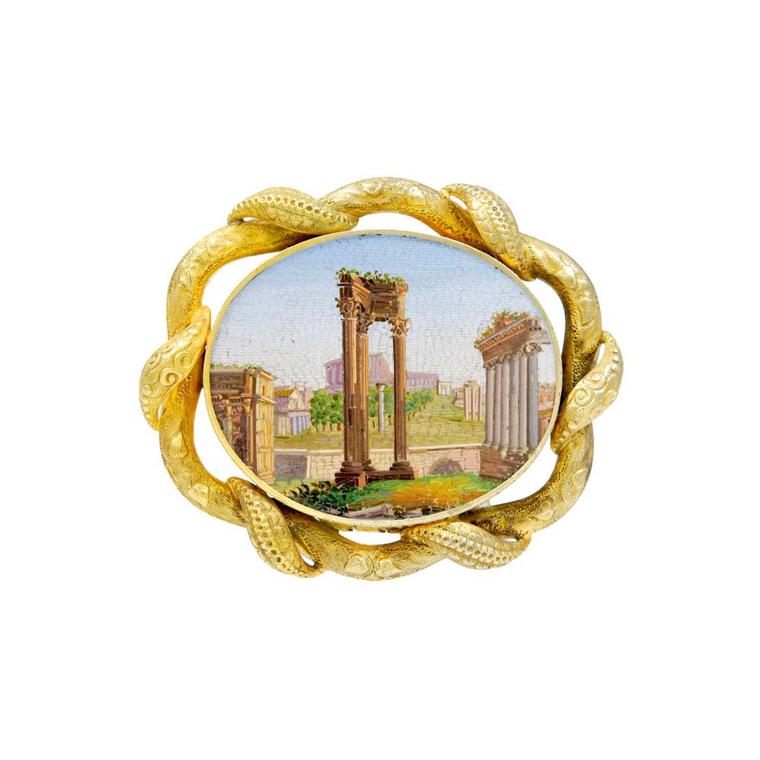 Cameo brooches
Although cameos - hard stone and shell carved in relief - date back to ancient times, they also formed part of the souvenirs of the Grand Tour. Many associate cameo brooches with Queen Victoria, who had a deep fondness for them and would often bestow a gift of a likeness of Prince Albert or herself on members of the court and staff. But the most alluring cameo brooches through time depict a narrative – legends, mythological scenes or gods and goddesses. The best examples, in which you can see and feel the layers of the stone that has been carved, were made from hard stone.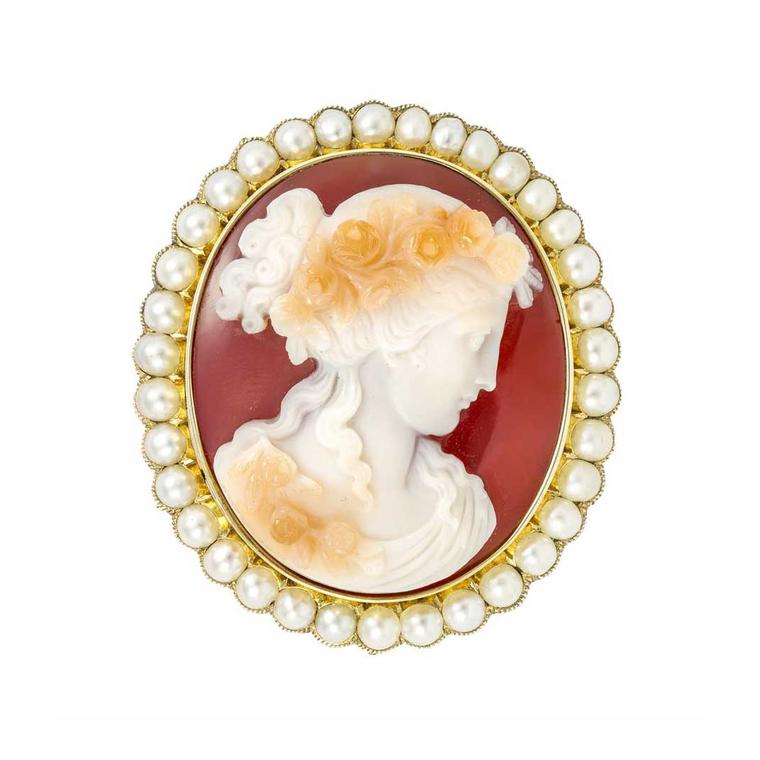 Love brooches (or sweetheart brooches)
These were sometimes called 'sweetheart brooches', but historically there was another type of sweetheart brooch – those that were given by soldiers to their loved-ones as they marched off to WWI.  The love brooches of the late Victorian aesthetic period were crafted from sheets of silver and designed as tokens of affection, with motifs and messages first seen in the sentimental jewellery of the Georgian and Romantic period in the Victorian Era.
Due to the fact that they were lightweight and crafted in silver, with overlays of rose and yellow gold, almost all social classes could own or gift these lovely little keepsakes. Decorated with everything from lovebirds and double hearts to well wishes, good tidings and positions in the family, these brooches captured the passions of prior times and allowed the masses to experience the romance of giving or receiving them.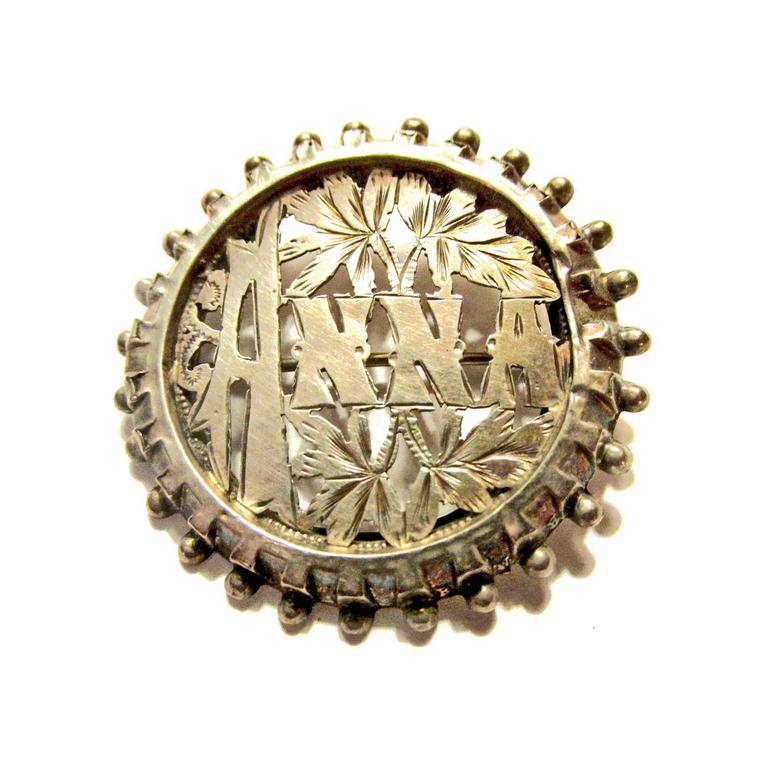 Dress clips
The dress clip was a savvy design that was worn with the new style of fashion during the 1920s and 1930s. Interchangeable in that they could be worn in more than one way, they would start out as one large brooch, with a mechanism in the back that meant they could be detached and worn as two separate clips.
Pinned to the straps of gowns, the left and right necklines of dresses, collars and cuffs, they could also be fixed to accessories such as shoes or even, carefully and when split up, attached to a handbag. Many of the early Deco clips were designed in white diamonds and platinum, but as demand for them grew, they were often set with other precious gems.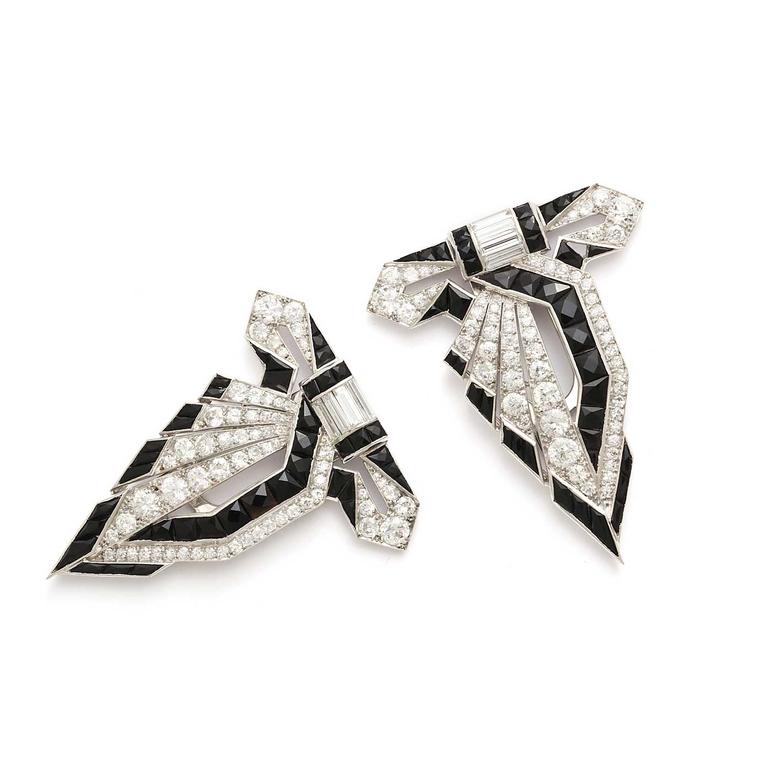 Throughout the 20th century Cartier, Van Cleef & Arpels, David Webb, Verdura, Tiffany & Co. and many of the renowned houses designed a range of different styles of brooches. There were also famous styles such as the Schlumberger dolphin brooch, which Richard Burton bought for Elizabeth Taylor for the opening of Night of the Iguana. A passionate collector of jewellery, she also purchased the Duchess of Windsor's Prince of Wales Insignia brooch at Sotheby's sale, after the Duchess passed away. She and Burton admired it while lunching with the Duke and Duchess, and Taylor felt a kinship to it since her great love, Burton, was Welsh.
During the Met Gala in NYC this year, Uma Thurman wore the large vintage Birds of Paradise brooch designed by Cartier in 1948. Although it has been shown at many exhibitions, it was the brooch's first red carpet appearance.
There are many more historical and legendary styles to discover and purchase.  Why not trying and pin down the right style for you. 
Silver penannular Celtic brooch with ball-shaped pin-head discovered in Cumbria, England, dating from the early 10th century. Image: British Museum

Zestful Vintage's Sepia miniature mourning brooch in rose gold.

Vivien's Treasure Wonderland's Victorian 15 carat eternity hair encased mourning brooch with seed pearls.

Kunsthandel Inez Stodel's silver gilt and flat-cut garnet aigrette.

S.J. Phillips en tremblant antique floral spray and diamond brooch in silver on top of gold.

The Spare Room Antiques' Grand Tour micro mosaic brooch of the forum in Rome.

The Spare Room Anna sterling love brooch, circa 1880.

A La Vieille Russie's Art Deco double clip brooch in diamond, onyx and platinum.

The Queen on Derby Day at Royal Epsom in 1971 wearing the historic Prince Albert brooch. Image: Brian Moody/Rex/Shutterstock

Bentley & Skinner's Victorian hard stone cameo with pearl surround.