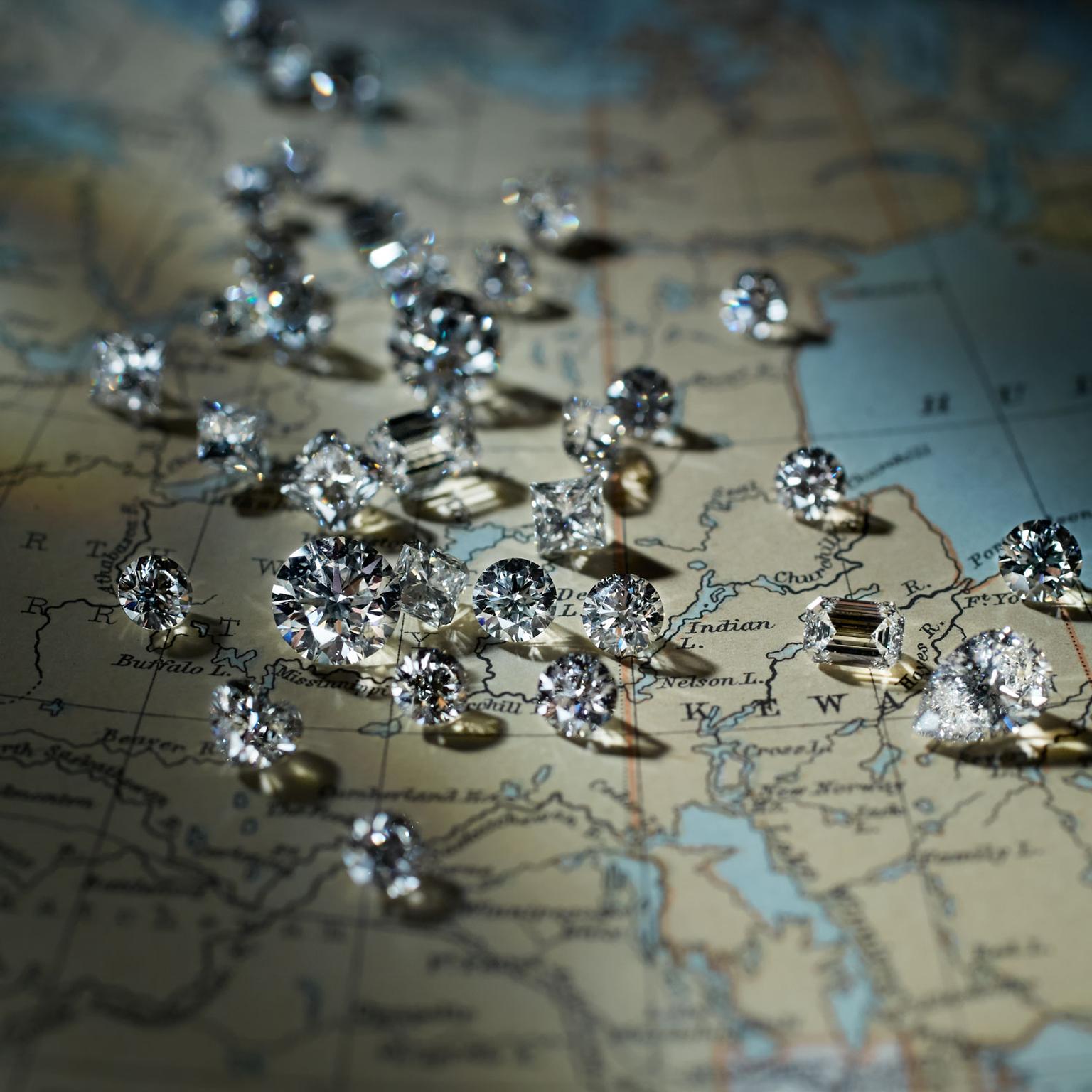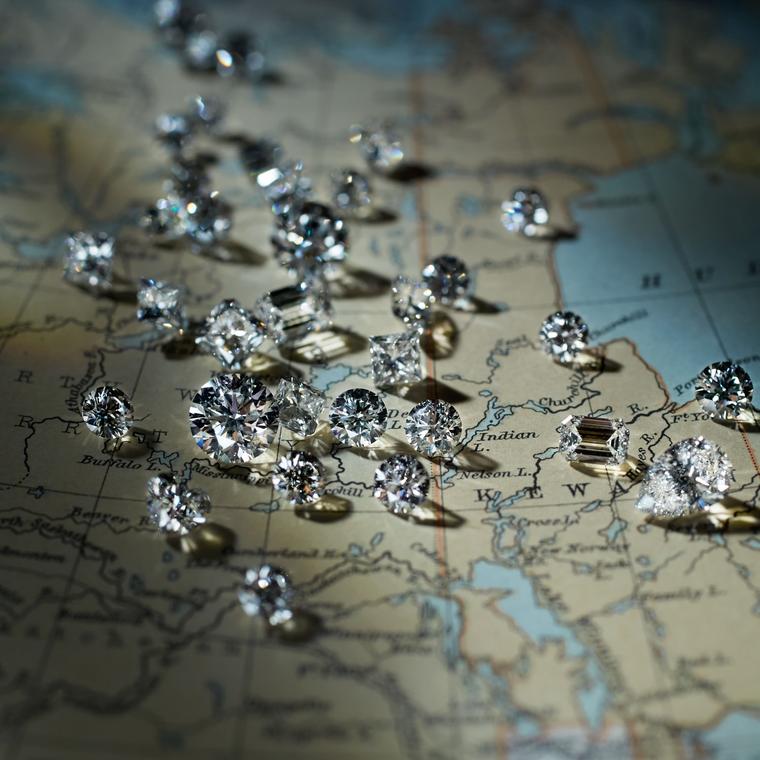 Canadian diamonds are sought-after all over the world for their conflict-free origins. They also have a slightly different atomic structure to other diamonds, with fewer internal irregularities, which allows a better flow of light through the stones. It is certainly fitting that this vast white landscape is now synonymous with the world's purest gems, but when were they discovered, where are they mined and can they be marketed as the truly 'green' choice?
How were Canadian diamonds discovered?
Diamonds were first found in Canada in 1991 at Point Lake in the Northwest Territories (NWT), around 300km northeast of Yellowknife, when geologist Chuck Fipke discovered evidence of diamond-bearing kimberlite pipes. Those initial deposits turned into Canada's first diamond mine, Ekati, and made Fipke a very wealthy man. He retained a 10% stake in Ekati until 2014, when he sold it for an estimated $67 million to Dominion Diamond Corporation.
The gemstones that Fipke found may not have been unearthed until the 20th century, but they formed billions of years ago in rocks called cratons, which stretch across the surface of almost half of Canada's land mass. The 1991 discovery unleashed a major mineral rush as thousands of prospectors descended on Canada to try their luck.
In the ensuing decade, there were more findings of diamond deposits in the Northwestern Territories, Ontario and Nunavut. Canada is now the world's third-largest diamond-producing country in terms of value and the fifth largest by volume, accounting for just under 10% of global diamond production in 2015.
Where are Canadian diamonds mined?
In 1998, the Ekati mine became the first mine to open in Canada. Today, the mine is operated by Dominion Diamond Corporation, which also owns 40% of the Diavik mine. With an estimated lifespan of 20 years, Ekati's supply of gem-quality diamonds is expected to be depleted by 2020, but Dominion is hoping to develop a new open-pit operation nearby.
It was followed in 2003 by the opening of the Diavik mine, below, located 35km southeast of Ekati, on a small island in Lac de Gras. The majority owner with a 60% stake is Rio Tinto, which operates the mine through a joint arrangement with Dominion. Diavik is Canada's largest mine in terms of production, with between 6 and 7 million carats of diamonds produced each year. Like Ekati, Diavik was initially an open-pit mine, but production moved underground four years ago. Rio Tinto is currently developing a fourth pipe at Diavik, which is due to start production in 2018, using open-pit mining methods.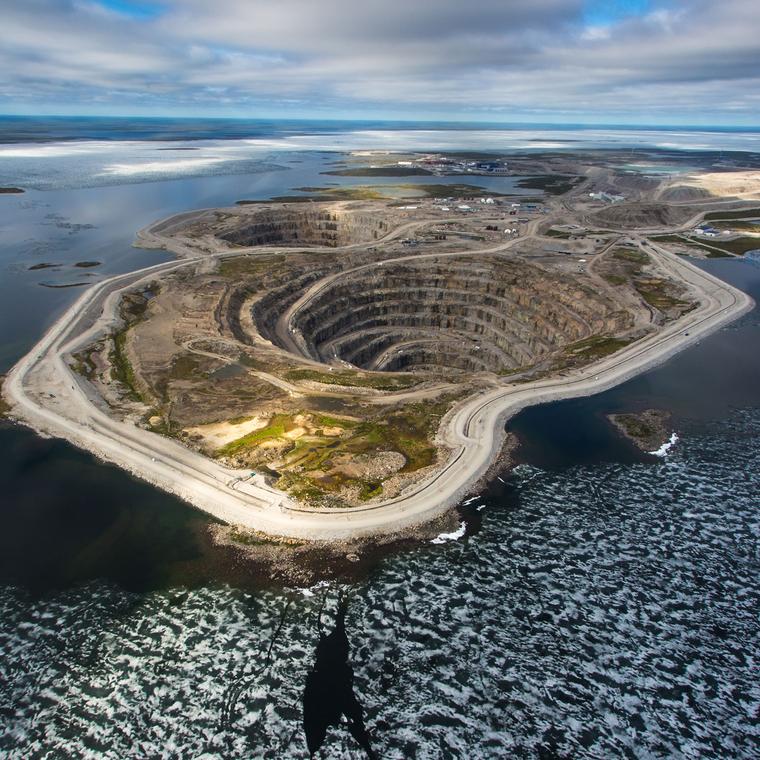 In 2006, a Canadian diamond mining company called Tahera started production at the Jericho mine in Nunavut but fell into financial difficulties a year later. The Jericho mine has been dormant since 2008, although there was a short-lived attempt to revive it in 2012.
Diamond giant De Beers began operating two Canadian diamond mines, the Victor Mine, below, in Ontario and Snap Lake in the Northwest Territories (NWT), in 2008. The latter was shut last year after 'operational problems' but a third De Beers mine, Gahcho Kué opened in NWT this month. Located around 280km northeast of Yellowknife in NWT, Gahcho Kué is expected to produce around 54 million carats over the mine's estimated 12-year lifespan.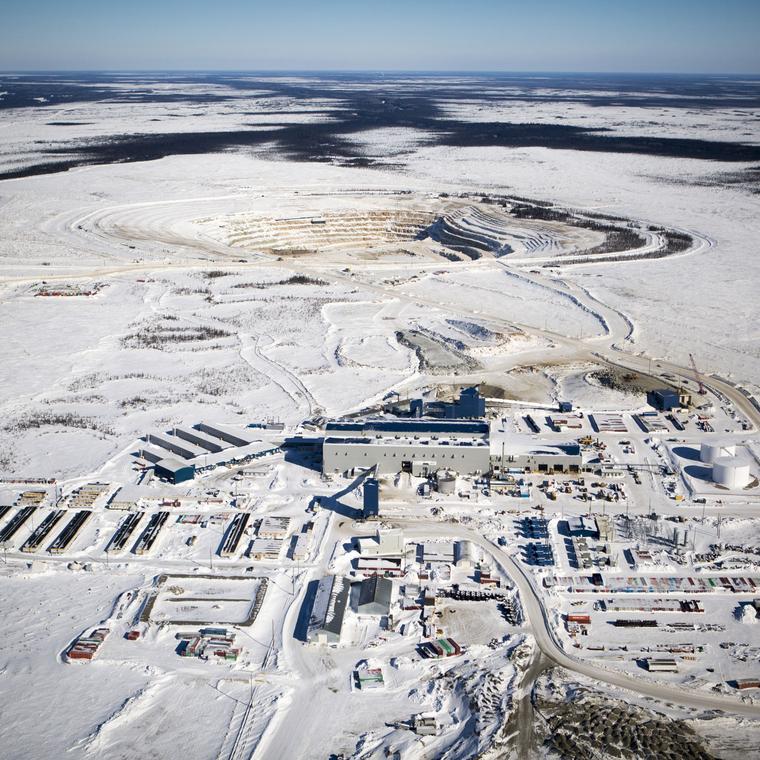 Vast parts of Canada are still under-explored, and De Beers has pledged to spend up to C$20.4 million on exploring potential mineral-rich areas identified by CanAlaska. The diamond company is also in negotiation with local communities to gain support for a proposal to extend the life of the Victor mine beyond 2018.
How are Canadian diamonds mined?
Mining in the remote Northwest Territories is a huge challenge because the area is surrounded by lakes and there are no roads to transport workers, equipment and supplies. With temperatures dropping to -45 in the winter, an ice road is built every year that operates for around six to ten weeks between January and March. With no nearby towns or settlements, the mines also need to provide housing and facilities for their employees, who travel in for shifts that can last for weeks.  Bruno Sane, General Manager Marketing for Rio Tinto Diamonds, says: "The [Diavik] mine is situated in a continuous permafrost zone, 100 kilometres north of the tree line – the latitude above which trees cannot survive the cold temperatures." The 400km ice road leading to De Beers' Victor mine in Toronto also has to be built each winter and remains operational for around six weeks of the year.
As the open-pit mines have been depleted, companies have been forced to move production underground, which extends the life of the mine but is more expensive and comes with its own set of challenges. At Snap Lake underground mine, ground water seepage forced the mine to close and be placed on an indefinite care and maintenance programme. To enable underwater mining at Diavik, a 3.9km dike has been constructed using six million tonnes of rocks to hold back the water from the 60 km long Lac de Gras. The dike is wired with sensors that monitor temperature, pressure and movement to ensure it stays in place through all mining operations and weather conditions.
Are all Canadian diamonds conflict free and ethical?
With the 'blood' prefix tainting the reputation of the world's most precious gemstone, Canadian diamonds have emerged as a squeaky-clean option for the ethically conscious consumer. As there are no wars or armed conflicts taking place in Canada, it is safe to say that all diamonds mined in the country are conflict free.
There are also stringent rules in place regarding Canadian mines and their effects on local communities, the environment and wildlife. Before any company can begin mining in Canada, it must calculate the impact on vegetation, air and water quality, and local wildlife sustainability, as well as the social and economic implications. Bruce Sane says: "Surrounded by one of the world's most untouched and sensitive ecosystems, the employees of the Diavik mine take their environmental responsibilities very seriously. Water, air, plant life and wildlife are all assessed for any potential effects from the mine."
Via agreements with the local communities, Aboriginal people typically account for around 40 per cent of the Canadian mining workforce. According to De Beers, its new Gahcho Kué mine will create nearly 1,200 jobs annually within the NWT and make a C$6.7 billion contribution to Canada as a whole. In its latest Socio-Economic Impact Report, the diamond company reiterates its commitment to maximise the benefits that flow from its activities to the communities in which it operates.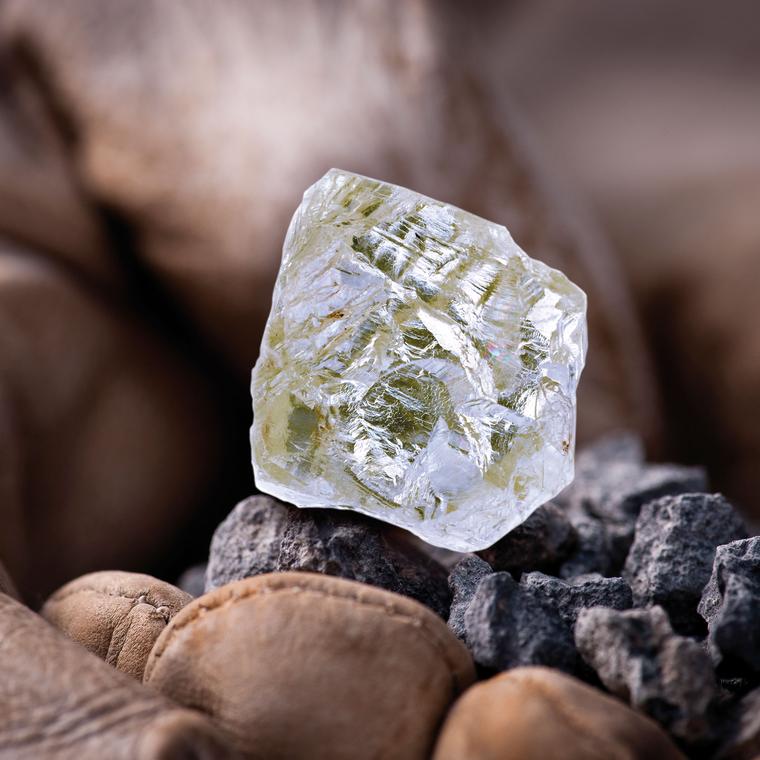 Tim Ingle, one half of UK-based ethical jeweller Ingle & Rhode, says that while the Canadian employment law, health and safety standards, and environmental legislation, ensure that the diamonds are mined in a responsible manner, this is only one part of the equation: "One area that consumers need to check is where the diamonds are cut and polished, and whether this is being done in an ethical way, for example without the use of sweatshops or child labour."
By its very nature, diamond mining will never be a completely 'green' industry as creating huge open pits in a previously untouched landscape will always have implications. As renowned environmental activist and ethical jeweller Greg Valerio puts it: "We have to be very careful with the ethical narrative. No large-scale mine is ethical – it is just best practice and staying within the legal parameters."
While the prospect of an independently certified Fairtrade diamond equivalent to Fairtrade gold remains but a pipe dream, Valerio does concede that the Canadian framework is the best the industry has to offer at the moment. "I'd give it 7.5 out of 10," he says, adding that the flip side of promoting Canadian diamonds as a better and more ethical choice for consumers is that it diverts funds from artisanal miners in developing African countries that badly need the investment.
Where are Canadian diamonds cut and polished?
Just because a diamond was mined it Canada does not mean it was cut and polished locally. The diamond-cutting industry in Canada is still relatively small so most rough Canadian diamonds are shipped overseas to be sold and cut in countries such as Israel, India, Belgium and Vietnam.
Evert P. Botha, Chief Operating Officer of Embee Diamonds, a family-owned diamond cutting and polishing atelier in Prince Albert, Saskatchewan, says: "Only a fraction of Canadian diamonds can be marketed as 100% Canadian – mined, cut and polished in Canada." Embee Diamonds is the creator of the Sirius Star brand, which is sold under the banner 'the world's brightest diamond' and comes with a certificate confirming its Canadian pedigree.
Around 10% of rough gem-quality stones are cut and polished in NWT as part of an agreement between the mines and the Government of the Northwestern Territories. These diamonds are manufactured by Crossworks, a subsidiary of HRA, which has factories in Yellowknife and Sudbury. At the moment, HRA is the only diamond company in the world that specialises in cutting, polishing and selling Canadian diamonds. It operates a programme called Canadian Rocks that supplies Canadian retailers with diamonds that are often sold under their own brand names. The Sudbury factory also cuts diamonds from the De Beers-owned Victor mine, which are marketed under the brand name Victor diamonds and accompanied by a certificate of authenticity from the Government of Ontario. HRA is also helping to grow the local diamond industry by supporting the Georgian College Jeweller and Metals programme in Ontario through scholarships and other awards.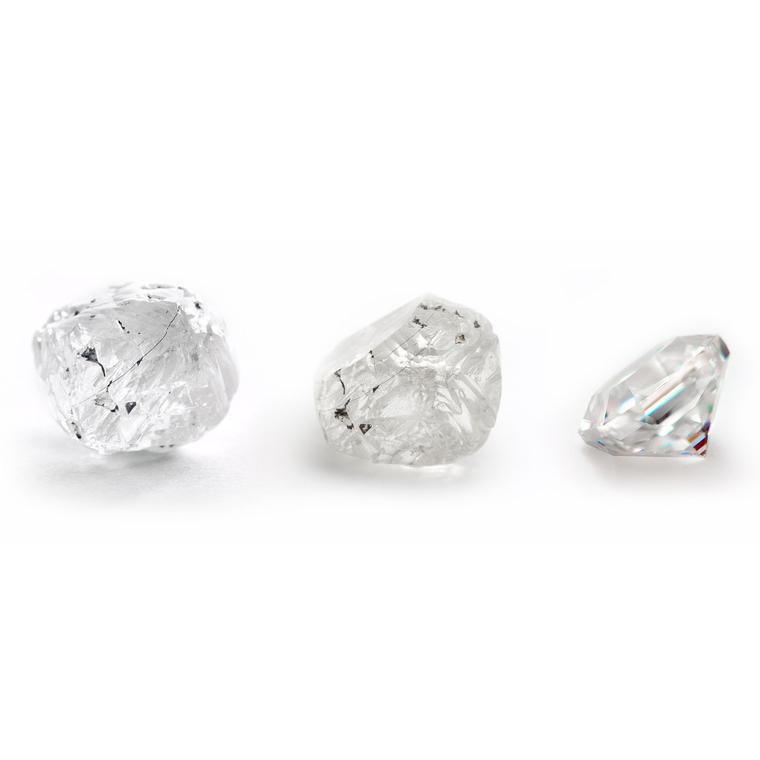 Greg Valerio says that he only buys Canadian diamonds that are from a fully integrated supply chain – meaning the diamonds have been mined, cut and polished in Canada – but this is often only possible with larger diamonds of 20 points and above. Ingle & Rhode also uses Canadian diamonds from the Ekati and Diavik mines, which are mostly cut and polished in India. Tim Ingle says: "We source the vast majority of our diamonds directly from the manufacturers, who cut and polish the stones, meaning that we have complete visibility of the whole supply chain. We know which mines the stones come from, and we know that they are being processed in modern, high-tech facilities that are run in a responsible and professional manner."
Are all Canadian diamonds marked?
With the 2006 film Blood Diamonds highlighting a small but darkly disturbing side of the mining industry, the provenance of a diamond is becoming an increasingly important selling point. Buying an engagement ring should be a 'feel-good' purchase, and ethically savvy consumers are often reassured to find that a Canadian diamond ring comes with a laser inscription and 'birth certificate'. Greg Valerio says: "The way we grade diamonds on the basis of the 4 Cs has always been skewed against traceability. The Canadians have been very successful in differentiating themselves on the basis of provenance."
Not all Canadian diamonds are marked, but there are a number of programmes that offer a mine-to-market custody chain to provide assurance that the diamond has been ethically sourced in Canada and processed by approved manufacturers.
The Canadian Diamond Code of Conduct is a voluntary scheme set up in 2002 that assigns an identification number and code certificate to each polished diamond that is sold as 'Canadian'. All the Canadian diamond mines are members, together with a large number of Canadian wholesalers, distributors and retailers. If a consumer buys a diamond from a retailer that abides by the code, the gem can be traced all the way back to the Canadian mine where it originated.
With rough diamonds that are shipped overseas, the process is slightly different. Each parcel is marked with a serial number to identify the mine of origin and, depending on their size, some stones are inscribed with a unique code. However, if the parcels are split up and mixed in with diamonds from other sources or larger gems are cut into smaller stones, the tracking of individual diamonds becomes extremely difficult.
The NWT Government stipulates that all diamonds that are cut by HRA in the Northwest Territories are laser inscribed with a maple leaf and an identification number to offer peace of mind to buyers. As well as producing the aforementioned Victor Diamond, HRA is also the exclusive supplier of Forevermark diamonds, which launched in Canada in 2012 through 22 selected retailers. While all four Canadian mines are approved Forevermark sources, the De Beers-owned diamond brand does not market its gems as 'Canadian'. "At Forevermark we guarantee that our diamonds are sourced from a select few mines - meticulously chosen for their rigorous business, social and environmental standards - but we don't specify the origin of the individual diamonds," says Lisa Levinson, country manager for Forevermark in the UK and Ireland. She adds that more than a fifth of engagement-ring buyers in the US think that responsible sourcing is important, and this number is likely to be even higher among younger generations. "Consumers receive great comfort from knowing that each Forevermark diamond benefits the community from which it originates."
Rio Tinto keeps all its diamond productions separate and works with a number of selected diamantaires to provide a comprehensive tracking system for Diavik diamonds. Dominion Diamond Corporation also has its own diamond certification scheme, CanadaMark, which encompasses stones mined in the Ekati and Diavik mines. While these diamonds may be cut and polished outside Canada, they are laser marked and rigorously tracked at every stage of the process, from the original mine right through to the retailer.
Where can you buy Canadian diamonds?
For some jewellery brands, 'Canadian' has become a fifth 'C' to add to the traditional quartet of carat, clarity, cut and colour. The Canadian Diamond Code of Conduct website has a long list of jewellers, mainly based in Canada, who sell certified Canadian diamond jewellery. In the UK, Ingle & Rhode, Cred and Valerio Jewellery all use Canadian diamonds that carry a full birth certificate and can be traced back to the original mine. As the original founder of Cred, Greg Valerio set up his eponymous jewellery brand at the end of last year, offering ethical bridal jewellery as well as a bespoke service.
Arctic Circle, another Canadian diamond brand owned by HRA, relaunched in the UK last year after being licensed to You Fine Jewellery. Each piece of Arctic Circle jewellery is crafted in Birmingham using Fairtrade gold and, of course, set exclusively with fully certified Canadian diamonds. With the motto 'It's Cool to Care', the brand recently teamed up with British designer Sarah Jordan to launch the contemporary Northern Lights collection.
Are Canadian diamonds more expensive than other diamonds?
It is true that Canadian diamonds are often slightly more expensive than a diamond of a similar size and quality from another country. However, whether or not this premium is passed on to the end consumer is up to the individual jewellers. For brands that put ethics at the heart of their business, it is a small price to pay to be able to offer clients a fully traceable and guaranteed conflict-free diamond. Alan Crampton, director of Cred Jewellery, which sources its diamonds from the Ekati and Diavik mines through the aforementioned CanadaMark scheme, says: "Yes, [Canadian diamonds] are about 10% more expensive but they are worth every penny."
An aerial view of the Diavik diamond mine in Canada, 220km south of the Arctic Circle.

Diavik was initially an open-pit mine, but production moved underground four years ago.

An aerial image of De Beers' Victor mine in Ontario, Canada, which it began operating in 2008.

Named the Diavik Foxfire, this 187.70 carat rough diamond - the largest ever discovered in North America - was unearthed at the Diavik mine in December 2015.

At 12.08 carats, this Forevermark Exceptional diamond is the largest diamond ever to be mined, cut and polished in Canada.

Canada is now the world's third-largest diamond-producing country in terms of value and the fifth largest by volume.