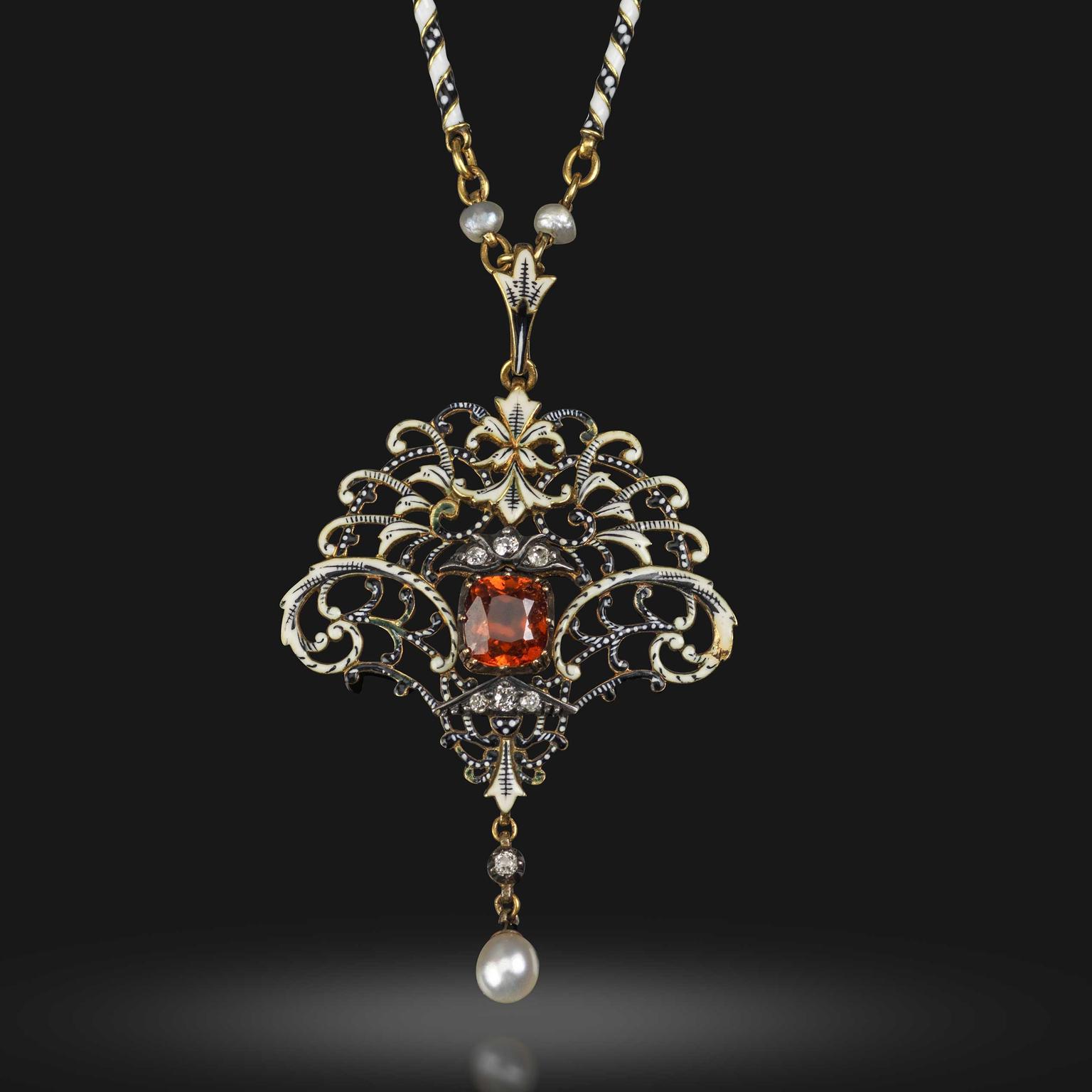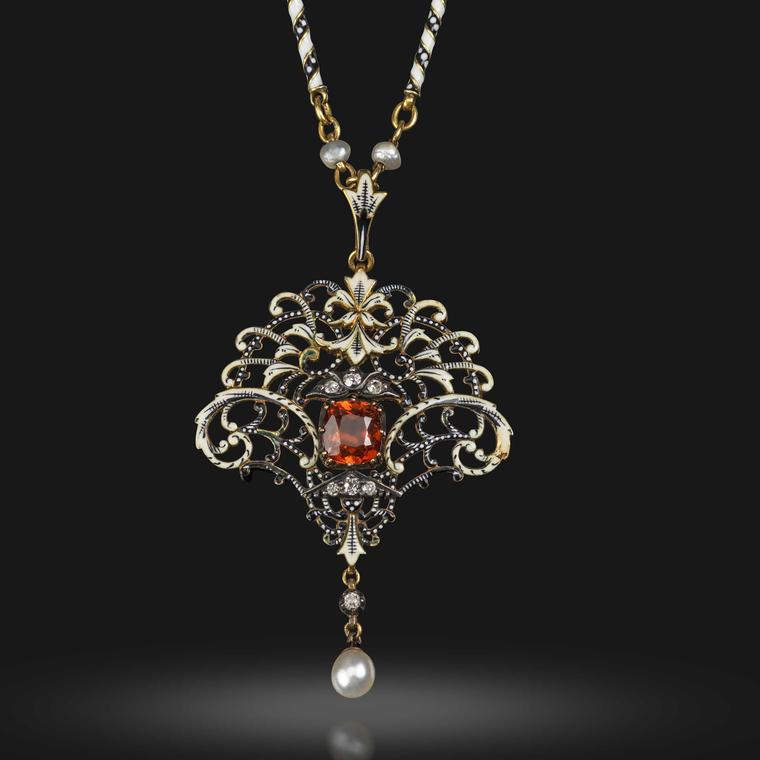 For more than half a century, since buying an unassuming piece of Georg Jensen silver jewellery (below), Dr Anne Shannon has accumulated an incredible collection of more than 300 pieces of jewellery dating from the late 19th century to the middle of the 21st century, many of which are British. Unusually the collector had an academic approach to craftmanship, as opposed to their intrinsic value, with an emphasis on the British Arts and Crafts and the Art Nouveau movements. Never before has such a collection of British and European jewellery appeared at auction in a single owner sale and many pieces are rare and from houses that no longer exist.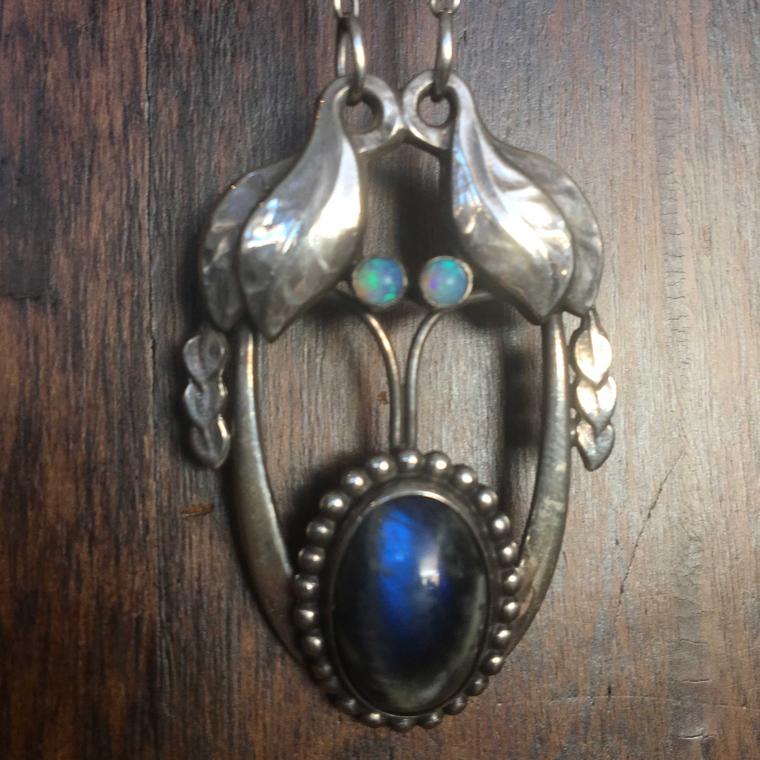 The spectrum of jewellery places Dr Anne Shannon in the realms of the great jewellery collectors.  'Dr Shannon's passion for craftsmanship is very evident in this collection,' explains Marielle Whiting, the director of Woolley & Wallis's jewellery department. 'Most of which are one off pieces, each deserving to belong to someone who loves and values them, and appreciates their beauty as much as their former owner.'
The collection can be divided into seven sections beginning with a significant selection of Georg Jensen's work, including items of silverware but predominantly silver jewellery, much of which is set with a broad spectrum of semi-precious stones. The very first piece, which sparked Dr Shannon's silver jewellery passion, is early Jensen: a 1905 foliate silver pendant set with an oval labradorite cabochon and two smaller opal cabochons (Lot 99: £400) going through to a much later silver bracelet of blossom flowers with pink chalcedony from 1976 (Lot 50: £300).
Perhaps most eye-catching are the five exquisite blue enamel butterflies (Lots 130-133/ £400-£1500) the largest of which has five green demantoid garnets along its body (top).  The butterflies are part of a selection of naturalistic and rainbow coloured enamelled brooches by 20th century London house Child & Child and described by head of jewellery Marielle Whiting.
The third section is made up of 33 lots by Sheffield jewellers Ramsden & Carr.  Dr Shannon spent a great deal of time at London's Goldsmith's Hall sorting through the archives of Omar Ramsden and Alwyn Carr, two of Britain's most celebrated craftsmen. Included here is a gold bracelet (Lot 166: £2000) made for Ramsden's wife in 1931. The gothic script of the letters ANNE is separated by four square plaques each set with conical chrysoprase cabochons. Collectors of Ramsden & Carr will be interested in the 1905 silver tabernacle pendant (Lot 161: £1000), with its silver doors behind which is the enamel plaque of three kneeling saints with golden haloes on a blue enamel background.  
Covering the late 20th and 21st century is a range of jewels set with precious stones including, perhaps my favourite piece, a Cartier pearl sautoir (below) joined with a sapphire and diamond link, from which hangs a pendant of ten carved green chalcedony leaves bordered by round brilliant-cut diamonds, and suspending a tassel of cultured pearls and diamonds (Lot 184: £800).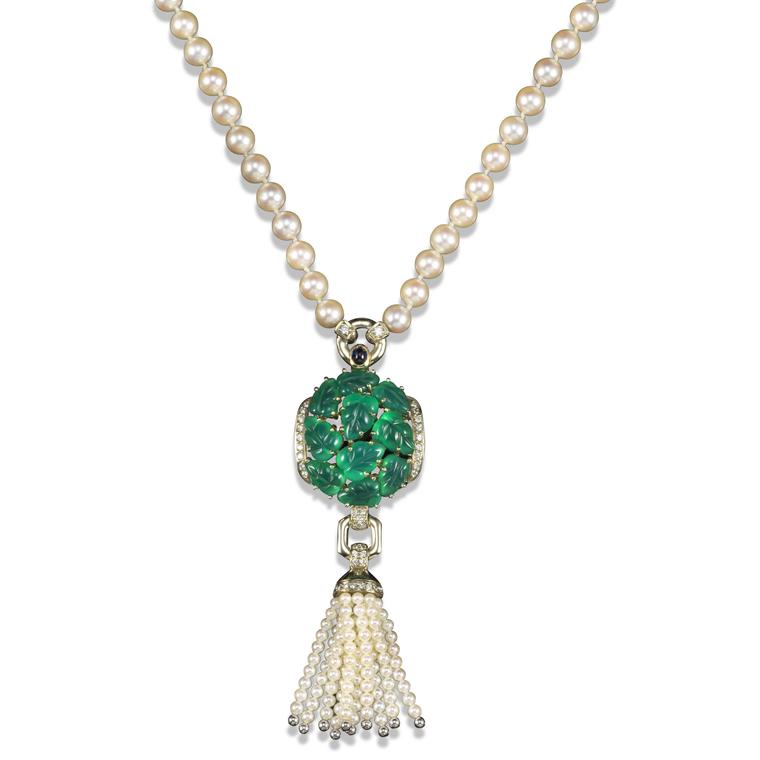 English and Scottish Arts and Crafts designers are represented with pieces such as a spectacular 1900 silver and enamel necklace with locket pendant attributed to Henry Wilson (Lot 209: £1000). The necklace has a series of beads, some rope patterned, some enamelled, whilst the pendant depicts an enamelled tree motif with green and orange leaves and is set around the edge with emerald and ruby cabochons.
Next is a large selection of Georgian and Victorian jewellery, much of which is set with precious and semi-precious stones. With a historical link is (Lot 233: £400) a gold and seed pearl bangle by Garrard engraved on the interior with 'Given by HRH The Princess of Wales 26 April 77', referring to Princess Alexandra of Denmark, later Queen Consort of Edward VII. One of the more curious pieces, again by the Royal Jewellers Garrard, is a 1911 reproduction of the Investiture Ring for the Prince of Wales set with an amethyst cabochon held by two intertwining dragons (Lot 240: £ 600).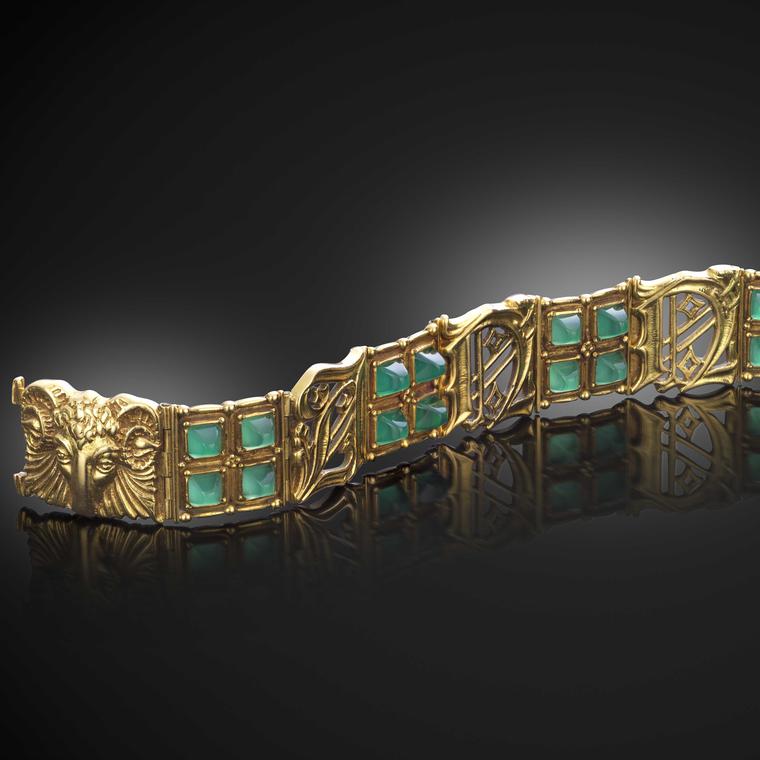 The final part of the collection sees exceptional 19th century jewels from maisons such as Brogden & Burges, Castellani, Froment Meurice, Giuliano, and Wiese. Pieces include an 1860 Castellani revival gold portrait bracelet (Lot 276: £5000), with six plaques of Medieval muses, including philosophers, artists and scientists which was once exhibited at the BARD Centre in NYC. An 1870 pair of gold Etruscan Revival earrings attributed to Melillo depict a dove ridden by a winged putto (Lot 297: £2000).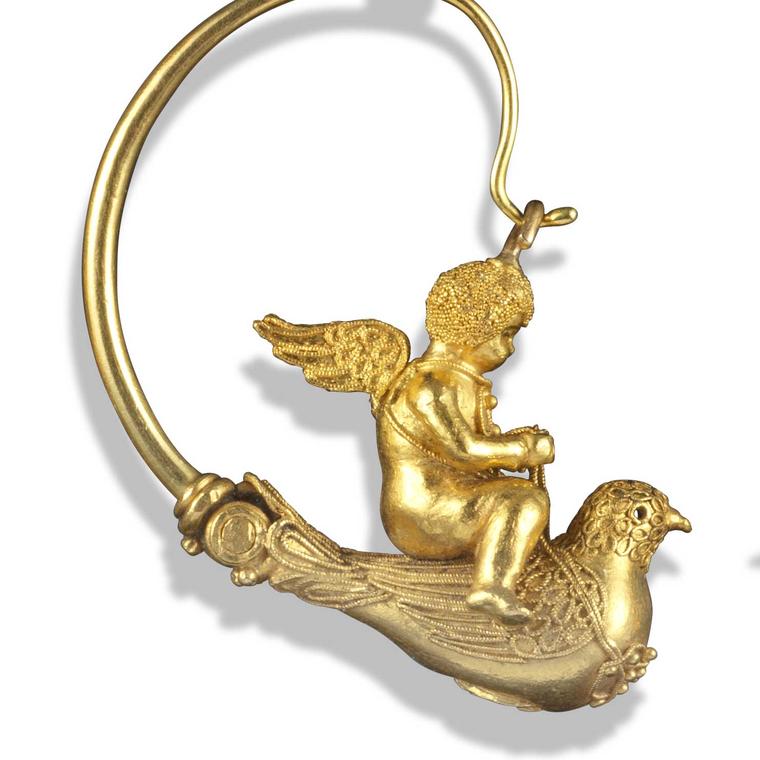 Peacocks, loved in jewellery for their symbolism, beauty and grace, are seen in several of the Child & Child pieces, but in this part of the collection is an extremely elegant pendant by Falize. The plique à jour technique of enamel is used on a pair of peacock feathers, so designed to allow the light to shine through the wings like a stained glass window. The pendant can be transformed into a brooch and is also set with rose cut diamonds, a ruby, two sapphires and an emerald with two natural pearls. (Lot 285/ £2000) 
Lastly, a sautoir and garnet-set pendant by Giuliano (Lot 292: £ 5000) is not to be missed. White and black dot-decorated enamel scrolls fan out from a hessonite garnet that suspend a natural pearl below a small diamond. Each black and white enamel twisted link is separated by a seed pearl, that would look extremely elegant hung down a back between shoulder blades.
Lots 130 to 133 The two smaller silver gilt and blue enamel butterfly brooches by Child & Child circa 1905 have an estimate of  £400-600 as does lot 131 of the slightly large brooch. Lot 132 is at £600 – 800 while the largest of the five (Lot 133) is priced between  £1500 – 2000.

Lot 285 An Art Nouveau brooch pendant circa 1895  by Falize with plique a jour enamelling in the peacock wings and a natural pearl. Estimate: £2000 -£3,000

From bold Art Deco to delicate and romantic, this is one of the pair of Melillo Putti earrings circa 1870 with highly detailed gold work that is in line with the trend for original creations and sustainability.

Lot 276 A gold portrait plaque bracelet by Castellani circa 1860 depicting six famous academics, scientists and philosophers from the Medieval times onwards. Estimate: £5000 - £7000

Lot 209 A silver and enamel necklace and pendant circa 1900 attributed to Henry Wilson. Estimate: £1,000 - £1,500

Lot 240 A curious item in the sale is this facsimile of the William Goscombe John Investiture Ring for the Prince of Wales made in 1911 by Garrard. Estimate: £600 - £800

Lot 166 British Arts & Crafts jeweller Omar Ramsden made this bracelet for his wife Anne in 1930. Her name is spelt out between the chrysoprase-set plaques.  Estimate:£2000 - £3000

Lot 161 is a Ramsden and Carr tabernacle pendant in silver with two hinged plaques that reveal an enamel scene of kneeling saints. Estimate:  £1000 - 1500

Lot 233 Victorian seed pearl hinged bangle engraved on the inside with a dedication to HRH the Princess of Wales in 1977.  £400 - £600

Look out for jewels with style at auction houses such as Woolley and Wallis, that in 2018 sold this necklace signed Cartier in 1990 made of chalcedony and pearls with an Oriental air. 

Lot 99 is the very first piece of jewellery in Dr. Anne Shannon's collection of jewellery. It is a circa1905 silver pendant by Georg Jensen. Estimate: £600-800

Lot 292 is a Giuliano necklace from 1896 featuring a garnet surrounded by enamelled scrolls and a natural pearl. Estimate: £5000 - £10000
Phone and online bidding is available so click here for more information on the sale .
Text by Josie Goodbody