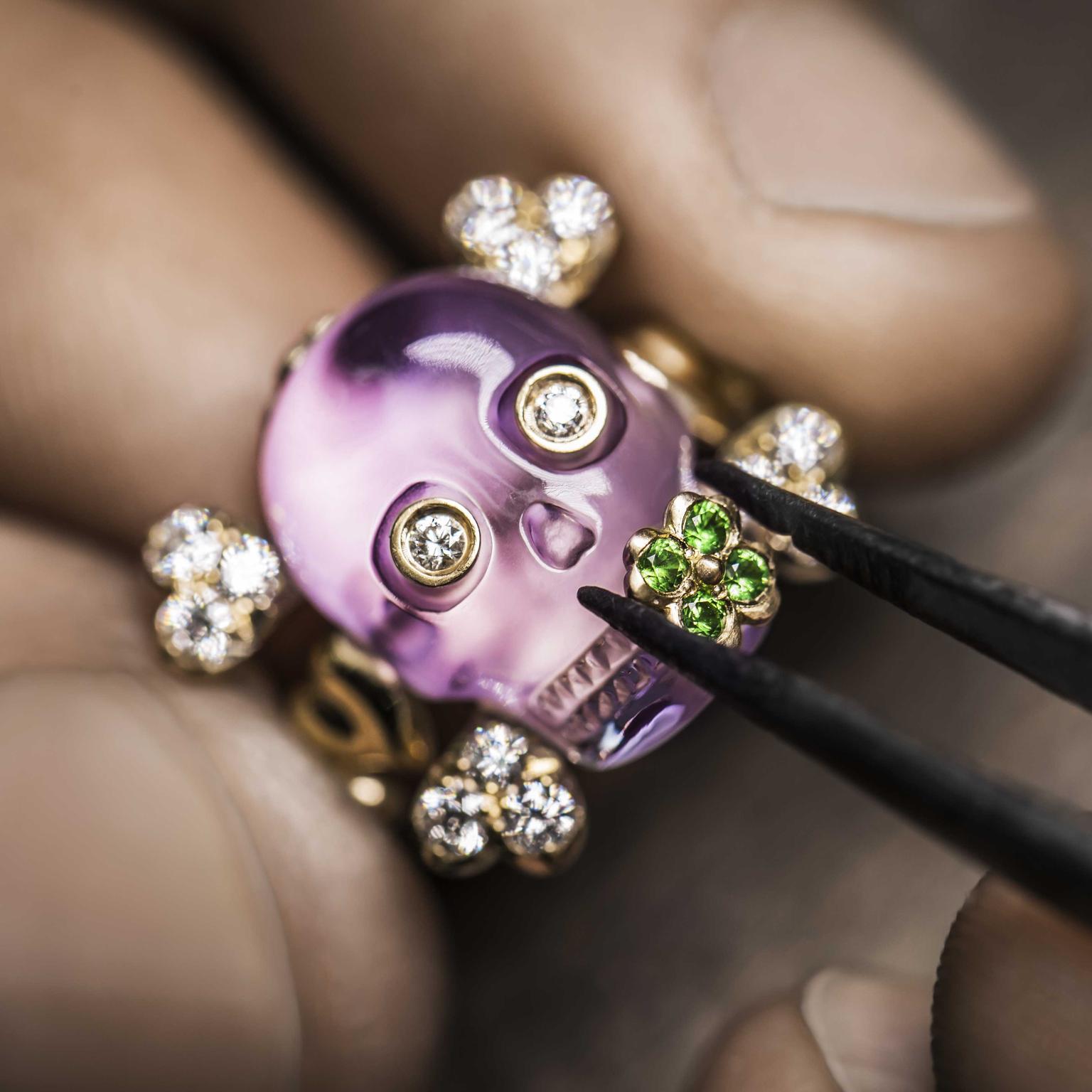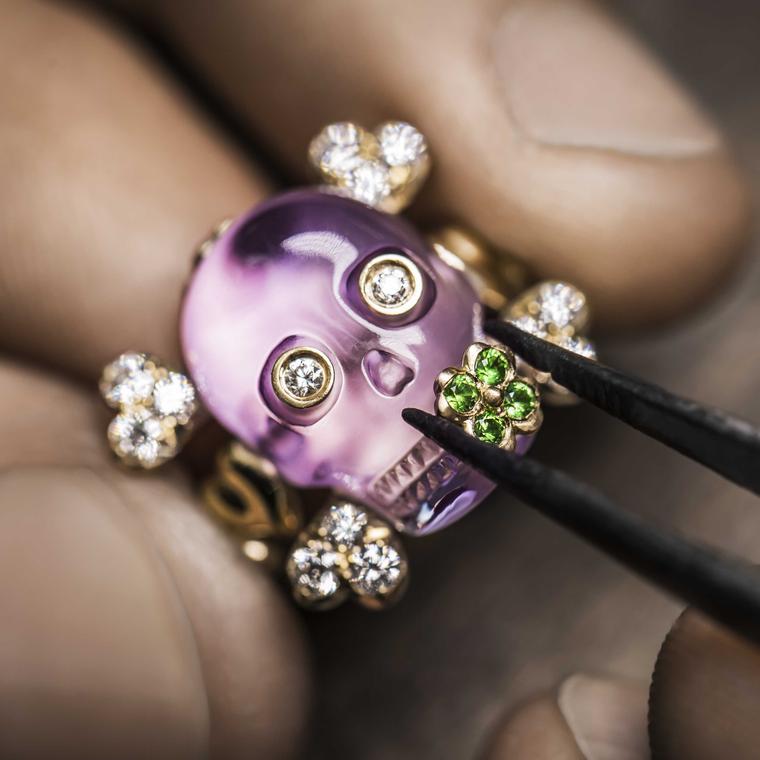 The tradition of memento mori jewels dates back to the 15th century when miniature bejewelled skulls and skeletons reminded the wearer of their fleeting presence on this earth. Meaning 'remember you must die' memento mori  jewels are intended to remind the wearer of the Latin phrase carpe diem  and seize the day as if it were your last. Read more about the history of memento mori jewels here.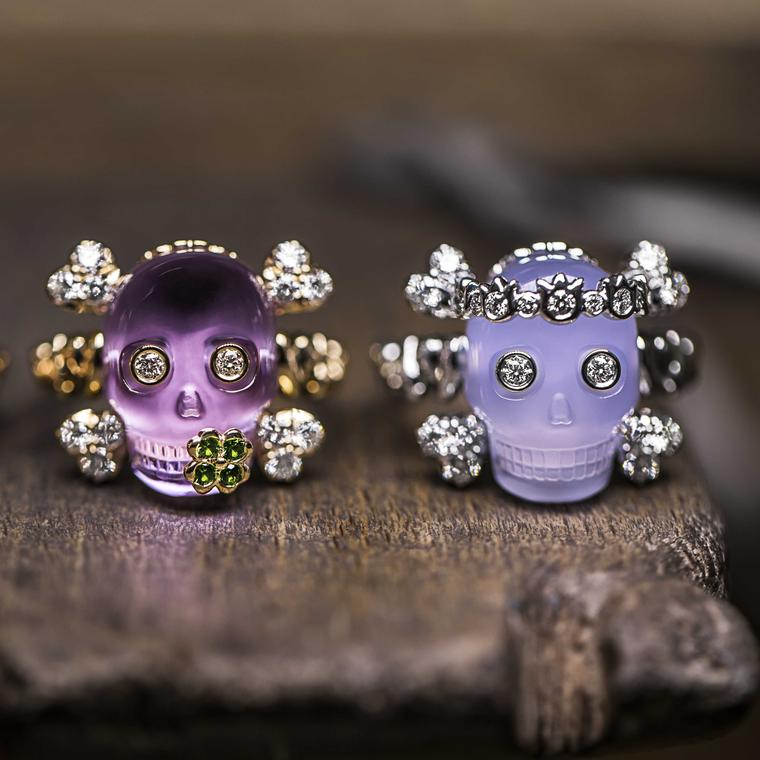 In the hands of Victoire de Castellane, Dior's Creative Director, candy-coloured little skulls are decorated with diamond eyes and quirky bejewelled details.  Skulls are not new to Ms. de Castellane's repertoire but these are the most accessible and wearer-friendly of her incursions into the morbid side of jewellery. Former skull jewels include the memorable 2009 high jewellery collection Reines et Rois, a series of one-off ghoulish skulls each adorned with miniature regalia. See more Dior jewels here
The three versions of the rings and matching pendants each have a little story to tell. The stones were chosen as symbols of a state of mind: amethyst for balance, pink quartz for peace and chalcedony for strength. And as always, there is a link back to Mr. Christian Dior himself. Known to embrace the spirit of carpe diem Mr. Dior proclaimed in his Little Dictionary of Fashion: 'Whatever you do – for work or for pleasure – do it with passion! Live with passion!'
We see Mr. Dior's love of lily of the valley in the floral crown atop the chalcedony skull. The couturier was known to wear the flower in his button-hole or slip it into the hems of haute couture gowns. The four-leaf clover was another of his favourite charms that is jauntily placed in the corner of the mouth of the amethyst skull. The bands of the rings are linked chubby hearts and the tips of the cross bones are heart-shaped and set with diamonds.
These are the friendliest little skulls I have seen for a long time and however improbable, they seem to be smiling and encouraging us to enjoy our every day and night.
Chalcedony is reputed to have the ability to inspire strength in its wearer and chosen by Dior for this white gold version of the Tête de Mort ring. The little blue skull wears a crown of lily of the valley blooms, one of Mr Dior's favourite flowers.  Price £8100

The amethyst version of the Dior Tête de Mort ring features Mr Dior's lucky four-leaf clover and the purple stone is said to be conducive to a balanced state of mind.  Price £7650

Pink quartz is said to inspire a peaceful state of mind and one of the three different stones chosen by Dior's designer Victoire de Castellane, each with different spiritual properties for the Tête de Mort collection of three rings and pendants. Price £7,150

One of Dior's Tête de Mort necklaces, this version in pink quartz version with little hearts set with diamonds on the tips of the cross bones made in pink gold. Price £8600

The new Dior Tête de Mort jewels such as this amethyst necklace, are the result of designer Victoire de Castellane's love of memento mori jewels that remind us to embrace each day as if the last. Price £9050

A view of the back of Dior's Tête de Mort yellow gold and amethyst ring revealing an engraving of four hearts arranged like a clover that was one of Mr Dior's favourite lucky charms.  Price £7650

Each of the three versions of Dior's Tête de Mort two rings is slightly different and feature details that relate to Christian Dior's life and loves. Price £7650 and £7150

Behind the scenes with Dior as a four-leaf clover set wth tsavorties is mounted onto the Tête de Mort amethyst skull.  Price £7650