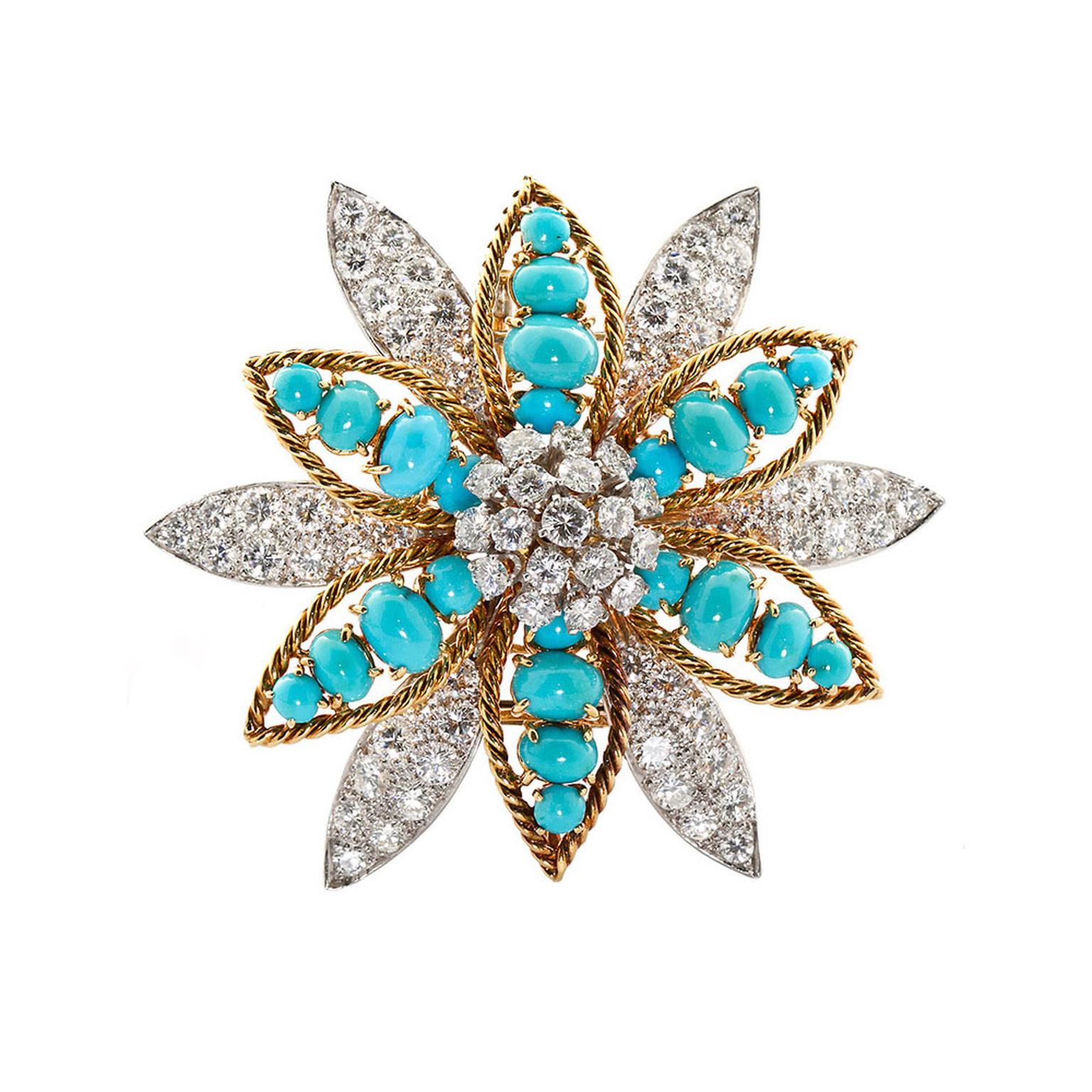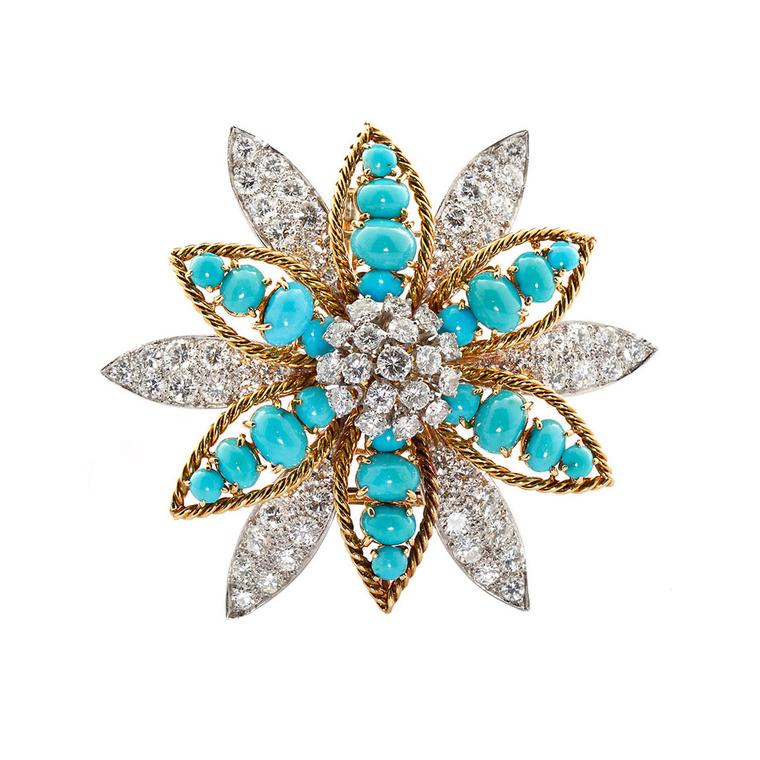 Instead of chasing away the winter blues, why not embrace them with a happy-coloured and historically laden gemstone such as turquoise, believed to bring contentment, luck and friendship into the wearer's life. Reportedly the first stone to be mined and set into turquoise jewellery, it is December's alternative birthstone to zircon and tanzanite, and reveals longstanding legends and symbolism that date back to ancient times.
The earliest turquoise stones originated in Persia and were known for their pure, robin's egg blue colour. The gem also gives off a bluish-green hue, depending on what country/mine produces it. Turquoise was named after the French expression pierre torques, or "Turkish stone", due to the trade route the stone travelled from Turkey to Medieval Europe. This precious stone has been treasured and revered as a talisman since it was first found. From ancient Egypt through to the Middle Ages, the gem was carved into amulets that brought good fortune and protected the wearer from evil and harm. Renaissance rings featured cabochon turquoise centres with rock crystal surrounds, or were created with simple bezels to highlight the blue gem.
Turquoise regained its popularity and reigned during the Romantic and Aesthetic periods of the Victorian era. The Victorians, who loved their meanings and symbolism, believed in the ancient gem-lore that came before. They also deemed turquoise to be a fashionable gemstone with it's vivid colour, its ability to pop from the richness of gold, and the new calibre cuts as well as pavé settings that covered the head of serpent motifs or the full body of a dove. It was also the gemstone of the forget-me-not flower, symbolising remembrance and friendship, which turned up on turquoise rings, brooches, lockets and padlocks.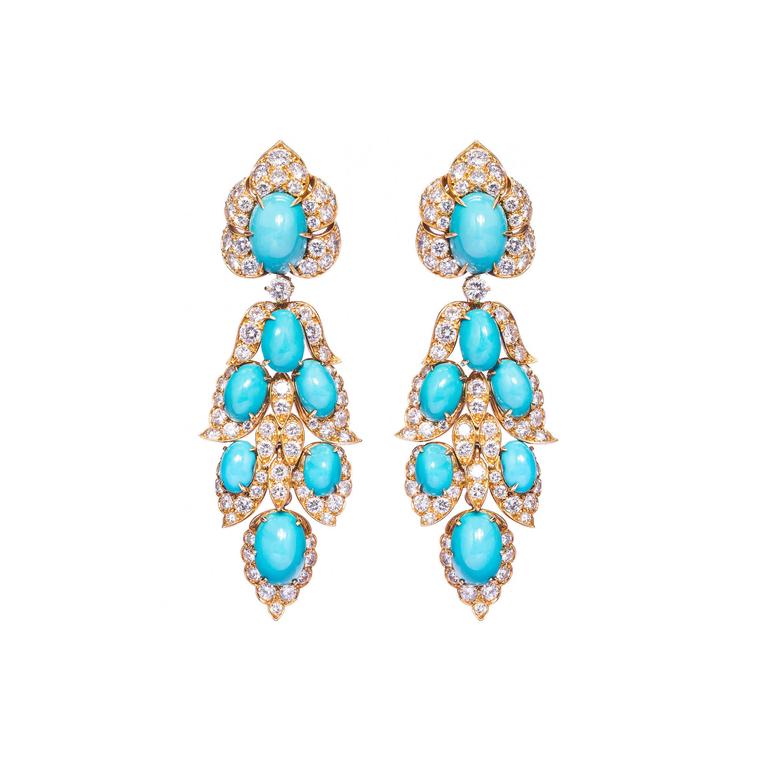 Turquoise saw some signs of a comeback during the mid 20th century with David Webb and Van Cleef & Arpels producing turquoise jewellery featuring large cabochons in oval and pear shapes, and in cuts that created the petals of flowers, and bombe settings accented by other precious gemstones.
I was around for the 60s and 70s Native American jewellery revival when everyone was wearing Zuni turquoise inlayed silver rings, dangling earrings and various South-western turquoise cuffs. My fifth-grade boyfriend gave me a silver ring with a pyramid-like pattern of turquoise, and after it turned my finger green, took it back three weeks later to give it to another girl instead. I believe that is how long relationships last when you are 10 years old. I received birthday gifts from my young mother of turquoise earrings and a cuff, which she then "borrowed". But after seeing a fede gimmel ring with forget-me-nots on the cuff, I knew turquoise jewellery had won my heart.
Read more about the turquoise jewellery revival
These days, as a collector, a hopeless romantic, and a woman who prefers warmer tones in metals, I go for the Victorian pieces. But there are many contemporary designers who are working with turquoise in high carat gold, producing some imaginative designs, both talismanic and sentimental, which give a nod to the past. So if you are feeling blue, or you want to claim turquoise as your first choice in birthstone, there are many styles and time periods from which to choose.
Epoque Fine Jewels turquoise and diamond pendant earrings by Van Cleef & Arpels, of stylised foliate design, set with cabochon turquoises and brilliant-cut diamonds in yellow gold, circa 1966.

Irene Neuwirth contemporary gold, turquoise and mixed gemstone necklace.

FD Gallery 19th century antique turquoise and pearl brooches - each brooch is designed as a bow, set with pearl and cabochon turquoises, mounted in silver-topped gold.

Karen Karch contemporary gold and turquoise heart bracelet.

Kentshire Victorian antique gold box chain in the form of an Ouroboros snake with a pavé turquoise head and tail embellished with diamonds and ruby eyes.

Les Enluminures Renaissance gemstone ring dating back to the 16th and early 17th century in gold with a turquoise centre and rock crystals.

Macklowe Gallery Victorian earrings of turquoise seed pearls in yellow gold.

Past Era Georgian yellow gold flower pin with openwork textured gold leaves, and pavé turquoise and pearl flowers, set en tremblant, circa 1830.

Pat Saling late 19th century high carat gold cuff bracelet with turquoise "buttons".

Romanov Russia Victorian gold and forget-me-not turquoise floral heart bracelet, circa 1860.

The Three Graces Victorian and yellow gold, pavé-set turquoise bracelet.

TMW Jewels original star-shaped David Webb flower brooch of round brilliant diamonds and oval cabochon turquoise set in gold and platinum, circa 1960.