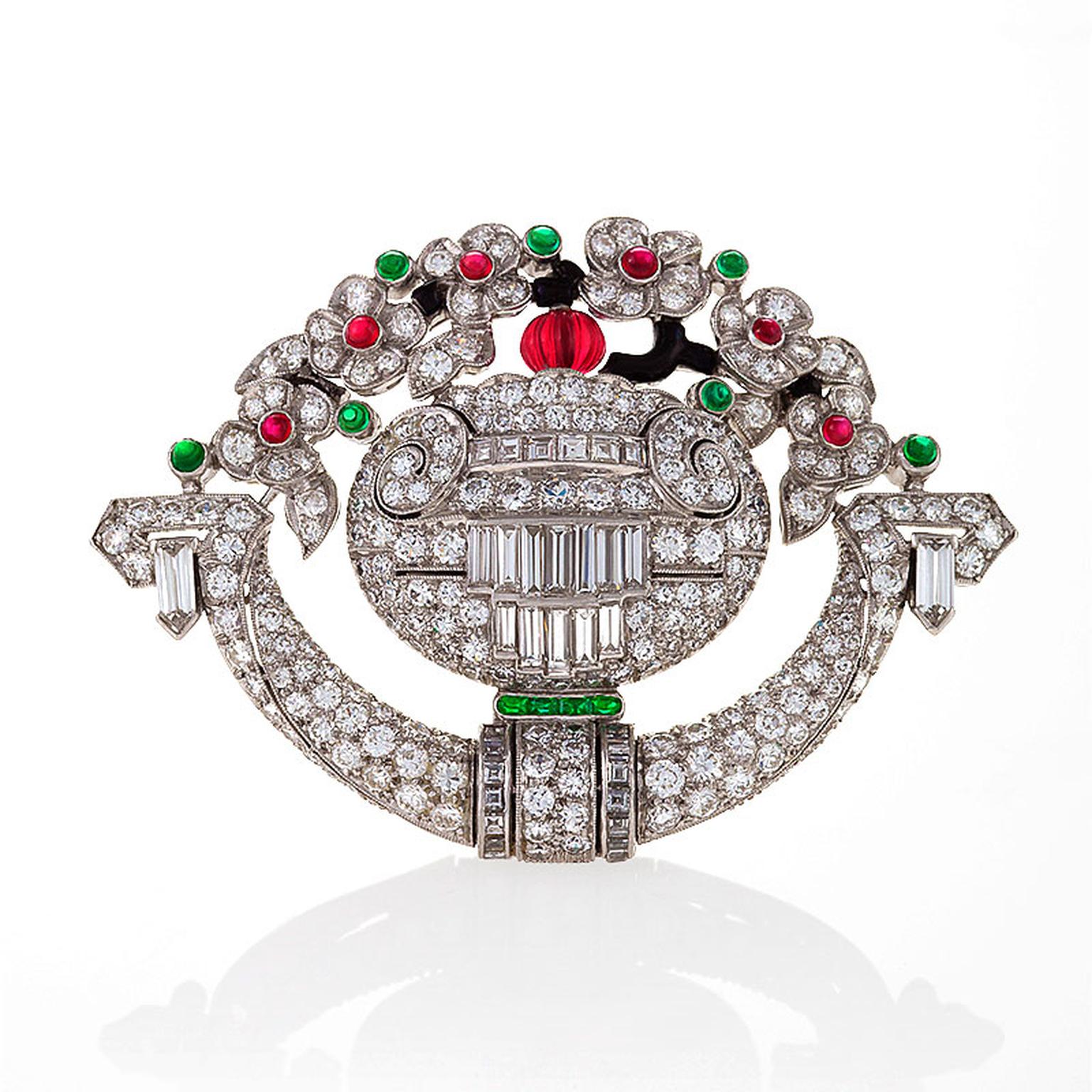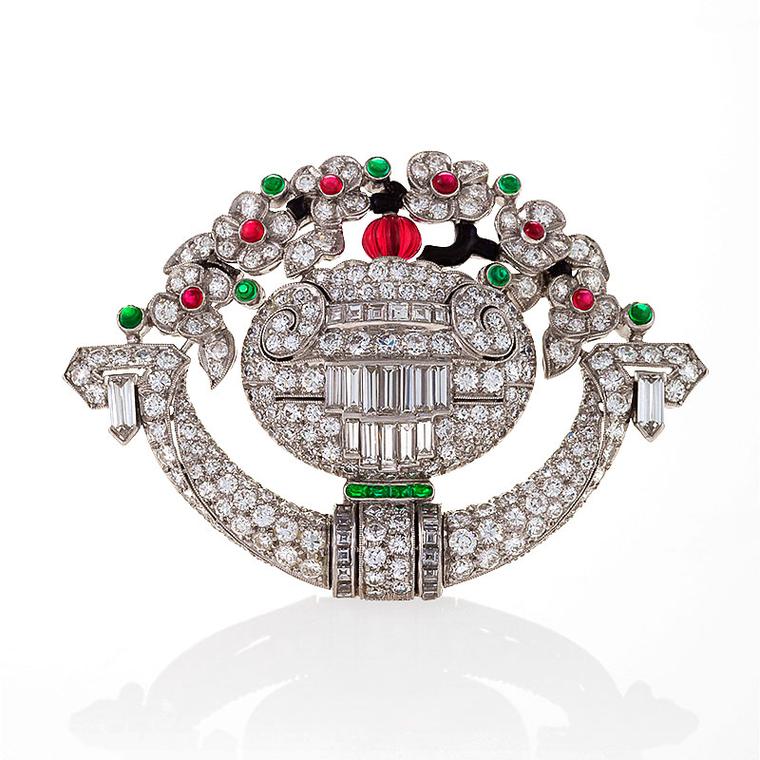 From Carlo Giuliano to Cartier, and from Boucheron to Buccellati, this antique jewelry extravaganza was held from November 20-24 at Manhattan's Upper East Side landmark, the Park Avenue Armory. Featuring a diverse range of gallery-style shops, all with their own specialties of antique jewelry through the ages, plus signed pieces and small treasure troves, the opening night was abuzz with museum curators, consummate private collectors, art historians and advisors. 
The myriad selection of jewelry was scattered amongst fine art, international 18th and 19th century silver, porcelain, textiles, modern art, and period and contemporary furniture. The jewels shone bright, with vivid stones, sparkling diamonds and rare museum-quality pieces that spoke to various tastes, attracting the most discerning of connoisseurs. 
Some of the stand-out antique jewelry included statement necklaces and large layered charm pendants that rocked the ages - a concentration of Georgian, Regency and early Victorian pieces - including mourning and memorial jewelry, and bracelets in all incarnations. Demi-parures were also on display, as well as signed jewels from all the major houses. 
The finest of Edwardian/Belle Époque and Art Deco, which are always in style, were out in full force, with gold still leading the way in both Victorian and mid 20th century pieces. Floral motifs also blossomed throughout the decades and were in full bloom at the show, particularly in brooches, which turned out to be the most predominant trend in antique and vintage jewelry of the season. 
The return of the brooch was first seen three to four years ago by celebrities on the red carpet, but were even more noticeable at the most recent US award show, the Prime Time Emmys. A-List actresses wore them in their hair or to accentuate the waist of a gown. They can also be worn on the plunging back of a dress, scattered around a neckline, or on the pocket of a jacket or anywhere you decide to pin them, offering a unique and contemporary edge.
Read about this year's brooches trend here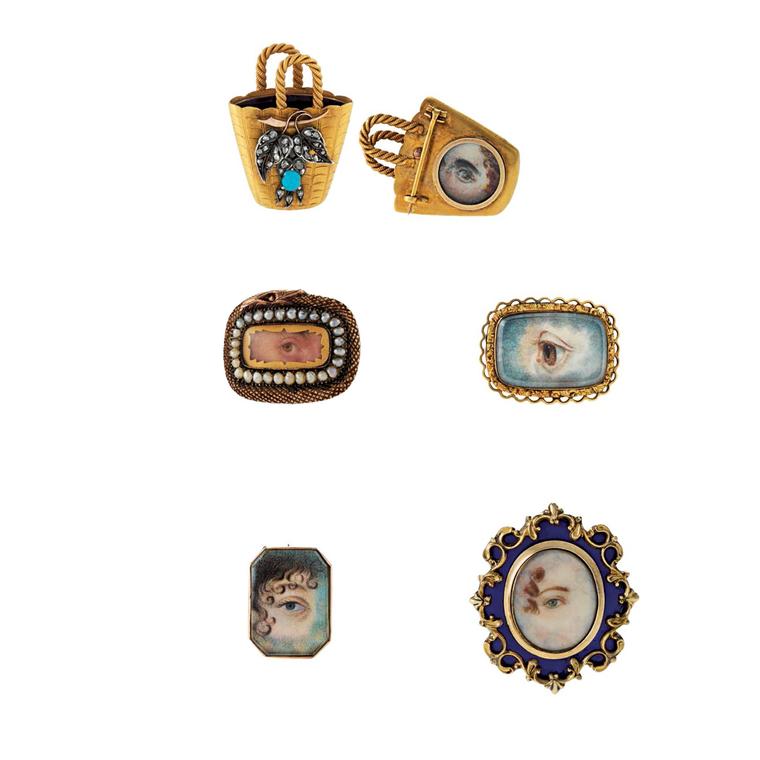 Also at the New York Art, Antique & Jewelry Show, Macklowe Gallery featured a superior collection of authentic lover's eye brooches. After writing about the many reproductions and how to be sure when buying one of these historical treasures, it is perhaps most important to trust the store or dealer selling them to you. Owner Ben Macklowe knows more than a thing or two. This grouping featured details of enamel, seed pearls, simple gold chasing, and one truly intriguing style that featured on a basket brooch. 
Still on the subject of brooches, whenever I see Pat Saling at a show I stop by and try one on. In addition to a Belle Époque ruby and diamond necklace that had me doing a double take, I was completely in awe of Pat's Georgian en-tremblant rose diamond floral brooches, as these were some of the best I have seen all in one place. Marion Harris was a new find for me. Of Scottish descent, she displayed a range of Scottish agate brooches in sterling silver, for which she is best known. She also stole my heart with her alluring range of sentimental pins.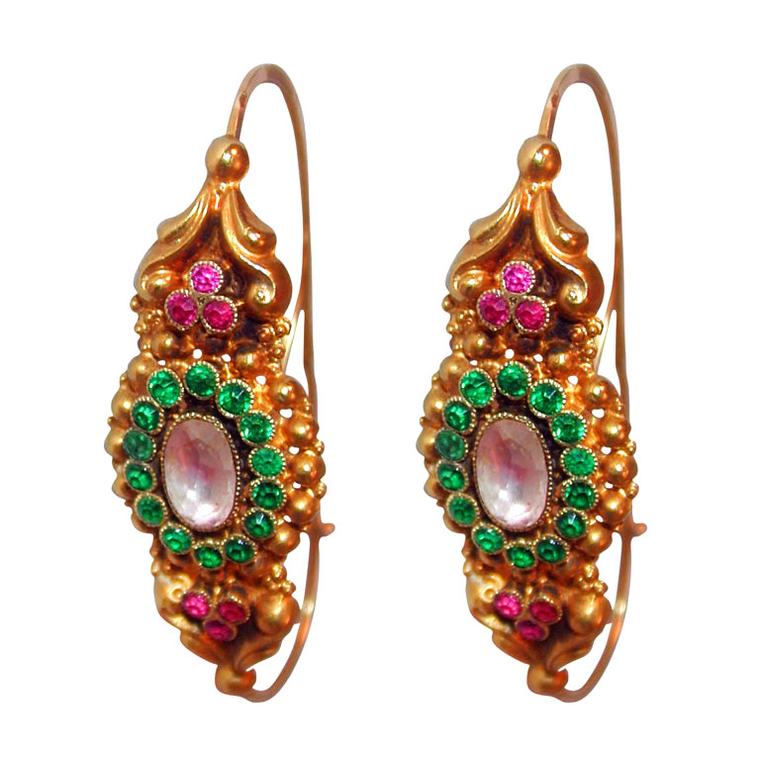 My personal go-to store for Georgian and early Victorian jewelry, The Spare Room Antiques never disappoints. From acrostic and pansy brooches fitting in with the theme, it also stocks some of the more collectible and scarce Berlin Iron pieces, as well as Iberian jewelry, particularly earrings, which have become desirable amongst those with an affinity for earlier styles. You can spend an entire day with the owners Marcia and Jackie at any show, simply trying everything on. A new find that they pulled out to show me was a just-in Regency period, foiled-back rock crystal, which produces vivid gem colors.
Read about the significance of acrostic jewelry here
Linda Gump never disappoints when it comes to earlier pieces, displaying some amazing oversized pendants, pairs of enameled and engraved wedding cuffs - one for each wrist - and a trio of snake rings. Walking into Véronique Bamps gallery was like opening a museum vault, and I hated having to leave the Carlo Giuliano enamel and diamond statement necklace and pendants behind. Other favorites at Bamps included a demi-parure of a revival Etruscan necklace, earrings with dangling cabochon garnets, a life-like floral brooch from Lalique, Georgian pendant earrings, and souvenir micro-mosaic earrings from the 19th century. 
And for those of you who collect or dream of owning Art Deco and signed pieces, there was JS Fearnley and Camilla Dietz Bergeron, as well as Yafa signed jewels. Just trying on all this antique jewelry in one space, amidst amazing paintings and truly masterful decorative arts, was a weekend well spent, even if most of the jewels were out of my personal spending budget.
Iberian emerald and gold earrings from The Spare Room Antiques.

The Spare Room Antiques acrostic "Regard" basket brooch, which can also be worn as a pendant, 18th century.

Van Cleef & Arpels floral gem-set Hawaii brooch, circa 1945, from Yafa Jewelry.

Véronique Bamps necklace in enameled yellow gold set with diamonds, rubies, pearls and a cushion-cut diamond, Giuliano, circa 1896.

Buccellati gold and platinum thistle brooch from Camilla Dietz Bergeron.

Art Deco, ruby, diamond and carved emerald bracelet from JS Fearnley.

JS Fearnley seed pearl, natural pearl and diamond pendant necklace, circa late 19th century.  

Group of authentic lover's eye brooches in various frames and metals from the Macklowe Gallery, circa 1800s.

Pat Saling ruby and diamond Edwardian/Belle Époque ruby and diamond necklace, which can be worn long or doubled around the neck.

Pat Saling Georgian en-tremblant floral spray brooch with enamel accenting the center flower.

Tiffany & Co. Art Deco diamond, ruby and emerald brooch/watch in platinum from Macklowe Gallery.