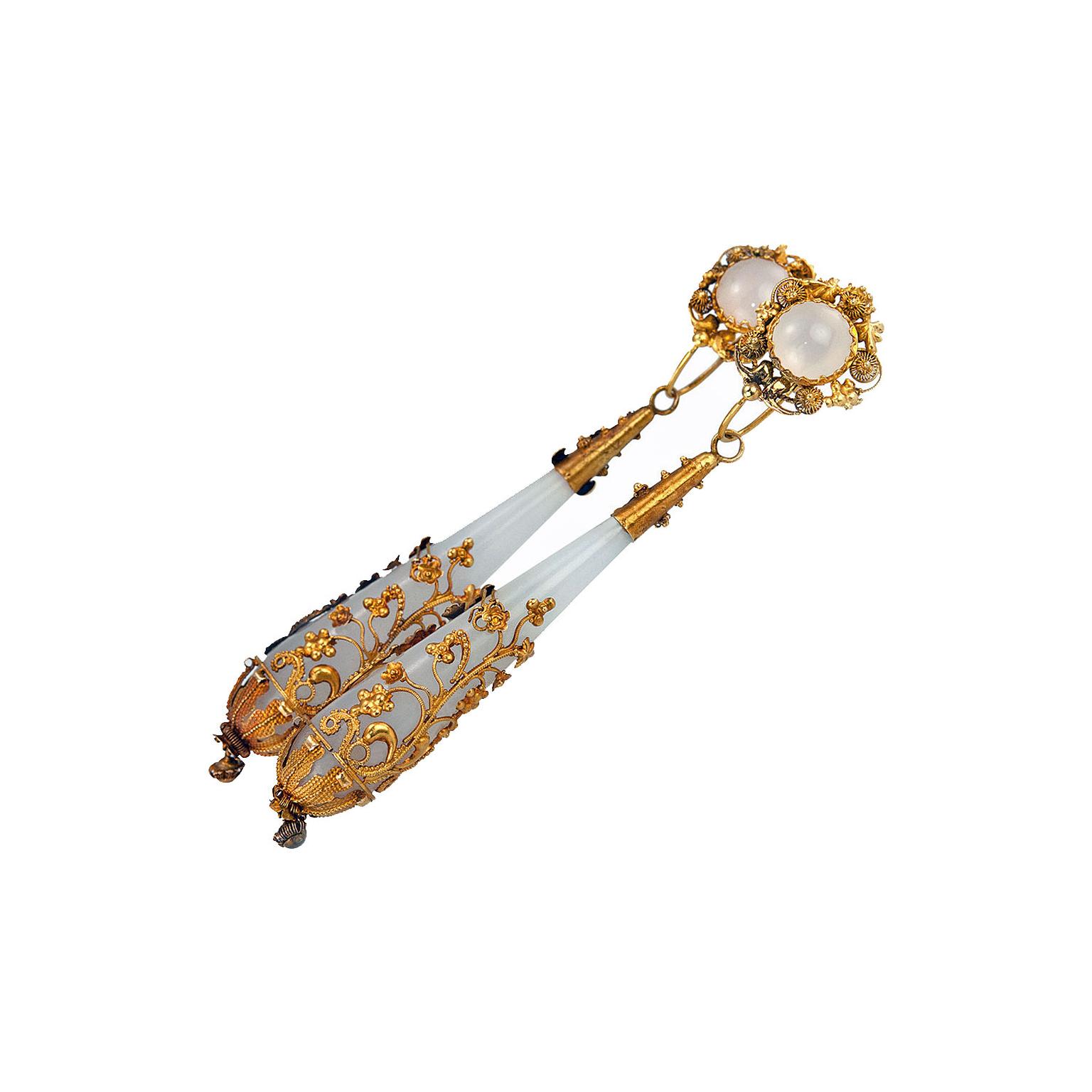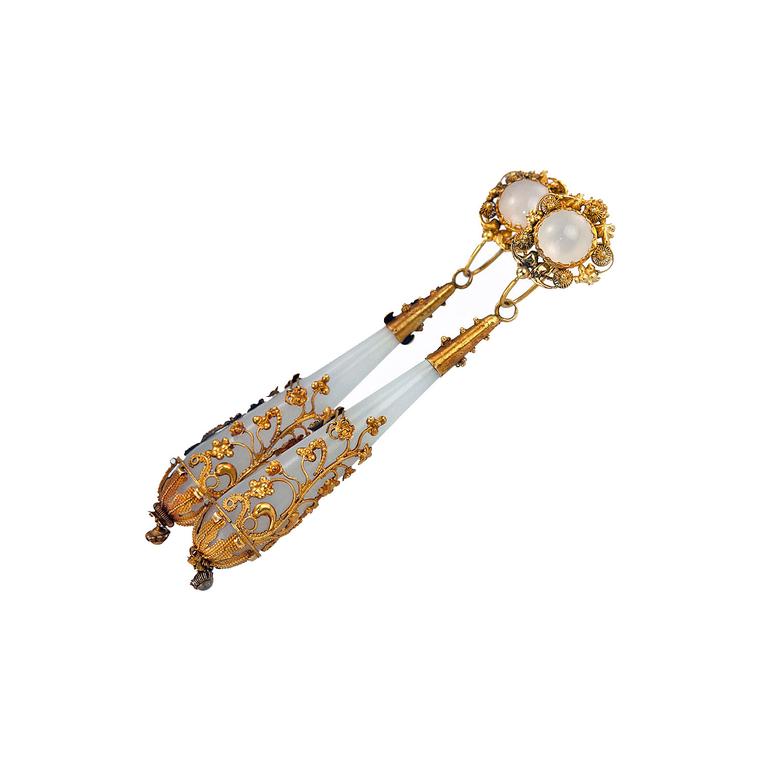 By Beth Bernstein
Peek into any antique jewellery enthusiast's collection and you will find certain earrings that have been scouted and hunted down over the years, while there will still be some of great rarity for which the search continues. My own grandmother's favourite category of jewellery was earrings. Like most women, she felt underdressed without them and her adage was "never leave the house without lipstick and earrings - so you can light up someone else's face with your smile, and your own with something sparkly around it." 
While Ancient Greek, Roman and Egyptian women also wore earrings for adornment, they were more a part of the culture and traditional costume rather than designed for beauty and to play up the colour of their eyes. These earrings of early antiquity were represented by hoops in crescent and boat shapes, and embellished with filigree and intricate granulation work. Other styles of ancient earrings represented the symbolism of gods and goddesses, and featured discs and drops with birds, peacocks and other naturalistic creatures.
Earrings fell out of favour for most of the Byzantine through to the Renaissance periods, but returned during the 17th century. Styles ranged from elegant pearl earrings to more elaborate diamonds and coloured gemstones, which witnessed new cutting techniques. However, it is the styles of the 18th and 19th centuries that became essential to a woman's jewellery wardrobe and, in current times, have inspired the antique jewellery aficionado to add them to theirs. In addition, throughout the later centuries, these period styles became the inspiration for new versions in varying sizes, weights, gemstones, metals and lengths.
The Girandole first become popular in the early 18th century and can be described as an earring consisting of a central ornament with three drops, most often pear shaped, suspended from a hook. The drop part could be detached so that the central motif, for example a bow or a cluster, could be worn on its own. These earrings started out wider and shorter, and grew more vertical and lightweight in later years because the originals were weighted down with coloured gemstones.
See more antique jewellery featuring coloured gemstones
Day to Night earrings were also a fashionable style during this period and followed the idea of detaching the dangling part from the top. These earrings could stand on their own for day wear, while the elongated entire earring would be worn for evenings and special occasions. These remained in style throughout the 19th century. 
Pendeloque earrings were designed with rose and old mine-cut diamonds, and also hung from a central cluster, bow or larger diamond. They were generally pear or marquise-shaped frames, which surrounded an elaborate swing centre of diamonds or one natural pear-shaped pearl. They continued to be in fashion throughout the early 1900s with slight changes, for example platinum over gold and a lighter garland in Edwardian and Belle Époque designs. Eventually, they evolved into pendant earrings, which were extremely lightweight and could be more ornate or have a top and a pear-shaped gemstone in shorter styles.
The early 19th century had its version of chandelier earrings and the ultra-long and more linear shoulder dusters. These were shown in Torpedo silhouettes with long, bullet-like bottoms, Iberian styles, and a variety of foiled-back gemstones such as amethysts, citrines and various coloured topaz, decorated with Spanish cannetille work - delicate, lacy floral patterns crafted from gold wire. These evolved into lighter-weight versions, stamped out of thin gold sheet with repoussé, meaning embossed, patterns of foliate, shell and scroll motifs, which were much more accessible and also lighter on the lobe.
Sleeper earrings in a crown-style setting of single diamonds were often worn to bed to keep the earlobe hole from closing during the mourning period of Queen Victoria, when ears were covered by hair and could not readily be seen. These were followed by double drops, which featured one stationary stone fixed on a wire mechanism, and one that dangled, which offered more light and movement, and a pretty delicate look in old mine-cut or European-cut diamonds.
Other small earrings of the Victorian era were more playful and naturalistic in style, and were more motif-driven, ranging from swallows swooping around hearts, to acorns and leaves intertwined with grapes. An extremely rare find to be scooped up are coach covers, which were gold orbs that fitted onto hooks to cover diamond drops during the day. During the same period, Revivalist, Archeological and Souvenir earrings depicted scenes on cameos and intaglios, and also featured the most intricate of micro mosaics, which depicted paintings or entire cities such as Rome.
See more antique jewellery inspired by the naturalistic style
Fringe earrings were, and still are, a favourite among earring enthusiasts. Also in style during the mid to late 1800s, they were mainly designed with a circular or oval plaque in the centre, and decorated with enamel, bead work or chasing and gemstones with a chain fringe.
There are many authentic antique earrings still to be found today, and even if you only choose one pair to start a collection, you will never leave the house "undressed".
Bell and Bird Iberian gold and emerald earrings, which are a variation on the Pendeloque drop, circa 1780. 

Fred Leighton double drop mine-cut diamond earrings from the first half of the 19th century, mounted in silver-topped gold.

A. Brandt + Son hand-wrought 18ct gold and turquoise Georgian earrings with scroll and weaved repoussé design covering the entire surface. Each earring begins with a single turquoise stone topper that attaches to a long earring wire.

Bentley & Skinner Georgian gem-set Pendeloque drop earrings, each set with a ruby top in between two old brilliant-cut diamonds, suspending a ruby pendant drop, set with tourmaline, turquoise, citrine, emerald, ruby, cat's eye, chrysoberyl, garnet, amethyst and citrine. 

Bell and Bird pendal antique earrings.

Bentley & Skinner gold and garnet cabochon graduated Victorian fringe earrings, circa 1880.

Bernardo Souvenir earrings of detachable drops, depicting ancient Roman monuments: the Pantheon, the Temple of Vesta, and other views of Fori Romani in archeological frames and mounted in yellow gold.

Glorious Antique Jewelry Victorian high carat gold and turquoise coach covers of orbs, which open like a locket for the purpose of clipping them over diamond drop earrings.

Glorious Antique Jewelry Georgian torpedo pinchback earrings with granulation and repoussé work. 

Kentshire lightweight repoussé embellished 18ct gold and black enamelled plaques, set with topaz, pearl, ruby, chrysophrase, amethyst, turquoise, emerald, garnet and diamond in a garland wreath.

The Spare Room granulated gold, enamel and turquoise fringe earrings.

Craig Evan Small Day to Night earrings with delicate cannetille work, circa 1800s.