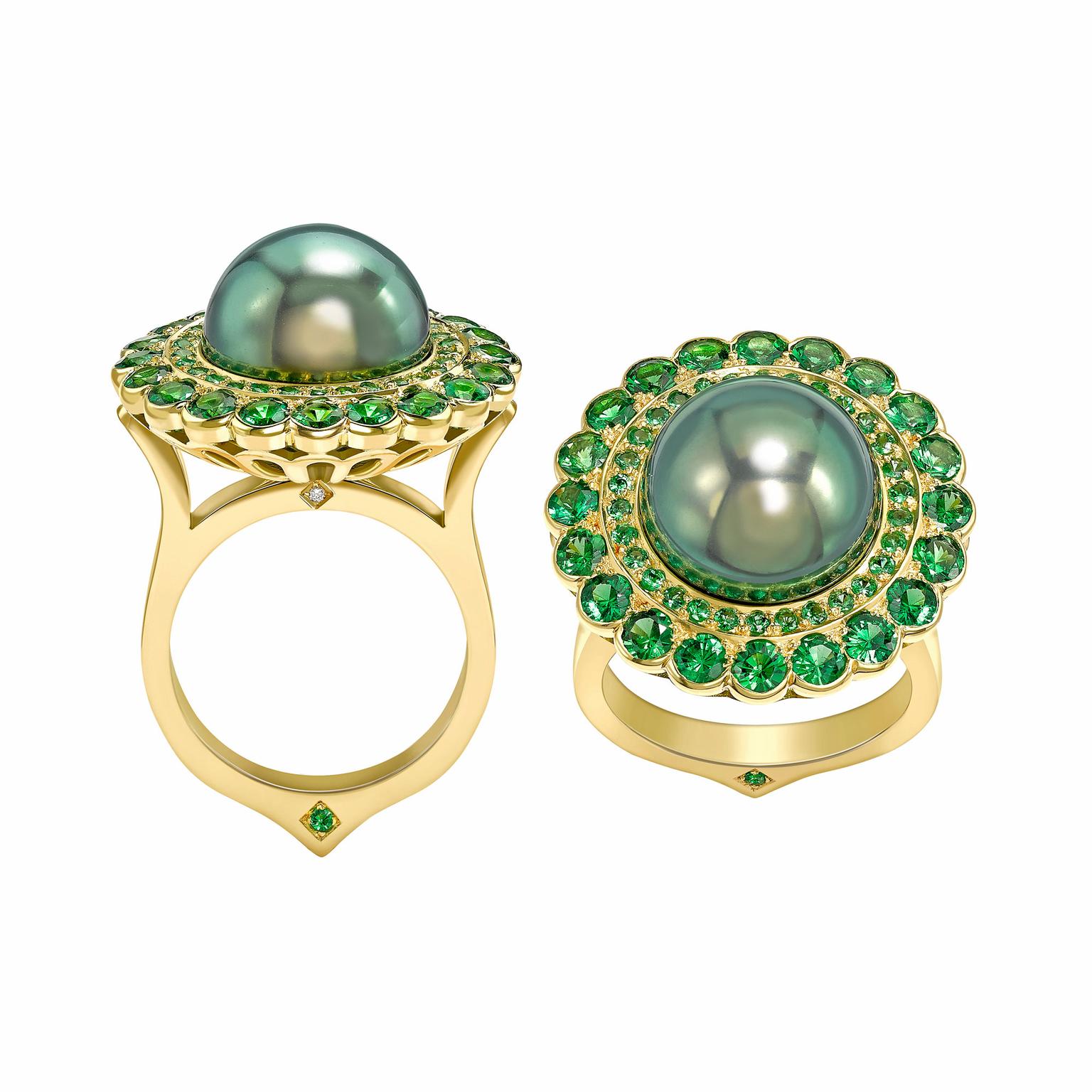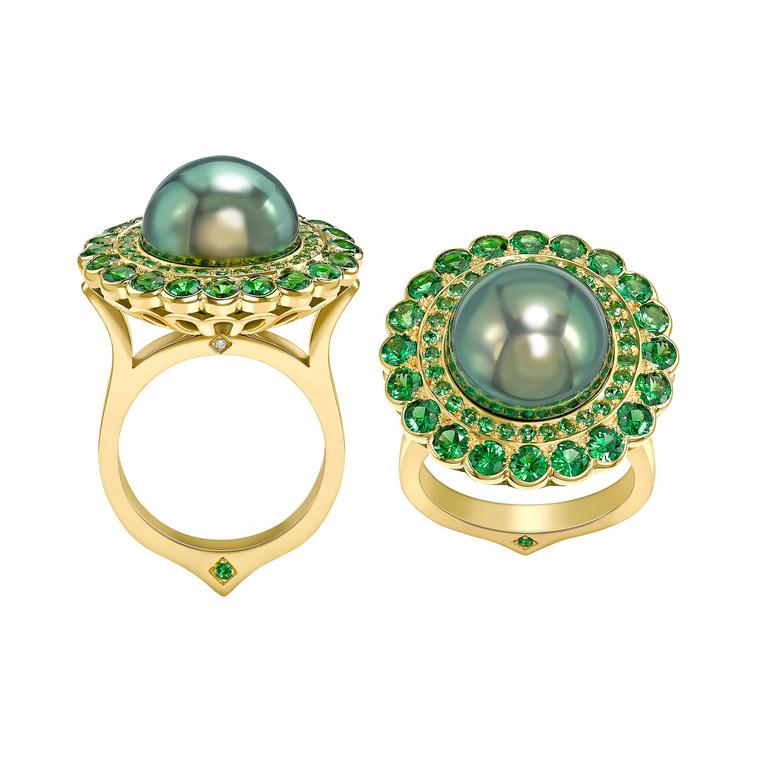 By Åse Anderson
Alongside the headline-grabbing catwalk shows, London Fashion Week continues to showcase some of the UK's most exciting jewellery talent, and this year's line-up promises to be one of the best yet. Five new up-and-coming London jewellery designers are joining Rock Vault, the British Fashion Council's fine jewellery initiative curated by Stephen Webster, as some of the old guard graduate from their three-year tenure.
See the highlights from last year's Rock Vault
Chaired by celebrated British jeweller Stephen Webster, Rock Vault offers mentoring and support to a group of designers selected by a panel that includes Carol Woolton, Vogue's jewellery editor, as well as representatives from Central Saint Martins, Harrods and Liberty. Now in its eight season, the showcase has become an established part of the fashion extravaganza that envelops the capital twice a year, ensuring that fine jewellery is a key part of the great hub of creativity and talent on display.
Showing at the Designer Showrooms in the new setting of Brewer Street Car Park in the heart of London's Soho, this season's Rock Vault designers include newcomers Ana de Costa, Ruifier, Lily Kamper, CompletedWorks and Rachel Boston. Completing the SS16 line-up are Beth Gilmour, Jacqueline Cullen, Ornella Iannuzzi, Shimell & Madden and Yunus & Eliza, while Tomasz Donocik, Alice Cicolini, Jo Hayes Ward, Hannah Martin and Imogen Belfield have all graduated from the scheme.
Hailed by Carol Woolton as a "Bright Young Gem", Ana de Costa launched her eponymous jewellery brand in 2007, two years after graduating from Central St Martin's. Collaborations with Swarovski, The World Land Trust and Gemfields followed, and Ana's work has been featured in numerous magazines including Vogue, Harper's Bazaar and Vanity Fair. Her fascination with the spiritual world and love for coloured gemstones, particularly tsavorites, shine through in all her jewels, including her latest designs, which also feature black Tahitian pearls.
See more fine jewellery featuring black Tahitian pearls 
Another Central St Martin's graduate, Rachel Boston looks to nature as well as the seemingly unrelated realms of magic and high fashion for inspiration for her unique, timeless designs in 18ct gold. The Runes fine jewellery collection juxtaposes the ancient symbols of the Runic alphabet with clean lines and precious stones to create pieces that are the epitome of understated luxury, while the Cosmos capsule collection celebrates the beauty of imperfection with inclusion-filled diamond slices. Nominated for New Designer of the Year at the UK Jewellery Awards, Rachel has amassed a strong celebrity following that includes the likes of Rihanna, Miley Cyrus and Ellie Goulding.
Siblings Mark and Anna Jewsbury are the design duo behind fine jewellery brand CompletedWorks, which translates formidable themes such as societal collapse, faded civilisations and historical changes into jewels that are not only beautiful but also connect with the wearer on a deeper level. Drawing on their respective backgrounds in maths and philosophy and history, the pair are part of a new breed of London jewellery designers embracing avant-garde design and unconventional materials.  Sawn-off columns of Italian marble surrounded by diamonds rise out of gold rings in the Incomplete collection while the Dystopia collection is inspired by a recurring childhood nightmare.
Graphic shapes are studded with vibrantly coloured gemstones in the jewels that London-based Rachel Shaw creates for her fine jewellery brand Ruifier. With a name derived from the English word "Reify", which means turning an abstract idea into a tangible object, Ruifier's collections combine innovative, fashion-forward design with the finest conflict-free precious stones. Clean lines and sharp angles inspired by urban architecture sit alongside romantic and playful motifs such as hearts and kisses.
See more vibrant coloured gemstone jewellery
Royal College of Art graduate Lily Kamper is another jeweller who knows all about unusual materials. She uses hand-dyed, lathed Perspex and Corian, which is more commonly found on kitchen countertops, to create her colourful, unique jewellery inspired by architecture, pyramids and temple structures. Named one of the Professional Jewellery Hot 100 last year, Lily's eponymous brand is stocked by, among others, Liberty London, Colette in Paris, Tomorrowland in Tokyo and Harvey Nichols in Baku.
The London Fashion Week jewellery action is by no means limited to Rock Vault as those exhibiting in the accessories space at the Designer Showrooms include ex-Rock Vaulter Melanie Georgacopoulous and Kattri, who are both offering a new modern spin on traditional pearl jewellery.
Ana de Costa yellow gold and black Tahitian pearl pendant, set with a rare 10mm grade A Tahitian pearl and surrounded by tsavorites, from the new Perle Noire collection.

CompletedWorks gold ring with Italian column-shaped marble, covered by diamond vines.

Lily Kamper pendant necklace in gold set with pink sapphires and a hand-turned solid marble column. 

Pink pendant by Lily Kamper in yellow gold and diamonds, with a hand-dyed, pink Perspex column that has been hand-turned on a lathe. 

Innovative cuts and colours merge in the Spectrum collection by Ruifier, which includes this Allegro ring set with blue topazes. 

The Spectrum collection by London jewellery brand Ruifier combines geometrically cut gemstones with 18ct gold and negative space to create graphic shapes, as seen in this Viola ring in rose gold set with white sapphires and amethysts. 

Kattri Double Asymmetry gold ring set with black and white pearls.

Ana de Costa's new Perle Noire jewellery collection features black Tahitian pearls, including this tsavorite ring in yellow gold.