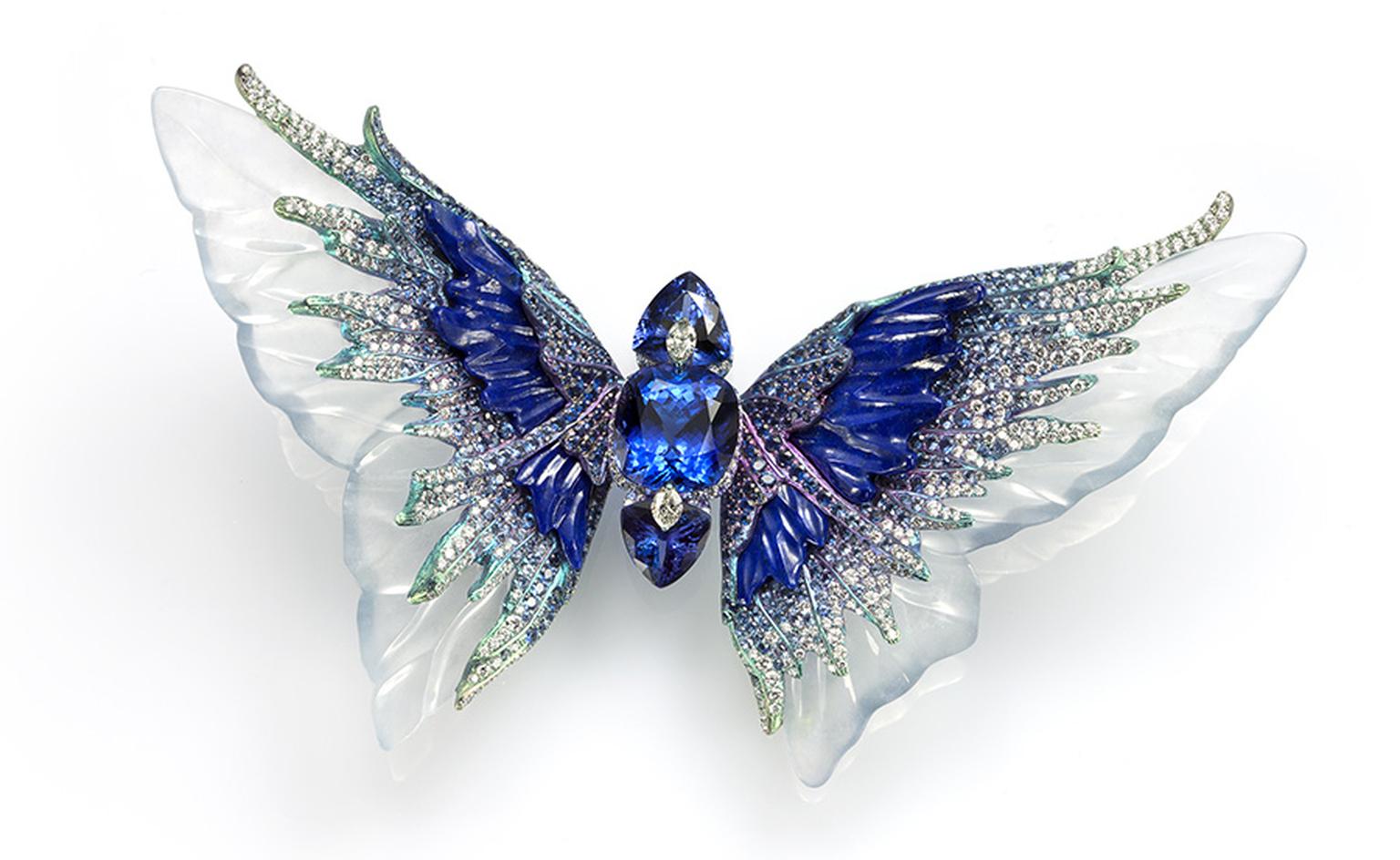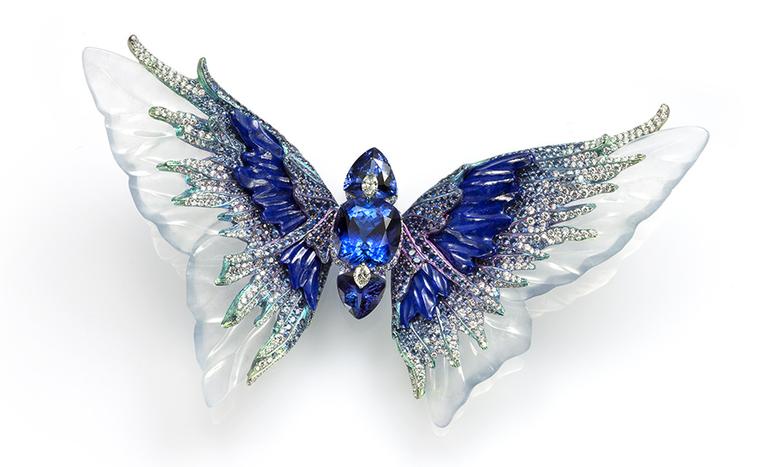 Wallace Chan made his debut at the 26th Biennale des Antiquaires in Paris with his extraordinary jewels made in a range of eye-catching materials crafted to levels of astonishing and delicate detail.  The collection is called "The Path to Enlightenment - Art & Zen" and on show were 50 pieces worth 230 million euros.
"With each jewel I have a story to tell," says Chan. "As a Chinese jewelry master, I hope to bring to the 26th Biennale des Antiquaires the essence of oriental and philosophy and Chinese culture. My jewelry pieces are created to open up a profound dialogue between cultures."
Hong Kong native Wallace Chan began his career carving precious stones. Showing an innate gift for this craft he developed what he later called the "Wallace Cut" an adaptation of the medieval intaglio and cameo carving techniques that creates a realistic and three dimensional carving inside a crystal with mulitple reflections. From this detailed and finely calibrated work, the move into jewellery was a natural progression.
But this is where comparisons with traditional techniques and styles end as there is nothing conventional or expected about Chan's work. His jewels looks like nothing else and had me wondering what on earth I was looking at: what are these gossamer fine layers of smokey crystal, where are these extraordinary colours coming from and how can one stone appear to hover inside another? Just how has he managed in hard stone and cold metal to capture the frailty of a butterfly's wings or the wispiness of a celestial cloud? How can he create such extravagant, almost baroque jewels that are always original and breath-taking?
With a Confucian-style long beard and black tunic, Chan embodies the spirit of Asian philosophies and religions in his work and aims to delight the eye as well as touch the soul with his interpretations of nature. Chan tells me that he uses real butterflies to recreate their exact anatomy and in one brooch, he even encased the wings between layers of carved rock crystal and mother of pearl allowing the powdery natural colour of the insect's wings to glow through the transparent stone. His ability to turn the ordinary into the extraordinary is the mark of a true artist jeweller. As well having a genius talent for carving and the most painstaking craftsmanship, he has also put in time mastering materials such as ultra-light titanium to create these jewels that are as delightful as Nature itself. 
Wallace unites invisibly the metal 'skeleton' of his works with the gemstone 'flesh' by inventing new setting techniques. Not satisfied with conventional claws or collets to hold stones he has developed what he calls the "the diamond claw setting method" and the "inner mortise and tenon setting method". The first one does away with metal claws and actually uses diamonds and gems as the setting which sounds as baffling as the result is sublime. The second method adopts the Ming-style architecture mode of joining materials by cutting stones to form a mortise and tenon joint, which believe me, is as complex as it sounds. All you need to know is that it looks out of this world and allows for seamless flows of form and a richness of colour uninterrupted by metal.
Wallace Chan's jewels have captured the imagination of jewellery collectors and experts around the world. The fact that he was invited to show his jewels at the Biennale des Antiquaires, the most prestigious fine jewellery show on the globe, is testament to both Chan's artistry and the organisers' knowledge and sound judgement. Chan is the first Asian jeweller to show at the Biennale des Antiquaires.
Wallace Chan Painted Lady brooch from the Fluttery Series, created for the Biennale des Antiquaires 2012 featuring jadeite, diamonds, pink sapphires and rubies.

Inheritance brooch by Wallace Chan featuring a Chinese totem called "the dragon educating his son" commonly found in Qing artefacts. The ball is imperiale jadeite of a particularly intense emerald green colour and appears to float mysteriously with no metal claws on view as the father hands his legacy to his son.

A Drop in the Ocean necklace by Wallace Chan with a 379 carat aquamarine, diamonds and sapphire. The small aquamarines are embedded in reverse to highlight the main stone's natural gleam. Under the main stone a chain of white diamonds, sapphires and crystal hangs and the backside of the necklace is also highlighted with an aquamarine. The necklace structure is made with titanium, decorated with diamonds, crystals and sapphires creating a layer upon layer effect.

Le Cygne necklace by Wallace Chan is a mystical scene captured in a range of precious materials including fancy coloured diamonds, sapphires and crystal. The natural crystal represents the water disturbed by the swan as it spreads its wings. The swan's body is titanium in which three diamonds are embedded, and underneath three diamonds smaller diamonds are cleverly placed to enhance brilliance.

The Chest of Treasures by Wallace Chan with a 132 ct peridot, diamonds and amethyst. The luxuriant and luscious olive green of the peridot is adorned with amethyst. The peridot has strong birefringence, which is also known as double refraction adding allure to the stone.The necklace intertwines peridot slices and diamonds.

The Great Wall necklace by Wallace Chan worth 56 million euros (approx) with an imperial jadeite cetnral stone adorned with maple leaves and and diamonds.

Eyes of Infinity parure composed of a necklace, ring and two brooches featuring two scorpions magnificently embellished with precious gem stones. The central stone is 45 carat alexandrite with a cat's eye effect. Rubies, demantoid garnets, diamonds and a yellow sapphire create the rich spectacle.

Nuwa ring by Wallace Chan shows off the jeweller's skills in combining the colours of a 45 ct peridot, amethyst and diamond. Nüwa is a goddess in ancient Chinese mythology known for creating mankind and repairing the wall of heaven. She sealed the broken sky using stones of seven different colors.

The Beauty of Chaos ring by Wallace Chan speaks of the sometimes random appearance of Nature contrasting with the smooth perfection of the ruby. The 13 ct cat's eye ruby is surrounded by rubies and fancy coloured diamonds.The titanium structure of the ring matches the stones and is in the form of a tree.

Wallace Chan with a light as air titanium dragon fly brooch.

Wallace Chan who brings a Buddhist sensitivity to his work.