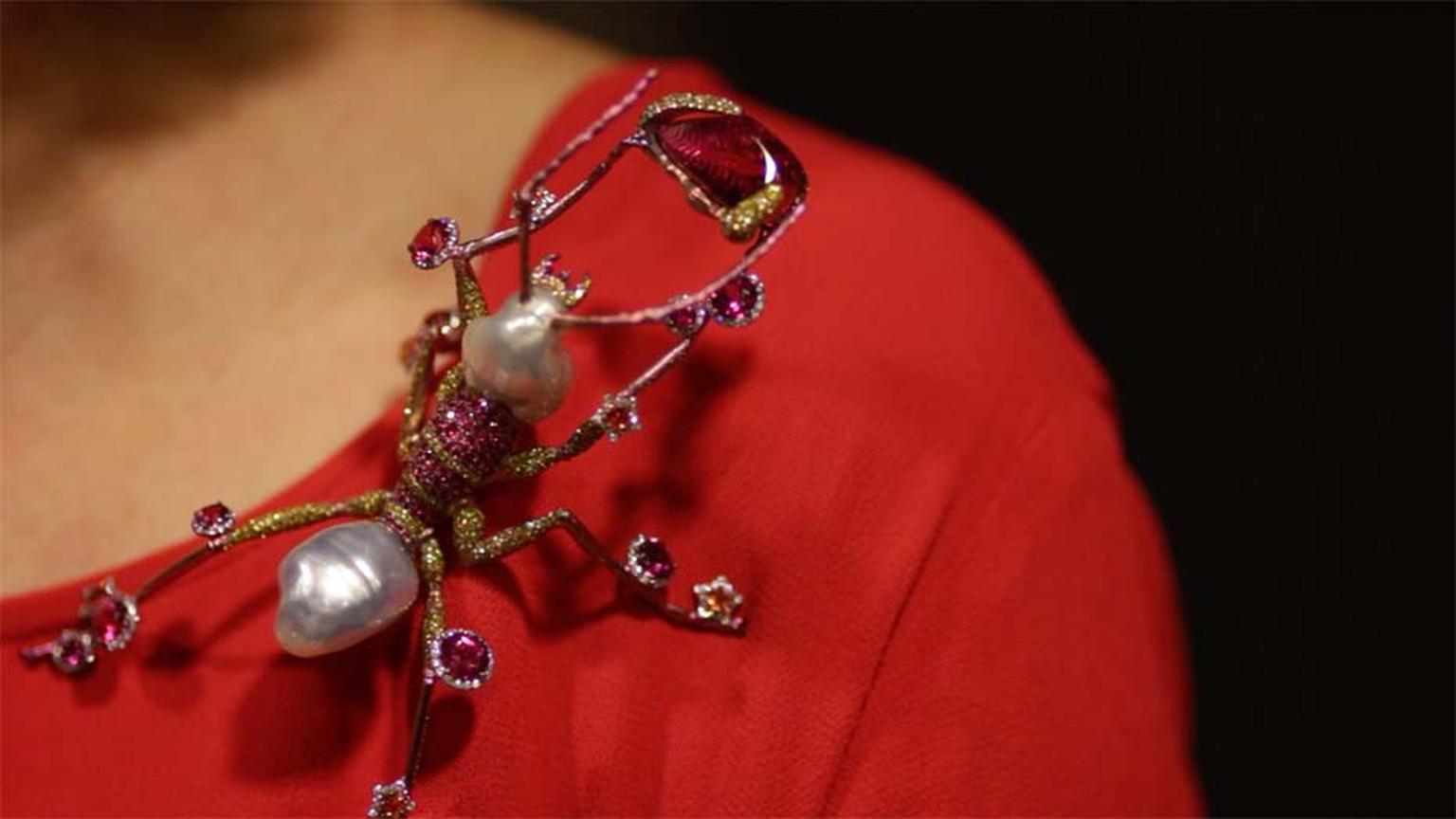 While I won't be venturing inside the Grand Palais to see what delights await for a few weeks yet at the 2014 Biennale des Antiquaires, I was lucky enough to get a sneak preview of the most beautiful and daring pieces during Haute Couture week in Paris earlier this month. Traditionally, it's the time that the maisons give a first glimpse of their Biennale wares, and this year they have left no stone unturned when it came to creating an astonishing array of high jewels.
Alexandre Reza will be gracing the Biennale des Antiquaires for the first time in 40 years this September. Using the finest materials, Reza's team spends significant time making sure each element of a jewel is perfect. I was particularly enthralled by Reza's 100 carat sapphire earrings, which are surrounded by a cascading chandelier of brilliant and pear-shaped diamonds. It's safe to say Reza is back with a beautiful bang.
Cartier's newest high jewellery collection, Royal, is nothing short of mesmerising. From a diamond tiara starring a natural pearl once owned by Queen Mary to a spectacular diamond choker featuring a 15ct ruby, I expect nothing less than the best from Cartier come September.
Simply amazing is the only way to describe Wallace Chan's jewellery. Only his second year at the Biennale des Antiquaires, I could hardly wait to see his latest offerings. Chan's Secret Abyss necklace is aptly named as it features a 10.05 carat yellow diamond, emeralds, fancy coloured diamonds and amethysts, all safely nestled inside a 211.74 carat rutilated quartz.
We know Giampiero Bodino is no stranger to the world of jewellery, but it will be his first time at the Biennale with his eponymous jewellery brand. The Italian Renaissance comes alive in Bodino's colourful and bold work, which you can see more of here.
We can't get enough of Van Cleef's Peau d'Âne Fairytale collection. In fact, its range is so vast and stunning that we have already featured previews here and here. With over 100 pieces in the collection, I am still feeling Peau d'Âne's magical beauty.
Chuamet finds inspiration in the element of water in all its states in its new high jewellery collection, created specially for the Biennale, and recreates this formidable force of nature using opals, rock crystal and lapis lazuli. And of course we can't let the British brands go unnoticed. Graff we will be returning to the Biennale with white diamonds infused with sapphires, rubies and emeralds, while venerable British jeweller David Morris will be showing there for the very first time.
To read more stories on the Biennale de Paris this September, please click here.
Maria Doulton visits Alexandre Reza's jewellery showroom in Paris and admires his amazing collection of rings to be showcased at this year's Biennale des Antiquaires.

Maria Doulton models a ruby and diamond ring by Alexandre Reza.

Wallace Chan shows Maria his Secret Abyss necklace featuring a 10.05ct yellow diamond, emeralds, fancy coloured diamonds and amethysts all safely nestled inside a 211.74ct rutilated quartz.

Cartier's new Royal collection includes this diamond tiara, which has a 66 Grade natural pearl once owned by Queen Mary at its heart.

Cartier's interchangeable ruby and diamond choker featuring a 15ct ruby.

Van Cleef & Arpels Peau d'Âne collection white gold Enchanted Castle brooch featuring multiple cut diamonds, emeralds, sapphires and briolettes surrounding a 39ct oval cut emerald.

Alexandre Reza tremblant style tree-blossom earrings with two heart-shaped diamonds weighing 3.77ct and 4.01ct, pear-shaped diamonds, marquise-cut diamonds and brilliant-cut diamonds.

Giampiero Bodino Mosaic bracelet featuring layers of amethyst and citrine outlined by diamonds. Image: Laziz Hamani

Van Cleef & Arpels Peau d'Âne collection white and yellow gold Sun Dress brooch with white and yellow diamonds, spessartite garnets, tourmalines and yellow sapphires.

Chaumet high jewellery bracelet in white gold set with a 39.05ct cabochon-cut white opal from Ethiopia, brilliant-cut diamonds, oval-cut violet sapphires from Ceylon and Madagascar and round violet sapphires, from the Lumieres d'Eau high jewellery collection.

Chaumet Lumieres d'Eau high jewellery necklace in white gold, frosted rock crystal and diamonds.

Wallace Chan Gleams of Waves brooch featuring yellow diamonds at 6.68ct each, rubies and pink sapphires.