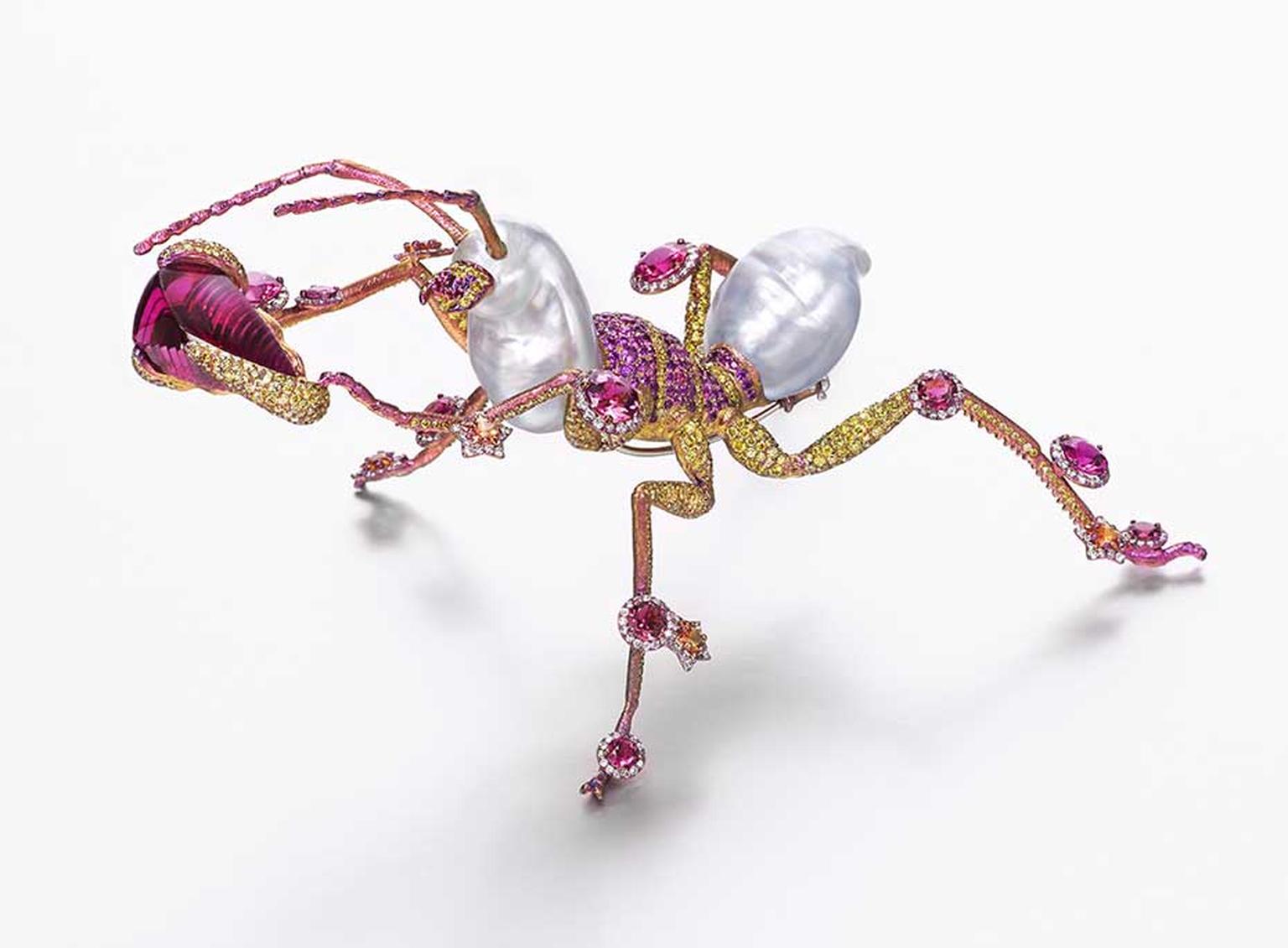 By Maria Doulton in London
Since his first appearance at the Biennale des Antiquaires in 2012, Wallace Chan has become something of a celebrity in the world of jewellery. So daring, so meticulously crafted and so original are his creations that his followers just can't wait to see what he will dream up next.
And from the preview I saw in Paris in early July, Wallace Chan's presence at the Biennale des Antiquaires this year will not disappoint. As much jewels as sculptures, here is a taste of what to expect from Wallace Chan when the Biennale opens its doors at the Grand Palais this autumn.
"I create because I have stories to tell," explains Wallace Chan. So look no further than The Mighty brooch, an impressive piece shaped like an ant the size of my hand. The story here is that Wallace Chan was inspired by the mighty strength of the ant, capable of lifting 100 times its weight and an untiring team player within the complex ant colony. I had the chance to try on The Mighty. Pinned to the shoulder of my dress, he was  - believe it or not - so light that I almost forgot he was sitting there. The ant's head and abdomen are made of two baroque pearls while rubellites, yellow and pink sapphires and diamonds bring sparkle to this extraordinary insect. Clasped in his delicate titanium pincers is a pink tourmaline carved with a leaf design.
Gleams of Waves is another example of Wallace Chan's remarkable talent as a sculptor. Shimmering with pink sapphires, rubies and yellow diamonds, the billowing tail of the fish swishes fluidly as diamond bubbles escape from his mouth.
The Mon Rêve ring is, comparatively speaking, a more traditional jewel. Wallace Chan has paired a 29.22 carat vibrant green tourmaline with a 12.38 carat colour-infused rubellite. The stones slope towards each other, evoking an ethereal construction framed by a night sky of dark lapis lazuli, with twinkling diamonds, pink sapphires and majestic lilac tsavorites. According to Chan, the dreamy combination "represents beauty, simplicity and elegance".
Look out for these and more wonders from Wallace Chan, who is becoming one of the most sought-after jewellery designers of our times, this September.
To read more stories on the Biennale de Paris this September, please click here.
Wallace Chan Graceland ring featuring diamonds, pink sapphires and porcelain.

Wallace Chan Her Splendid Smile ring featuring a 5.80ct sapphire, rubies, emeralds, fancy coloured diamonds, yellow and white diamonds and pink sapphires.

Wallace Chan Gleams of Waves brooch featuring yellow diamonds at 6.68ct each, rubies and pink sapphires.

Wallace Chan Mon Rêve ring featuring a 29.22ct green tourmaline, 12.38ct rubellite, diamonds, tsavorites, garnets, pink sapphires and lapis lazuli.

Wallace Chan Hushaby necklace featuring a 5.15ct agate, a 32.95ct aquamarine, pink tourmalines, yellow and white diamonds, sapphires, tsavorites and garnets.

Wallace Chan Secret Abyss necklace featuring a 10.05ct yellow diamond, a 211.74ct rutilated quartz, emeralds, fancy coloured diamonds, amethysts and rutilated quartz.

Wallace Chan The Phoenix Dance necklace featuring a 21.73ct sapphire, fancy coloured diamonds, blue and pink sapphires, rubies, jadeite, lapis lazuli beads, tsavorites and garnets.

Wallace Chan The Mighty brooch featuring a total of 75.94ct pearls, 21.41ct rubellites, yellow sapphires, diamonds, pink sapphires and yellow diamonds.