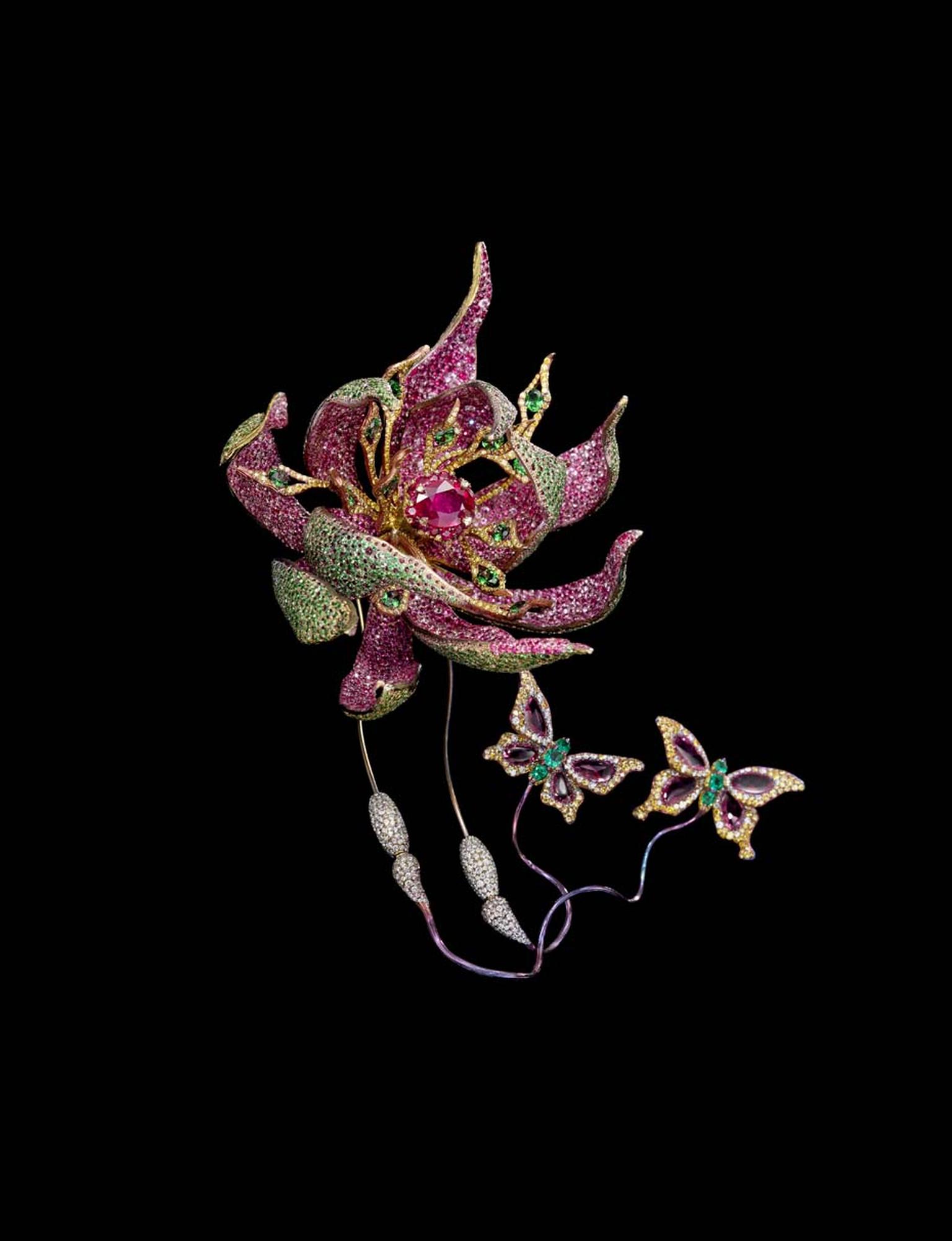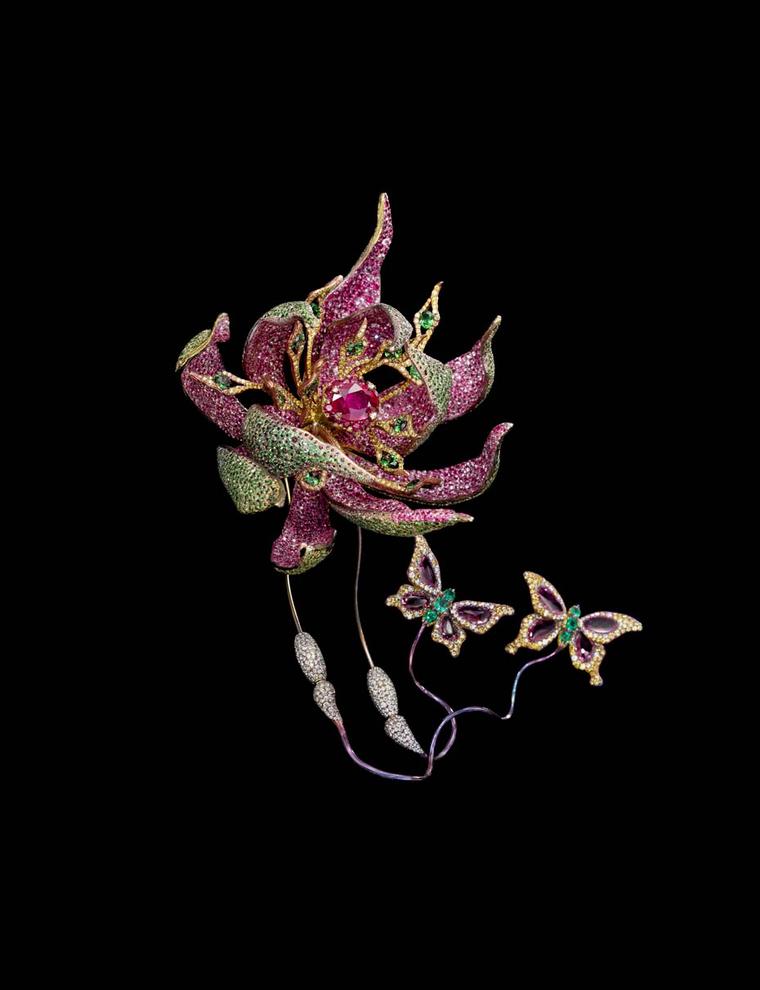 By Francesca Fearon in London
Poetry and Mother Nature lie at the heart of Wallace Chan's artistry, creating the poetic narrative in which he crafts his jewels.
Two romantic verses, one by the Tang dynasty poet Du Fu and the other by Lord Byron, inspired two lusciously picturesque jewels recently previewed by Wallace Chan for what will be his second appearance at the Paris Biennale this September.
Flowers and butterflies are recurring themes of classical Chinese poetry. Du Fu's evocative words, "Deeper and deeper the butterflies go between flowers, and the dragonflies fly leisurely between drops of water", have been imagined as a flower brooch. Sculpted in titanium, the bloom is embellished with a 6.05ct ruby centre and coloured gems, a tsavorite one side and pink sapphires on the other side of each petal, with two emerald and sapphire butterflies dancing around it. The magic of titanium, Chan says, means that even his bigger pieces are very light.
The brooch is just one of the highlights of a Biennale show that will focus more on jewellery than the objets d'art he presented two years ago. There will be more than 35 designs: necklaces, earrings and rings, including a large cocktail ring inspired by Bryon's "She walks in beauty, like the night", with aquamarines set on top of starry diamonds.
A humble and deeply philosophical man, Chan is completely self-taught as a jeweller. Originally a carver, he went on to study anatomy and sets himself huge technological challenges with his craft. As one of his collectors says: "Wallace's work is an art form using gemstones as the medium." He sets precious stones onto semi-precious stones and, in 1987, devised the Wallace Cut, in which he combines medieval cameo and intaglio into 3D engraving, creating pictures in precious stones. This intricate technique features in an aquamarine pendant, with the ghostly image of Horae from Greek mythology emerging from its soothing blue depths.
Based in Macau, Chan's work is sculptural, merging realism with a Zen-like wisdom, which leads to another masterpiece for the show in this Year of the Horse. His Entrancing Love brooch plays with scale: a large gem-set maple leaf with two miniature diamond horses, a mare and stallion, running free and swiftly towards a peridot, a stone that, according to legend, is both a symbol of happiness and a guardian of love.
"Creating is like religious practice," explains Chan. "All kinds of strange imageries present themselves (through meditation). The various forms and shapes of precious stones open up my mind, and my heart and soul follow the lead of my consciousness."
Wallace Chan Vermillion Veil earrings set with two rubellites weighing 20.96ct and 20.03ct, diamonds, emeralds, rubies and yellow diamonds.

Wallace Chan Now and Always necklace featuring a signature 35.4ct Wallace Cut aquamarine, amethysts, diamonds, blue topaz, sapphires and opals.

Wallace Chan Cloudless Climes ring set with a central 31.13ct aquamarine and two additional aquamarines, diamonds, tsavorites, garnets and sapphires.

Wallace Chan Entrancing Love brooch featuring a horse compromised of two diamonds, a 52.58ct peridot, fancy coloured diamonds, yellow diamonds, diamonds, tsavorites and garnets.

Wallace Chan Fleur de la Dynastie Tang brooch with rubies, yellow diamonds, pink sapphires, tsavorites, garnets, emeralds and diamonds.