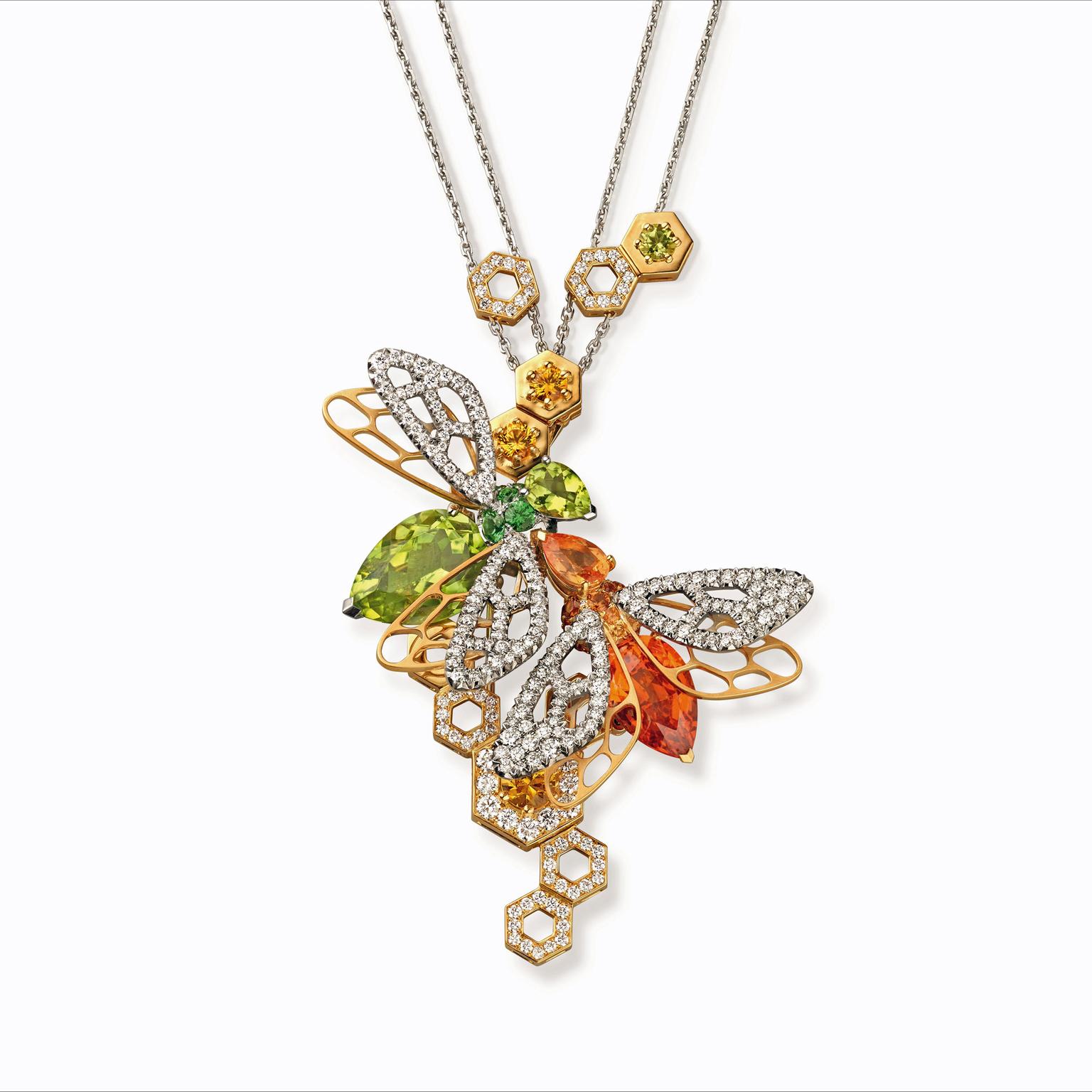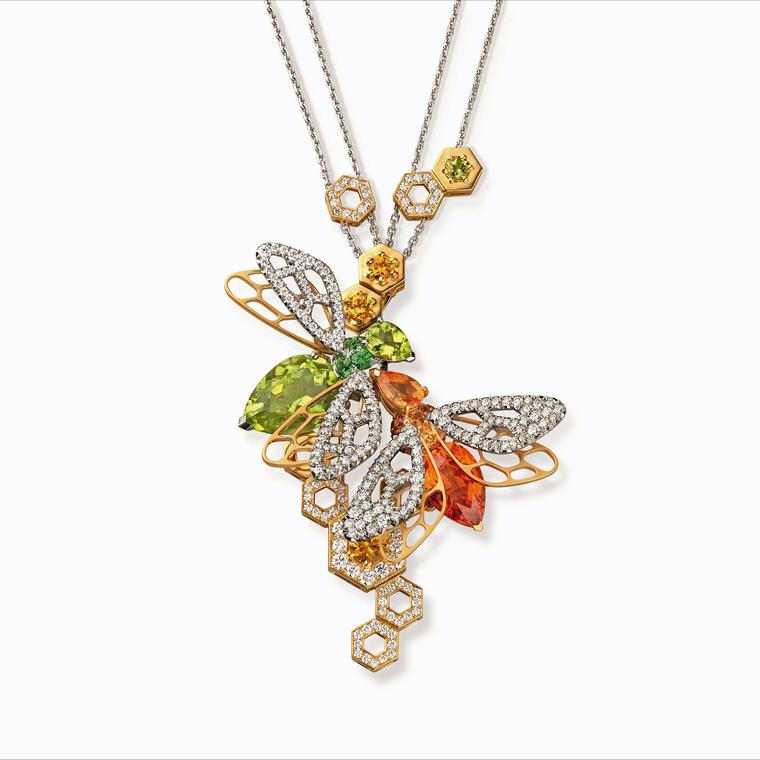 As a self-confessed minimalist who is on a constant mission to whittle down her wardrobe to the perfect 37-piece capsule, I find the idea of transformable fine jewellery infinitely appealing. Whether it's turning a necklace into a bracelet or adapting a pair of earrings from day to night, these cleverly designed shape-shifting jewels bring a whole new meaning to the phrase "two for the price of one". 
Of course, fine jewellery that can be worn in multiple ways is nothing new, having first appeared around the turn of the 20th century when esteemed Maisons such as Chaumet, Van Cleef & Arpels and Graff embraced the art of transformable jewellery. 
A master of metamorphosis, Chaumet has put its name to numerous transformable creations, from necklaces that double up as brooches, to tiaras with removable diamonds or gemstone pendants that can be attached to necklaces or earrings. The new Abeille high jewellery collection unveiled this autumn continues the tradition with two pendant necklaces that can be transformed into colourful brooches.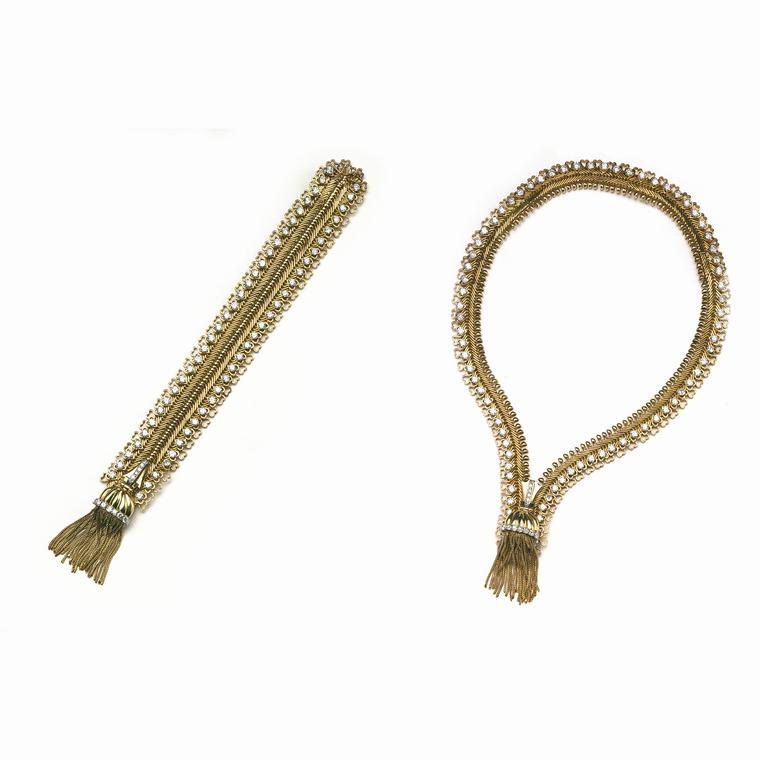 Van Cleef & Arpels jewellery has also featured some incredible transformable pieces throughout its history. One of the most noted styles is the Zip necklace, made at the suggestion of the Duchess of Windsor, which can be worn as a bracelet or a necklace, long or short. The latest Van Cleef & Arpels high jewellery collection includes the Bora necklace that can be worn in three different ways.
In 1932, Coco Chanel's debut collection, Bijoux de Diamants, encompassed several versatile pieces, including a Chanel necklace that could be transformed into three bracelets and a brooch. The 1932 collection created in 2012 to mark its 80th anniversary continues the transformable theme with the Etoile Filante sautoir, which features a removable diamond star that can be worn as a brooch. 
From a Marco Bicego diamond necklace that can be shortened or turned into a bracelet, to Brumani pastel earrings with detachable gemstone drops, convertible jewels are as popular as ever. Alessio Boschi jewellery also features a necklace and bracelet set in its Volcano collection, which can be worn separately or fastened together to become a long sautoir-style necklace.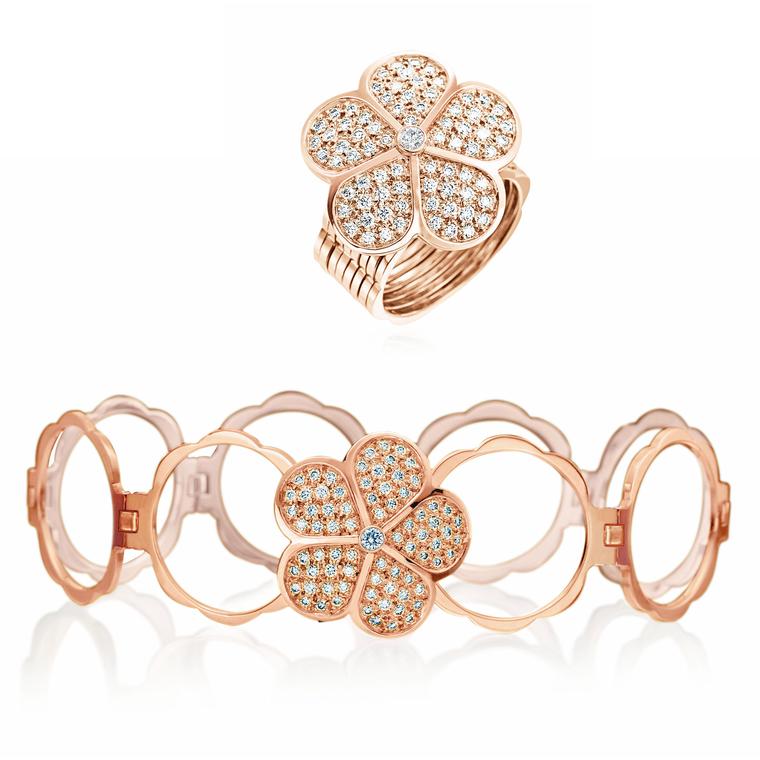 Transformable jewellery sits at the very core of New York-based Gumuchian, with pieces such as the Ring Cycle that unfolds from a ring into a bracelet in a matter of seconds. Similarly, the Carousel collection includes a necklace that can be worn in seven different ways, while the Cascade collection encompasses detachable diamond and sapphire drops. 
As a key part of its offering, Pomellato jewellery also features convertible jewels with Tango bracelets that can be linked together via an invisible clasp to create a necklace. Set with pavé diamonds or gemstones in a vast array of colours from rubies to Paraiba tourmalines, the options are virtually endless, whether you choose to stick with one gemstone or create your own rainbow-hued jewel. 
Convertible baubles show off not only a jeweller's design skills but also his or her technical prowess in making the transformation from one bejewelled incarnation to another as seamless as possible. The stunning Diamond Party Jacket range of Jessica McCormack jewellery consists of eight sets of rings that can be worn as they are, or with an added diamond "jacket" to ramp up the glam factor. Jessica also designs bespoke diamond party jackets to transform a client's existing jewel; the perfect solution for a family heirloom that doesn't quite cut it in the style stakes. Clockwork precision is required to ensure the rings fit together perfectly, with all work carried out by hand in Jessica's London workshop. 
Transformable jewels open up a whole new world of options and, however you choose to wear them, there is no denying that these hardworking gems will add a wonderful sense of versatility to your jewellery box. 
Chaumet necklace that can be transformed into a brooch from the new Abeille high jewellery collection in yellow and white gold set with a 23.42ct cushion-cut Imperial topaz, green tourmalines, golden cultured pearls, Mandarin garnets, tsavorites and brilliant-cut diamonds. 

The iconic Van Cleef & Arpels Zip necklace was based on an idea by the Duchess of Windsor and can be converted into a bracelet.

The Bora necklace in white gold with diamonds and turquoise from the Van Cleef & Arpels Seven Seas high jewellery collection can be worn long or short, or transformed into a bracelet.

Marco Bicego necklace in 18ct yellow gold that can be shortened or worn as a bracelet.

Brumani earrings from the Baobab collection in18ct rose gold with detachable lemon quartz drops, as well as diamonds, chrysoberyl and madalite garnets.

Gumuchian necklace from the Carousel collection in 18ct yellow gold and diamonds, which can be worn in several different ways.

This transformable daisy ring by Gumuchian in 18ct rose gold set with pavé diamonds unfolds into a bracelet.  

This Chaumet high jewellery pendant from the Abeille collection can be worn as a necklace or a brooch and features two iconic bees set with a peridot and Mandarin garnet.