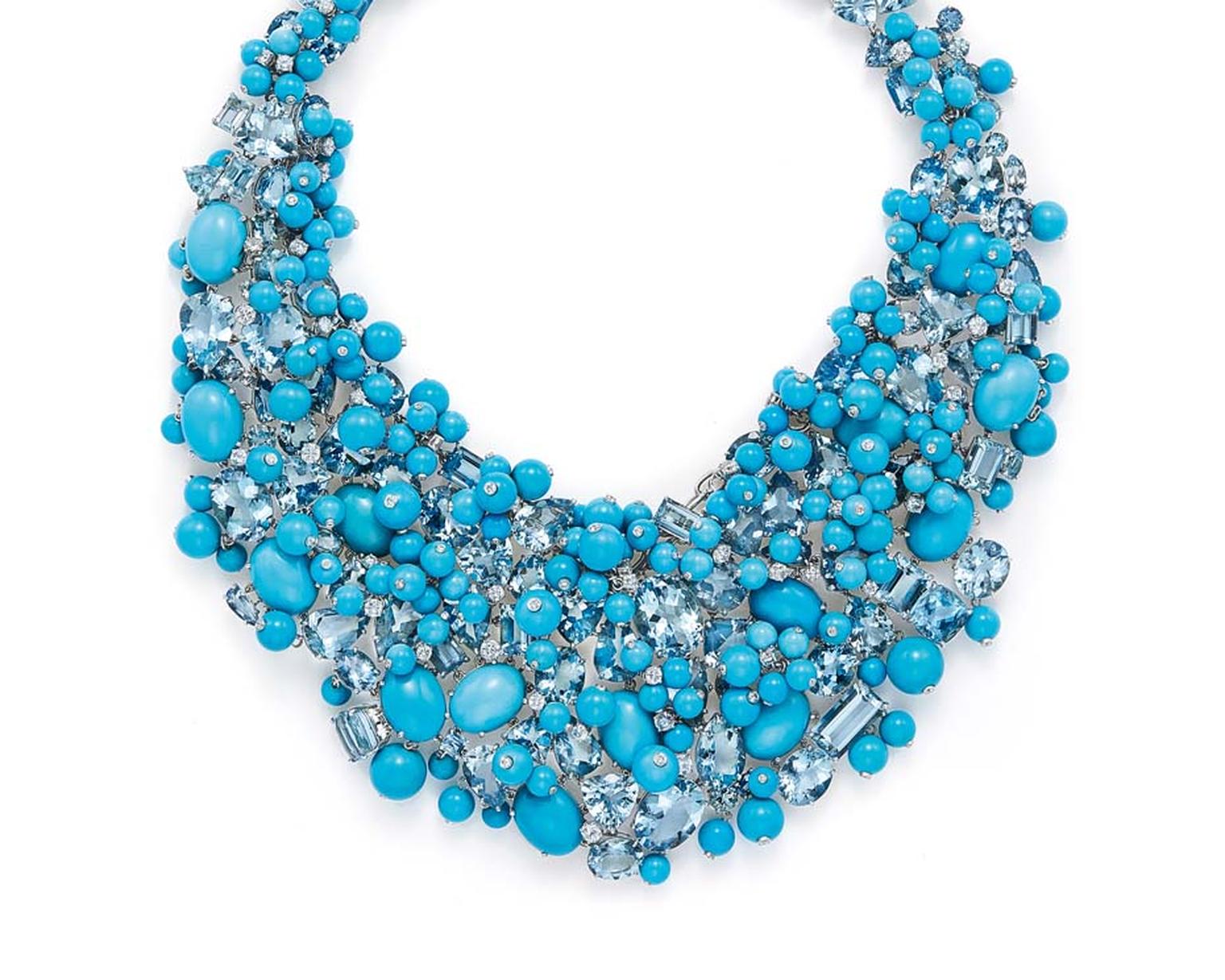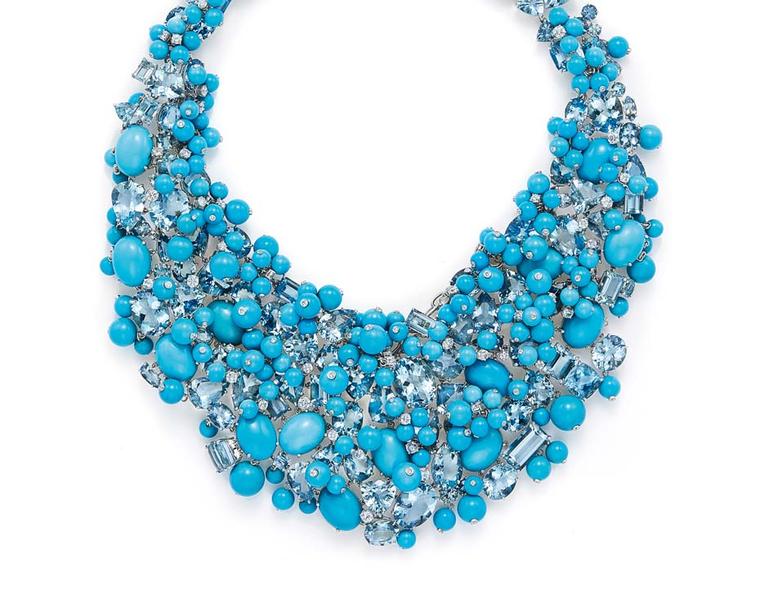 By Maria Doulton
In the world of jewels, never before have we seen such an abundance of blue, and in particular, beautiful turquoise jewellery. Blue, it seems, is the colour of the season, from swathes of denim on the catwalk to cool cobalt patterns on dresses and shirts.
Turquoise - or hydrous phosphate of copper and aluminium - derives its name from the French "pierre turquoise", meaning Turkish stone. The blue coloured gemstones were first traded in the bazaars of Istanbul en route from mines in Asia to Europe. Turquoise jewellery comes in a variety of blue hues depending on which desert region it was mined. Whether you prefer the darker tones or an almost pastel duck-egg blue, most experts agree that a smooth, even colour is the most desirable.
Read more about the history of turquoise
The stunning Tiffany & Co. bib-style aquamarine, diamond and turquoise necklace, which Cate Blanchett wore to the Oscars this year, confirmed the hunch that turquoise is the stone du jour. The combination of gemstones used in this necklace points to another trend of experimenting by mixing it with other precious stones, leaving behind the more traditional strands of turquoise beads.
Mikimoto, the Japanese pearl titan, interspersed turquoise beads around a long pearl sautoir at Baselworld recently, bringing us a fresh new look for both gems. Using graduated shades of blue, the stones fade gently in and out of the pearls, creating a delicate effect that highlights their radiance.
Meanwhile, Maison Giampiero Bodino juxtaposes the cool blue of turquoise with the warm tones of amethyst by alternating rows of overlapping amethysts and turquoise cut into scallop shapes. The result is a rich pattern of exciting contrasts inspired by Italian Renaissance mosaics.
De GRISOGONO, best known for its audacious use of coloured gemstones, combines smooth turquoise drops with brilliantly coloured facetted stones. The Melody of Colours collection pairs the blue stones with emeralds and amethysts for an explosive combination that is full of movement and brings a new vitality to turquoise.
Genevan jewellery Avakian dangles pointy turquoise drops from its Riviera diamond earrings and necklace. Choosing just the right shade of turquoise was important for Haig Avakian, and it was only American turquoise that was able to deliver the deep blue and even tone.
Brazilian jeweller Carla Amorim hunted down the highly sought after Sleeping Beauty stone from Arizona for her glamorous double drop turquoise earrings accentuated by diamonds.
As you can see, turquoise is everywhere, even in Chopard's Happy Hearts jewels, which this year are livened up with a splash of blue turquoise for a fresh summertime look. From simple, slender bracelets to statement necklaces, it seems that turquoise is taking centre stage - so much so that it may even be time for the opal to move out of the limelight. 
Read more about the 2015 trend for blue gemstones
de GRISOGONO Melody of Colours earrings in white gold, with turquoise and emeralds.

Giampiero Bodino Mosaico necklace with turquoise, amethysts and brilliant-cut diamonds.

Mikimoto pearl necklace, interspersed with graduated turquoise.

Actress Cate Blanchett wearing an aquamarine, diamond and turquoise necklace from Tiffany & Co's latest Blue Book collection to the 87th Academy Awards in Los Angeles.

de GRISOGONO Melody of Colours earrings in white gold, with turquoise and amethysts.

Chopard Happy Heartsbracelet in white gold with turquoise and a single mobile diamond.

Chopard Happy Hearts necklace in white gold with turquoise and mobile diamonds dotted along the chain.

Avakian turquoise earrings in white gold with diamonds, from the Riviera collection.

Avakian turquoise necklace in white gold with diamonds, from the Riviera collection.

Carla Amorim earrings set with rare Sleeping Beauty turquoise in white gold, accentuated by brilliant-cut diamonds.

The aquamarine, diamond and turquoise necklace worn by Cate Blanchett to the Oscars earlier this year, from the 2015 Tiffany & Co. Blue Book collection.