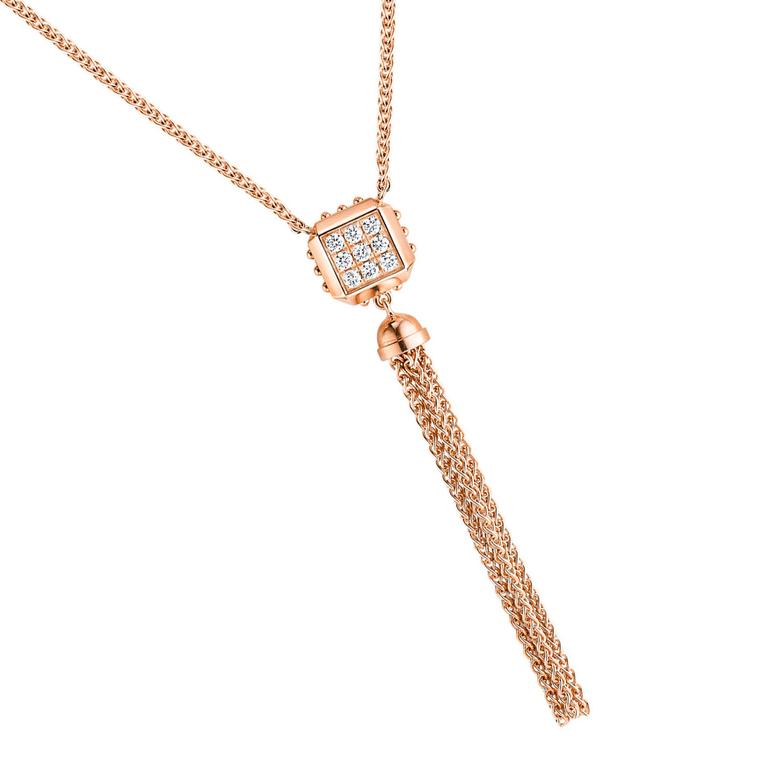 In the relatively short time that Louis Vuitton has been making jewellery, it has clearly made its mark in this most precious of arenas. This is largely due to focusing on and continuing to evolve three of the house's iconic jewellery collections: Dentelle de Monogram, Lockit and Emprise. All three link back to LV's original business of making trunks and leather goods, and in the latest twist from this Place Vendôme jeweller, we are presented for the first time with pink gold versions of these iconic designs.
Read more about The Jewellery Editor's visit to Louis Vuitton's gem department
Our love of pink gold shows no sign of abating and, together with its sibling yellow gold, is the preferred precious metal choice over the cooler sheen of white gold. Pink gold is created by an alloy that is higher in copper with a slightly reduced silver content. The result is a warm glowing colour that flatters almost all skin tones. Louis Vuitton confirms the enduring appeal of pink gold as it strikes its iconic jewellery designs in this warmest of hues.
The Dentelle de Monogram is perhaps the most recognisable range of Louis Vuitton jewellery as its design cues are found across the LV world. The famous flower symbol, first seen on its Victorian-era steamer trunks in 1896, is now present in virtually every product category from handbags to couture, to watches and, of course, jewels. The Dentelle de Monogram, or monogram lace, was first unveiled in the high jewellery collection Voyage dans le Temps, presented in September 2012. The monogram motifs were converted into white gold and diamond jewels as supple as lace, which draped across the body with the ease of fabric. Today we see the very recognisable outlines of the Monogram in this softer hue of pink gold, giving it a whole new lease of life.
Read more about the Louis Vuitton Voyage dans le Temps collection
The Emprise collection is a more recent addition and is directly inspired by the aesthetics of a Vuitton trunk - all shrunk down to bijoux proportions - hence the miniature nails, corner reinforcements and locks. The aesthetic of the Emprise first came to life in a watch collection, which then led to a high jewellery line. Proving its resilience as a design concept, today the Emprise looks better than ever in pink gold. Bang on trend are the large hoop earrings and highly tactile bangles, which are so tempting to stack or mix and match. I particularly like the pendant reminiscent of an early gem-set jewellery necklace, which is full of movement with a cool swagger.
Read more about the influence of Louis Vuitton's iconic trunks in its design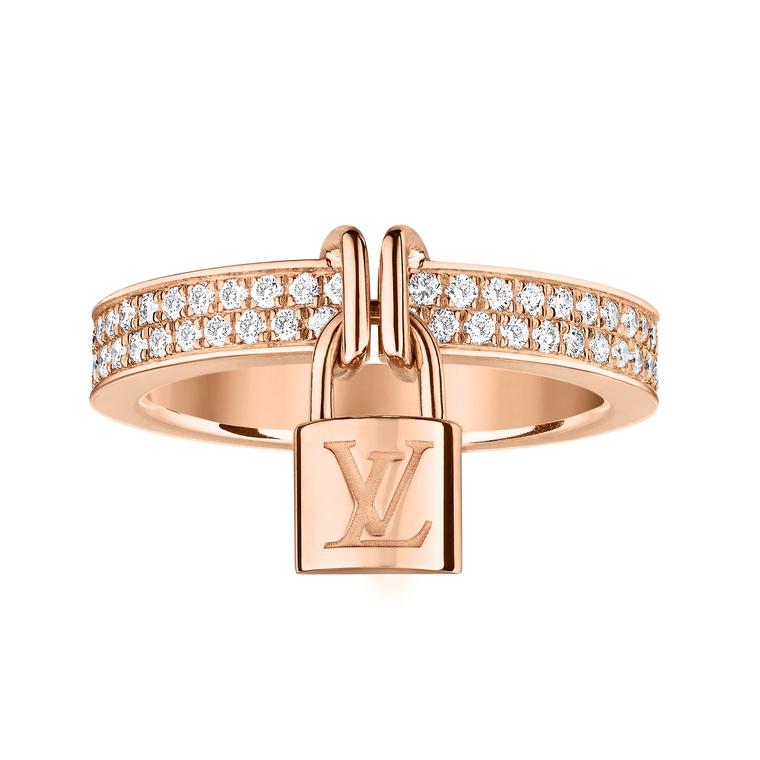 The Lockit range of Louis Vuitton jewellery is reminiscent of padlocks used to lock trunks, and has a long history at LV. The Lockit padlock first appeared dangling from the Vuitton Steamer bag and, more recently, the Lockit bag has risen to fame thanks to high profile fans such as Michelle Williams. The padlock, with its functional yet romantic implications, is in my opinion the most expressive of the Maison's iconic jewellery lines. Like the padlocks that lovers tie to famous landmarks symbolising eternal love, these jewels turn hardware into highly desirable liliputian-sized jewels. The mismatched earrings with a padlock in one lobe, and keys in the other, look more adorable than ever in pink gold, and the functional side of the padlock is put into action as it unites the two ends of the diamond-set pink gold bands that make up the ring and bracelet.
Read more about Louis Vuitton's Lockit collection
Let's hope that all our loves are as enduring as Louis Vuitton's designs and bathed in a warm glow of pink.
Like the padlocks that lovers tie to famous landmarks symbolising eternal love, this pink gold version of Louis Vuitton's Lockit ring would be an ideal gift to celebrate love.

Proving its resilience as a design concept, today the Emprise collection, which includes this pair of stud earrings, looks better than ever in pink gold.

These revamped pink gold Louis Vuitton Emprise large hoop earrings, with miniature replica nails as seen on many LV trunks, are bang on trend.

Louis Vuitton continues to evolve its style with the introduction of pink gold versions of some of its most iconic jewellery designs.