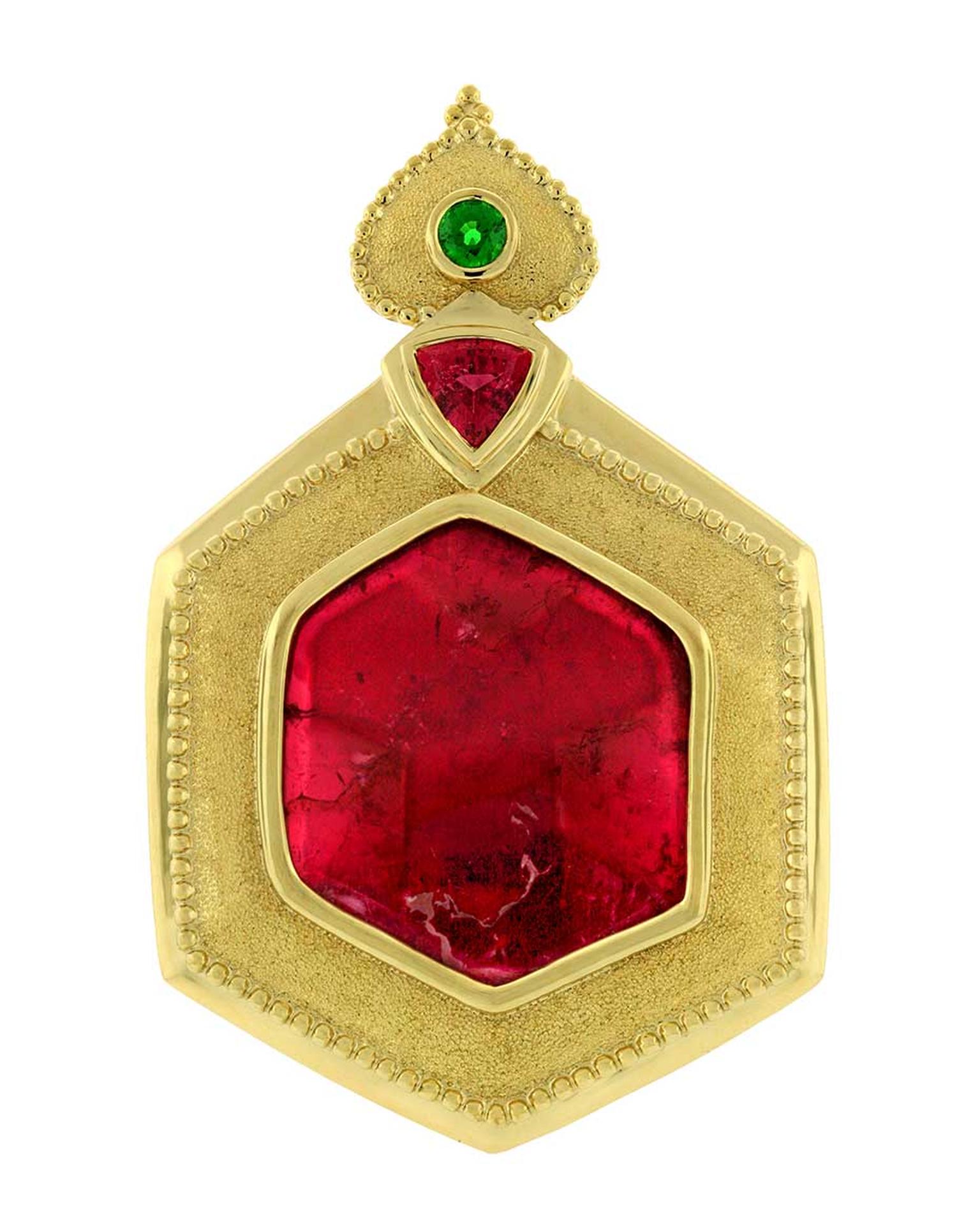 By Jordan Clary in Nevada
I still remember the first time I saw a tourmaline necklace. It was in a shop that sold estate jewellery in a small, northern California mountain town. Inside the display case a strand of scintillating, watermelon-coloured stones glimmered with a fire that seemed to come from outer space. If there were a path to the stars, it would be paved with these gems.
Tourmaline is renowned for the rich breadth of its colour range. It comes in pastel peach, sky blue, vivid yellow, bright emerald green, soft pink, blood red and just about every shade in between. An Egyptian legend narrates that when tourmaline made its journey to the surface of the earth, it passed over a rainbow, picking up all the colours along the way. Today, it's still referred to as the "gemstone of the rainbow". Even the origin of the word, which comes from the Sinhalese words "tura" and "mali", translates as "mixed stone".
This potpourri of colour is created from aluminium boron silicate crystals. The stone is actually made of many of these crystals, and since no two crystals are exactly the same, the composition creates endless nuances of hues and shades. Sometimes these colours seem to deepen, or grow in intensity, depending on the light. Another unusual quality of tourmalines is that they are piezoelectric. When heated and then cooled they become electrically charged, with a positive charge on one end and a negative one on the other.
Tourmalines are 7 to 7.5 on the Mohs scale of mineral hardness, making them durable and easy to care for. It's a popular gemstone and shows up in many high jewellery collections. The Brumani Baobab collection uses tourmaline with other gems for a colourful blend. The mastermind Hong Kong jeweller Wallace Chan adds a touch of fancy to many of his designs with tourmaline accents, while artist jeweller Paula Crevoshay is particularly fond of the gemstone. One of her most recent creations is a one-of-a-kind pendant featuring a very special watermelon tourmaline slice. "When I first saw it, it delighted my eye. It has such a warm contrast, with the rich burgundy rubelite colour surrounded by a deep forest green rind."
There are many stories about China's Dowager Empress Cixi and her obsession with pink tourmaline from California. In order to appease her fixation, she practically kept these mines in business from the early 1900s until her death in 1911. Vast quantities were shipped overseas for her, where craftsmen created exquisite jewellery and snuff bottles. One story recounts that, on her deathbed, the Empress demanded a pink tourmaline from the Pala mine in southern California be placed on her finger.
Intense red or pink tourmaline is often referred to as "rubellite". If it is more greenish in hue, the name is "verdelite". Blue tourmalines are called "indigolites" and black ones are known as "schorl". Most highly prized of all are luminous Paraiba tourmalines from the region of the same name in Brazil. With the Paraiba mines now exhausted, these electric blue-green tourmalines now come with an extraordinarily high price tag to match their extraordinary beauty. And not only do tourmalines come in all the hues under the sun, they also come in bi- and even tri-colours. The best known are watermelon tourmalines, which are a distinctive green and red hue, but other combinations include pink and grey - a dreamy combination that feature in K. Brunini's Chains of Love Twig bi-colour tourmaline ring.
Tourmaline has been used for centuries and deposits are found all over the world, although gem-quality stones are rare and very precious. In fact, it may have been even more prevalent in ancient times than we realise but was likely to have been confused with other gemstones. With its rich range of intense colours, tourmaline is certainly one of the most unusual gems in the world.
Read more about bi-coloured jewellery
Erica Courtney square mint tourmaline earrings in gold with diamonds.

One-of-a-kind gold Margery Hirschey pink tourmaline ring.

Paula Crevoshay Nature's Heart pendant in gold, with a 51.05ct watermelon tourmaline, tsavorite, pink tourmalines and diamonds.

Polly Wales faded pink tourmaline ring with orange, pink and blue sapphires.

Victor Velyan gold cuff with Paraiba tourmalines and diamonds.

Chopard Red Carpet Collection fine rubellite and diamond necklace featuring an exceptional 123.24ct pear-shaped rubellite.

Jacob & Co. tourmaline ring featuring a 48.27ct natural Paraiba tourmaline the colour of a tropical sea, flanked by two butterflies set with white and pink diamonds.

K. Brunini Chains of Love Twig ring in rose gold with Mexican fire opal and pink tourmaline cabochons.

Wallace Chan Mon Rêve ring featuring a 29.22ct green tourmaline, 12.38ct rubellite, diamonds, tsavorites, garnets, pink sapphires and lapis lazuli.

K. Brunini Chains of Love Twig ring features over 7ct of a bi-colour tourmaline and is set in a handcrafted yellow gold bezel.

Brumani Baobab collection yellow gold ring with brown diamonds, aquamarines, rubies and pink tourmalines.

Brumani Baobab collection yellow gold bracelet with brown diamonds, aquamarines, rubies and pink tourmalines.