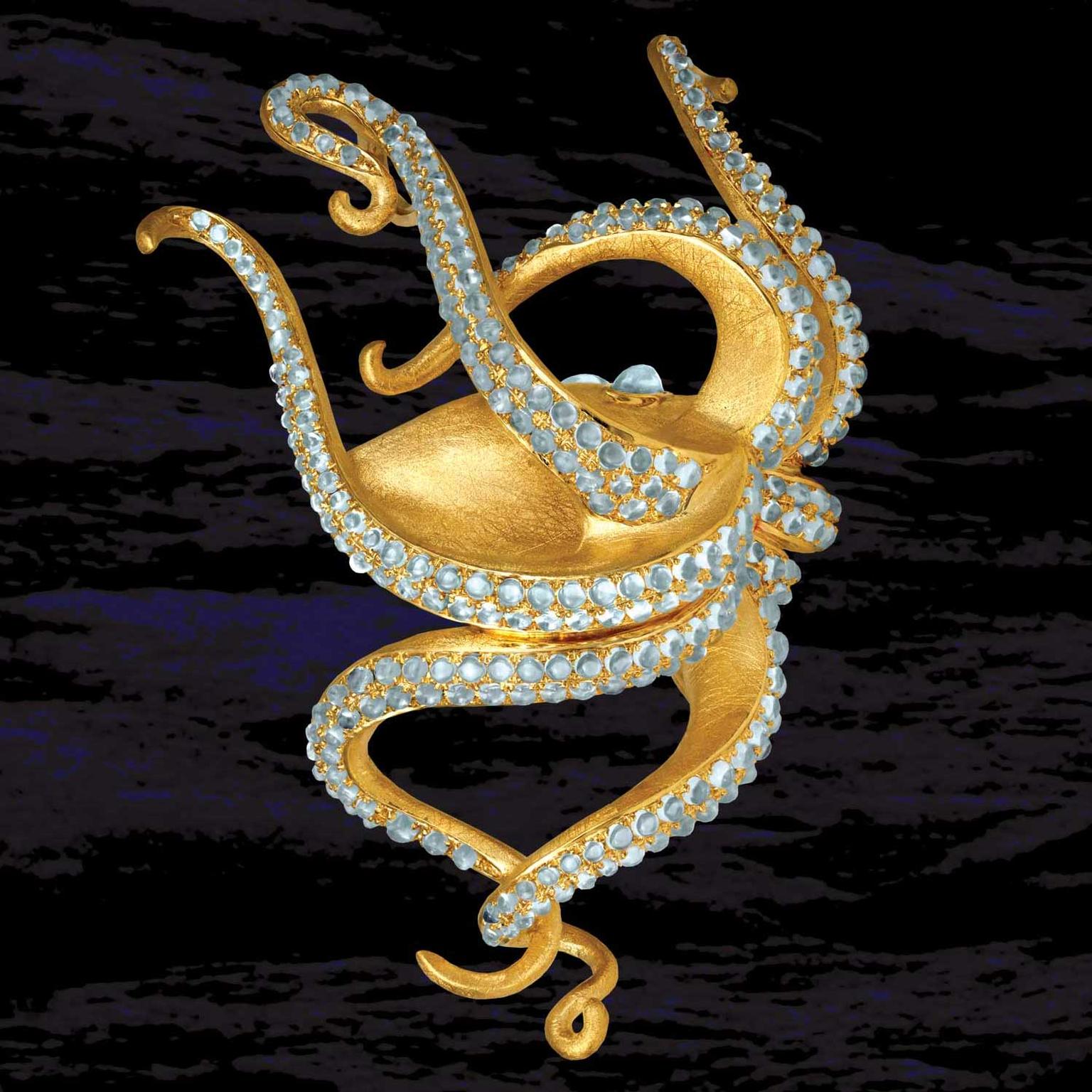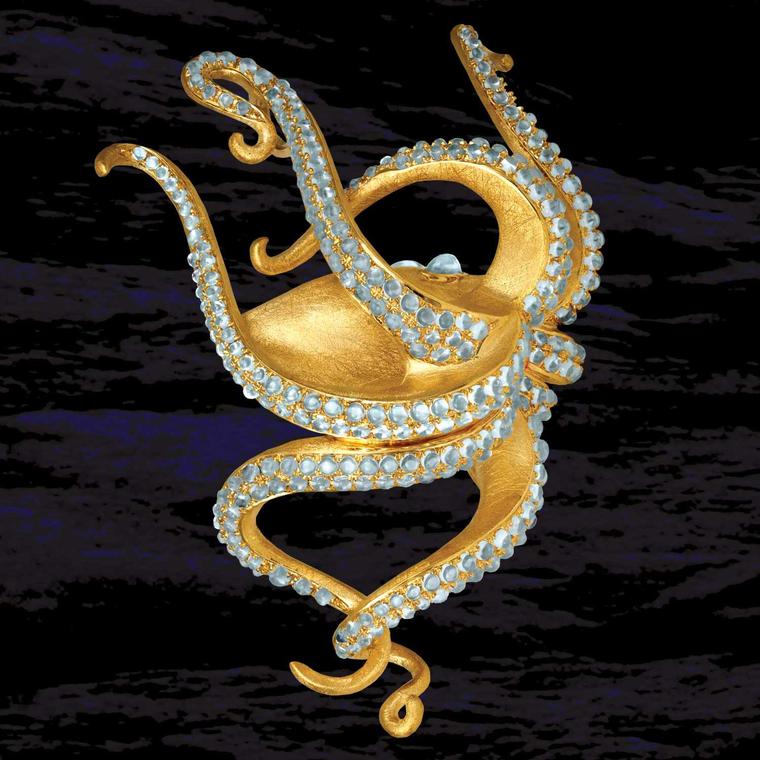 In Los Angeles in the coming months? Then head to the Natural History Museum to see The Art of the Jewel: the Crevoshay Collection – a kaleidoscopically vibrant feast for the eyes that transforms raw minerals into breathtakingly beautiful works of art.
Paula Crevoshay, often referred to as the art jeweler of America or the 'Queen of Color', is no stranger to museum exhibitions. "The museums come to me. It is my destiny," she explains candidly from her New Mexico home. Crevoshay's 30-year career has been punctuated with museum exhibitions, four of which have been one-woman shows. The latest is her solo show at the Natural History Museum of Los Angeles County.
Crevoshay credits her love of gemstones to her appreciation of color and light from years of painting. She studied fine arts but, in 1978 spent four years in India, a  career-changing move that brought about her shift in mediums. In awe of the exquisite opulence of Indian jewelry, she exchanged her canvas for precious materials, but still approached it with the same artist's eye. "I am painting with the tangible light of the mineral. Gemstones are the light of the earth. It's tangible, it's portable and it's glorious," says Crevoshay.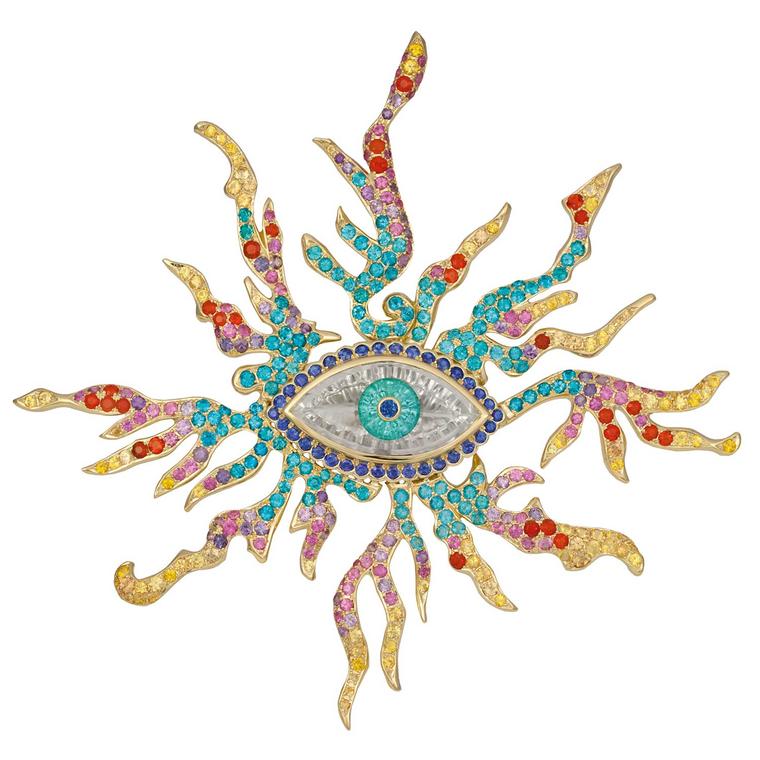 But what exactly are these jewels doing in a natural history museum where you would be more likely to find fossils or child-friendly dinosaur displays? Artist and jeweler Paula Crevoshay explains: "I see my art as the vehicle explaining the science of gemology and geology. Over decades my work has focused on flora and fauna, and I want to preserve these specimens for eternity – to create a time capsule." 
Approximately 50 detail-perfect jewels of insects, flowers and animals, some real, some imagined, are included in the exhibition, forming a rainbow bridge between the worlds of mineralogy, zoology and art. It is a bridge that visitors will unknowingly cross as they admire the puzzlingly intricate details of a butterfly or passion flower while innately drinking in an appreciation for gemology and geology – and maybe even a wonder for gem-carving. A special emphasis is placed on the array of gemstones originating from the USA, including Californian and Maine tourmalines and Montana sapphires, and their astounding transformation in the hands of skilled American stone carvers.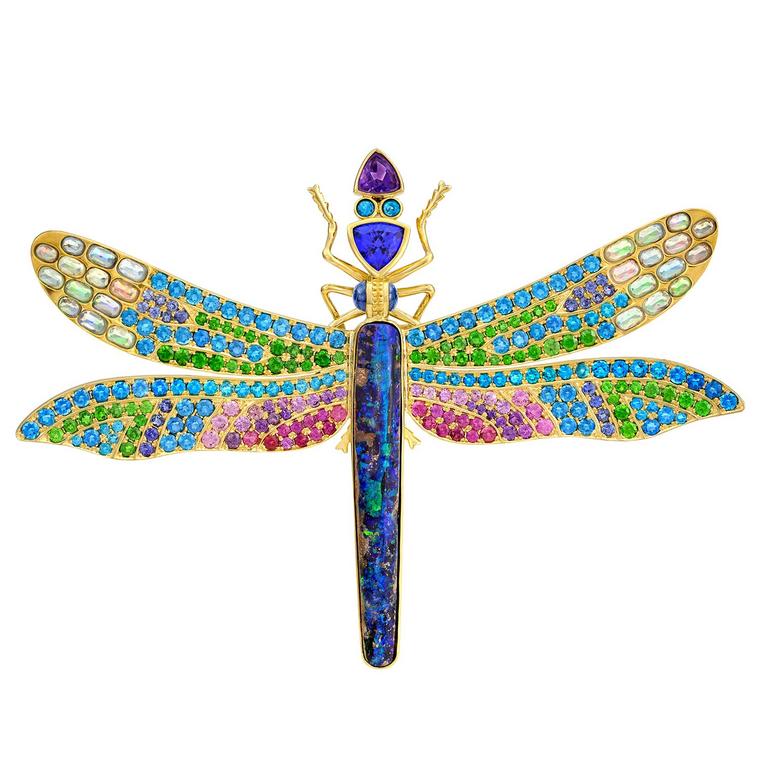 For decades, gem collectors and those in the know have admired Crevoshay's work not only for its exquisitely sensitive artistry but its ability to invoke wonder. Gold and minerals capture the improbable lightness of a damselfly, the majesty of a mythical writhing octopus or the sculptural genius of a thistle. Her jewels forge a link between earth and life with the lightest of touches.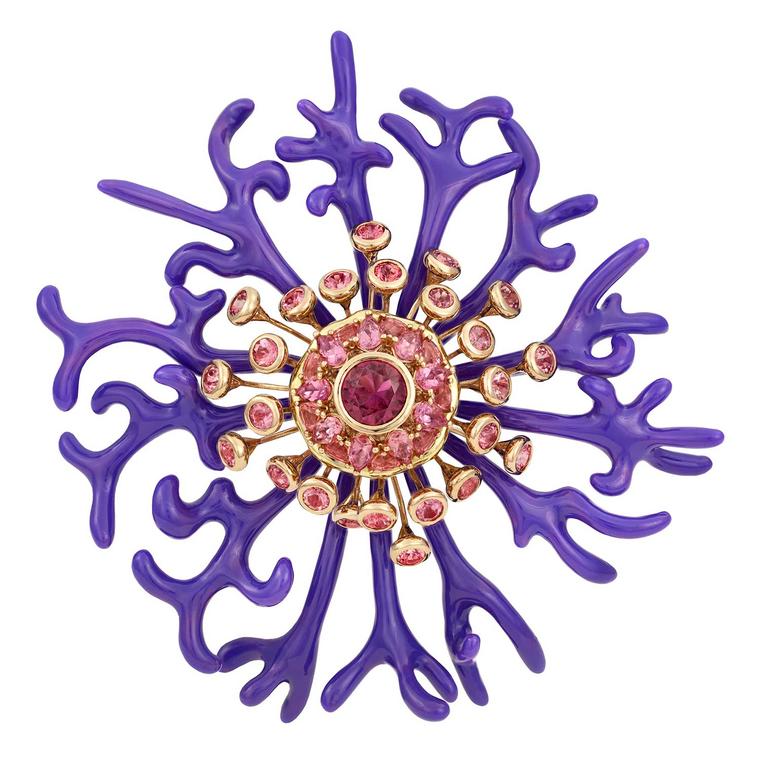 Crevoshay has always seen jewelry as an art form: "On my watch I want to declare jewelry as a fine art discipline, not just a craft," states Crevoshay. And museum curators have taken note. Her first museum commission was in 2007 when the Smithsonian asked her to create a jewel out of a donation of Montana sapphires, which resulted in the Conchita butterfly brooch that is now permanently on display in Washington. Her 2013 exhibition entitled 'Garden of Light' at the Carnegie Museum in Pittsburgh was next, followed by a 'Beyond Color' collection created to celebrate the opening of the jewelry wing at Kentucky's Headley Whitney Museum.
Depicting a dew-drenched saffron crocus, glowing in the moonlight just before dawn, Paula Crevoshay's purple sapphire Le Fleur de Rêves crocus brooch is a work of art.

This magnificent Conchita butterfly brooch by Paula Crevoshay is set with 333 Montana sapphires, demonstrating the extraordinary quality and range of color of these little-known gems.

The Lady Slipper orchid brooch shimmers with the play of light of the abalone pearl thanks to the rich orient its nacre. These colours are echoed in the pink sapphires, pink tourmalines and peridot set into the petals of the flower for a breathtaking yet delicate effect. 

Paula Crevoshay's Flying Fish of Mandalay brooch is set with apatite, black diamonds, white diamonds and four pearls. 

Pink sapphires have been used to create a dégradé effect that emulates the petals of a passion flower in Paula Crevoshay's extraordinarily detailed brooch.

From the American Heritage Series, all the tourmalines in Paula Crevoshay's exquisite California Dreaming brooch originate from the famous Stewart Lithia tourmaline mine in California and were cut by George Crevoshay.

Paula Crevoshay's anatomically correct poppy - on display at the artist jeweler's one-woman show at the Natural History Museum of Los Angeles - is a symbol of sleep, dreams and peace.

Paula Crevoshay's sensuous "Nam Lai" bracelet - which means "flowing water" in Thai - evokes the joy of a bubbling brook. Set with moonstones, diamonds and blue zircons, it flows like silk on the wrist.

Paula Crevoshay has used faceted water opals to mimic the iridescent wingtips of a damselfly in this delicate depiction of the natural world - a constant source of inspiration for Crevoshay.

Pink tourmalines and purple enamel form an anatomically correct wavy thistle in Paula Crevoshay's writhing brooch.

Paula Crevoshay's writhing brooch features the Eye of Ra - a symbol used to represent the ancient Egyptian goddess Ra - depicted in sapphires, apatites and fire opals.

Paula Crevoshay uses rainbow cat's eye and blue flash moonstones set in brushed 18 karat gold to depict the mythical "Kraken" sea monster, an octopus-like creature of gigantic proportions.
The scintillating beauty of the jewels not only reminds us of the frailty of nature and our duty to preserve it, but how all life evolved from the same elements. If that sounds like a tall order, a visit to this fresh take on mineral wonders may just change your mind.
Entry to The Art of the Jewel: the Crevoshay Collection at the Natural History Museum Los Angeles County is free of charge with paid admission to the museum. The exhibition runs from 7 December 2017 - 12th May 2018.
Crevoshay: The Art of Jewel book of the exhibition is available from Amazon for $69.95