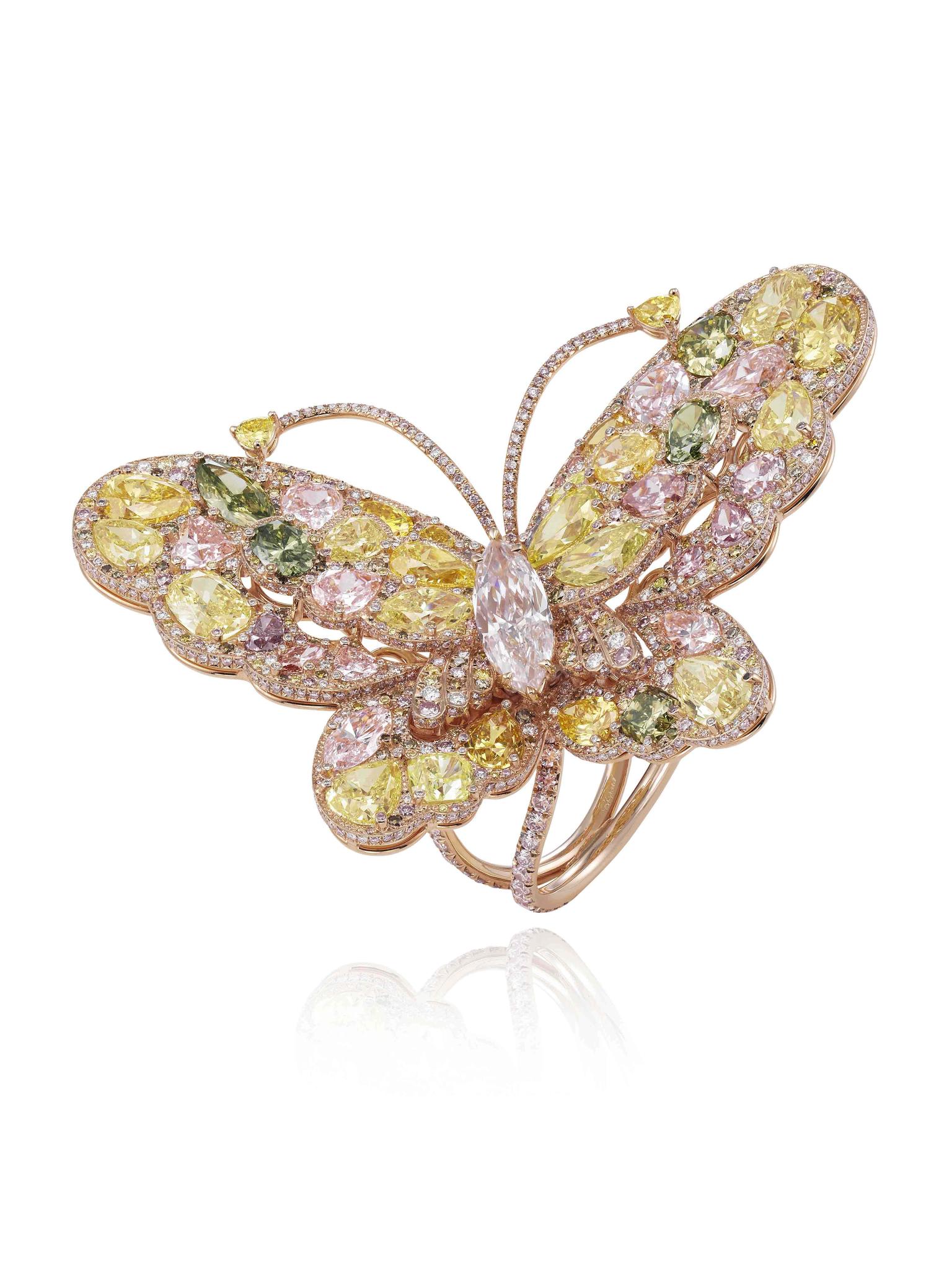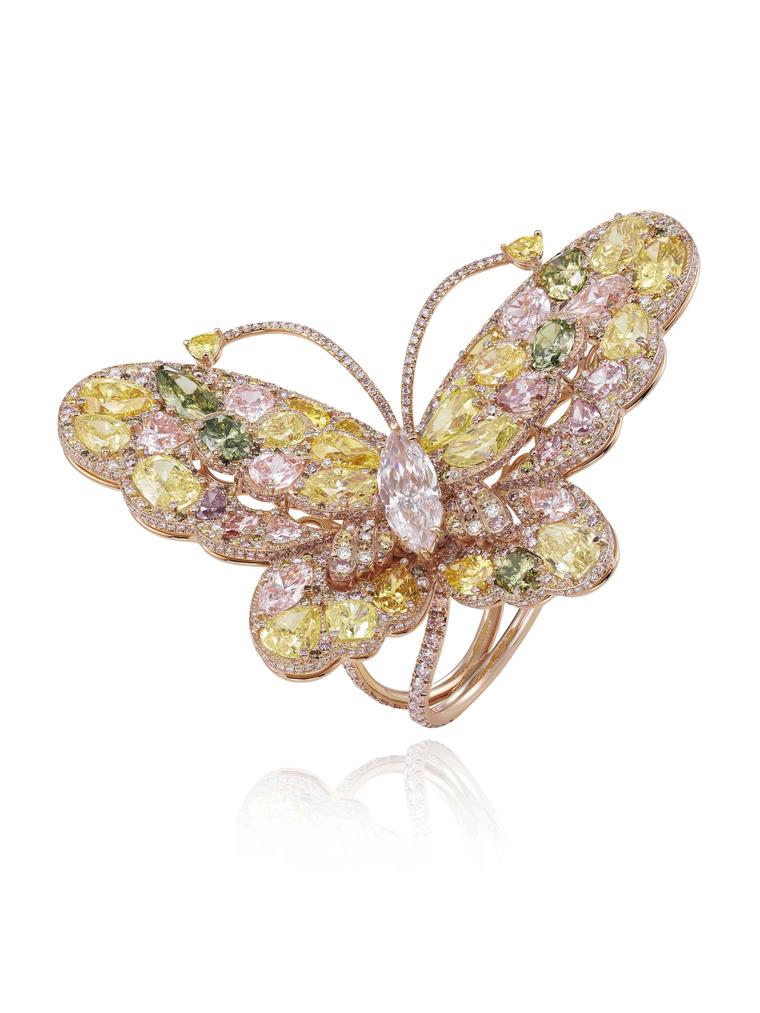 Parisian jewellery Lydia Courteille has a great sense of humour and we all fell in love with her Turkey ring from the Animal Farm collection strutting his stuff with black and white diamonds and a colourful, puffy wattle dangling with topaz and amethyst.
The delicate, ethereal beauty of Chopard's Red Carpet Collection Butterfly ring, fluttering with pink and yellow diamonds, captivated us all at The Jewellery Editor, as did Bogh-Art's diamond Butterfly earrings.  Set with two symmetrical fancy-cut diamonds and surrounded by even more white diamonds, these earrings would make any woman's heart flutter. 
Back on land, Wallace Chan's enormous ant brooch - The Mighty - beautifully recreates the insect's anatomy with pearls, rubellites, yellow and pink sapphires and diamonds. 
A new discovery for the team was Daniela Villegas' lively high jewellery zoo. The creativity of this Mexican designer shines through in her Anemoi beetle ring with its stunning opal set in a gold shell.
Siberian artist Dashi Namdakov was another welcome surprise in the realm of independent artists. The Elephant ring, with its colourful gemstone-studded hide and wonderful sculptural feel, was our favourite from among his extraordinary universe of creatures.
Dragons also feature on our list with Harumi Klossowska's fiery Dragon bracelet for Chopard. Set alight with rubies, diamonds, emeralds and turquoise, the mythological creature fuses the traditional Chinese dragon with features of the Aztec plumed serpent.
The highly stylised Art Nouveau interpretation of a dragonfly, exquisitely crafted by legendary René Lalique, did not fly by unnoticed. Four dragonflies, decorated with plique-à-jour enamel wings, hold a cushion-shaped aquamarine with their feet. 
The world's most famous high jewellery feline had to be on our top 10 list. Cartier's iconic Panther - looking good as he reaches his first century of life - purrs with satisfaction from his pedestal on this wonderful necklace strung with pearls, onyx, diamonds and emeralds.
Hermès has put aside its equestrian heritage this time and gone all the way to Egypt in search of a new muse for its Niloticus jewellery. The crocodile is the star of this collection, and his characteristic scales, rendered in warm rose gold and linked together with diamonds and coloured gemstones, comprise this necklace that would look just perfect around Cleopatra's neck. Or any one of ours, for that matter. 
René Lalique aquamarine dragonfly pendant from Bentley & Skinner, available at 1stdibs.

Boghossian Butterfly Wing earrings are made up of two pairs of perfectly symmetrical fancy-cut diamonds, surrounded by brilliant-cut and dazzling pear-cut diamonds as they fan out around each wing.

Cartier Panthère de Cartier collection platinum necklace with cultured pearls, onyx, emeralds and diamonds.

Daniela Villegas Anemoi ring with tanzanite, champagne diamonds and a central opal.

Dashi Namdakov Elephant ring in white gold and black rhodium with diamonds, sapphires, rubies and emeralds.

Harumi Klossowska for Chopard Dragon bracelet features rubies, diamonds, emerald and turquoise and fuses the major cultural symbols of the Chinese dragon with the Aztec plumed serpent.

Lydia Courteille Turkey ring in blackened gold from the Animal Farm collection, set with black and white diamonds, topaz and amethyst.

Chopard 2014 Red Carpet Collection rose gold butterfly ring featuring pink, yellow and white diamonds.

Wallace Chan The Mighty ant brooch featuring a total of 75.94ct pearls, 21.41ct rubellites, yellow sapphires, diamonds, pink sapphires and yellow diamonds.

Hermès Niloticus necklace in rose gold, diamonds and coloured stones.

Chopard Red Carpet Collection 2014 Butterfly ring.