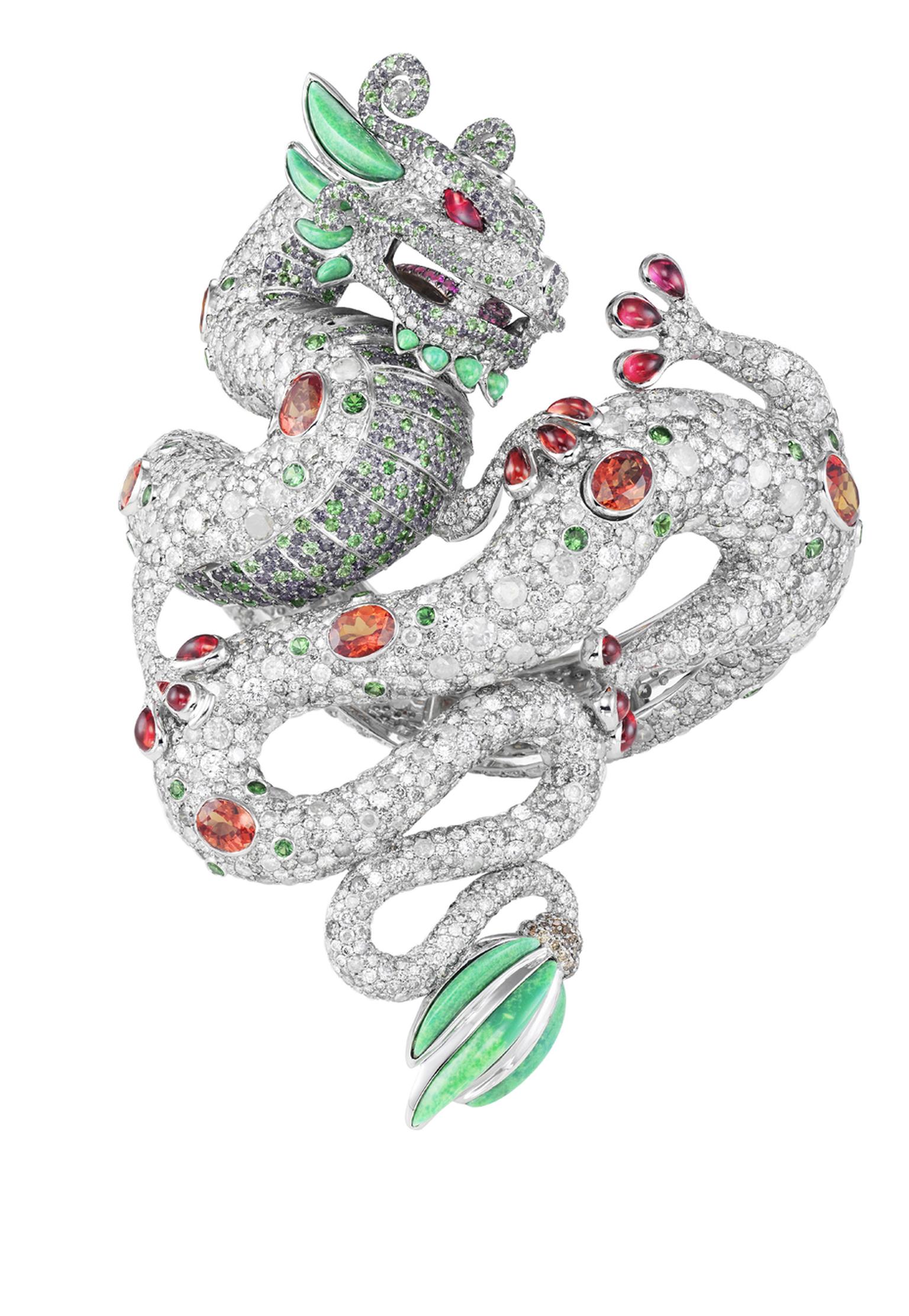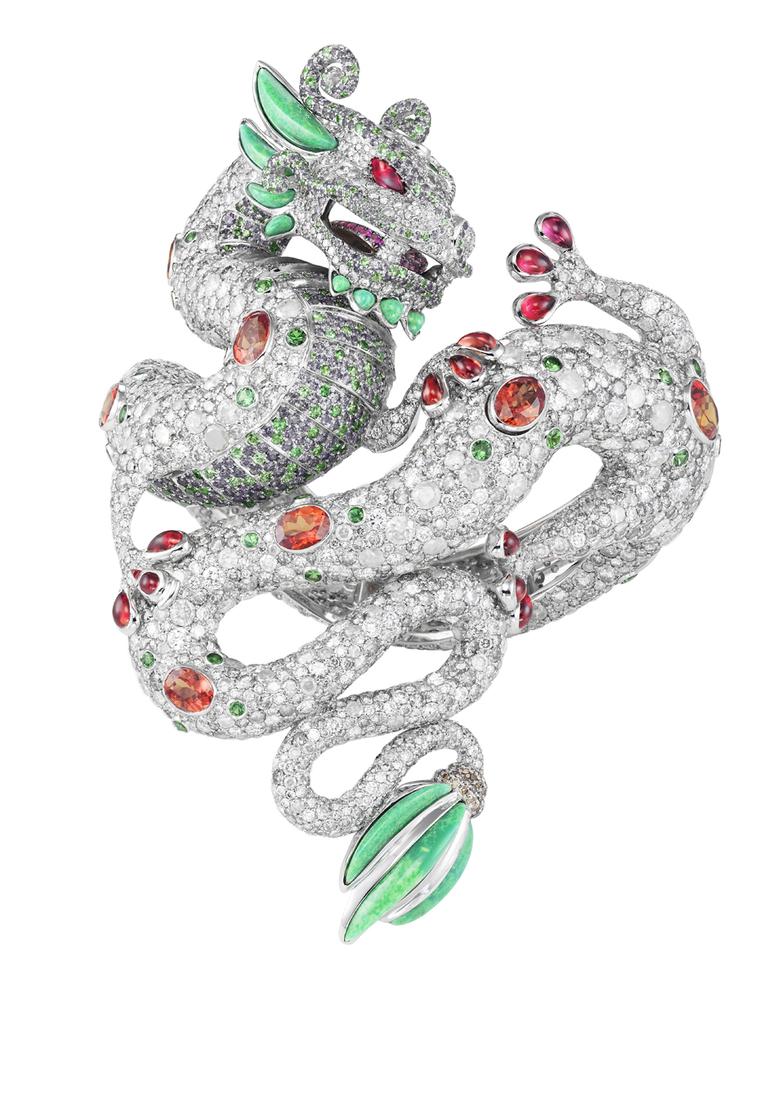 By Rebecca Doulton in Madrid
Chopard has opened the cage of its high-jewellery menagerie to welcome some newcomers created by jeweller Harumi Klossowska de Rola. Daring, fantasy and a penchant for dangerous animals have guided Harumi's choice of predators, which include a lethal black Mamba, a fiery dragon and two furry felines.
There was immediate chemistry between Caroline Scheufele, Artistic Director of Chopard, and Harumi when they met in Switzerland a couple of years ago, leading to this unique collaboration. "I love Caroline's animal world," says Harumi. "It's vibrant and joyful, just like her personality, and I knew from the start we were going to work together." 
Harumi's exotic name and surname lend her an air of mystery, and when she offers to conduct the interview in Italian (she speaks six languages and is learning Russian), it's time to unravel part of the mystique. Harumi giggles and recalls how, as a child, digging in the gardens of Villa Medici in Rome, she became "obsessed with stones, always looking for odd shapes and colours and offering my 'compositions' to my mother, brothers and father. Usually they ended up in the bin and I was really disappointed, but my father kept them all."
What she hasn't let on is that her father was the renowned French Modern painter of Polish extraction Balthasar Klossowski de Rola - aka Balthus - who at one point in his career was also the director of the prestigious French Academy in Rome. Her exotic features and name are her mother's legacy: Setsuko Ideta, a Japanese artist who married the French painter almost four decades her senior.  
When French gallery owner Claude Bernard convinced Balthus to pursue his artistic career in Paris, Harumi had an epiphany of sorts after discovering a treasure trove in Bernard's apartment. "He had a bathroom full of lollipops and chewing gums and I ate them all... it was a real drama when my parents found out. But," she adds with a laugh, "he also had a room full of rocks and minerals. The stones were placed on a table at my eye level. They weren't cut or polished stones, just natural rocks, crystals, amethysts and so on, but for me it was like walking into a magical world. The incredible sensation I experienced with those stones has never abandoned me since that day."
Although Harumi has an incredible talent for drawing and sketches all her creations, she did not pursue a formal career in the arts. Admitting to having  "done many bad things in college", she decided that academia was not her cup of tea. Next stop was a PR job at John Galliano's studio in rue de la Roquette, where her talent and vocation flourished. Encouraged by a friend, Harumi created her first collection of jewellery with semi-precious stones and Chinese silk trimmings. This led to a series of high-jewellery pieces for Boucheron's 150th anniversary. Harumi's collaboration with Chopard began two years ago, and she admits that of all the four pieces, the Mamba was the most difficult to confect.
This menacing black snake, which doubles up as a belt, bracelet, necklace and headpiece, possesses an amazing tubular body made from blackened gold. "I am very attracted to dangerous animals and have tried to capture aspects of their personality - how they look and how they really move," explains Harumi as she shows me how the Mamba's highly flexible body actually tapers off at the tail and head and thickens at the waist. A rather less menacing serpent, more apt for daily wear though equally lifelike, is her sensuous yellow gold snake ring, with deep-set ruby eyes and a diamond-inlaid head that coils beautifully around the finger.
Rings are, she admits, her favourite item of jewellery, and the delightful leopard ring recreates the soft fur and characteristic spots with tiny black and white diamonds set into the yellow gold, his eyes accentuated with black diamonds and orange garnets. In the case of the black jaguar, Harumi points out that this cat is never completely black in nature and to capture the inconsistencies of his coat, she has mixed cognac and black diamonds.
Treading a more mythological path, Harumi's sensational dragon bracelet and earrings for Chopard wriggle and writhe with fiery rubies, diamonds, emerald chests and turquoise feathers. To create this legend, Harumi morphed two powerful cultural symbols: the Chinese dragon and the Aztec plumed serpent known as Quetzalcoatl. With no cultural boundaries or restrictions that could confine her work into a series of adjectives, Harumi's talent has animated Chopard's bestiary with lifelike beauty. Let's just hope the Mamba doesn't take a fancy to one of his fellow captives. 
The original sketches of the Harumi for Chopard Black Panther ring.

Harumi for Chopard Black Jaguar ring featuring a mixture of cognac and black diamonds.

Harumi for Chopard Dragon earrings with rubies, diamonds, emeralds and turquoise.

Harumi for Chopard earrings.

Harumi for Chopard leopard ring featuring tiny black and white diamonds set into yellow gold and eyes accentuated with black diamonds and orange garnets.

The Harumi for Chopard Mamba snake in blackened gold can be worn as a belt, bracelet, necklace or headpiece.

Harumi for Chopard gold Snake ring with diamonds.

Harumi for Chopard original Dragon earrings sketch.

Harumi Klossowska de Rola stands beside her Chopard Snake necklace.

An original sketch of Harumi's Snake necklace for Chopard.

Harumi for Chopard's Dragon bracelet features rubies, diamonds, emerald and turquoise and fuses the major cultural symbols of the Chinese dragon with the Aztec plumed serpent.