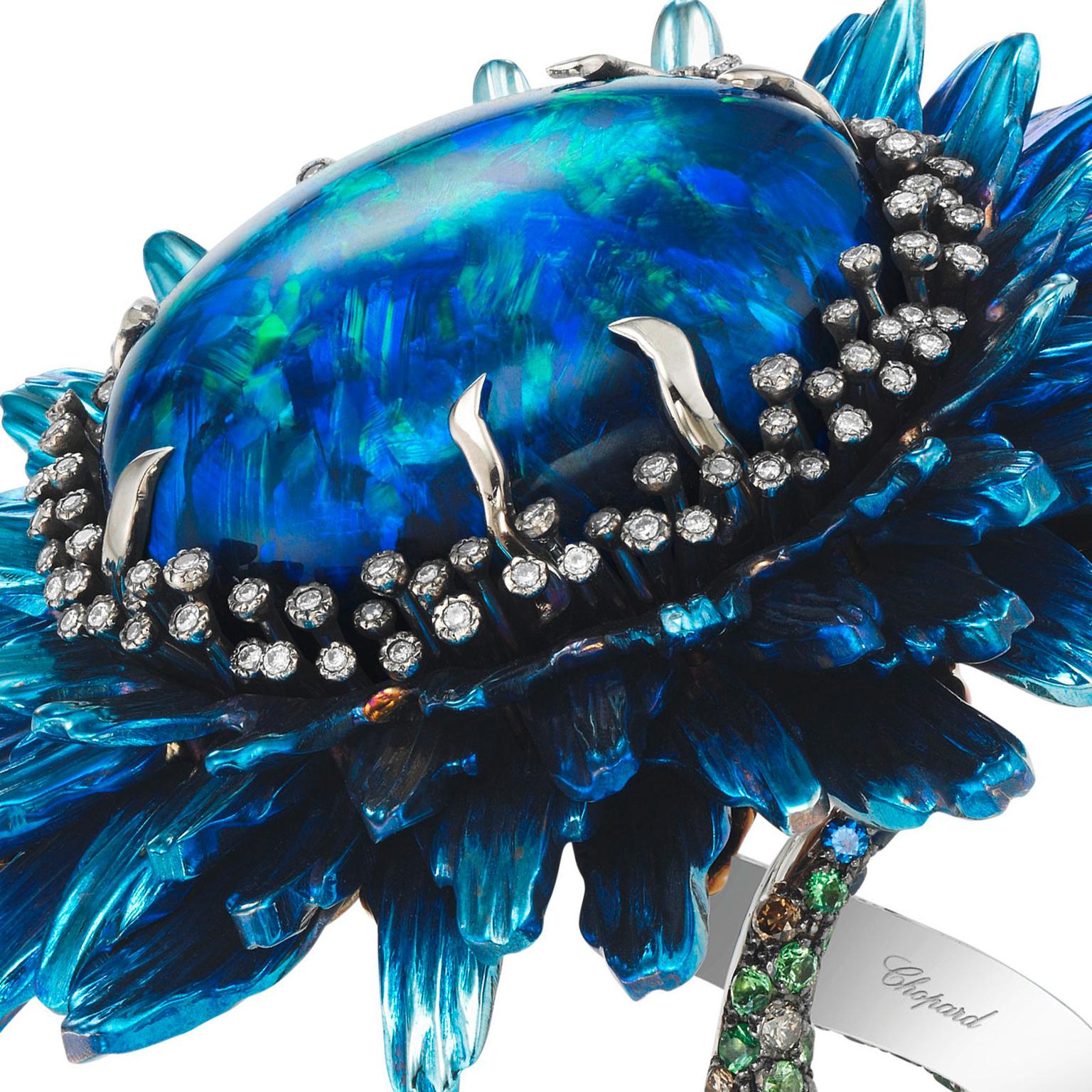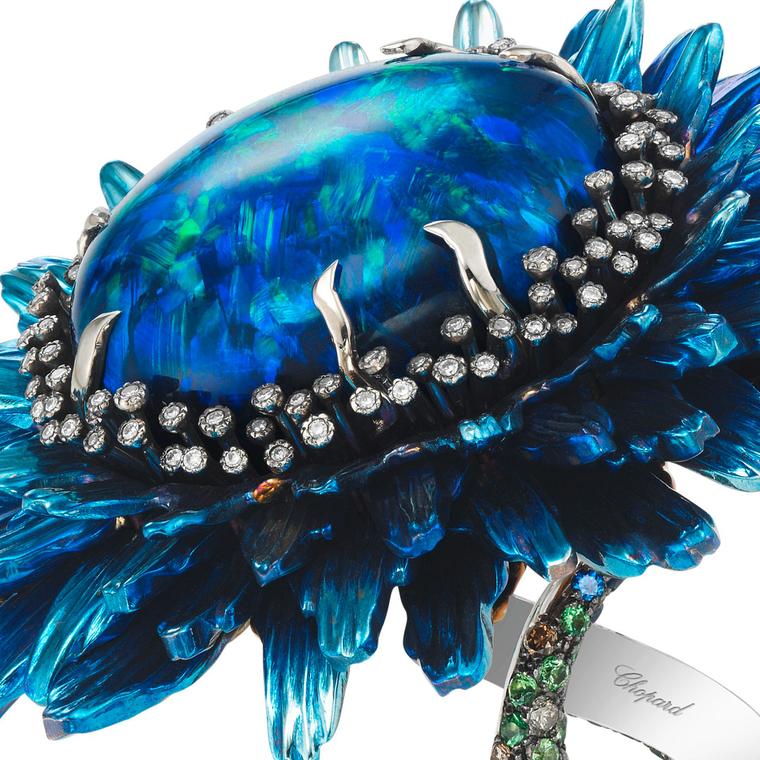 Titanium was first discovered in Cornwall, on Great Britain's southern coast, by William Gregor in 1791. He named it titanium after the forcible Titans from Greek mythology. Not only is the material incredibly strong, as the name suggests, it is also very light and can be treated to create some spectacular colours, all of which make it an appealing alternative metal for luxury jewellery designers.
Untreated, titanium is a silver-coloured metal that is incredibly durable and hypoallergenic, making it suitable for those with allergies to other alloys. Stronger than silver or white gold, and lighter than platinum, titanium lends itself well to large, gem-set jewellery designs. It can also offer a rainbow of colour options when subjected to heat treatment - by oxidising the metal, jewellers can create a rich spectrum that includes bright cobalt blue or rich purple.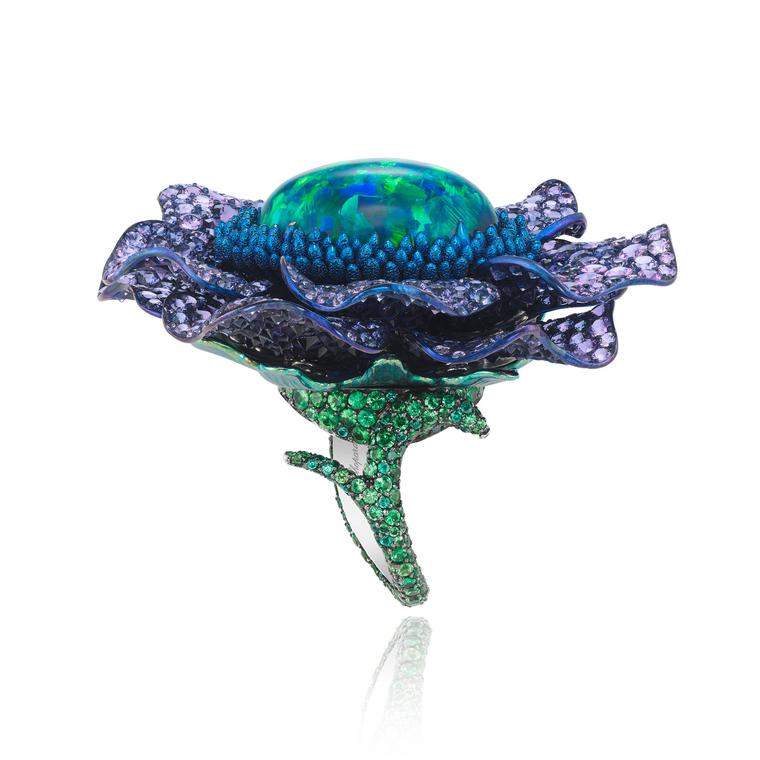 Titanium featured significantly in the Chopard Fleurs d'Opales collection, which was unveiled during Paris Couture Week in July. The floral-inspired Chopard rings use titanium to create incredibly thin curved petals, some heavily set with gems, to surround large, ethically sourced Australian black opals. The Fleurs d'Opales ring set with a 24.3ct opal has leaves set with amethysts and purple sapphires, and the titanium used to set the stones has been oxidised to turn it purple so that the blanket of gems appears to be invisibly set. The ring set with a 20ct opal uses unset blued titanium petals to create a mesmerising backdrop for the opal, with Chopard describing titanium as "taking on its full dimension when appearing alone".
Read about Chopard's new high jewellery collection
Swiss jeweller Suzanne Syz works extensively with titanium which, due to its hardness, makes it a difficult material to master. She has used it in both its raw and coloured form to create purple, blue and green hues, often making the metal the star of the design. Syz also uses titanium in hidden ways that bring innovative tactile elements to her designs. She will string tiny pearls onto titanium wires, which are flexible enough to be squeezed, yet will always spring back into their, often quite large, original shapes.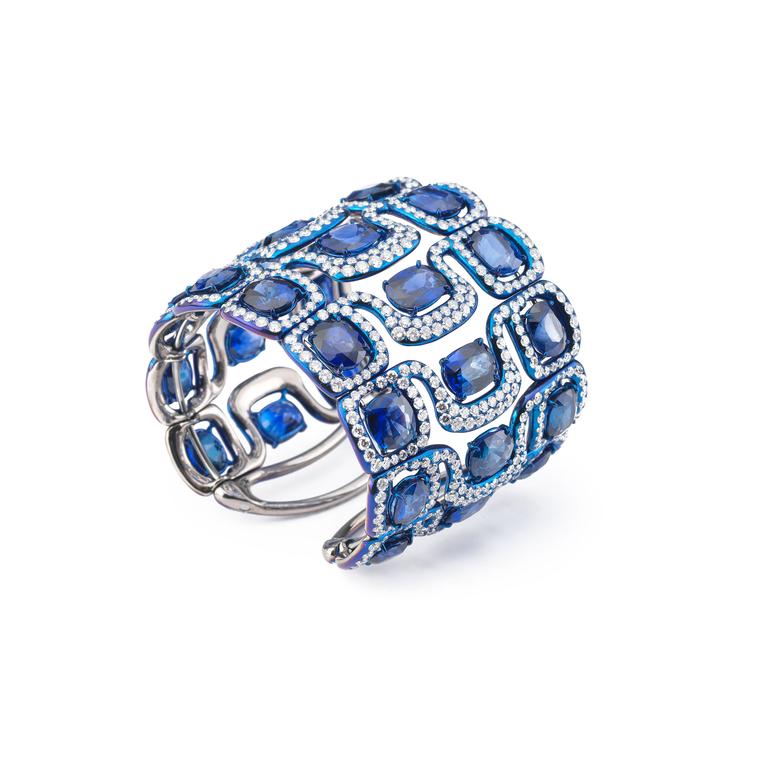 According to British jewellery designer Glenn Spiro, while titanium can make wearing statement jewellery less cumbersome, it also offers benefits for more delicate jewels such as engagement rings. Spiro recently used the metal to create a bridal collection entitled I Do, which is exclusive to Harrods. The diamond engagement rings are classically styled yet use unorthodox titanium to offer durability and strength, with some truly alternative choices in shades of bright blue, cognac and pink. "It is completely different to gold," says Spiro, who also uses titanium in his main collections. "This metal allows us to create much more finer jewellery pieces, as the stones can be far more intricately set." While the metal is not considered to be precious, the prices for Spiro's titanium jewellery are substantial. When asked whether this is ever an issue for customers, Spiro answers: "In truth, the value of gold compared to the value of a true gemstone is somewhat insignificant."
If we take this theory to heart, then titanium offers some alluring benefits for fine jewellery shoppers not afraid to forego a hallmark.
The floral-inspired Chopard rings use titanium to create thin curved petals to surround large gems, such as this one set with an ethically sourced Australian black opal.  

Chopard colour matched the titanium purple petals of this Fleurs d'Opales ring with the sapphires and amethysts set into it, to make a blanket of gems that appear to be invisibly set.

Suzanne Syz uses titanium wires to make strings of pearls, which are flexible yet strong enough to retain their shape.

Coloured titanium is often the star of the show in jewels created by Suzanne Syz, such as these blued earrings.

A blued titanium diamond solitaire engagement ring from the I Do collection by Glenn Spiro at Harrods.

A large blued titanium cuff set with diamonds and sapphires created by Glenn Spiro.

Boghossian has used titanium to create the ultra-light petals on these white gold and diamond earrings.

Pomellato has used carved titanium next to rose gold to create its Arabesque Noir collection.

A titanium and rose gold ring from the Arabesque Noir collection by Pomellato.

This Fleurs d'Opales ring by Chopard has blued titanium petals surrounding a 20ct Australian black opal.