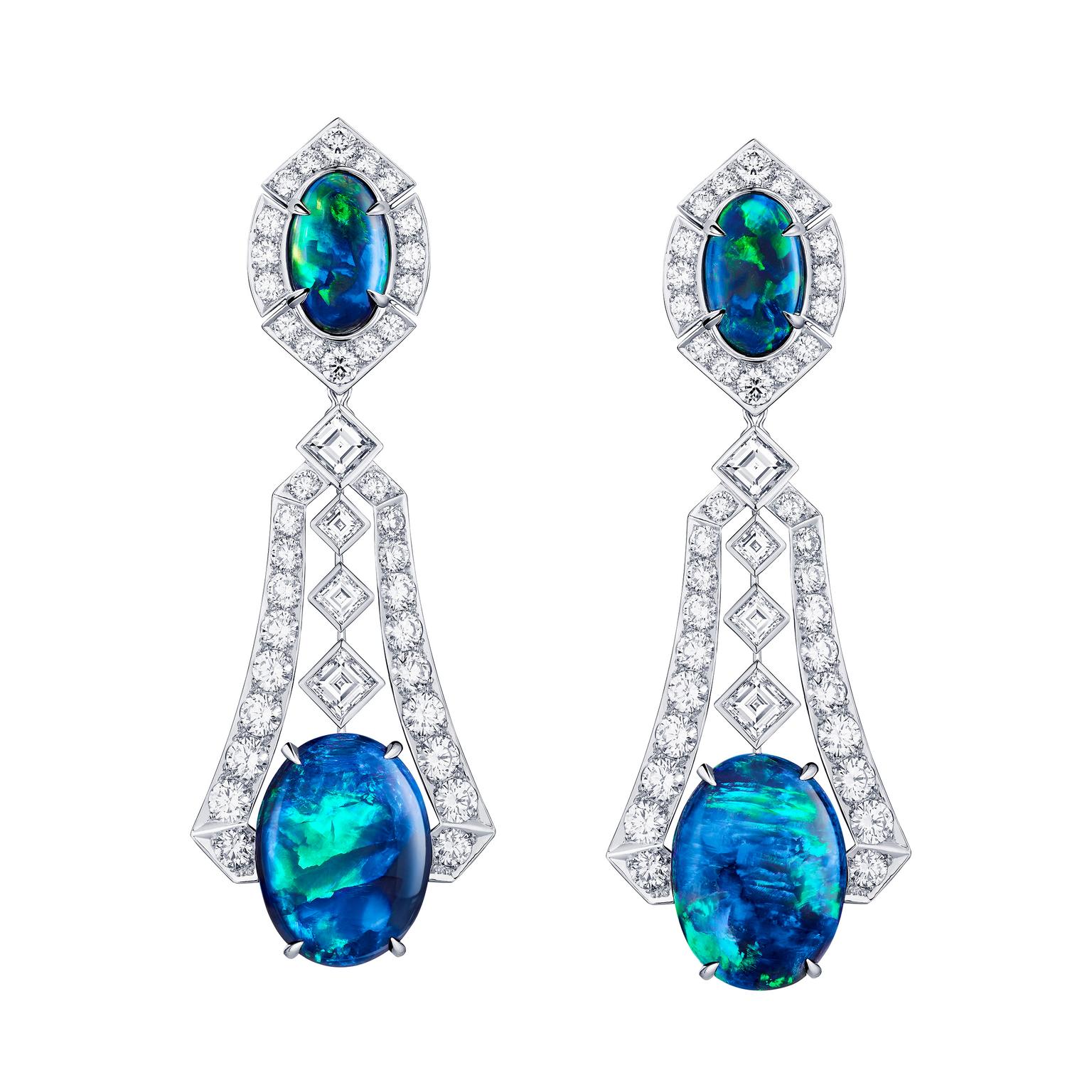 By Maria Doulton
As the year draws to a close it is the perfect time to cast a discerning eye over the high jewellery launches of the year and pick out the leading trends that have made a lasting impression. And for 2015, there are two words that encapsulate the mood perfectly: quality and individuality.
Individuality shines through in the highly creative and artistic offerings seen throughout 2015 in both fine and high jewellery. While financial markets may be nervously recovering, we are not seeing a rewind to the excesses of the last decade, and consumption is less brash and conspicuous even if the price tickets are similar. This year's high jewellery collections all have an element of the artistic, and even spiritual, with a focus on wearability and beauty, and not merely the value of the stones. The stones that are used are of the highest quality and venture beyond the famous four - diamonds, emeralds, rubies and sapphires.
Read more about precious jewellery amulets here
A clear example of this is the new Soie Dior jewellery collection that clusters together eye-wateringly valuable diamonds and precious stones without resorting to either formality or show-off, single-stone settings. By focusing on the details of an haute couture gown, such as pleats, smocking and ribbons, gems are ruched together like fabric, and playfully skim the skin, gently wrapping around the body. A trend for long necklaces or sautoirs, such as those from Louis Vuitton jewellery, which easily slip over the neck and move with ease, affirms a preference for highly valuable jewels that women can wear without feeling like a grand duchess at the ball or rich man's arm candy.
Spirituality and jewels loaded with meaning are very much in vogue. Les Talismans de Chanel, De Beers Talisman and Amulette de Cartier suggest channeling your chakras, which ties in with the mood of the 1970s and a return to the bright, flat colours and bold shapes of that era. The aesthetics of the groovy 70s is hinted at in Louis Vuitton's Acte V/The Escape big and bold rings, the star-spangled aesthetics of Dior jewellery's Rose des Vents entry-level line, and the Secrets and Lights collection from Piaget jewellery, which features textured gold cuffs and an explosion of bright stones. The return of hard stones such as turquoise, lapis lazuli, tiger's eye, malachite and onyx are material manifestations of our current love of the colours that defined this decade.
Read more about the Dior Rose des Vents jewellery collection here
Hand in hand with this more individual approach, unusual ways to wear precious stones are here to stay. Rings worn in any which way you can, including along, across or in between the fingers, appear to be settling comfortably into our jewellery lexicon. The most recent newcomer is the ring jacket or enhancer, which designers such as Jessica McCormack offer as a way of adding extra sparkle to your engagement ring, by flanking it with another diamond-encrusted ring for a bigger look.
Ear climbers or single earrings are two items that have ridden high on the wave of fashion to land elegantly in the world of serious fine jewellery. It is now more common than ever to see the price of an individual earring as opposed to being sold by the pair. A dramatic example of the power of one is the single diamond ear cuff from Yeprem jewellery that, anchored to the lobe, sweeps up the side of the cheek and presses against the side of the face.
Read more about ear jackets, cuffs and climbers here
Individuality is on the rise on every level, from the more affordable stackable rings from brands such as Carolina Bucci or Astley Clarke, to the discreet presence of the private jeweller. The seriously wealthy expect not just bespoke jewels but individual attention in luxurious Maisons and Bond Street salons. Names such as Giampiero Bodino, Glenn Spiro and Star Diamonds all offer discretion and creativity for those seeking out eye-wateringly beautiful gems.
And now on to the issue of quality. It seems that our thirst for the very best has in no way waned, and record prices for rare diamonds and gems have been achieved at auction houses in London, New York, Geneva and Hong Kong, as connoisseurs hunt down the last of the great diamonds. Record prices have been achieved at auction for both diamonds (white and colour) and the best gemstones. The prices for dwindling supplies of the finest sapphires, emeralds and rubies with impeccable credentials from prime mines are at an all-time high, and often command greater prices than diamonds.
Read about the hunt for African emeralds here
Which in part goes towards explaining why African rubies, emeralds and sapphires are gaining ground. An African ruby sitting plumb centre in the Reine Makéda necklace from Cartier jewellery, as worn by Jane Fonda at the Cannes Film Festival, would have been unthinkable only 10 years ago. Back then only a Burmese pigeon blood ruby would have merited the honour. As for sapphires, Jeremy Morris of David Morris jewellery in London explains: "With Kashmir sapphires priced at more than £200,000 per carat, the prices for Ceylon sapphires will rise accordingly. They are all riding on the same wave."
But, fortunately, we are more open-minded than our ancestors, and sweetening the sting of having to face the tail end of finite supplies of Burmese rubies, Kashmir sapphires and Colombian emeralds is the fact that there are a huge number of beautiful coloured gemstones in the world.
This year we have seen some amazing stones in colours that go well beyond the rainbow. The swimming pool blue Paraíba tourmaline is still sitting centre stage, but although a recently new discovery, the original Brazilian mine is already scraping away at the last of the seam. The opal, which over the past five years seems to have found its way into virtually every jewellery collection from indie hip to haute joaillerie, is still popular, but now used with more refinement. Think of the spectacular Fleurs d'Opales rings from Chopard jewellery, with opal centres surrounded by bejewelled petals, or Louis Vuitton's Capri ring with a fine black Australian opal set in a sea of diamonds.
Unusual tourmalines, spinels and garnets with their seemingly infinite palette of nuances and hues are gaining ground. Louis Vuitton's Acte V The Escape collection features tsavorite garnets, blue tourmalines and soft grey sapphires alongside the more traditional pearls and diamonds.
See more of the new Louis Vuitton high jewellery collection here
But if there is a single gem of 2015, then the crown has to go to turquoise. It is hard to walk down Bond Street or along Place Vendôme without seeing turquoise in virtually every window display. And it is not just for entry-level jewellery, turquoise both green and blue is going to the very top. Van Cleef & Arpels jewellery combined turquoise with emeralds, sapphires and just about every blue or green stone you can think of in its Seven Seas collection, and the star of de GRISOGONO's Baselworld offering was a turquoise bead necklace and Melody of Colours turquoise and emerald earrings. So, to confirm the reign of the blue stone, Cate Blanchett chose to wear an impressive turquoise and aquamarine bib necklace from the Blue Book collection from Tiffany jewellery to the Academy Awards this year.
Pearls are still in the ascendant, with a preference for unusual colours and shapes from the swirling baroque to the softly contoured Keshi. However, the colours seem to be getting more daring and YOKO London's pink freshwater pearls are unlike any other you have seen, and Chanel jewellery presents an impressive rainbow of pearls in the Printemps de Camélia necklace. The voluptuous misshapen pearl is back in favour with Autore jewellery's Vanda Orchid cuff featuring 44 large creamy Keshi pearls, and proving that pearls are moving fashion-forward, designs with a bite such as Tasaki's Danger ring features pearls with fangs.
Read more about the greatest white pearl jewellery from 2015 here
Designers are keen to play with new nuances of hues, and mix and match stones, materials and techniques in new ways. Precious is mixed with humble in the Naguar necklace from Boucheron jewellery, which combines diamonds, pearls and desert sand. The Les Talismans de Chanel Hypnotique ring is a good example of this new approach, with lacquer employed to great effect alongside tanzanite and diamonds. Taffin in New York has developed a way to use ceramic in exciting new colours, and pairs a yellow sapphire with an egg yolk yellow ceramic band. De Beers jewellery injected new life into its Talisman collection by pairing perfectly polished diamonds with the craggy contours of rough diamonds.
Cartier's Étourdissant collection is all about the richness and variety of stones, with the Maison's creativity and capacity to delight continuing with exciting new combinations. From a 197ct Ceylon sapphire sitting at the centre of a majestic Romanov bracelet, to the fizzing fun of the Arabica necklace with clusters of garnet beads tipped with rubies and diamonds, Cartier jewellery celebrates the diversity of stones.
And as every trend has an exception, Chaumet jewellery stood out with its classical rigour in presenting the elegant Joséphine collection of the classic four: diamonds, sapphires, rubies and emeralds.
Read more about the Empress Joséphine high jewellery collection here
New techniques include the Vegas Couture show-winning technique for setting diamonds using cement, as developed by Plevey, while ancient techniques such as plique à jour or grand feu enamelling are being used more and more. Lydia Courteille's charming single earrings inspired by kites of the world bring the arcane craft of plique à jour enamelling to hip young things. Cartier introduces a forgotten métier into its haute horlogerie watch creations each year, and I expect to see techniques such as granulation, filigree and stone marquetry making their way into precious jewels.
Interest in sustainability is of growing importance to jewellers both large and small. Swiss house Chopard, however, is still the only jeweller to have a consistent programme to bring Fairmined gold into the mainstream. Working alongside EcoAge, Chopard uses Fairmined gold that is certified as sustainably and ethically produced by artisanal miners in the poorest parts of the world. The big splash of celebrities such as Cate Blanchett wearing Chopard's Green Carpet jewels has paved the way for the recent Palme Verte diffusion line, which brings sustainable gold to a wider audience. By harnessing the power of celebrity and the red carpet, Chopard jewellery is ahead of the curve in putting ecologically sound gold on the map.
Read more about the Chopard Fairmined gold collection here
As for diamond cuts, despite Lady Gaga's Instagram picture of her heart-shaped diamond engagement ring going viral, this diamond cut hasn't shown any sign of increased popularity, perhaps due to the high cost. But what is becoming a trend is to combine different diamond cuts, as genius designer Ambaji Shinde did, way back in the 1950s at Harry Winston, when he created the Cluster jewels. The Pas de Deux collection from Boodles jewellery is a very contemporary take on all-diamond jewellery - an effect achieved in no small part thanks to the use of trapeze and navette-cut diamonds, alongside the more traditional brilliant, baguette and emerald cuts.
So what next? Unlike fashion, jewellery is less seasonal and moves at a more sedate pace, appropriate to its value and kudos. Jewellery trends tend to take shape and evolve, rather than appear in a flash, to only disappear into the mists of last season. Which isn't to say there aren't clear trends for jewellery. In fact, jewellery, more so than any other design form, most permanently and preciously crystallises the nuances and mood of a moment. The romance of the Belle Epoque, the genius of Art Deco, the aspirations of the inter-war years, or the optimism of the 1960s can be heard loud and clear from jewels of that era, which still speak to us today.
See more Art Deco pieces in the Tiffany Masterpieces diamond jewellery here
With the 2016 Biennale des Antiquaires de Paris in September - the zenith of the high and fine jewellery world - there will be ample opportunity to see the jewellery trends of the last few years gaining ground, as well as new developments.
Looking forward, I predict that our interest in individuality and quality will continue apace, with unusual and arcane techniques, rare gems, ethical materials and original design coming together in jewels that are highly unique yet very wearable. And if my hunch is correct, there is a bright future ahead for high jewellery.
Read about the perfect ruby jewellery here
Fleurs d'Opales high jewellery ring from Chopard in rose and white gold, titanium and zirconium, set with multi-coloured sapphires, rubies, garnets and black diamonds surrounding a 9ct black opal. 

This aquamarine, diamond and turquoise necklace worn by Cate Blanchett to the Oscars earlier this year, is from the 2015 Tiffany & Co. Blue Book collection.

Inspired by Australia's blue Vanda orchid, the Vanda cuff from Autore jewellery features 44 large Keshi pearls, 7,000 diamonds, and both rough and facetted sapphires.

YOKO London Calypso collection rose gold ring featuring a pink freshwater pearl surrounded by amethysts and diamonds.

This vibrant 18ct yellow gold earring by Lydia Courteille features a multi-coloured firefly motif set with diamonds, pink sapphires, tanzanites and apatite. 

Diamond ear cuff from Yeprem, which curves fluidly around the front of the ear, skimming the face.

Piaget Secrets and Lights cuff bracelet in 18ct pink gold set with one cushion-cut ruby, marquise-cut rubies, pink spinels, mandarin garnets, yellow beryls and brilliant-cut diamonds, worn by Golden Globe winning actress Jessica Chastain. 

Turquoise and emerald drop earrings from de GRISOGONO's Melody of Colours collection.

Cartier Arabica necklace in pink and white gold, from the Etourdissant collection, with garnet long beads, ruby beads and brown and white brilliant-cut diamonds.

Les Talismans de Chanel Hypnotique ring in 18ct white and yellow gold set with brilliant-cut blue violet tanzanite, diamonds and multi-coloured lacquer.

One-of-a-kind drop opal earrings from Louis Vuitton's new Acte V/The Escape collection, which vividly capture the colours of the famous Blue Grotto - Capri's famous underwater cave - by surrounding mysterious black Australian opals with sparkling waves of diamonds.