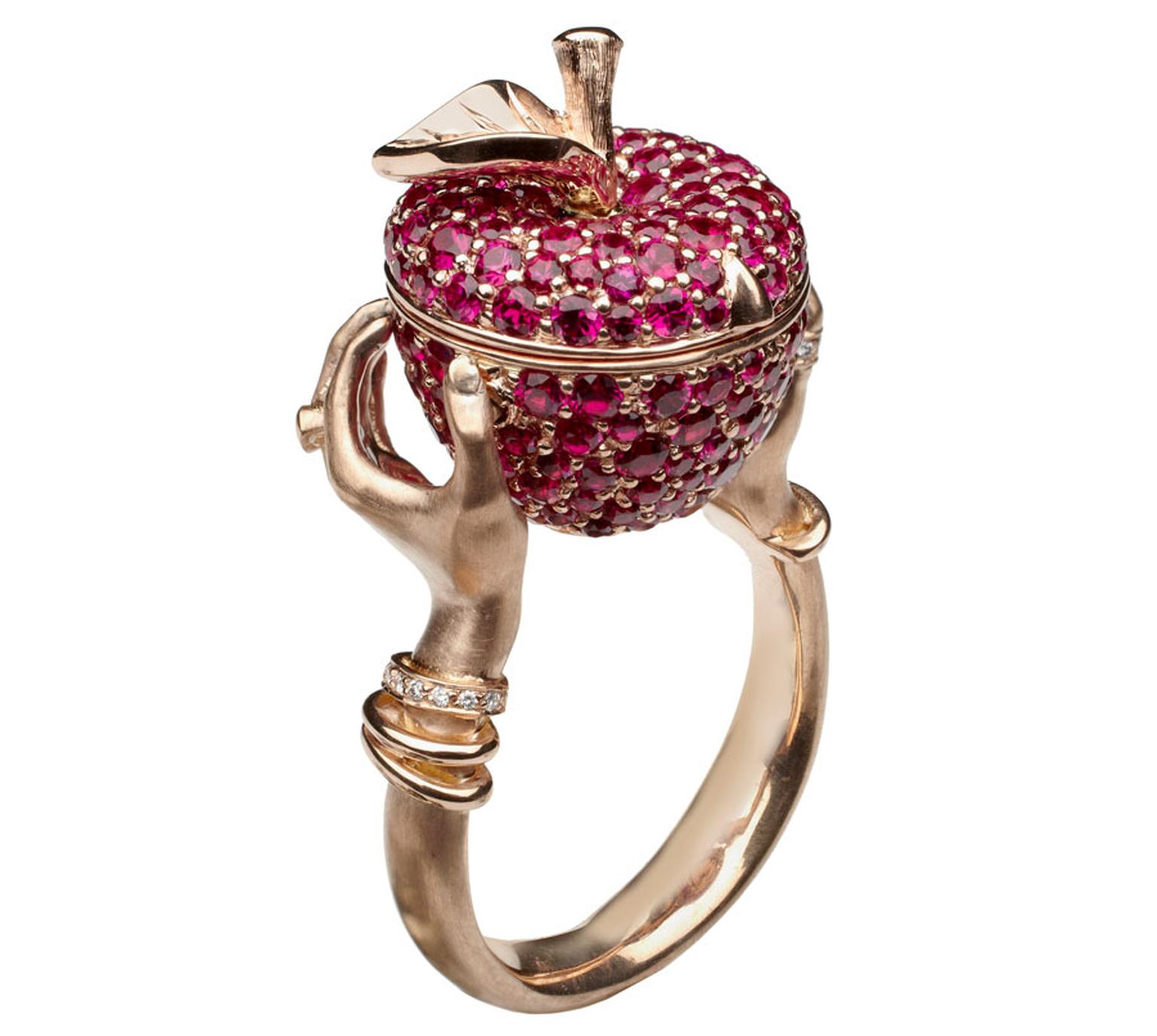 Shoppers from all over the world flock to Fortnum & Mason for many reasons, but until now, jewellery hasn't been one of them. All that is set to change, however, with the unveiling of the quintessentially British department store's new Fine Jewellery Room, which opened on 22 March 2013. A who's who of emerging and established UK-based designers, as well as a carefully edited selection of international jewellers, it's an inspired idea from a store that has been championing the best of British for more than 300 years.
The list contains many names you will know if you love jewellery with attitude - Stephen Webster, Jade Jagger, Lara Bohinc, Katie Hillier, Katie Rowland - and some you may not but should: Melanie Georgacopoulos, Fernando Jorge, Tomasz Donocik and Catherine Zoraida. There is also expertly sourced vintage jewels by Susan Caplan and cutting-edge fashion jewellery courtesy of Mawi and Jessica de Lotz, plus Nicholas Kirkwood and Christopher Kane for Atelier Swarovski.
If that isn't reason enough to visit, the Fine Jewellery Room is playing host to the British Fashion Council's Rock Vault exhibition for a month, following its preview at London Fashion Week. Curated by Stephen Webster, you can admire the ground-breaking designs of Melanie Georgacopoulos, Fernando Jorge and Tomasz Donocik, who created unique red-carpet earrings out of palladium for the event (read about it here) - the first time Rock Vault jewellery has been on show outside London Fashion Week. 
"The Jewellery Room exults beautiful design and style, offering pieces for every occasion and celebration with a variety of materials and price points, says Jo Newton, Head Fashion and Beauty Buyer at Fortnum & Mason. "And customers can expect the usual Fortnum & Mason service and attention to detail."
Stephen Webster Jewels Verne Jaws Cuff set in 18ct white gold with silver and white diamonds (£13,750).

Catherine Zoraida Apple Twig and Diamond Cuff (£460).

Fernando Jorge Fluid Diamonds Cycle earrings in 18ct yellow gold (£5,000).

Hillier Dotty heart studs (£250).

Katie Rowland Ishtar Orb Earrings in rose gold-plated silver, set with mystic blue quartz (£475).

Melanie Georgacopoulos necklace with ascending white freshwater pearls and yellow-gold chains.

Oval ring in 18ct yellow gold with pink pixel-cut tourmaline by Jo Hayes Ward (£3,100).

Nicholas Kirkwood for Atelier Swarovski Jet Hem Hoop Earrings (£195).

Melanie Georgacopoulos 18ct yellow gold and diamond Cage Open Bangle.

Legendary London department store Fortnum & Mason has opened a new Fine Jewellery Room, featuring some of Britain's most talented jewellery designers.

Tomasz Donocik Halo bracelet in silver and bronze.

Lara Bohinc Lunar Eclipse necklace in 22ct rose-gold-plated brass (£690).