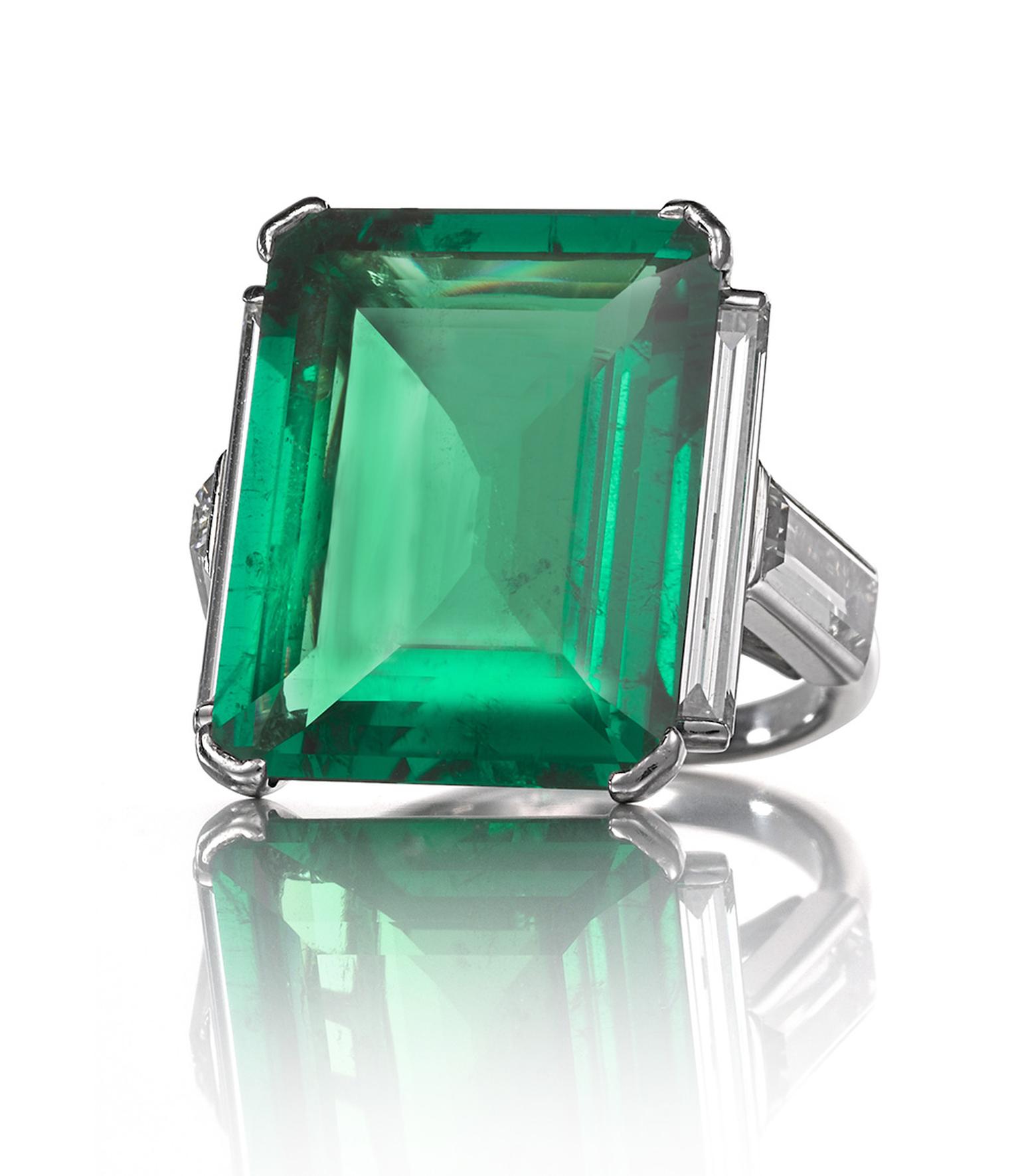 A tantalising kaleidoscope of art, antiques and design, Masterpiece London 2013 opens its doors on 27 June. What makes it so special for me is the fact that no less than 23 of the 163 exhibitors are showing jewels and watches - both old and new - at the week-long event. Nowhere else will you find this array of some of the world's most exquisite creations on the smallest of scales in one unique venue.
I have had a look at some of the jewels by contemporary designers that will be on show - and for sale - at the event and, hard as it is to hone it down, here are some of the pieces I feel you really must see. And there is plenty more, so give yourself time to drink it all in.
Let's start with Siegelson, the New York gallery that specialises in masterpieces of jewellery design. As well as some stellar examples of early 20th century jewels, the house presents a breathtaking 49.31ct, Mughal-cut golden Golconda diamond ring set into a simple contemporary mount, bringing together the past and the present. Called the 'Maharaja Sunset', just seeing this diamond will lift your spirits, and I can't even begin to think what owning it might do for your karma. Other delights include Mughal old mine emeralds in both antique and contemporary settings.
Another specialist in antique jewels that brings modernity into the mix is London-based Symbolic & Chase, which will be showcasing not just the best from the past but also something totally new. Supporting the work of fine jewellery designer Alessandro Sabbatini, who has designed for international jewellery houses such as Cartier, Symbolic & Chase will be presenting his first collection under the Sabba brand. Martin Travis, Symbolic & Chase's director, tells us: "Recognising the rarity of Alessandro's talent and understanding the frustrations of coupling artistic ambitions with business concerns, I was keen to support Alessandro and develop a symbiotic relationship that would give Alessandro the creative freedom necessary to grow as an artist."
Geneva-based Suzanne Syz, who wants us to wear 'Smarties' around our necks or a brace of jade frogs clustered atop a bejewelled lily pad in 'The Prince Charming' bracelet, has made a special piece for the show. Classical in its simplicity, the ring features a gently glowing padparadscha sapphire surrounded by briolette-cut diamonds. It is worth visiting Masterpiece just for a glance at this ring. These unusual, sunset-hued, pinky orange sapphires are a rarity, and you will be lucky to see one this beautiful.
Theo Fennell, the jeweller who captures the eclectic, quirky spirit of London in intricately made jewels, looks from the riverbanks of the Nile to the backwaters of rural England for inspiration. A visit to his stand is guaranteed to make you smile, whether it is the 'Mole & Toad' ring that whisks you back to your childhood days of reading under the willow trees or the 'Under the Water' pendant that invites you to dive into the cool depths of a tropical sea.
The German jewellery house Hemmerle never fails to impress with its pared down, highly sophisticated designs. Delighting in the quirks of nature and exulting the individuality of stones, it will be presenting several sets of jade earrings at Masterpiece. Gaze at jade creations that range from the lush, verdant hue we expect of this Asian stone to mottled, mossy green discs and, most intriguing, white jade shot through with lightning-bolt black jags.
Verdura, dubbed "America's Crown jeweller" by The New York Times and a favourite of Gabrielle Chanel and other prominent ladies of the recent past, sells both original creations by the late Count Fulco di Verdura as well as reproductions of his fabulously glamorous 1950s designs. Stop by Verdura's emporium at Masterpiece for an absolute feast of colour for the eyes. I am drawn like a moth to the Theodora Pendant Brooch, a replica of one previously owned by Diana Vreeland. And if it worked for Diana, rest assured it will add va va voom to any outfit.
The New York jeweller David Webb, who made his mark between the 1950s and 70s, was a society darling when it came to jewels. His legacy continues with the latest contemporary-made David Webb jewels, which are gleaned from a rich archive of sketches, models and moulds and are as exciting as when they were first presented. One that catches the zeitgeist of the era is the 'Double Chimera' bracelet of carved coral, diamonds, emeralds, platinum gold and black enamel, which whispers of nights of decadence in Shanghai. 
Boghossian of Geneva, a fourth-generation family jeweller, shook things up a little when, in 2008, the house introduced Bogh-Art, a brand able to offer more forward-thinking clients "an alchemy of treasured things". A fine example of this brave new approach is the 40ct natural Ceylon old mine pear-shape sapphire, which is inlaid into a tulip carved out of opal. Believe me, you have to see this one to appreciate its deep-blue beauty.
With boutiques in London and Geneva, Chatila is where the cognoscenti head to for rare diamonds and coloured gemstones. The 150-year-old jeweller, originally from Lebanon, offers precious gems and jewels of a calibre that attracts the most discerning buyers. Amongst other knee-buckling delights, Chatila will be offering for sale at Masterpiece London a pair of symmetrical diamond and pearl earrings and an asymmetrical pair of pear drop earrings with yellow and white diamonds topped with round-brilliant cut diamonds.
And this is just the start. Come prepared for a day full of fabulous jewels and, like me, you will leave with your head spinning from the sublime beauty on display at this one-of-a-kind show.
Masterpiece runs from 27 June - 3 July 2013.
Hemmerle jade earrings with white diamonds, silver and white gold.

Hemmerle jade earrings with tsavorite garnets, silver and white gold.

David Webb bracelet of yellow gold, platinum, diamonds, emeralds, sapphires and black enamel.

Chatila's asymmetric pear drop earrings with pear shape yellow and white diamonds with round-brilliant cut diamonds.

Asymmetric diamond and pearl earrings from Chatila.

This pear-shaped sapphire has been inlaid into a tulip-shaped opal to create this stunning necklace from Boghossian.

These Hemmerle earrings feature 306 demantoid garnets set on two jade discs, with blackened silver and white gold.

This eye-catching Theodora Pendant Brooch from Verdura is a replica of one previously owned by Diana Vreeland.

Theo Fennell's ocean-themed 'Under the Sea' pendant is adorned with rose, white and yellow gold sealife.

Alessandro Sabbatini's drawing of a Sabba earring showing at Symbolic & Chase.

Suzanne Syz ring in white gold, set with briolette-cut diamonds and a natural padparadscha sapphire, has been made specially for the Masterpiece London 2013 show.

Suzanne Syz's colourful 'Smarties' necklace is reminiscent of children's sweeties.