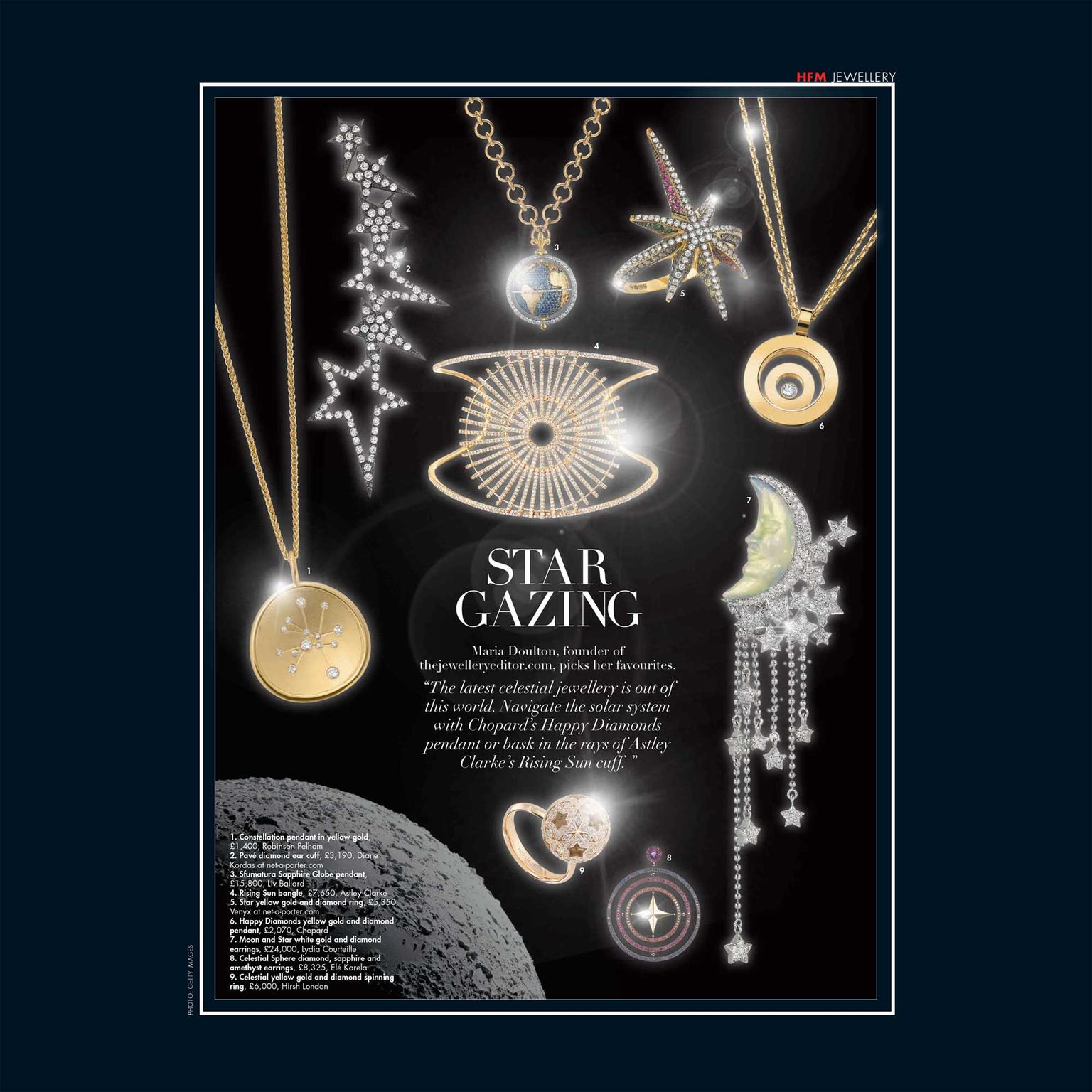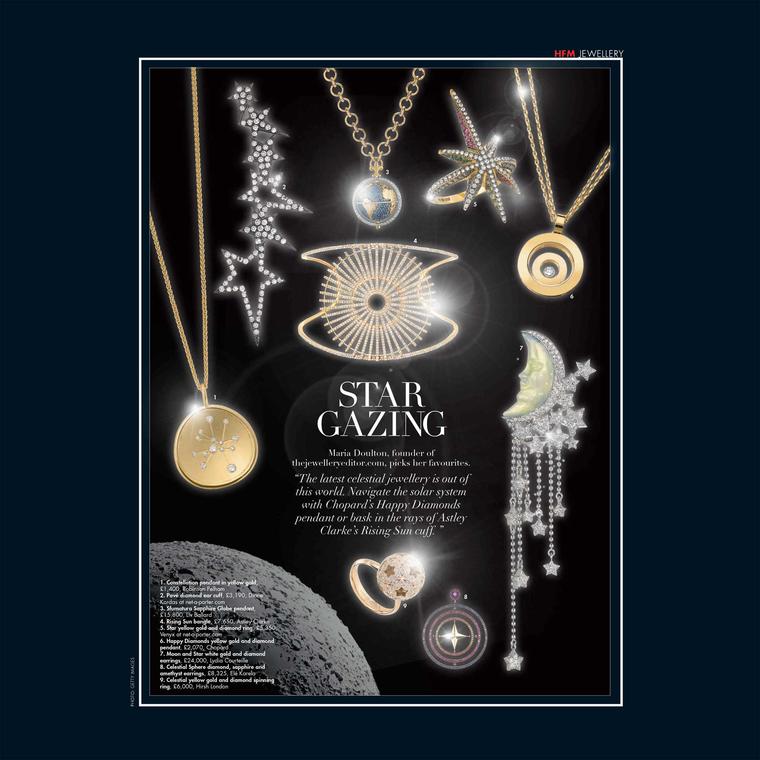 By Åse Anderson
With its one-year anniversary fast approaching, the ongoing collaboration between The Jewellery Editor and Hello! Fashion magazine continues to go from strength to strength.
The team at Hello! Fashion looks to The Jewellery Editor to share its wide-reaching expertise in the world of luxury watches and fine jewellery with the magazine's ever-growing band of loyal readers. Every month, The Jewellery Editor co-founder and renowned journalist Maria Doulton curates a selection of fine jewellery and watches along a theme that has been decided on by both editorial teams.
For the August issue, the theme focused on celestial jewellery inspired by our solar system, and heavenly bodies such as the Sun and stars. The heady mix of diamond jewellery in Maria's line-up included the iconic Chopard Happy Diamond pendant, Astley Clarke's dazzling Rising Sun cuff, and a climbing diamond ear cuff by Diane Kordas. Previous jewellery themes have encompassed spiritual gems and elegant floral-inspired designs.
View more celestial jewellery here
Speaking of the collaboration with Hello! Fashion, Maria says: "Issue by issue, as the success of Hello! Fashion grows, The Jewellery Editor continues to provide insightful and authoritative content for the monthly jewellery pages. The magazine's younger audience encourages the editorial team to seek out jewels and watches that appeal to its readers, yet maintain the allure of the ultimate luxury product."
Hello! Fashion launched in September 2014 as a fashion and beauty-focused spin-off from the hugely popular weekly Hello! magazine. Showcasing a mix of high street and designer products, it aims to provide its readers with informative and aspirational content.
Now with its own Facebook page and Twitter account, Hello! Fashion is also growing its digital presence, which in turn opens up more opportunities for the two magazines to share content across their social media platforms.
Single ear cuff in rose gold with diamonds and rhodium-plated stars from Diane Kordas.

Chopard Happy Spirit pendant in yellow gold with a mobile central diamond.

Moon and star white gold, diamond and enamel drop earrings from Lydia Courteille.

Each of the rings in the Celestial collection from Hirsh London features a spinning gold sphere with star motifs and diamonds. 

Astley Clarke Rising Sun diamond cuff in yellow gold (£7,650).

The Jewellery Editor has been providing content for the jewellery and watch pages of Hello! Fashion since it launched in September 2014.