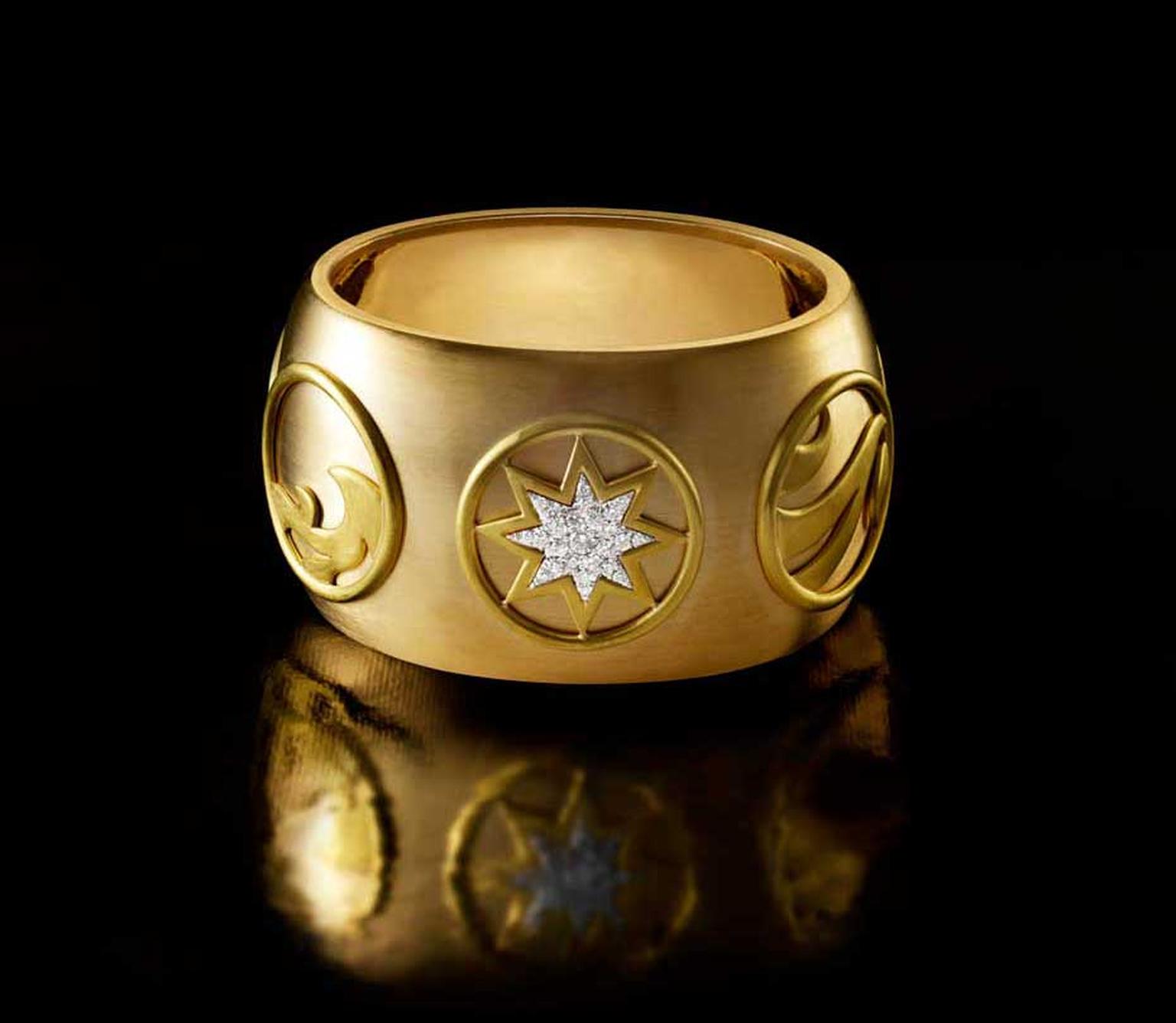 By Åse Anderson 
Given the amount of celestial motifs that have been appearing recently, it seems like stargazing is all the rage in the jewellery world. From the sun, the moon and the stars to planets orbiting in faraway galaxies, these heavenly bodies are now within our reach in a head-spinningly beautiful constellation of diamonds, gemstones and gold. 
However, the inclination to look outside of our earthly habitat for inspiration is nothing new. Cosmic motifs have enthralled jewellers throughout history, from Roman times to the Victorian era, when stars and moons frequently adorned brooches and pendants. 
In 1932, Gabrielle Chanel presented the Maison's first high jewellery collection entitled Bijoux de Diamants, inspired by her love of stars, comets and suns. Some 20 years later, Jean Schlumberger designed the iconic Stars and Moons necklace for Tiffany & Co. with a central diamond of 5.29ct and 586 diamonds, said to mimic a clear midnight sky. The Tiffany necklace was recreated from the original sketch in celebration of the American jeweller's 175th anniversary and is now the second-most expensive necklace sold by the New York jeweller, at $2,800,000. 
A host of new designs are bringing the celestial jewellery trend firmly into the 21st century and demonstrating the enduring power of these motifs. The name of Noor Fares' debut Fly Me to the Moon jewellery collection speaks of the London-based designer's fascination with all things celestial, while the jewels in her brand new Tilsam collection have an astrological element and are designed to be worn as lucky talismans.
Moons, rainbows and stars collide in American jewellery designer Andrea Fohrman's Celestial collection, while Lara Bohinc's Planetaria ring, with a gold frame holding a round translucent rock quartz, is reminiscent of Copernicus' astronomical model. Cosmique, the latest collection of Chanel jewellery, continues Gabrielle Chanel's love affair with celestial motifs by contrasting twinkling diamond stars with monochrome ceramic. 
Stars, suns and celestial bodies are a recurring motif in the jewels by Californian Liv Ballard, who counts Jennifer Aniston and Elton John among her clients. The diamond-encrusted gold spheres rotate freely in her Spinning Orb earrings, while the Cosmos gold cuff is adorned with ancient hieroglyphs. A star-studded spinning planet, set with 245 diamonds, also sits on top of the limited-edition rings in Hirsh London's new Celestial collection, each of which is numbered and features a spinning gold sphere.
Diamond eyes set on a face traced in yellow gold gaze sagely from Anthony Lent's Starface earrings while another, more benevolent-looking face, beams atop the Moonface earrings. They say that if you reach for the moon you're bound to catch some stars, but it would appear that the sky's the limit when it comes to jewellery creations featuring celestial elements. 
Noor Fares Celesta moonstone ring in yellow gold, from the new Tilsam collection.

Noor Fares Dora pendant featuring a rock crystal quartz sphere set in grey gold with white diamonds, from the new Tilsam collection.

Hirsh Orion white gold and diamond ring, from the new Celestial collection.

Liv Ballard Spinning Orb earrings in gold with yellow and white pavé diamonds.

Jean Schlumberger designed the iconic Stars and Moons necklace for Tiffany & Co in the 1950s. The necklace was recreated in celebration of Tiffany's 175th anniversary in 2012.

Spot the diamond stars in an article in 'VU' magazine from November 1932 covering Madame Chanel's Bijoux de Diamants exhibition in Paris.

Chanel Vendome Comete high jewellery ring from the Café Society collection, launched at the Biennale in Paris in 2014, decorated with Grand Feu enamel and set with a 1.5ct cushion-cut yellow diamond and brilliant-cut diamonds.

Astley Clarke Muse Rising Sun gold and diamond cuff, new for 2015.

Anthony Lent Moonface earrings in gold, set with mandarin garnets, spessartite garnets and diamonds, from the Celestial collection.