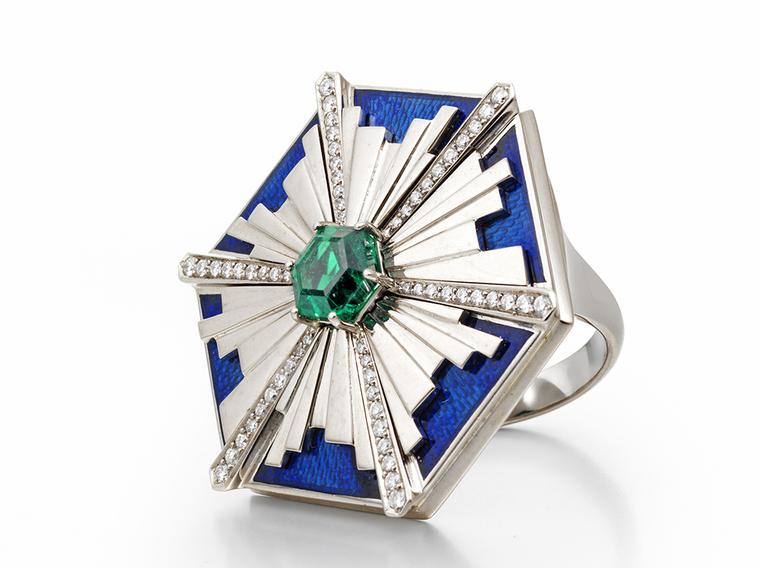 The annual Goldsmiths' Fair is the ultimate one-stop destination for shoppers looking to buy jewels from some of the UK's most exciting independent designers. 
First established in 1983, the fair has grown over the last 30 years and is now considered one of the most prestigious events of its kind in Europe. Offering an unrivalled opportunity to buy directly from up-and-coming designers, the fair is visited by thousands of jewellery lovers each year who are keen to snap up original creations from as little as £60.
The antithesis of mass-production, the fair, which is held in the magnificent setting of Goldsmiths' Hall in the City of London, is all about individuality, which is what makes it such a special event. Running from 23 September for a fortnight, each week, 90 exhibitors will be showing their latest creations, each of whom has been selected by Goldsmith's Company for their originality and flair. The line-up for 2013 includes 115 jewellers and 63 silversmiths.
New to the fair this year, Robinson Pelham will be launching its vibrant new Elystan collection, named after the road in Chelsea on which the jeweller - a favourite of Kate Middleton - has recently relocated. Also new to the event is London jeweller Hannah Martin. Known for her sculptural jewels, which are designed for men but coveted by women, her Zambian emerald 'Delirium' ring pays homage to The Comte de St. Germain, a character who possessed the elixir of life. Another noteworthy new name is London-based Junko Hirai, a Japanese jewellery designer whose elegant designs, including an 'Ant on a Leaf' brooch, depict scenes from nature.
The Goldsmiths' Fair continues to promote new talent with its graduate bursary scheme. This year, 10 graduates, including Merlin Planterose, silversmith Victoria Walker and Heather Woof, have been granted a stand, a bullion loan and £1,500 cash by the Goldsmiths' Company to participate in the fair.
Open to the public and trade, admission is by catalogue, which you can buy on the door (£10 for one week; £15 for two).
Victoria Walker 'Kinetic Rose' locket. The delicate silver, gold and diamond flower opens when the central wire is depressed (£875).

Light aqua prism 'Symmetry' ring set with a large aquamarine in yellow gold by Luke Shimell and Emma Madden (£6,720).

'Elystan California Sunset' ring in yellow gold with a central yellow sapphire and grain-set pink, orange and yellow sapphires and diamonds by Robinson Pelham (£8,440).

White porcelain bangle with gold detail on the inside surface by Jo McDonald (£350).

Lichen pendant hollow silver sphere with stone-hammered disc pendant on silver chain by Merlin Planterose (£380).

Gold and silver earrings with tourmalines, labradorite and moonstones by Barbara Bertagnolli (£1,750).

'Instinctive Behaviour' earrings by Maiko Nagayama in yellow gold with jet, sapphires, black opals and aquamarines (£4,900).

'Mahonia' pendant and earrings in yellow gold with graduated opening flowers on a forged hook fitting by Janet Barber (£3,300).

'Ant on a leaf' brooch in yellow and white gold by Junko Hirai (£4,660).

'Explode' brooch in titanium and sterling silver by Heather Woof (£395).

An emerald ring and lemon quartz ring, both set in yellow gold, by Disa Allsopp (£4,000; £2,500).

'Delirium' Zambian emerald ring with variegated blue Basse Taille enamel in white gold by Hannah Martin (£34,500).