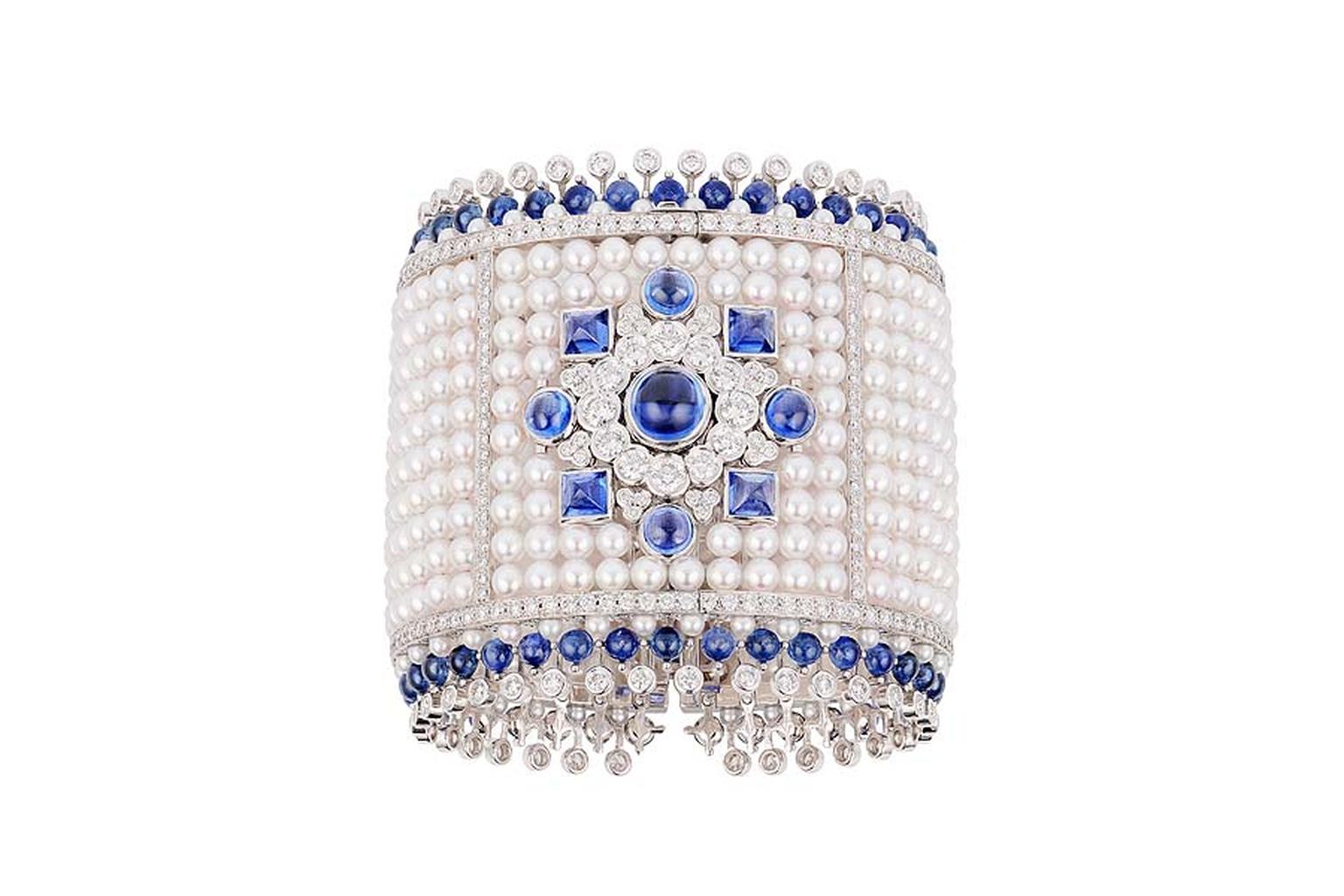 By Claire Roberts
Harrods will be celebrating the forthcoming Pearls exhibition at the V&A museum with a showcase of contemporary pearl collections by some of the world's most renowned jewellers, all of which will be available to buy during the event (read more about the exhibition here).
Running concurrently with the exhibition, which opens on 21 September, visitors will find London's historic department store filled with pearly treasures of every description. A total of 14 brands, including Mikimoto, Piaget, Chanel and Cartier, are preparing for the one-off event by gathering their most impressive pearl creations and transporting them to Harrods, where they will be displayed alongside each of the boutiques within the Fine Jewellery Room until the exhibition closes on 19 January 2014.
Among the many remarkable pieces that will be on show are a ring and earrings from Boucheron's one-of-a-kind Victoria collection, set with rare pink conch pearls (read more about conch pearls here), select pieces from Cartier's new Paris Nouvelle Vague collection, a Bulgari lariat necklace set with thousands of tiny seed pearls and a one-off creation by Mikimoto called Pearl Streams. A bejewelled body piece that can be worn as a sash or a belt, it will be taking centre stage in the Fine Jewellery Room, housed in a bespoke cabinet.
Harrods will be handing out postcards throughout the event, which entitle visitors to an exclusive discount on the ticket price to the Pearls exhibition. The V&A is just a short walk down the Brompton Road from Harrods, so I advise stopping by to admire the pearl jewellery on display first before heading to the museum with your postcard for this major retrospective of pearls through the ages.
To find out more, and book tickets for, the Pearls exhibition at the V&A, which runs from 21 September to 19 January 2014, click here.
A close-up of the diamond clasp on Mikimoto's Pearl Streams body adornment, which is on display at Harrods for the duration of the Pearls exhibition at the V&A.

Boucheron Victoria ring set with pink drop conch pearls and white diamonds in white gold (£POA).

Boucheron conch pearl "Victoria" earrings set with pink drop conch pearls and white diamonds in white gold (£POA).

Fabergé Scheherazade tassel earrings, set with specially carved purple jade, diamonds, pink and blue sapphires, rubies and pearls (£POA).

Cartier Paris Nouvelle Vague cuff, from the Voluptuous collection, in pink gold, with freshwater pearls and diamonds (£POA).

Theo Fennell Diamond & Pearl Eastern Castle Ring in yellow gold, topped by a 11.42ct black moonstone and pearls (£15,950).

Mikimoto Aurora necklace with Golden South Sea Keshi pearls, White South Sea Keshi pearls and 64.36ct of diamonds, set in white gold (£POA).

Mikimoto Pearl Streams body adornment crafted from the finest Akoya pearls, with a diamond clasp featuring a single South Sea pearl drop that can also be worn as a brooch (£POA).

Boodles Cherry Long necklace with Tahitian pearls, tourmalines and diamonds set in white and rose gold (£12,250).

Piaget Sparkling Lights necklace in white gold, set with 28.62ct diamonds and 102 white Akoya pearls (£210,000).

Piaget Fan Emotion necklace in white gold, with diamonds, red spinels and white South Sea Pearls (£455,000).

Chanel Nuage de Glace earrings in white gold, with pearls and black and white diamonds (£POA).