Billed as "the world's leading fine arts and antiques fair", I am going to see for myself what TEFAF Maastricht is all about. Amongst the 270 exhibitors, there are 20 jewellery and watch specialists, from contemporary makers such as Hemmerle and Chopard to galleries that specialise in antiques. Divided into nine different sections spanning 7,000 years of art, I will of course be heading straight for the haute joaillerie area.
TEFAF draws in key collectors, both private and institutional, so all the exhibitors will have their finest wares on display. Judging from the previews of the jewellery and watches filling my inbox, I predict I will be treated to a fabulous array of the very best of the best.
One of my first stops will be Wartski to see the René Lalique beetle necklace, above. The photograph alone caught my attention so I can't wait to see the real thing, with its outsize luminous-green glass beetles suspended on rows of glossy beads. Made circa 1905, it is a powerful example of how Lalique brought his glassmaking skills to jewellery. The necklace could also be worn over the forehead – quite a party statement.
Epoque Fine Jewels will show at TEFAF Maastricht this René Lalique pendant (1898-1900) featuring swallows and maidens in gold, enamel and pearls.

Somlo Antiques of London brings three gold watches designed by British jeweller Andrew Grima for Omega circa 1970. 

Hemmerle of Munich will showcase this pharaonic-style bangle in aluminium, silver and white gold featuring aquamarines and sapphires. 
Made some five years earlier, Epoque Fine Jewels offers the Swallows and Maidens pendant, above, that is so different in both style and technique. Blue enamel swallows delicately dive and swoop amongst undulating and rippling swirls, formed by the golden tresses of two maidens. A baroque-form pearl hangs from its tip, completing this enchanting scene that is loaded with symbolism.
Another London stalwart of the antique jewellery world is S J Philips, which will once again be exhibiting at TEFAF. Nicolas Norton of S J Phillips remarks: "TEFAF Maastricht continues to be an important fair for us as it provides us with a means of meeting new customers who perhaps have never considered buying antique jewellery before."
While the venerable Bond Street house may have recently moved premises, it still offers wonderful pieces such as a 1930s Cartier New York Burmese ruby and diamond cluster panel necklace, above, that looks just the thing to entice novices into the world of antique jewels. But for sheer scale of fabulousness, a 1920s Bonsai tree and vase clock, below, by Verger Frères has won my heart.
Looking fresh enough to wear tonight, Véronique Bamps offers for sale a charming Castellani gold, natural pearl and diamond necklace, below, made in Rome circa 1880.
Spanning old and new, Ward Landrigan and his son Nico offer both vintage and freshly made Fulco di Verdura and Suzanne Belperron icons. Don't miss Verdura's moonstone and sapphire Dogwood cuff, which is reminiscent of those designed for Gabrielle Chanel, who wore one on each wrist. Or the audacious Belperron Saddle Cuff in rock crystal with diamonds, below.
Chinese jeweller Wallace Chan will be drawing gasps with his Birth and Blossom earrings, top of article, which depict Earth and the ocean becoming one. From two pearls – known as Dew of the Sea by the Chinese – burst blossom-green titanium stems with flower buds that end in impressive long emerald drops.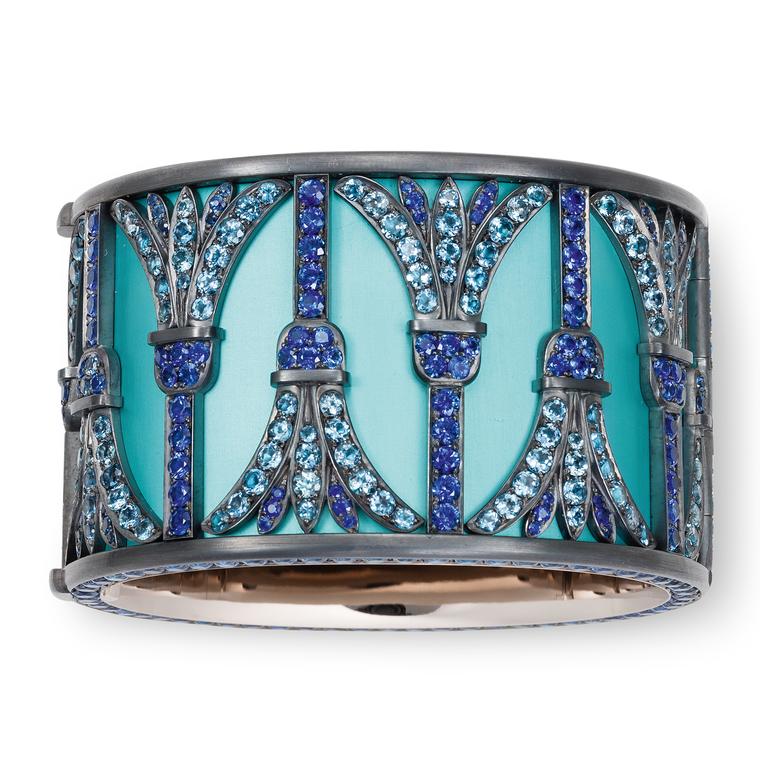 German house Hemmerle graces TEFAF with its exquisite Egyptian-inspired jewels like the bracelet above, with sky blue aquamarine and sapphires and, wait for it, aluminium, smoothly melding the ancient with the avant-garde.
Otto Jakob takes a more realistic look at nature and elevates the humble St John's Wort into gold earrings, below, rippling with lifelike red enamel stamens and little grains of pollen.
I am a total sucker for gold women's dress watches from the 1970s and Somlo Antiques of London does them justice with a trio of Omega watches, below, designed by Andrew Grima that pushed the design envelope then and continue to do so now.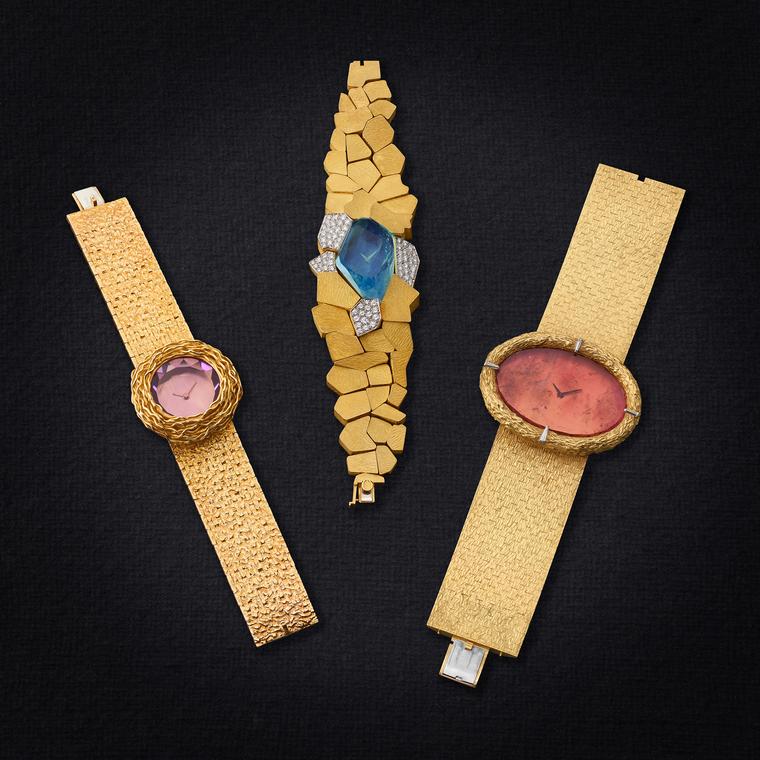 Finally, newcomer Elisabetta Cipriani, whose London gallery specialises in jewels by contemporary artists, is welcomed to TEFAF's Showcase for newer galleries to experience a major international art event. Ai Weiwei's Rebar in Gold bracelets, below, may well be the most wearable contemporary art at the show. 
TEFAF Maastricht 2017 takes place from 10-19 March at the MECC (Maastricht Exhibition and Congress Centre), Maastricht, The Netherlands.