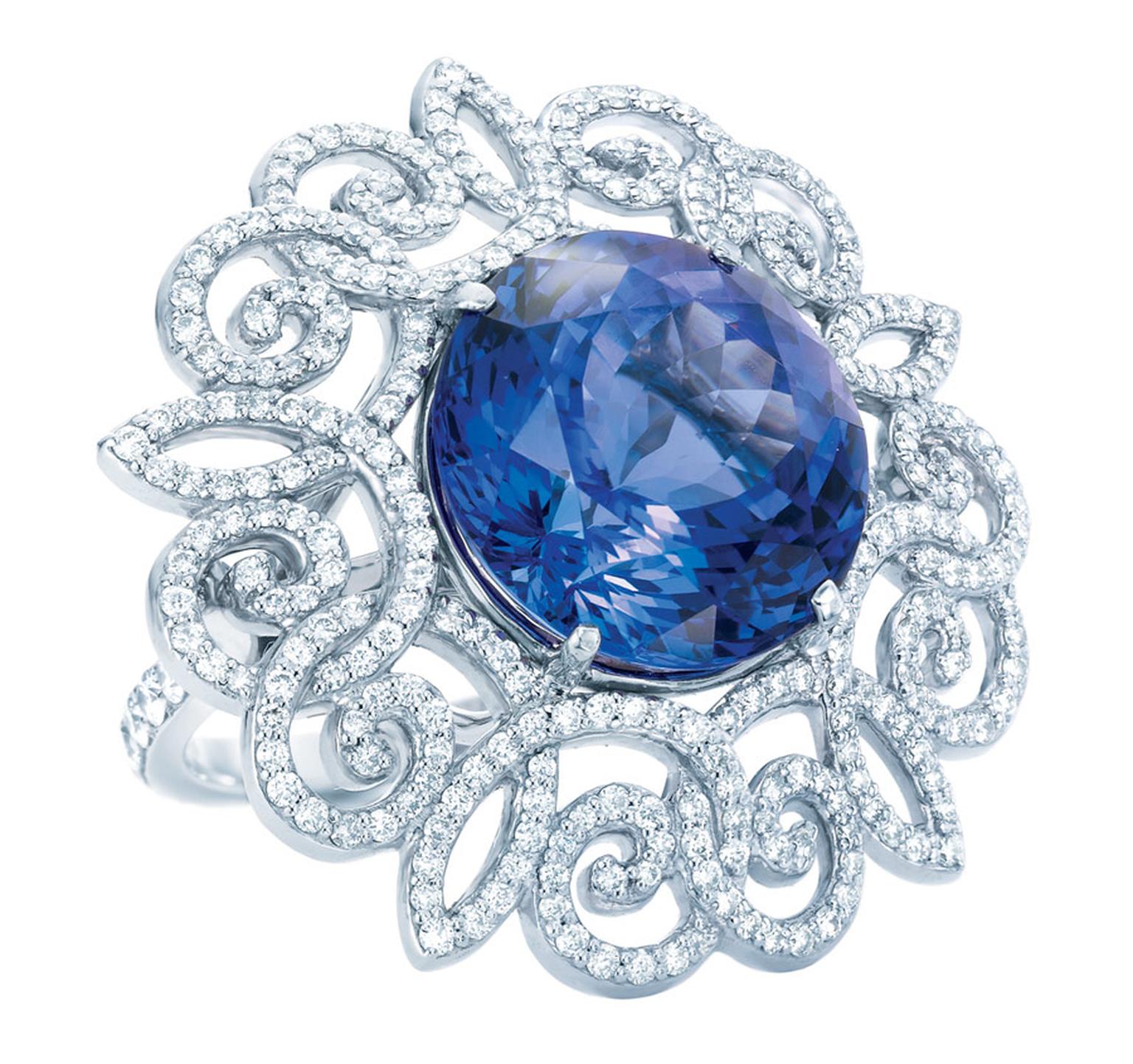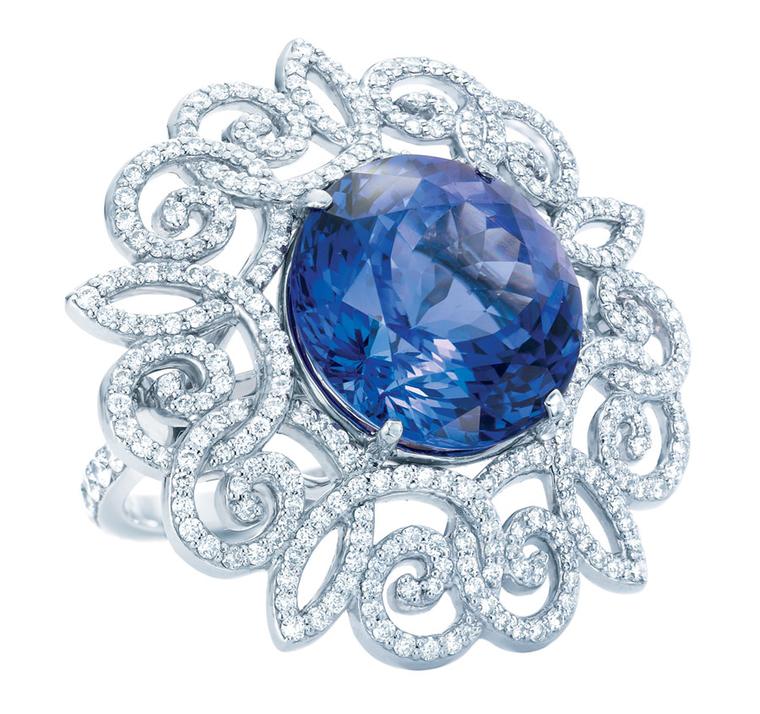 By Jordan Clary in Nevada
One day during the 1960s, a Masai shepherd in the Mereani Hills near Mount Kilimanjaro, in the east African state of Tanzania, found some blue crystals sparkling on the ground. He picked them up. And so begins the journey of tanzanite, the stone that has been hailed as the "gemstone of the 20th century".
Tanzanite formed millions of years ago when metamorphic schists, gneisses and quartzites formed flat-topped inselbergs on the plains below Kilimanjaro, and the crystals began to grow. Eventually, some made their way to the surface, where the Masai herdsmen found them.
Tanzanite is a blue variety of the gemstone zoisite and has a value of 6.5 to 7 on the Mohs scale, so care should be taken when wearing it. Don't let it come into contact with acids or soap, and don't wear it playing sports as it can chip. However, its blue beauty is breathtaking and it's a perfect jewel for eveningwear.  
The name "tanzanite", and much of its later branding, can be credited to Tiffany & Co. Shortly after its discovery, the gem, which was then called "blue zoisite", was introduced to the New York jeweller. They immediately recognised the uniqueness of this blue stone, but in terms of marketing felt "zoisite" simply was not pleasing the ear. They gave it the name tanzanite, branding it as a uniquely African gem.
In 2012, Tiffany celebrated its 175th anniversary with the launch of the Legacy collection, which celebrates the gemstones it has introduced to the world. Tanzanite features prominently, with one necklace featuring a supersized tanzanite of more than 175 carats.
Since then, tanzanite has made its way into the creations of just about every major jeweller. This summer, Chaumet has harnessed the beauty of tanzanite to evoke the deepest blue depths of the sea in its Lumieres d'Eau high jewellery collection, while Theo Fennell sourced an extremely rare heart-shaped 12.47 carat tanzanite for his one-of-a-kind Tanzanite Heart necklace. Its unusual 'Meru' blue hue - much lighter than usual - is named after the volcano in Tanzania from which the tanzanite was mined.
Joanne Teichman, managing director of fine jewellery e-tailer Ylang 23, has seen an increase in demand recently for tanzanite jewellery. "There is so much interest in tanzanite right now. One of our clients took a collection of five amazing tanzanite stones they had bought in Tanzania to one of our designers, Todd Reed, who designed a bespoke necklace for her."
Mining in Tanzania operates primarily on a small scale, and approximately 90 per cent of the merchants are members of the International Colored Gemstone Association. This means that most tanzanite dealers have the reputation of working through legitimate channels to bring us these gems.
Tanzania continues to be the only place this stone has been discovered. Its exclusivity, combined with rich blue hues like a midnight sky that range from ultramarine to light purple, make tanzanite jewellery highly desired. 
Chopard high jewellery earrings featuring pear shaped tanzanites surrounded by white gold set with diamonds.

Chopard Temptations necklace featuring tanzanite beads, diamonds, sapphires and amethysts all set in white gold.

Theo Fennel Tanzanite Heart necklace featuring a rare 12.74ct 'Meru' blue tanzanite, spinels, diamonds and a freshwater pearl.

This Theo Fennell ring is skilfully carved from the tusks of a long-extinct Mammoth. The 6.52ct tanzanite, set in white gold, is framed by 0.22ct of diamonds.

Chaumet Lumieres d'Eau high jewellery necklace in white gold with a 45.64ct troidia-cut tanzanite, three cushion-cut sapphires, sapphires, sapphire beads, lapis lazuli beads and black spinel beads.

Chaumet Lumieres d'Eau high jewellery ring in white gold, set with a 16.50ct troidia-cut tanzanite, round sapphires, lapis lazuli and brilliant-cut diamonds.

Arunashi handmade reverse tanzanite ring with diamonds. Available at Ylang23.com.

Available at Ylang23.com, Arunashi's white gold ring features a total of 29ct of inverted tanzanite stones scattered amongst 4.36ct of diamonds.

Pomellato Pom Pom rose gold and tanzanite bracelet.

Tiffany Anniversary platinum necklace, set with over 175ct of tanzanites, complemented by a cascade of round brilliant diamonds.