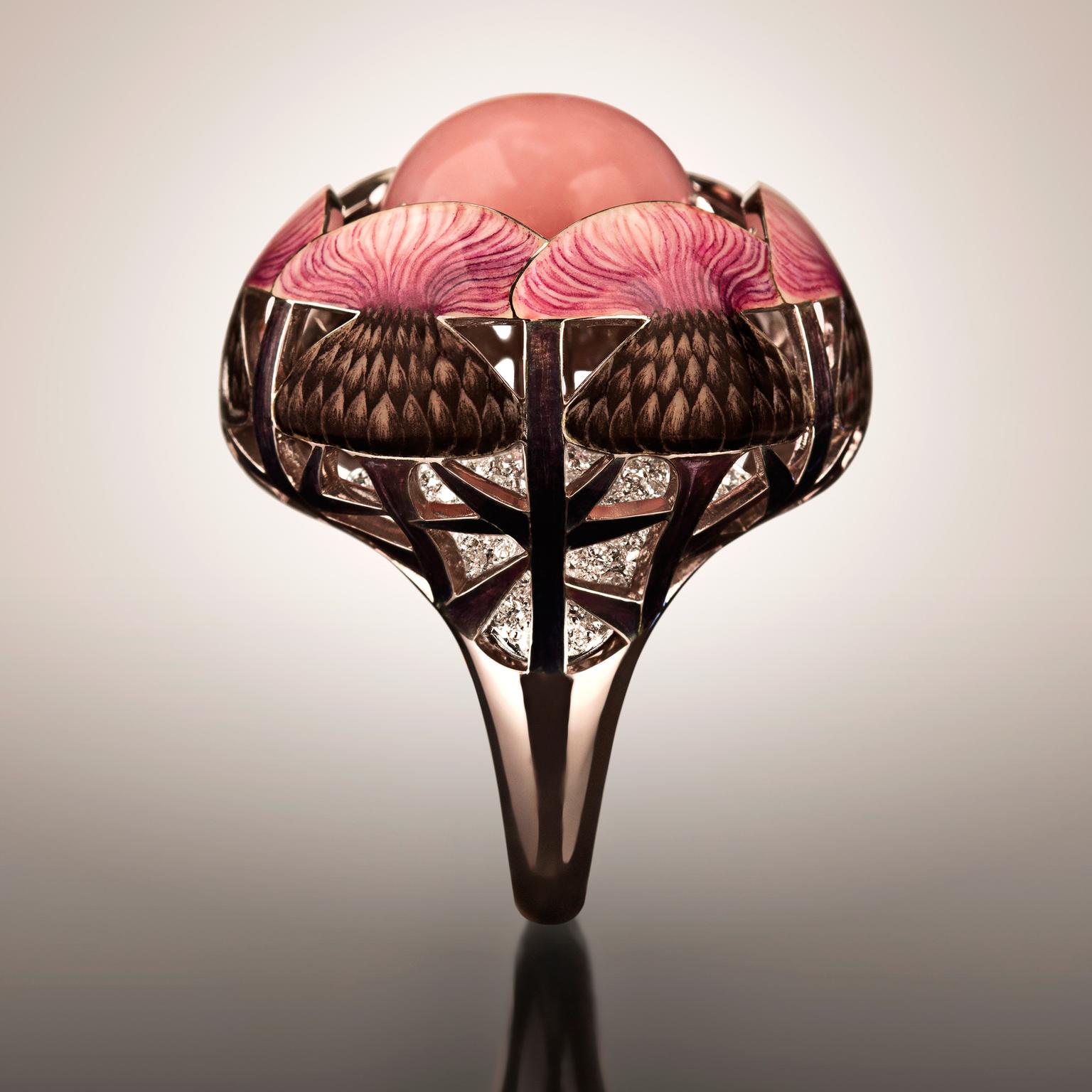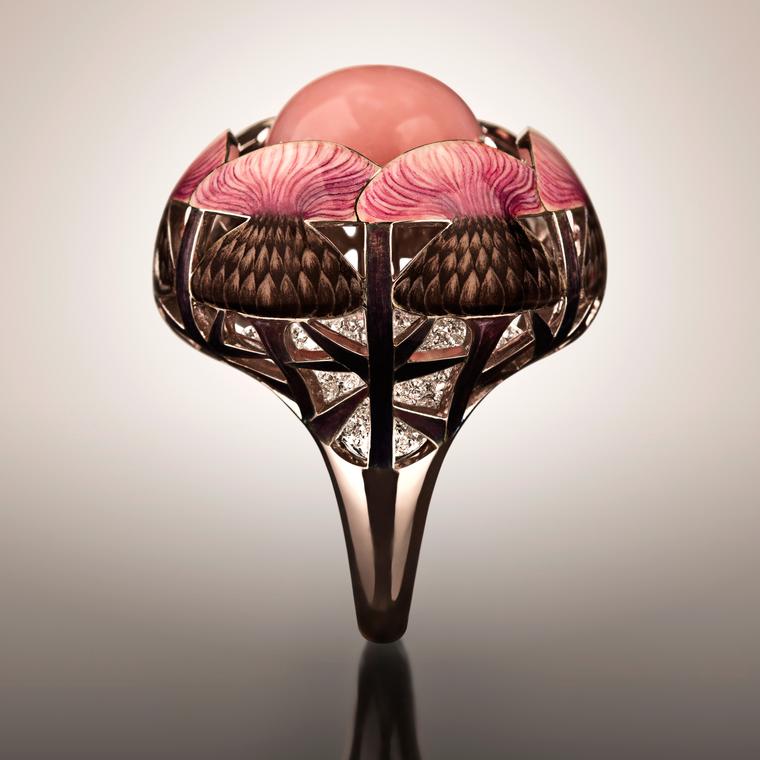 By Elena Veselaya in Moscow, Russia
One of the most original modern Russian jewellery designers at work today, Ilgiz Fazulzyanov is also the only Russian designer who is recognised internationally. His skills in hot enamelling and stone setting have earned him two victories in a row in the Design Excellence Award contest in Hong Kong.
Born in 1968 in Zelenodolsk, a Russian town in the Republic of Tatarstan, Ilgiz graduated from art school in 1990 with a degree in decorative design and opened a shop in the city of Kazan, where he worked on stained-glass window designs and silk prints.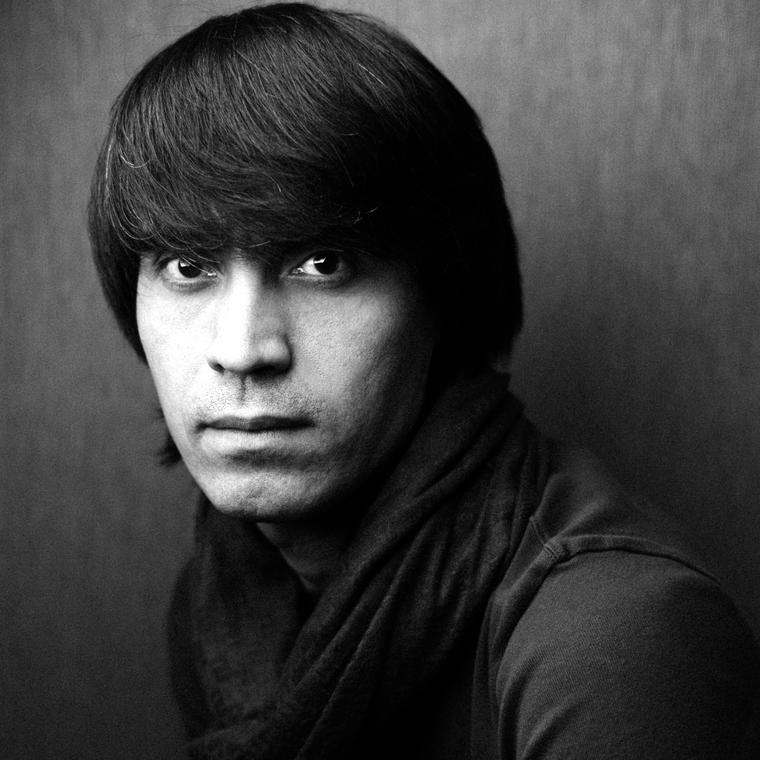 In 1992 he launched his first jewellery shop with the aim of reviving the national artistic traditions of Tatarstan. Working with local historians, he employs innovative techniques to create truly remarkable pieces with an ethnic authenticity. Today, many of his works are on show in the museums of Tatarstan.
Ilgiz works in cooperation with the Moscow Armory, where he studies European jewellery traditions to incorporate into his individual style. It is here that he developed an interest in using grand feu enamel as a decorative technique in his jewellery. 
Some five years after opening his shop, he unveiled a jewellery collection featuring grand feu and champlevé enamelling in France. It received glowing reviews in the French media, including Le Figaro, and for the next three years Ilgiz collaborated with leading French exhibition halls and antiquarian salons.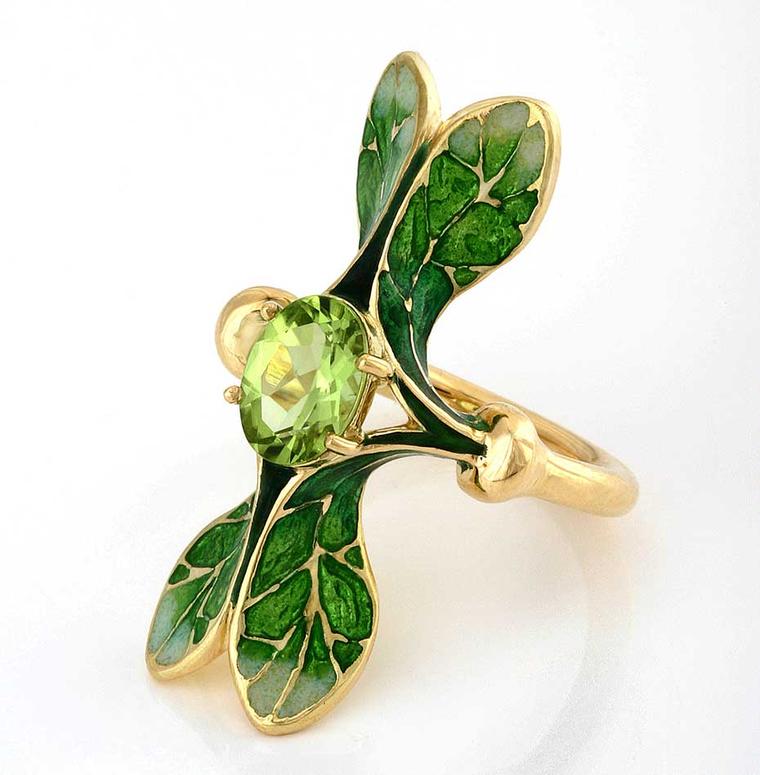 In 2011, Ilgiz was selected to receive the top award at the International Jewellery Design Excellence Award, held at the Hong Kong International Jewellery Fair. It marked the first time a Russian jewellery designer participated in this show had won this coveted award and was a great victory for contemporary Russian jewellery making.
The jury was unanimous in awarding the title - "Champion of the Champions" - to Ilgiz F's "Bullfinches" pendant, below. Ilgiz then went on to repeat this dazzling success in 2013 with a ring and earrings set called "Butterflies".
The entire jewellery making process, from initial sketch to final stages, is carried out by Ilgiz personally. He doesn't shy away from employing contrasting styles and design traditions, and doesn't limit himself in terms of materials to help him realise his dreams.
The influence the Art Nouveau and Art Deco periods have had on Ilgiz is hard to miss. The abundance of flowers, leaves, opals, hot and champlevé enamels are as typical in his work as are clean lines of design and precision of detail.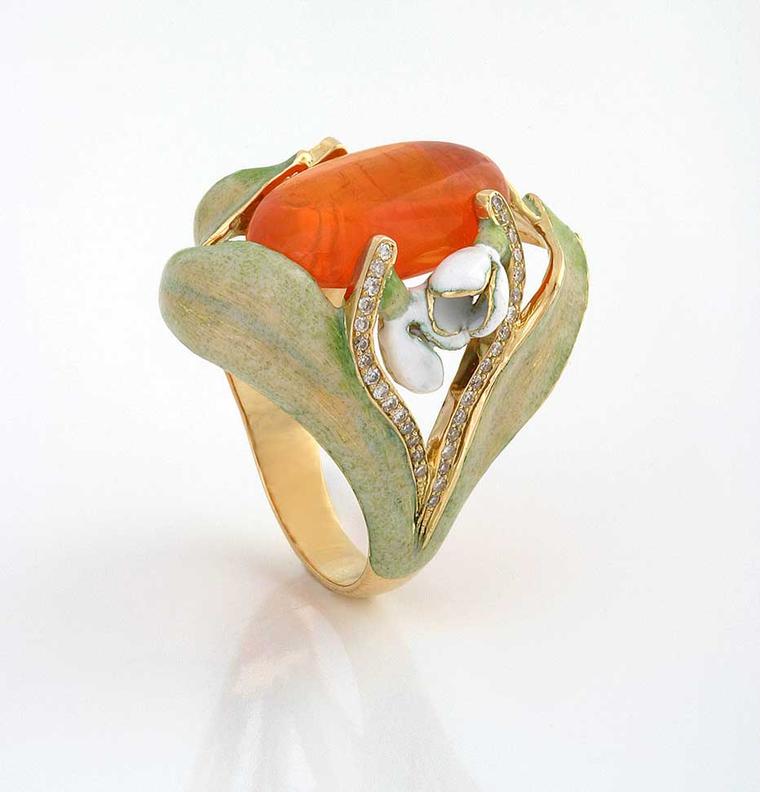 Not yet 50 years old, Ilgiz is already considered a master jeweller. When borrowing from tradition, he declines to copy the intricate masterpieces of the artisans of bygone eras, instead carefully and respectfully reworking their legacy while establishing his own foothold in the contemporary world of jewellery design and innovation.
His collections bring to mind the best masterpieces of René Lalique, but in no way do they emulate them. The detail and exquisite beauty of his enamels has impressed many international experts and were the features that most stunned the Hong Kong jury. They all but reached for a microscope when admiring the miniscule bullfinches, so taken were they with their intricacy. It would be fair to say enamellers of this calibre are hard to come by in today's world.
Now based in Moscow, since 2012 the Ilgiz F brand has opened up shop in Paris, Geneva and New York. Interestingly, Ilgiz does not sell the same collections in different cities and countries, yet his style and artistic manner remain uniquely recognisable.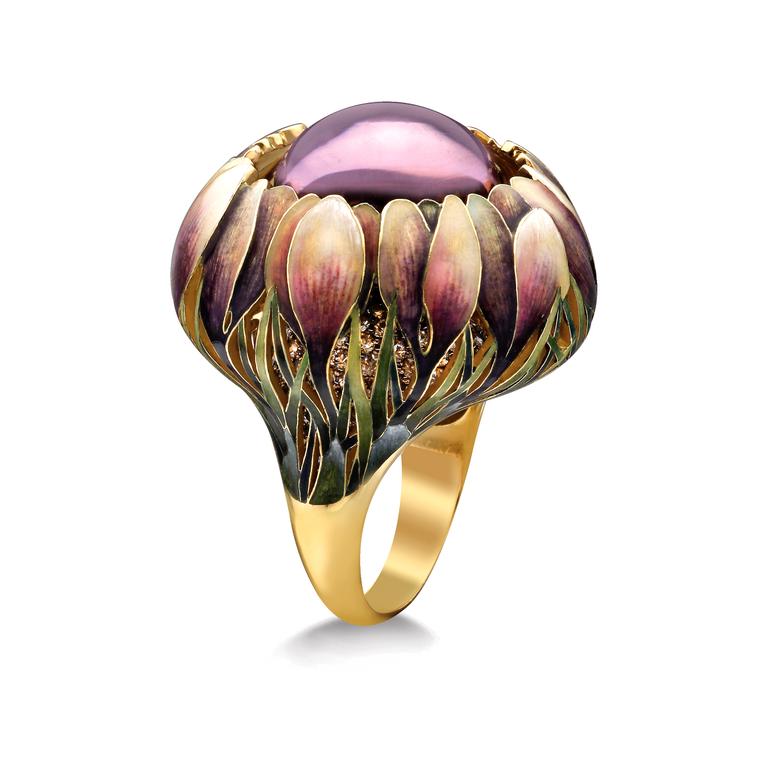 The brand's pieces enjoy a steady stream of customers in Moscow, where Ilgiz turns out mostly very limited runs of jewellery in his favourite styles: Art Nouveau and Art Deco. Ilgiz also collaborates with Annoushka Ducas of Annouska Jewellery in the UK, alongside fellow guest designers Selim Mouzannar and Sutra, and, in the summer of 2016, had his art jewellery showcased in an exhibition called Jewels Inspired by Nature in Moscow - the first jeweller in almost a century to be honoured with a solo show at the Kremlin Museum. 
llgiz F is the first jeweller in almost a century to be honoured with a solo exhibition at the Moscow Kremlin Museum. 

Ilgiz F's "Bullfinches" pendant, which earned the Russian jeweller the title of "Champion of the Champions" at the 2011 International Jewellery Design Excellence Awards in Hong Kong.

Ilgiz F "Snowdrop" ring, set with a fire opal.

Ilgiz F "Lalique" ring with grand feu enamelling, set with a peridot.

Ilgiz F "Hortense" brooch with with champlevé enamelling.

Ilgiz F's "Hortense" ring with lifelike champlevé enamelling.

Ilgiz F's "Butterflies" ring and earrings, with faceted pearls that appear to float freely amongst fluttering butterflies, saw the Russian jeweller secure first place in the 2013 International Jewellery Design Excellence Awards in Hong Kong.

Crocuses ring by Ilgiz F featuring realistically painted enamel flowers surrounding an amethyst centre stone. 

The Seagull pendant by Ilgiz F features the Russian jeweller's trademark enamel set with aquamarines and diamonds (€27,300).

Ilgiz F's Agrimony ring set with a pink opal and diamonds, and showcasing his signature enamel work.