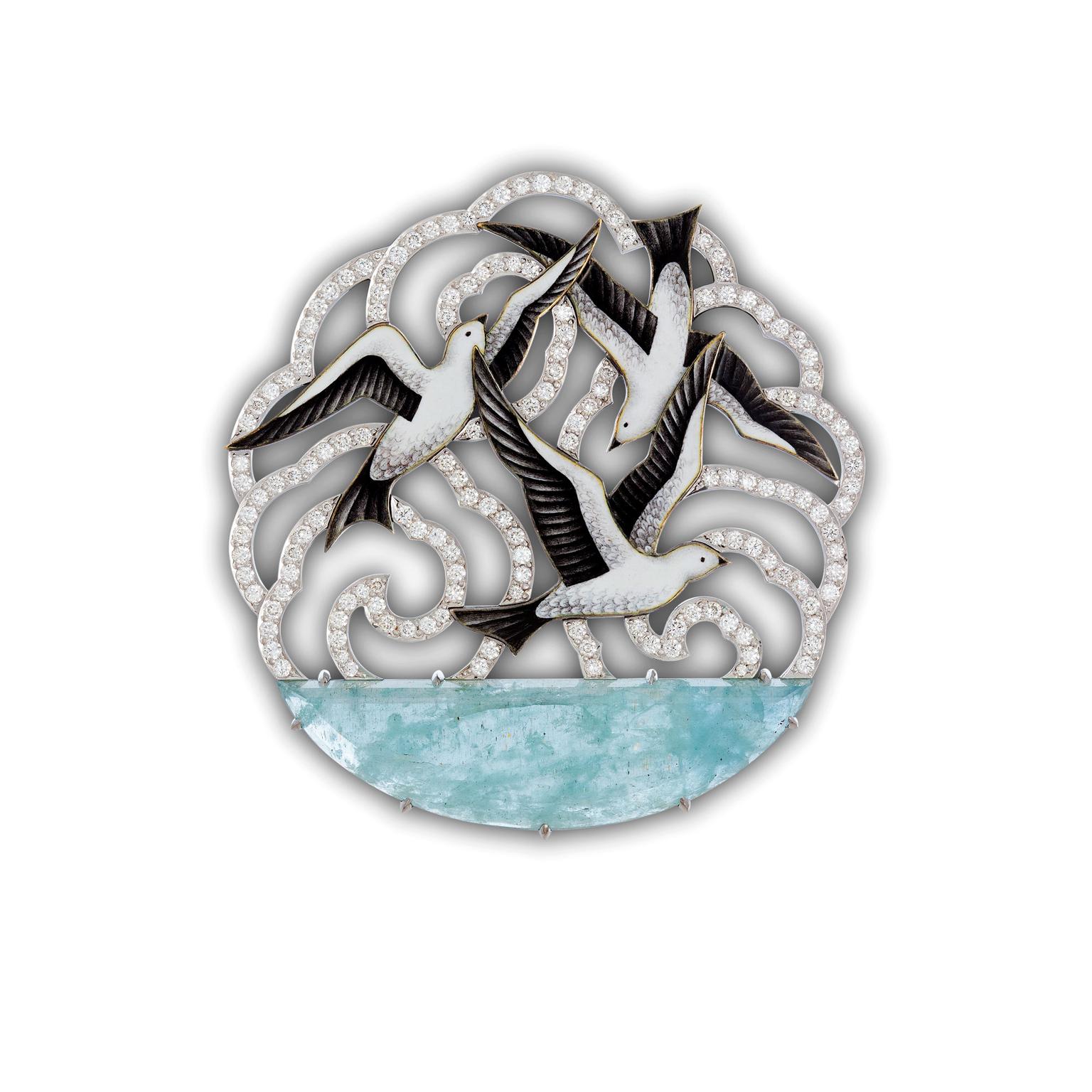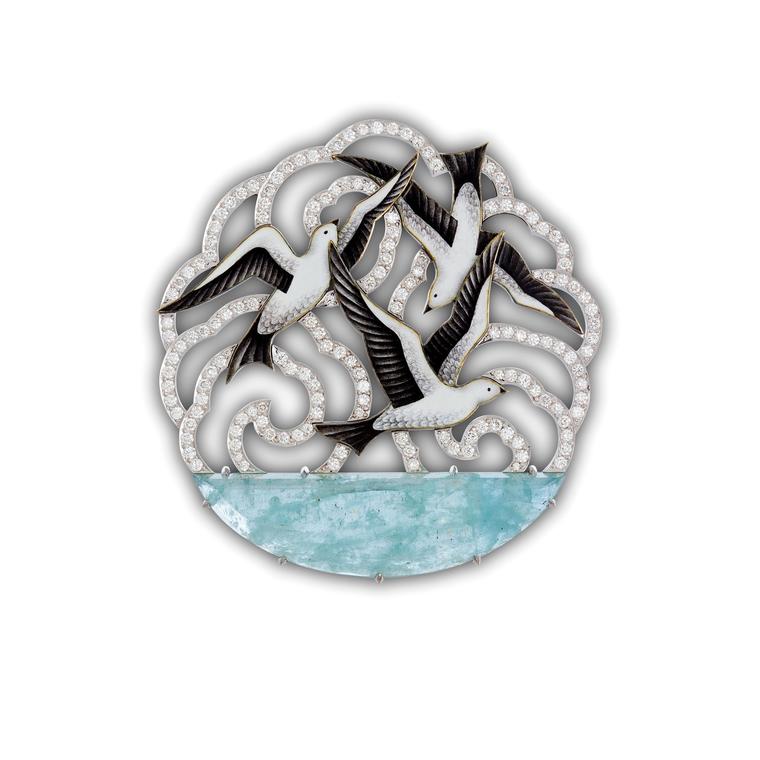 From a peacock unravelling its fan of iridescent plumage or a swan gliding serenely across the water, to a majestic eagle spreading its wings mid-flight or a brightly coloured parrot perched on a branch, the vivid imagery of the bird world has opened up a host of creative possibilities for fine jewellery designers. 
Lalique paid tribute to French actress Sarah Bernhardt with its Autumn 2015 jewellery collections, which celebrate the eccentric actress' love of exotic animals. Her small menagerie included three dogs, a parrot and a monkey, who were all free to roam around her estate. The colourful feathers of a parrot are recreated with multi-coloured sapphires, Paraiba tourmalines and emeralds on Lalique pendants, earrings and rings in the Perroquet collection. A more sober take on the winged creatures is evident in the Vesta fine jewellery collection with feathers crafted from rhodium-plated white gold set with diamonds and mother-of-pearl.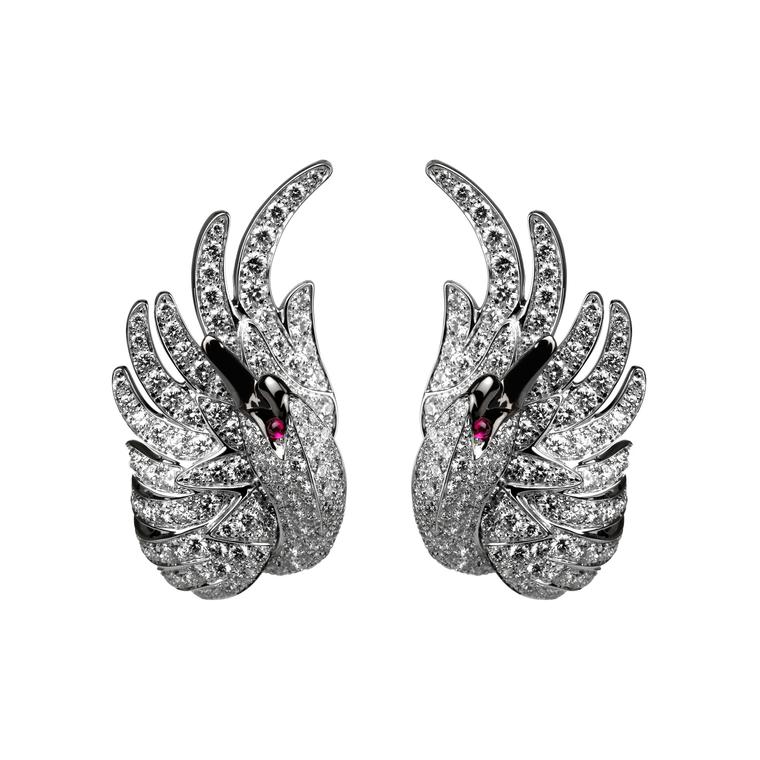 The peacock has been a recurring motif in Boucheron jewellery collections since the late 19th century when Frédéric Boucheron dreamt up the iconic Point d'Interrogation necklace. Other birds have also frequently fluttered into the Maison's designs, including the swans that grace the Cypris earrings and the hummingbird that gently perches on the Hibiscus ring. The Nuri collection features a cockatoo with a magnificently vibrant plumage that lends itself perfectly to being embellished with an array of coloured gemstones. 
Read more on colourful tropical jewellery
"Many artists strive to capture the beauty of a bird or animal on canvas. I try to capture their essence in my jewels using carvings that have a life of their own and which continually remind me of the beauty of the animal kingdom," says British jewellery designer Elizabeth Gage. The first to coin the phrase "day into night jewellery", Elizabeth weaves together many different elements in her designs, from the finest gemstones and brightly coloured enamel to beautiful carvings and ancient bronzes. Her Aviary collection displays an exquisite attention to detail, which renders the pieces works of art. The beady eyes of a parrot gaze out from a pair of hand-engraved gold earrings, while a snowy owl crafted from pure white chalcedony spreads its wings in front of a yellow gold moon twinkling with diamond pavé.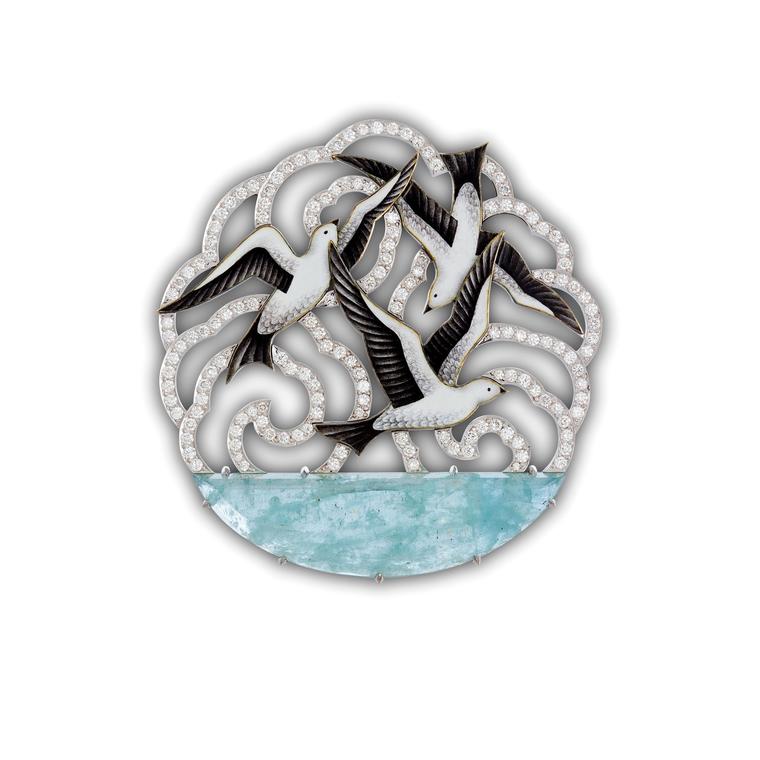 The humble seagull may be viewed as the scourge of the seaside, but we dare you not to fall in love with Ilgiz F's jewellery interpretations of the bird, set in his trademark enamel with aquamarines and diamonds. 
Read more on Russian jeweller Ilgiz F
Two very different versions of the peacock are evident in jewels by contemporary designers Elena Syraka and Nisan Ongwuthitham. Based in Athens, former stylist Elena creates fine jewellery that reflects her passion for mythology and ancient civilizations. The fan of golden feathers on the yellow gold Peacock bracelet are inspired by the cover of the book Once Upon a Time in the East. Nisan's creations frequently incorporate animals that are symbolic in Thai culture, and the playful Love Birds earrings depict two peacocks surrounded by a riot of coloured gemstones. 
As we look forward to the joyous birdsong that marks the arrival of spring, it is the perfect time to indulge in some gorgeous bird-inspired jewellery. 
Read more on jewellery inspired by the animal kingdom
Lalique ring from the Vesta collection in white gold set with a 0.90ct pear-cut black spinel, diamonds and mother-of-pearl (€7,000).

Lalique earrings from the Perroquet collection in gold with black lacquer, sapphires, emeralds and Paraiba tourmalines (€15,000).

Boucheron Cypris earrings in white and blackened white gold featuring 4.77ct of white diamonds and four round-cut rubies (POA).

Elizabeth Gage Parrot earrings in yellow and white gold, set with tourmalines, diamonds, onyx, rock crystal and enamel (£12,750).

Love Birds earrings by Nisan Ongwuthitham are a riot of colour set with rubies, sapphires, tsavorites and diamonds ($6,400).

A cuff bracelet by Piaget in white gold with a 3.46ct cushion-cut emerald surrounded by emeralds, sapphires and diamonds (£239,000).

The Seagull pendant by Ilgiz F features the Russian jeweller's trademark enamel set with aquamarines and diamonds (€27,300).