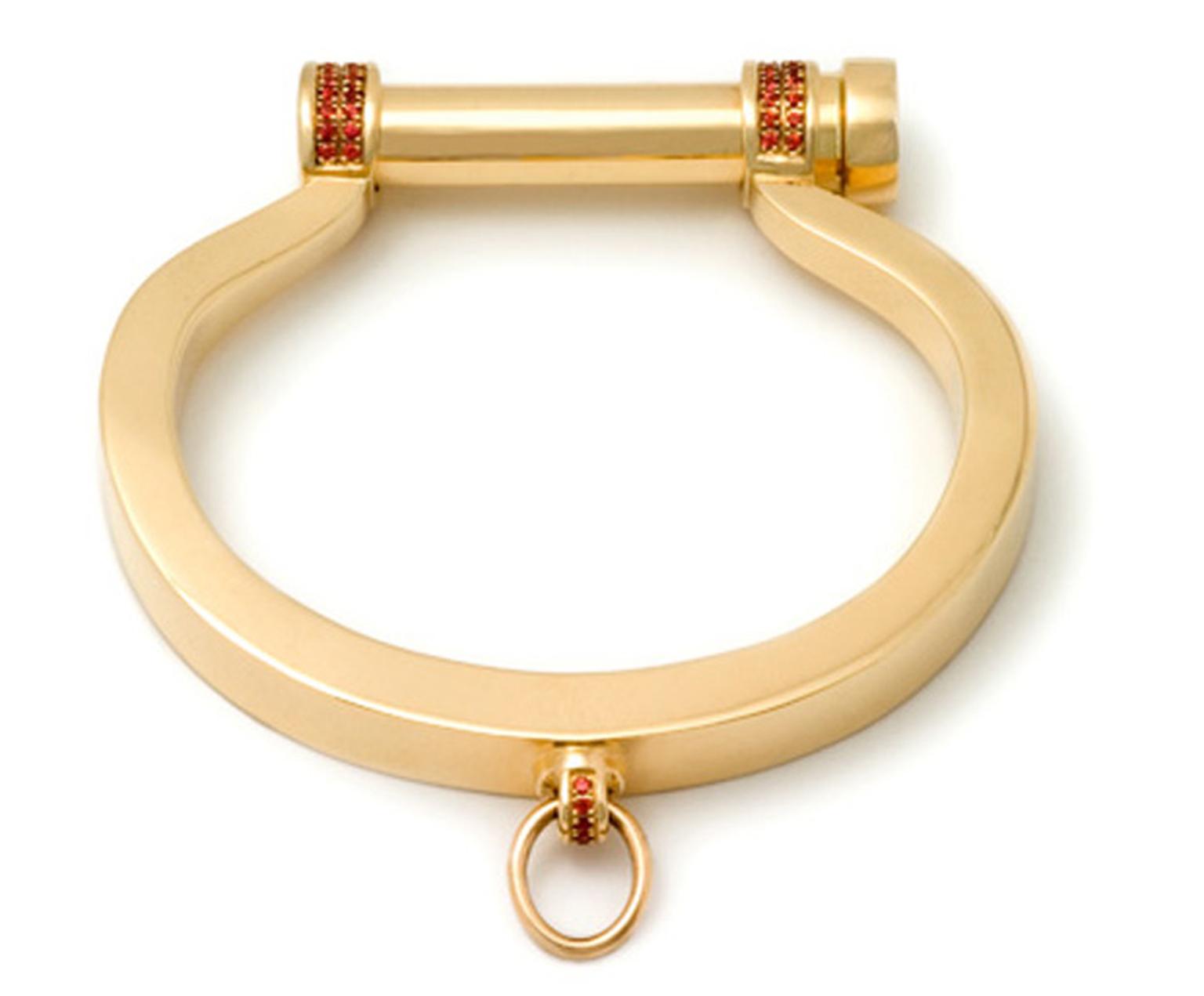 The BFC Rock Vault at London Fashion Week is the first time that jewellers have officially shown their wares alongside the catwalk shows. Organised by the British Fashion Council (BFC) and sponsored by the International Palladium Board (IPB), the show was curated by veteran of the cool jewel, Stephen Webster. 
On the terrace of Somerset House with the booming music of John Rocha's catwalk floating through canvas walls of the marquee just a few yards away in the courtyard, ten of Britain's hottest jewellery talents gathered to show the fashion world just how hip and fashion forward jewels can be.
The fashion editors, stylists and photographers flocked around the showcases as jewellery made its debut at London Fashion Week. The ten designers were selected by a panel led by Stephen Webster that included Anna Orsini of the British Fashion Council; Catherine Nieto, Grazia Fashion and Accessories Editor; Francoise Tessier, Browns Fine Jewellery Buyer and Lara Bohinc, Designer and Cartier Consultant.
Five jewellery designs by Central Saint Martins students were on show as part of the "Palladium Visions" campaign. The work by these students in Palladium explores the concepts of lightness and strength that are embodied in this new metal. It was as recently as 2009 that this noble metal gained its Assay Office hallmark and making it one of the youngest new arrivals on the precious jewellery scene. Palladium is naturally white for a lifetime and a light and hard metal with superior attributes that because of its lightness is suitable for making intricate necklaces and bracelets yet capable of bearing larger gemstones.
Hannah Martin who has worked with Palladium explained to me that it is an unusual metal and requires a particular skill to work but says it is amazing for setting diamonds as cuts into the metal are particularly sharp and clean. For the event Hannah Martin created more accessibly priced day-glo bright powder coated silver jewels in her now well-known stylised eagle head form as well as showing her new leather range.
Fernando Jorge was showing new coloured stones in his amazing soft and supple designs that turn hard stone into fluid shapes. Tomasz Donocik showed how fashion and jewellery can be fused with his scarves featuring golden loops that circle holes in the fabric. The other exhibitors were Alexandra Jefford, Husam El Odeh, Jo Hayes Ward, Hillier,Jordan Askill, Melanie Georgacopoulos and Sophie Bille Brahe.
The aim of Rock Vault is to showcase London's amazing design and craftsmanship in jewellery as one of the leading lights in the world. Stephen Webster who gave a short speech at the opening bantered: "I get tired of hearing people referring to jewels as 'accessories.' I want that to stop as it is the most important thing in the world."
In the press release Webster is quoted as saying; "As a London jewellery designer and a craftsman, it gives me great pleasure to be curating Rock Vault, an area dedicated for the first time to the rising stars of the UK jewellery industry under the umbrella of the BFC. Together with a panel of experts, we have selected what we believe to be the best representation of young talent. Over the last 10 years, jewellery has become an integral part of both men and woman's wardrobe. This meteoric rise has meant jewellery designers have been crying out for inclusion within the established fashion platforms. Rock Vault finally offers such an opportunity. We are all very excited to realise this vision."
Alexandra Jefford 1001 Night 18ct yellow gold knitted cuff with diamond pave - from £2,500

Alexandra Jefford Les Poutres Apparentes 18ct gold with diamond pave - from £2,500

Alexandra Jefford pink sapphire stud earrings - from £2,500

Alexandra Jefford The Fonts Umbra 18ct gold - from £2,500

Hannah Martin Twisted Shackle rose gold ring with brown diamonds

Fernando Jorge Fluid Chandelier Earrings in 18ct yellow gold and milky quartz. Price from £2,688.

Alexandra Jefford The Fonts Oakland ring in 18ct gold (from £2,500).

Jordan Askills sweeping swallows and galloping horses attract attention of the London Fashion Week crowd

The BFC Rock Vault on the terrace of Somerset House overlooking the Thames

Sophie Bille Brahe Pavillons Harlequin ring - sterling silver - 0,10 ct. diamonds, from €1,070

Sophie Bille Brahe Rue du Diamant Triple ring - 18 carat gold - 0,75 ct. diamonds, from €4,030

Sophie Bille Brahe Palais d'Émeraude ring - 18 carat gold - 0,50 ct. diamonds, from €18,790