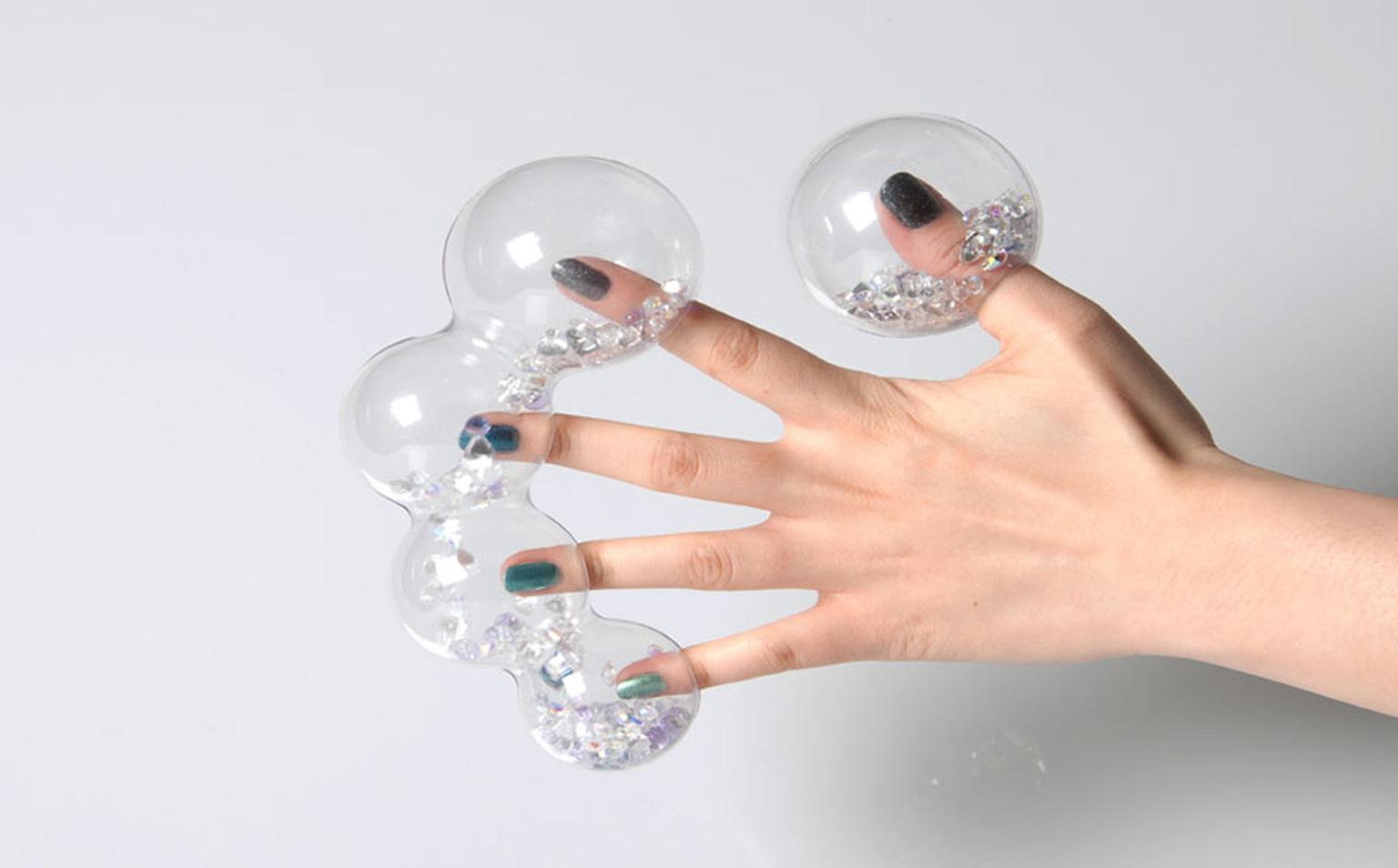 By Daisy Tinker
London-based university Central Saint Martins is world-renowned for nurturing creativity in the jewellery industry. To promote this talent, each year it holds a degree show, in which BA Jewellery Design students present their final collections to the industry and public. 
Held between 19-23 June at the university's Kings Cross campus in Granary Square, the jewellery degree show was, as usual, full of thought-provoking jewellery. The students who took part are from a wide range of cultures and backgrounds, and this was obvious from the diverse designs and styles on show. From bling-tastic earrings to wooden spoon necklaces and futuristic knuckledusters, there was no shortage of unique pieces to see.
Most eye-catching, perhaps, were the bubble rings by Natha Khunprasert. Made from acrylic, Khunprasert created circular bubble shaped 'rings', worn on the tips of each finger, filled with sparkling Swarovski crystals. Equally fascinating were pieces by Benita Gikaté, Swarovski Jewellery Scholar 2013. Inspired by the ingenuity of deprived Soviet Union citizens, she took everyday objects such as kitchen utensils and turned them into pieces of jewellery, including a wooden spoon necklace, meat mallet bracelet and pasta earrings. From the past to the future, Elizabeth Manders created out-of-this-world pieces, including a stainless steel and enamel knuckle adornment, which clips between and over the fingers, and a brass and enamel neck piece that clutches the body in a pincer-style grasp.
From the unusual to the more wearable, Beatrice Bongiasca's jewels were a comment on globalisation. She cleverly mixed cultural symbols from both the East and West to represent the two merging cultures. The outcome was unusual but undeniably stunning. One necklace combined silver Coca Cola bottles with pretty blossom flowers, while if you look closely at her amethyst and pearl earrings, the tassels are actually delicate dollar-sign chains. Fellow student Bella Mung's pearl jewellery was just as wearable. She created a tie, hoodie strings and a simple necklace made entirely of pearls.
To acknowledge the achievements of the graduates, nine awards were presented during the show, each sponsored by a famous jewellery house, including Boodles, Cartier and Solange Azagury-Partridge.
For the first time, British jewellery designer Theo Fennell sponsored the show and will continue to do so for the next two years. The London-based jeweller, who counts the Beckhams and Elton John amongst his fans, studied at the Byam Shaw School of Art, which is now part of Central Saint Martins College. He said of the show: "I am thrilled to be able to help in any way with the CSM jewellery course and sponsoring the degree show of so many really talented people. I know that those who see the show will be amazed by the level of talent on show."
Elizabeth Manders hand piece made from stainless steel and enamel paint.

Emily Wright necklace made from resin, pearls and silver.

Darunotai Maprang Vajrodaya gold-plated silver ring.

Ceyda Ucyigit neckpiece made from wood and Swarovski crystals.

Bella Mung pearl necklace.

Benita Gikaité's wood and pasta earrings. Her collection was inspired by the ingenuity of people in the former Soviet Union.

Beatrice Bongiasca's The Western Orient collection includes freshwater pearl, amethyst, gold-plated silver and enamel earrings, a gold plated silver and paste pearl ring, and a silver, amethyst, topaz, grey freshwater pearl, tourmaline and enamel bangle.

Beatrice Bongiasca bangle from The Western Orient collection, made from amethyst, topaz, grey freshwater pearls, tourmaline and enamel, all set in silver.

Beatrice Bongiasca necklace from The Western Orient collection, which merges symbols from the East and West. Made from amethyst, tourmaline and freshwater pearls, all set in silver.

Serena Wilson bobbin laced leather bow tie.

Beatrice Bongiasca earrings from The Western Orient collection. Made with freshwater pearls, amethyst, gold-plated silver and enamel and featuring tiny dollar signs.

Elizabeth Manders neckpiece made from brass and enamel paint.