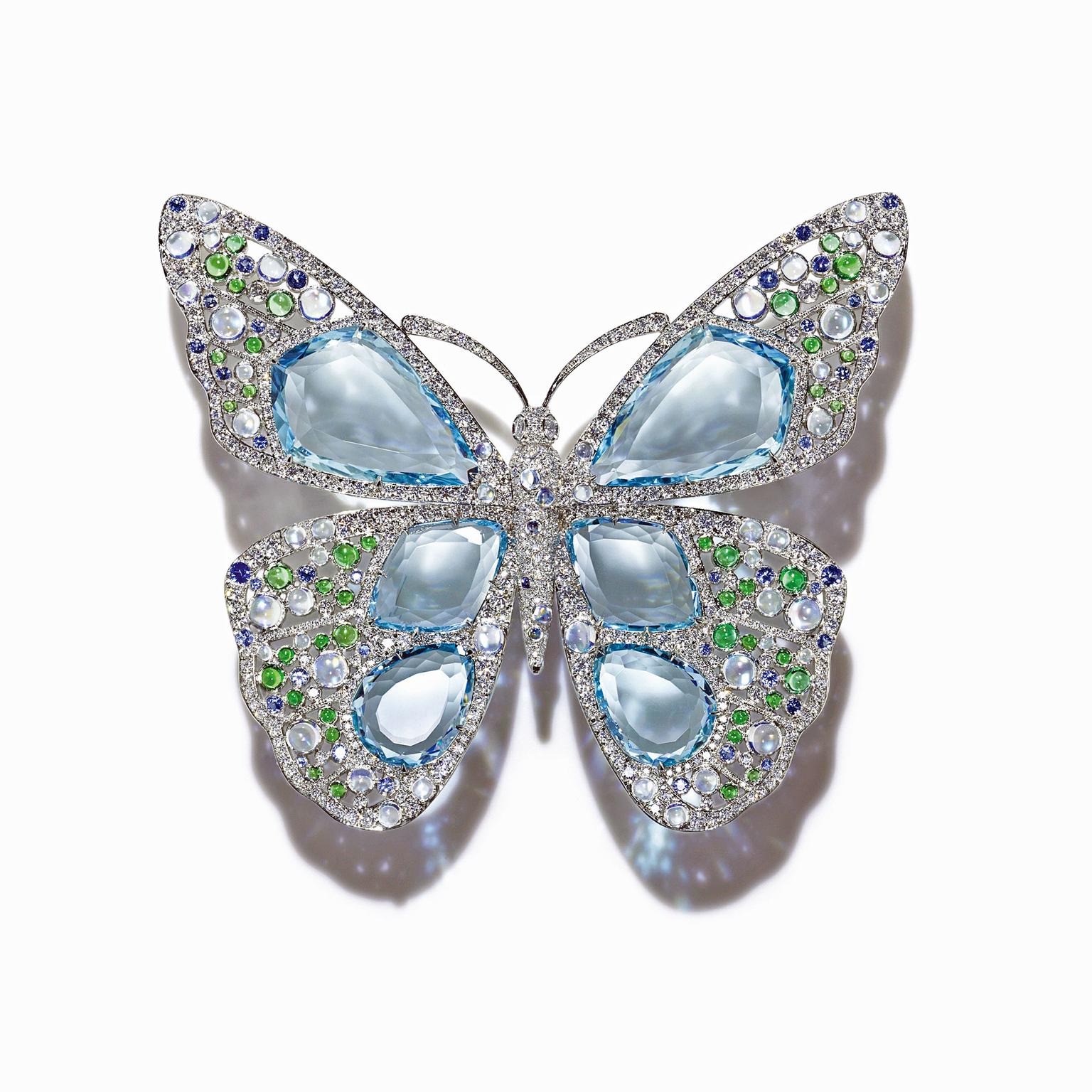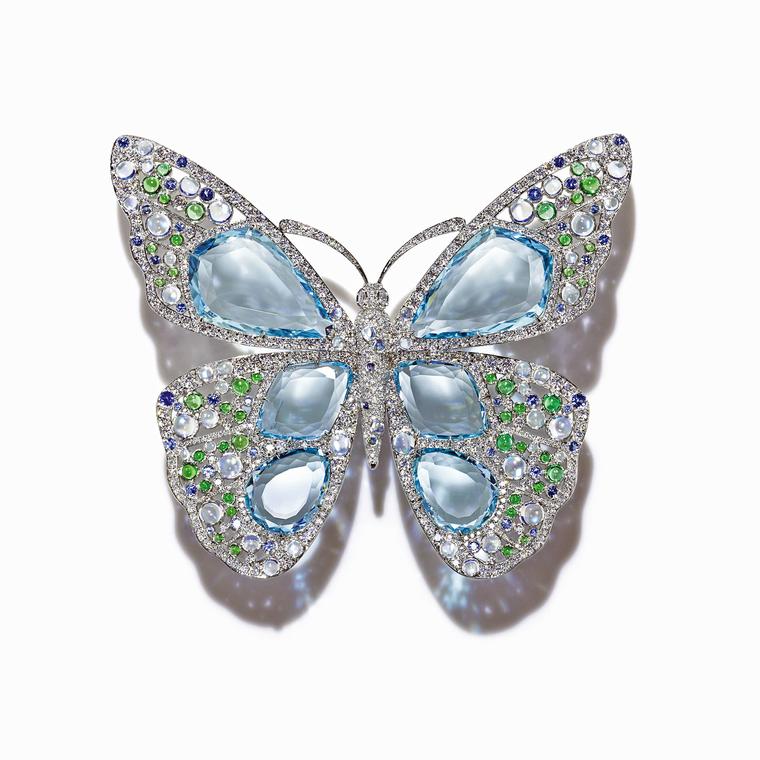 Queen Elizabeth II may seem like an unlikely style icon, but her penchant for diamond brooches has propelled this versatile jewel back into the fashion spotlight.
Her Majesty owns numerous diamond brooches, including the Jardine Star brooch, which is a firm favourite and most recently adorned her outfit at the 75th anniversary of the Battle of Britain. In traditional style, it features eight diamond rays that fan out from a central cluster of diamonds and was bequeathed to the Queen by Lady Jardine in 1981. Last month, she wore a diamond bow brooch, which once belonged to Queen Victoria, for the speech she gave in Scotland upon surpassing her ancestor to become Britain's longest-reigning monarch. It is one of a set of three bow brooches that Queen Victoria commissioned Garrard to make out of 506 diamonds in 1858, and now forms part of the Crown Jewels.
See other brooches worn by Queen Elizabeth II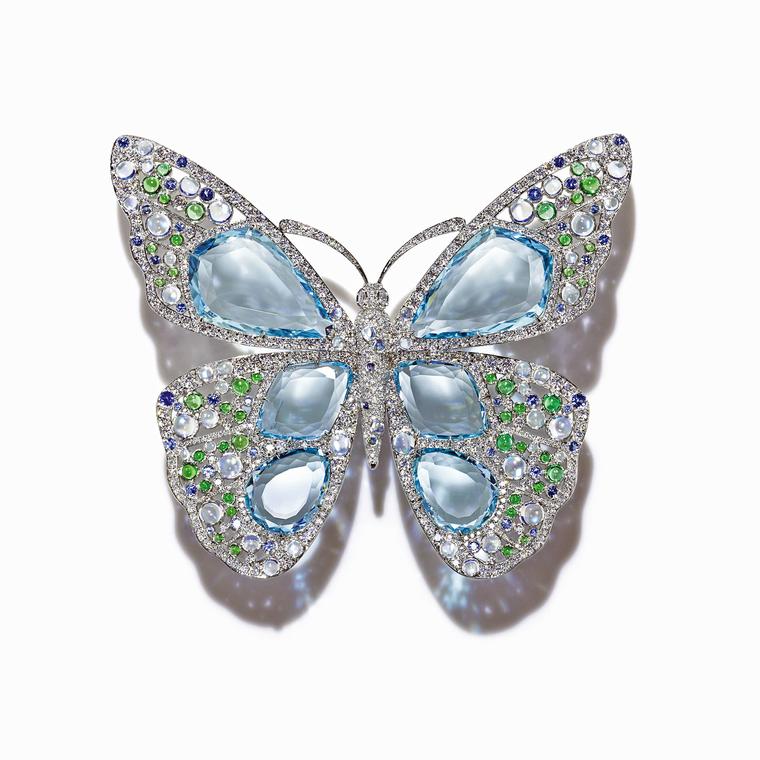 A portrait taken of the Queen by Mary McCartney to mark her 63-year reign also depicts the monarch wearing a pink sapphire and diamond brooch, which matches her pink and white floral dress.
A brooch is a jewel that often gets overlooked because of its old-fashioned connotations - perhaps the reason why jewellery houses are now increasingly referring to them as pins rather than brooches - but it is an incredibly adaptable accessory that can spice up a daytime outfit or add a touch of sparkle to an evening dress.
As is often the case with new jewellery trends, celebrities have been leading the way by incorporating diamond or gold brooches into their red carpet jewellery. While the Queen's brooches tend to be worn in the traditional way, either on the shoulder of her dress or pinned to her jacket lapel, there are lots of fun and creative variations. Chinese actress Zhao Wei pinned a tourmaline and diamond Tiffany brooch to the waist of her plunging purple gown at the Met Gala earlier this year, while Natalie Portman accessorised the shoulder of her nude Lanvin dress with a star-shaped brooch at the Toronto Film Festival earlier this month.
See more Met Gala jewellery here
The latest Chaumet brooches from the Abeille high jewellery collection feature the Maison's signature bees crafted from yellow gold, diamonds and coloured gemstones. Butterflies are also a popular brooch motif and the beautiful fluttering creatures adorn gold and diamond brooches by Tiffany, Dickson Yewn and Graff.
Another perennial brooch design is the star, which was beautifully incorporated into the gold brooches recently launched by Kuwaiti jewellery house Octium. With their clean, simple lines and geometric negative space, they encapsulate the versatility and wearability that defines the modern brooch. A range of Tiffany and Van Cleef & Arpels brooches also feature opulently vibrant stars in coloured gemstones. The wonders of the natural world is a continual source of inspiration for Hemmerle and these white gold and diamond brooches with their life-like snail motif are typical of the German jewellery brand's aesthetic.
The ever-stylish Coco Chanel was a huge fan of the brooch, pinned jauntily to a lapel, beret or belt, and famously said: "If you want to start a collection, start with a brooch." As a result, Chanel brooches have a natural place in all its high jewellery collections, including the most recent Les Talisman de Chanel, launched this summer. Inspired by Mademoiselle's superstitious nature and belief in lucky charms, the collection encompasses a number of exquisite diamond brooches.
Men are also getting in on the act, with this year's Cannes Film Festival master of ceremonies Lambert Wilson sporting a Cartier diamond brooch on his jacket lapel.
The brooch is probably the oldest type of jewellery in existence, as thorns or pins made from flint were used to hold cloth together back in the Palaeolithic age. Renowned for their love of colour and oriental style, the Byzantines were the first to turn the brooch into an ornamental item by crafting them from brightly coloured enamel. The fact that the brooch is still a must-have accessory in the stylish woman's - or man's - jewellery box is testament to its longevity and wonderful versatility.
The art of the sea was the inspiration behind the 2015 Tiffany Blue Book collection, which features this striking brooch.

Actress Zhao Wei wore a Tiffany & Co. blue cuprian elbaite tourmaline and diamond butterfly brooch to the 2015 New York Met Gala.

This yellow and white gold, mandarin garnet and peridot Chaumet Abeille brooch has a detachable feature, allowing it to be worn as both a brooch and a necklace.

Chaumet Abeille brooch in yellow and white gold, set with a 4.99ct pear-shaped blue-green tourmaline, a pear-shaped green tourmaline, round green tourmalines and brilliant-cut diamonds. 

Dickson Yewn yellow gold butterfly brooch with rose-cut diamonds, sapphires, pink sapphires and onyx from the Dream and Reality collection.

Nature is the inspiration behind many Graff brooches, including this yellow and white mixed diamond dragonfly brooch.

Hemmerle white gold and diamond snail shell brooches.

Les Talisman de Chanel 18ct white gold Fascinante brooch, set with a 1.5ct brilliant-cut diamond, 206 brilliant-cut diamonds and enamel.

Les Talismans de Chanel 18ct yellow gold Magnétique brooch, set with a 1.6ct oval-cut diamond, 460 brilliant-cut diamonds and 18 cabochon-cut crystals.

Diamond and pink sapphire Arabian Sea starfish brooch from the Van Cleef & Arpels Seven Seas collection.

TIffany aquamarine, diamond, moonstone, tsavorite and sapphire brooch from the 2015 Blue Book collection.