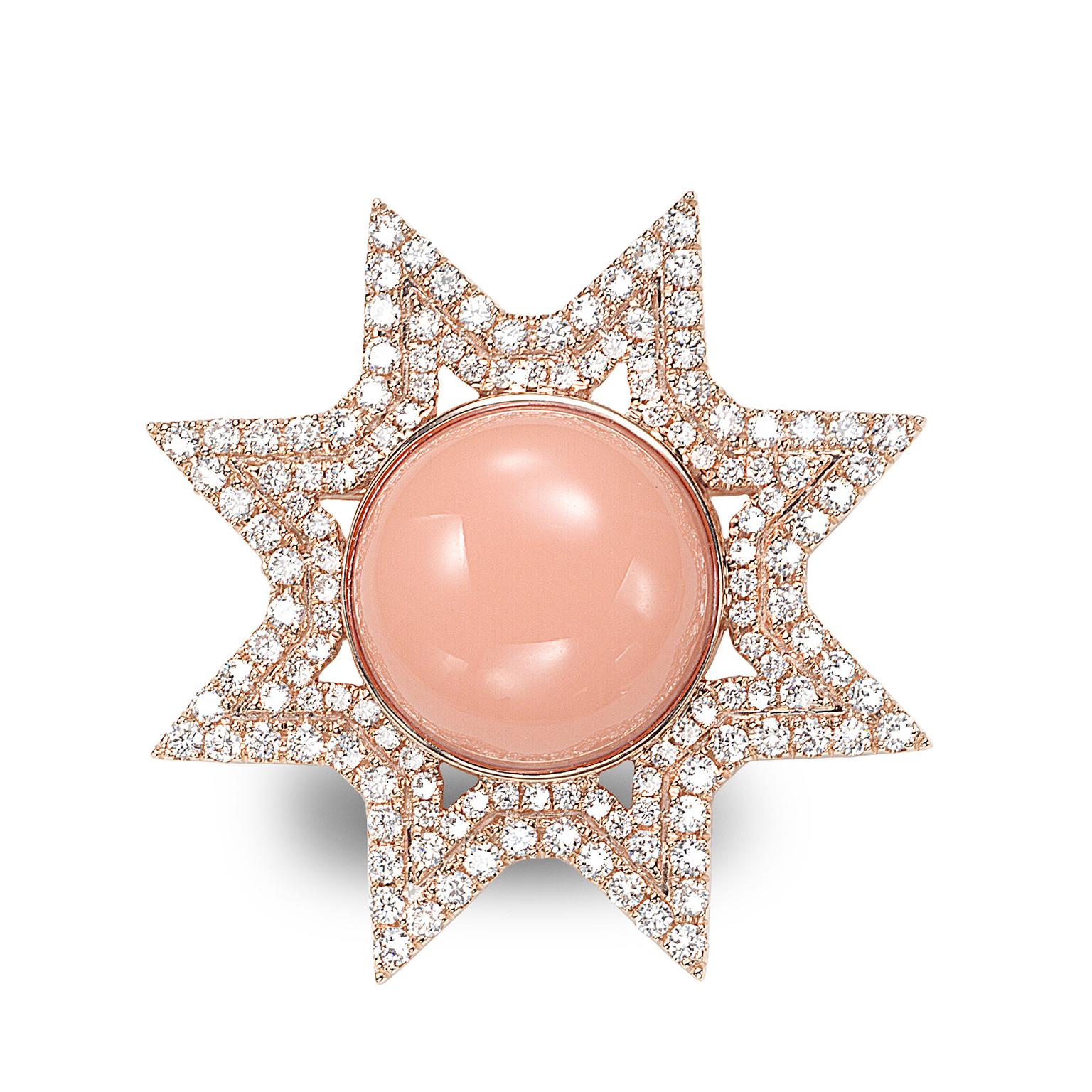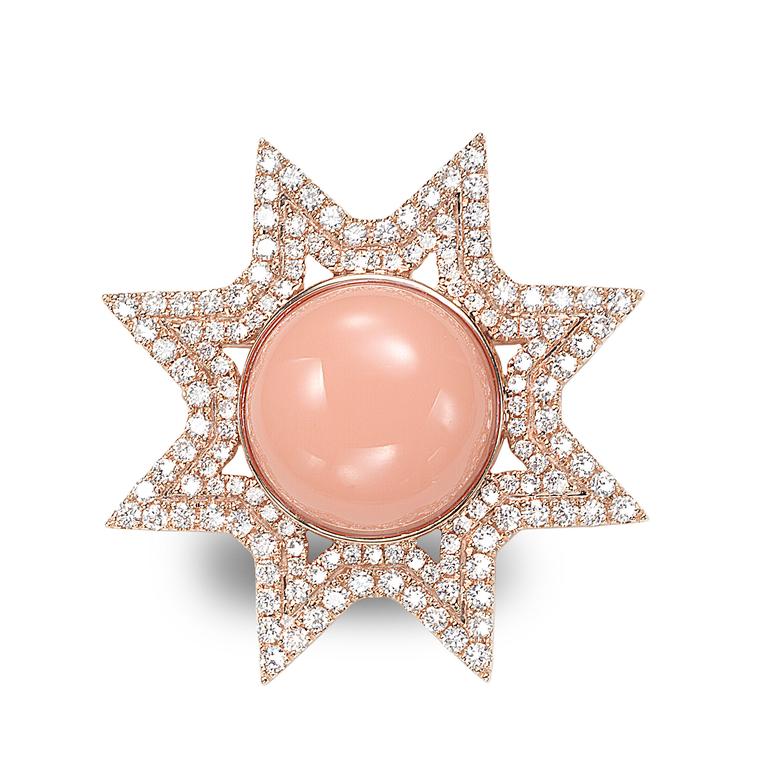 Octium is well known for the octagonal motif from which it gets its name, but it is certainly not defined by it. Alongside the Premier, Alandalus and O'Ring collections, which all feature Octium's signature eight-sided shape, this ambitious Kuwaiti jewellery house has more recently been turning up the colour and juxtaposing the octagon with another iconic motif: the star.  
The recently launched Sun collection - a clever series of brooches that invites us to view this most traditional of jewels in a new light - signals a fresh new direction for the fine jewellery brand. The octagon is, of course, present, its neat geometry transformed into minimal gold brooches that play with negative space, and smaller brooches set with diamonds, with a bold cabochon gemstone in the centre. But alongside these are geometric stars with 16 evenly proportioned sides, more elaborate eight-point stars joined by sweeping curves of diamonds, and a stylised bird, its body made up of the simple, clean lines that have become the trademark of Octium jewellery.
Click here to view more Octium jewellery collections
The look is strikingly modern, with a hint of the mysticism that weaves its way through the entire fine jewellery collection. The significance of the motifs - a star, representing balance, harmony and cosmic order, and the octagon, a symbol of renewal - is part of Octium's DNA. But as drenched in history as they are, the main focus of these jewels is on style and wearability.
"When we first launched, people said, 'brooches? For young women?'" explains Alanood Al Sabah, co-owner of the brand and the woman behind all Octium jewellery designs. "But they are so versatile that I wanted to reintroduce them to a younger generation, and they love them. Clients start styling themselves. They pin them on white shirts, headscarves, handbags and make them their own." Fahad Al Hajiri, Alanood's husband and business partner, elaborates: "It's very important that a customer feels that our jewellery has been created just for them. Personalisation is key."
You have to admire the ingenuity behind the new Sun brooches, which have been designed so that they can be worn either on their own or side-by-side. You can also attach the colourful cabochon brooches to the minimalist octagon and star designs so that they dangle freely like a charm. The temptation is, of course, to build a collection.
"Comfort and craftsmanship are all important," says Alanood, who test drives every jewel. If she wouldn't wear it herself, it doesn't go into production. The colour palette has been precisely selected so that the gems can be worn together: green chalcedony, turquoise, white agate and black agate. "I choose all the stones myself," she points out. 
At the Couture Show Las Vegas this spring, the Octium booth was a hive of activity. The Sun brooches were a hit, as was the new Twist collection, which sold out before the show was over. "We always have beautiful feedback from our clients," says Fahad. "Looking at where we were when we first started out and where we are now - we have evolved, developed and progressed and really know our market."
Read about the new Octium Twist collection 
"I understand how a client wants to be treated," says Alanood. "I know what makes a jewel wearable and the colours that work. But when I'm asked what our age range is, I always respond that there is no age limit for beautiful jewellery." It is this conviction, together with Octium's distinct style, that has proved such a winning formula for this dynamic young brand. 
Yellow gold Star brooch set with diamonds from the Octium Sun collection.

 Yellow gold Octagon brooch with white diamonds from the Octium Sun collection.

Yellow gold Sun brooch set with white diamonds and black agate from the Octium Sun collection.

Rose gold Star brooch from Octium's Sun collection.

Yellow gold Sun brooch set with white diamonds and turquoise from the Octium Sun collection.

Octium Rose gold Octagon brooch with white diamonds and white agate from the Sun collection.  

Rose gold Sun brooch set with white diamonds and coral from the Octium Sun collection.