If you were a big jewellery house with a global following and you had a major anniversary on the horizon, how would you celebrate? You might go hunting in the archives for inspiration and remind yourself of the brand DNA that has got you to where you are today. You would most likely track down some very special gemstones. And, of course, each piece would be one of a kind. But would you, like Pomellato has for its 50th anniversary, be brave enough to venture into completely new territory and experiment with materials that many of your customers have never heard of?
Founded in Milan in 1967, when the city was first emerging as a capital of fashion, the Italian jeweller's creative approach to design chimed perfectly with the times. Its bold creations in gold were adopted by a new breed of trendsetting working woman who had the means to buy jewellery for herself. Today, half a century later, Pomellato is one of the best-known jewellers in Europe, with female fans the world over wearing the Nudo, the brand's iconic stackable ring.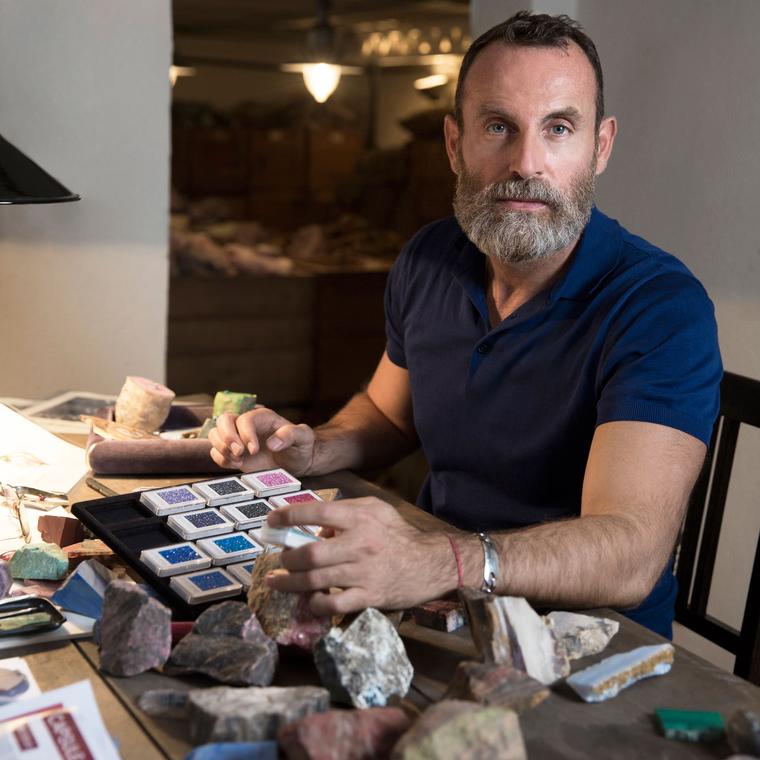 Famous for its chains, an Italian speciality, and unexpected use of gemstones, it was Pomellato's creative director Vincenzo Castaldo who came up with the idea to use hard stones for the brand's 50th anniversary collection, called Ritratto. Hard stones have re-emerged as one of the biggest trends in jewellery in recent years, but most of the gems in Pomellato's inventory were transparent. So where do you go for an intensive education in these opaque, uniquely colourful stones? The Opificio delle Pietre Dure in Florence, of course.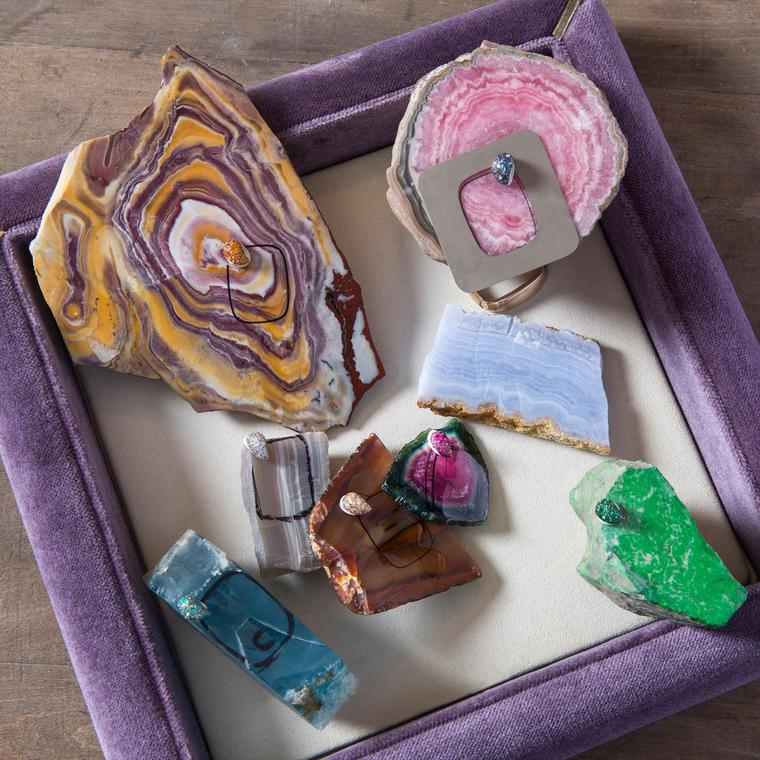 "At the time I was a complete beginner when it came to hard stones because we've never used these kinds of materials at Pomellato," explains Vincenzo, who talks me through the collection at Casa Pomellato, the brand's headquarters in Milan. "A year ago we decided to go to Florence because we wanted an overview of all the minerals and hard stones out there. The Opificio delle Pietre Dure is an amazing place – it's a temple of minerals. The idea behind the collection was to grasp the hidden beauty of Mother Nature, but when we first started it was like a blind date – we had no idea what was out there."
By now familiar with the huge variety of hard stones with which he could potentially work, Vincenzo travelled to Idar-Oberstein, a small town in Germany renowned for its gemstone cutting and setting. Here, he began the process of selecting 50 different hard stones for the 50th anniversary collection alongside Constantin Wild, Pomellato's partner for special projects and a renowned expert in unusual stones. "It was a journey of discovery as the rough materials were really unpredictable," he recalls. "You don't know what the result will be after cutting. But every stone has a personality and a voice that needs to be heard. It was our job to reveal that personality."
The shortlist of stones that made it into the 50-piece collection is a mix of the well-known, the unusual and the unknown, ranging from precious gemstones like aquamarine and tourmaline and popular hard stones such as lapis lazuli and turquoise, through to Bull's eye, zoisite and iolite, materials that were completely new to me. Each has been shaped into the portrait cut, an antique cut used in Indian jewellery to cover miniature paintings, which translates as ritratto in Italian – the name of the collection. 
Together, Vincenzo and I pore over the more unusual stones, which range from the painterly to the psychedelic. The Stormy Weather ring, above, tells a Christmas tale, the dendritic agate cut to resemble a wintry landscape, complete with snow, a tree and a moody grey sky. A hot sun rises over a parched landscape in the Out of Africa banded agate ring and there is a porcelain-like quality to the dolomite in the White Cliffs of Dover ring, below.
We examine the Secret Garden ring, below, together, marvelling at the ruby inclusion running through the zoisite. "There is a kind of game being played between the ruby and the zoisite," says Vincenzo, as we both wonder what forces must have been at work, millions of years ago, to make the ruby spread itself, veinlike, through this beautiful green gem. "Isn't Mother Nature incredible," he muses.
The collection is fascinating, but how is Pomellato planning on educating its clientele about these weird and wonderful stones? The challenge of the project is to do that," recognises Vincenzo. "The storytelling aspect is important. There is a very emotional story around this project. It is a way of celebrating our 50th anniversary by bringing our expertise, our heritage and our savoir faire to a field that was preciously unexplored for us. We are still a very young brand and we want to be non-conformist."
Of all the new high jewellery collections that have launched this year, Pomellato's Ritratto stands out as among the most flamboyant and certainly the most fun. As it heads into its second half-century, I am excited to see what this unconventional Italian jeweller will conjure up next.