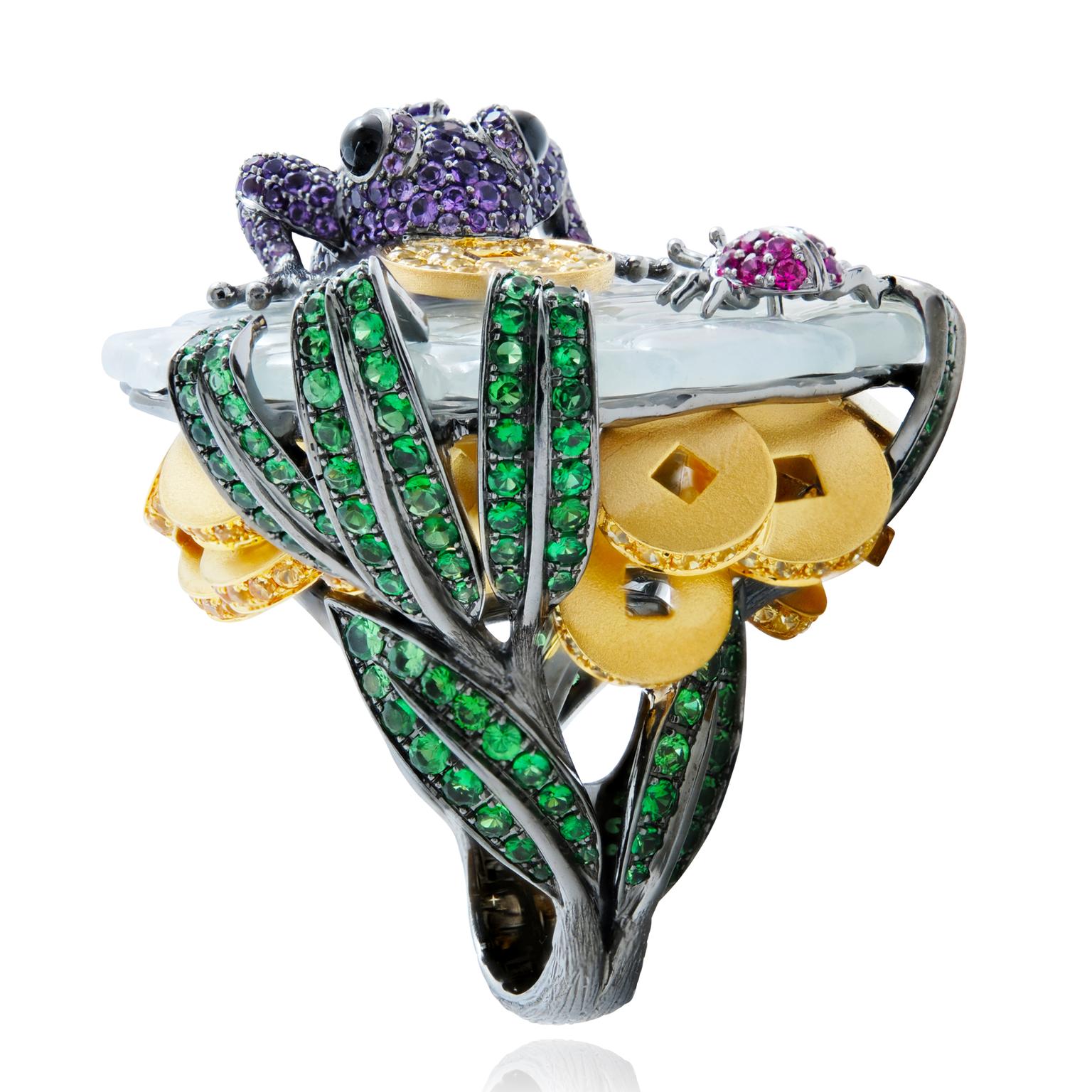 While some artists paint or write as a means of expression, Parisian jeweller Lydia Courteille chooses to tell her extraordinary stories through virtually every precious gemstone known to woman in the most inventive and original forms. When Lydia came to tell the story of Automne à Pekin, or Autumn in Peking, she delved deep into her vivid imagination and rich cultural store to come up with a beguiling fusion of inspirations rich in colour, craftsmanship and a healthy dose of humour.
Lydia's stories are never one-dimensional. More like dreams, diverse influences waft in and out with intriguing results. The name itself harks back to Boris Vian's novel, Automne à Pekin, written in the 1940s, which became a hit in France during Lydia's adolescence when the "soixante-huitards" were busy with the May 1968 student revolution. Vian was one of France's great literary innovators and this esoteric and confusing novel is neither set in Peking, nor in autumn.
Lydia Courteille explains: "I chose Peking because the collection is inspired by China and my visits there. It is also a nod to French culture as I had read Boris Vian's Automne à Pekin when I was young, so in this collection I am linking him to my inspiration." I can see how Lydia was attracted to the surreal contradictions of Vian's work when she says: "The jewels are also very influenced by Feng Shui; in fact, the collection could just as easily be called Feng Shui."
In a merging of references that only Lydia could dream up, a strain of Vian's subversive and irreverent yet often comic style emerges in Lydia's new jewels.  Though clearly inspired by traditional Chinese symbols of good fortune, such as the dragon, bats, frogs and golden coins, in Lydia's world, nothing is straightforward. The colours are anything but autumnal. Instead they are vibrant and fresh – predominantly green, red and yellow, and the the perfect foil to the cool sophistication of milky white ice jade.
Wriggling koi carp with iridescent gemstone scales nibble on ear lobes and translucent ice jade pea pods make the prettiest of earrings. A classic good luck money frog, resplendent in his purple sapphire skin, clambers over a jade lily pad to snatch a lucky gold coin while a ladybird with antennae raised in surprise looks on.
And who could miss the humour in Lydia's prophetic ring, above? Guangxu, the last emperor of China, gazes into his crystal ball, which reveals a perplexing vision of the future in the form of Chairman Mao. Always with the lightest of touches, the delicate and deceptive beauty of a stick insect perfectly camouflaged as a leaf is captured in a carved green jade ring, the insect's brilliant colours perfectly recreated in vivid Paraiba tourmalines, emeralds and tsavorites. And like in nature, it comes as a surprise to discover a translucent cricket carved out of ice jade that has almost disappeared over a tsavorite-set bamboo stick.
Each jewel is a one-off creation and collectors of Lydia Courteille's surreal and fantastic creations will not be disappointed with this latest chapter. The rich world of Asian culture, seen through the fascinating labyrinth of Lydia's mind, makes for jewels that no other designer could have dreamt up, whether you see them as Autumn in Peking or Feng Shui. 
Lydia and her Autumn in Peking collection will be travelling to Hong Kong in October. See her at the Ame Gallery, 17/F Tin On Shing Commercial Building, 41-43 Graham St, Central, on 18 and 19 October. The jewellery will be for sale at the gallery for a fortnight.