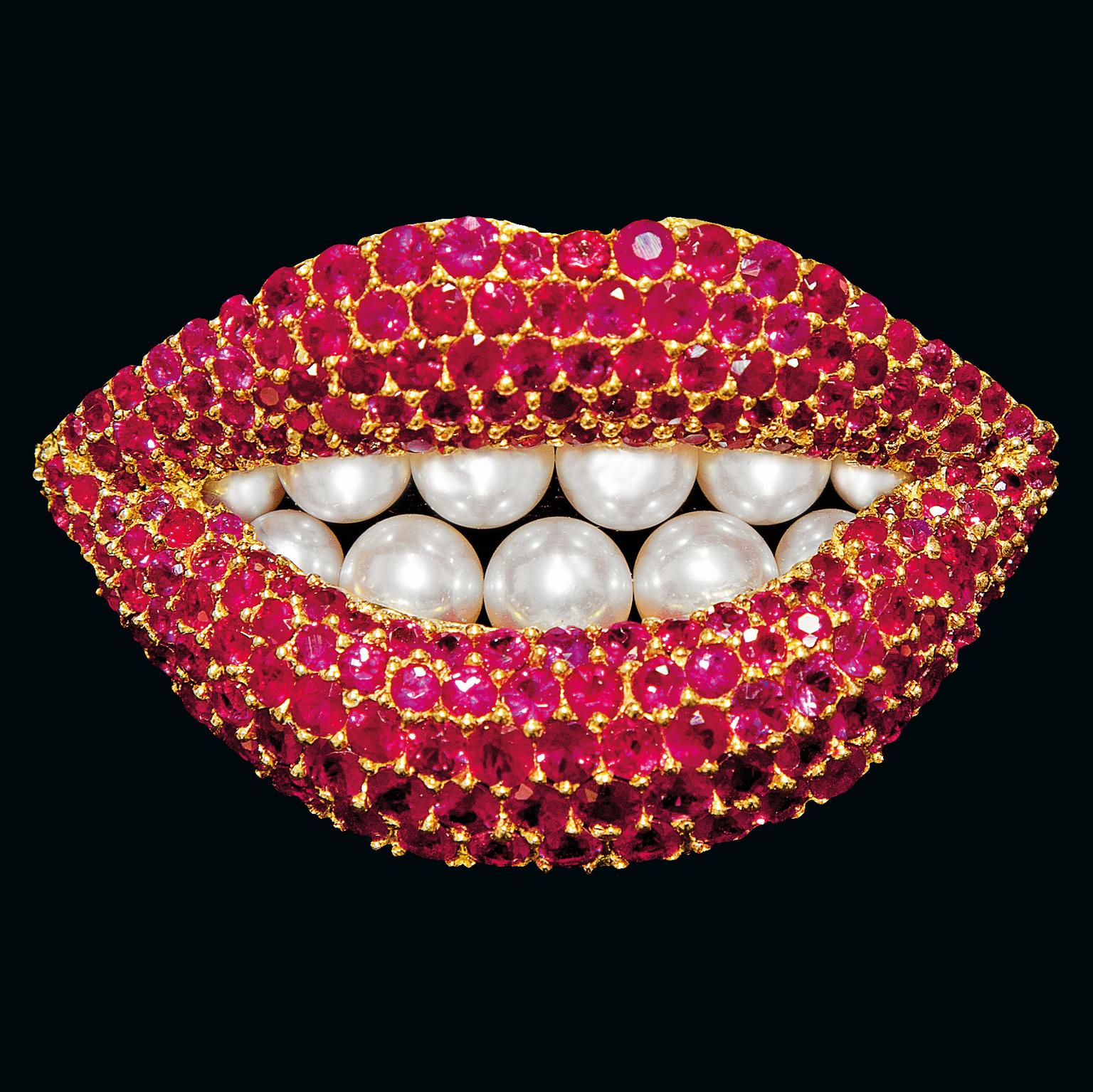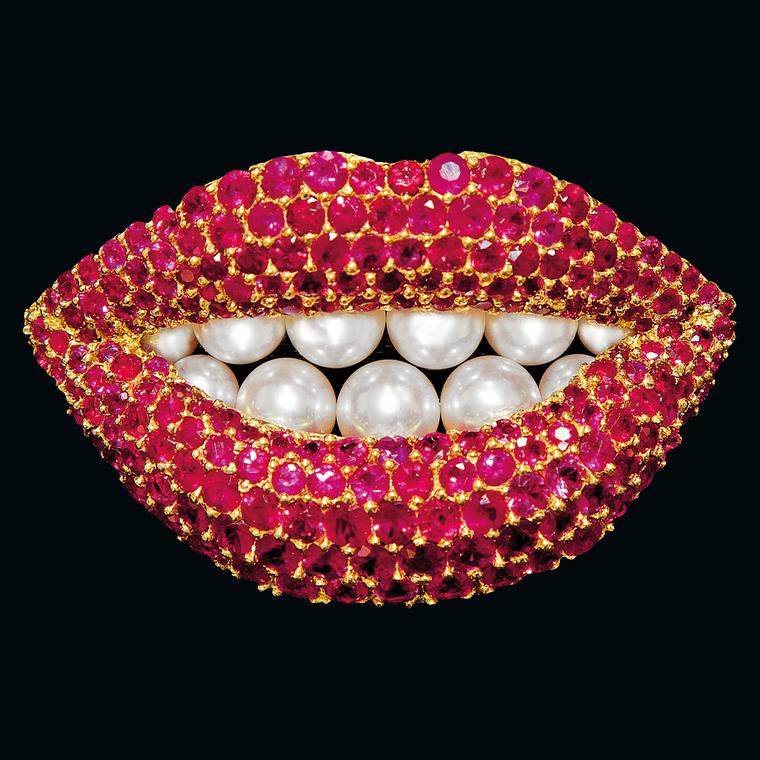 by Ottilie Kemp
The line between art and jewellery has become increasingly blurred since the 20th century, when modernist artists like Meret Oppenheim, Salvador Dalí, Max Ernst and Man Ray began exploring the possibilities of miniature metalwork. These exciting experiments with form challenged the art world's status quo, producing uniquely arresting jewels with deep artistic meaning. 
In Paris during the 1920s, a modern art movement called Surrealism was born, which sought to juxtapose reality in strange and unexpected compositions to create a 'sur-reality'. What began as a literary venture quickly transferred to the arts, the principles of which were outlined in André Breton's 1924 'Manifesto of Surrealism'. 
According to Breton, the key characteristics of Surrealism were the liberating powers of chance and the unconscious on the creative process. Images seen during a daydream, or as a consequence of an accident, were celebrated by the Surrealist artists, many of whom adapted their practice to make jewellery inspired by marvellous chance. The influence of chance, or the technique of Automatism, translated into loose, doodled forms that Max Ernst, Alexander Calder and Jean Dubuffet fashioned into brooches or necklaces. All three of these artists 'sketched' in metal to create lively sculptural pieces that could be worn everyday to make a dramatic statement.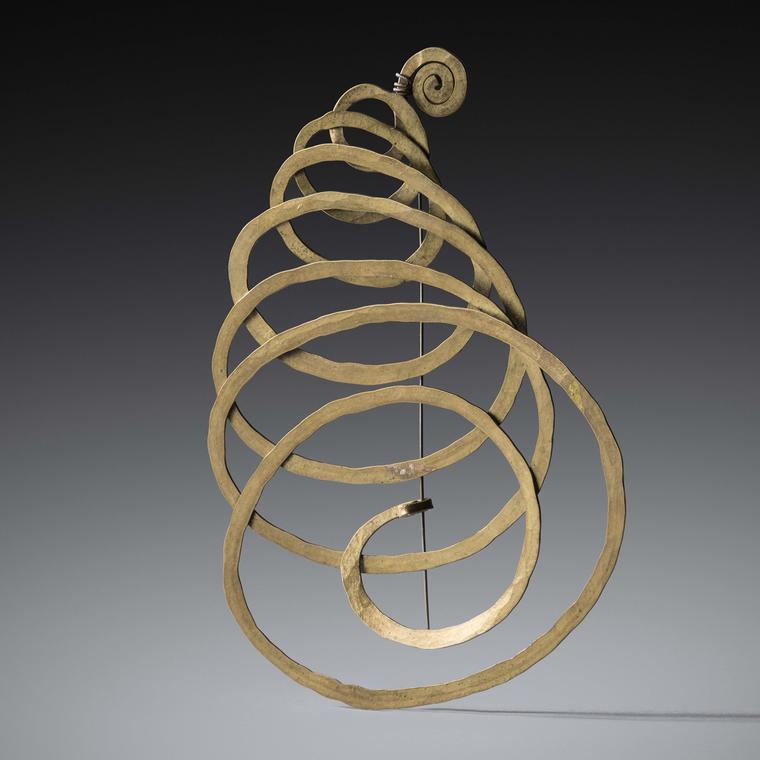 Calder adapted his iconic mobile sculptures to make eye-catching chandelier earrings, which seemed to defy gravity, just as his larger sculptures did. Peggy Guggenheim was a great supporter of Calder and Ernst's work and a frequent model for their wearable art, while Mary Rockefeller wore Calder's 'Heart and Harp Necklace' (1937) to modern art exhibitions. The necklace, made of elaborate loops of brass wire, flares out around the wearer, who becomes a walking piece of art within a brass halo.
Surrealist artists not only adapted their techniques, they also embraced unorthodox materials in their experimental jewellery. Meret Oppenheim's fur-covered bangles, bone necklace and sugar-cube ring are examples of the Surrealist artist's transformative use of domestic 'found' objects in her works. 
Oppenheim is perhaps best known for her iconic assemblage sculpture, 'Fur Breakfast' (1936), in which she juxtaposes the familiar – a tea cup, a spoon, a saucer – with the strange by covering the ceramic surfaces with fur. The story of its creation has taken on a mythical status. The artist was sitting in a Parisian café with Pablo Picasso and his lover, Dora Maar, wearing a fur-covered brass tube bracelet. The jewel prompted Picasso to pose a question: 'Can anything be covered in fur?' Oppenheim answered Picasso's question with her artwork, 'Fur Breakfast'. The fur-covered cup, saucer and teaspoon were initially displayed next to an assortment of other assemblage artworks by artists associated with the Surrealist movement, including Salvador Dalí, Marcel Duchamp and Alberto Giacometti, and today the cup is displayed in the Museum of Modern Art in New York. The creation of 'Fur Breakfast' led to a series of fur-covered bangles and rings. 
Oppenheim sold the pattern for her fur bangle to the avant-garde fashion designer Elsa Schiaparelli, who reproduced it as a luxurious accessory. Its open circular shape, through which the long shaft of the wearer's arm penetrates, led it to be interpreted as an icon of feminism.  
Another characteristic of Surrealism was its preoccupation with eroticism and sexual perversion. The work of Sigmund Freud, particularly his theory of Fetishism, fascinated many Surrealist artists, including Oppenheim and Salvador Dalí. A fetish was defined by Freud as a psycho-sexual disorder, in which an inanimate object becomes subject to sexual desire. Jewellery is naturally an object of desire, while Oppenheim's fur-covered bracelet and ring directly provoke sexual desire through their palpable sensuality, mixing the softness of fur with the cold smoothness of metal. 
Surrealist jewellery is characterised by jarring textures that create an uncanny contrast with undertones of fetishism. Like Oppenheim's fur-covered pieces, her braided silk bracelet titillates the senses. Crafted from glossy black silk, braided like a horse's mane, it is held together with highly polished bronze caps. The difference between soft and hard, matte black and shiny gold, brings an aesthetic tension to the bracelet. Reminiscent of a whip, the bracelet harbours sexual undertones. As noted above, the Surrealist movement nurtured a fascination with sexual perversion, particularly the Marquise de Sade, the father of S&M. The clash of materials in Oppenheim's sensual jewellery has a kinky edge.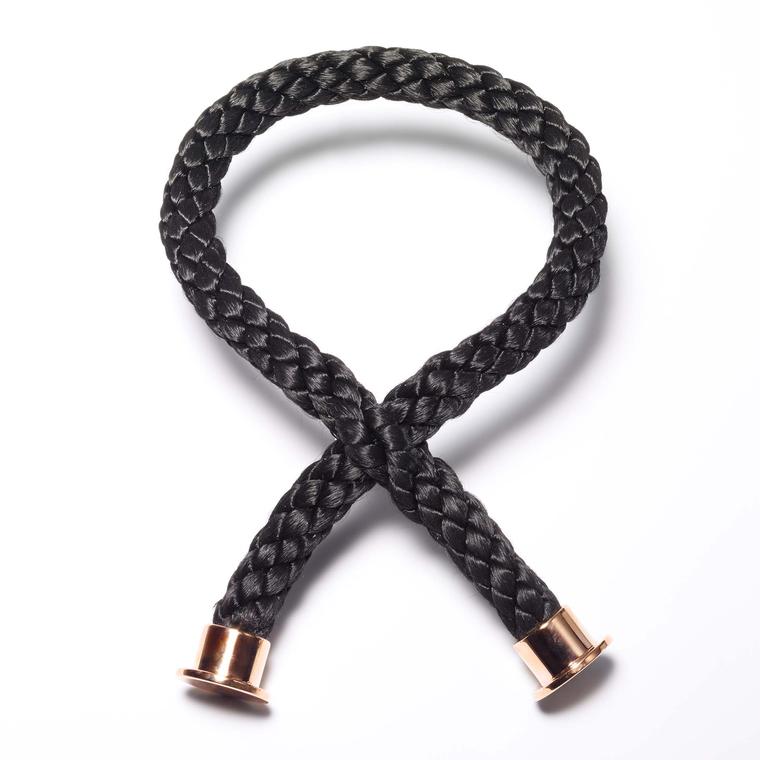 Oppenheim also incorporated found objects from the kitchen, such as chicken bones and sugar cubes, into her work as a method of blurring the boundary between reality, art and tradition. Delicate bones are held together by a gold link chain to form a broad collar necklace. In the centre, three bones form a lip or vulva shape; the lips an erotic metaphor symbolising consumption and passion. The symmetry of their curved form appealed to Surrealist artists like Oppenheim.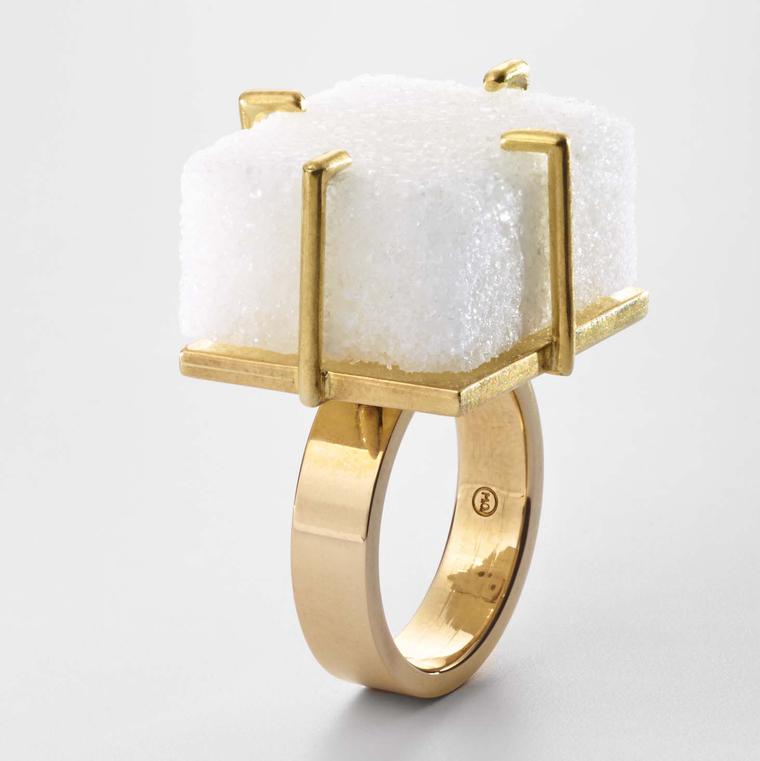 Lips are a recurring motif in the Surrealists' work. Man Ray and Salvador Dalí both created aural masterpieces: Man Ray's 'Les Amoureux' and Dalí's glittering ruby and pearl lip brooch. The blurred boundary between art and jewellery is particularly apparent in Man Ray's 'Les Amoureux' (1970), a versatile piece that can be worn as a necklace or brooch, inspired by his 1934-8 painting 'A l'Heure de l'Observatoire – Les Amoureux'.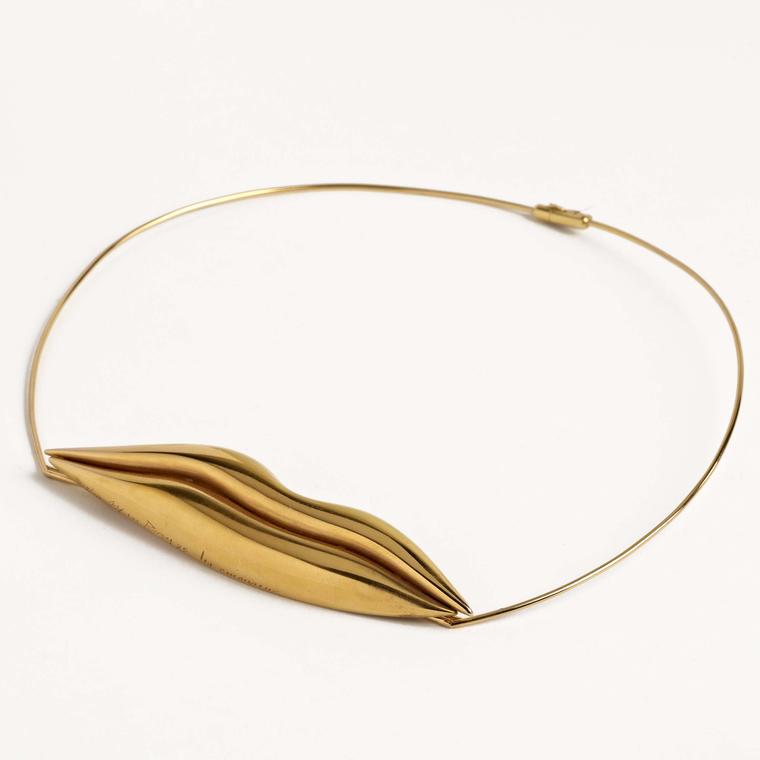 Dalí's mouth-watering brooch is surreal in its abstraction of the human mouth, from the face onto the chest. The double image – the wearer's living mouth and the bejewelled mouth ornament – is uncanny. The human body in Surrealist jewellery is a consistent theme, elements of which are disembodied and transformed into gold. Like Dalí's bejewelled lips, Man Ray's golden lip and eye-mask necklaces nestle at the base of the neck, creating a double image between the wearer's face and the gleam of the hammered gold. These metallic masterpieces are deeply sensual in their play with the human form.
Salvador Dalí is a household name whose experimentation with jewellery is perhaps best known. His collaboration with the jeweller Fulco di Verdura in 1941, and his later contract with the Argentinian jeweller, Carlos Alemany, were prolific; producing 40 jewels between 1941-1970. Dalí was the only one of the Surrealist artists to embrace coloured gemstones in his jewelled artworks and his creations stand in the doorway between traditional jewellery and Surrealist art.
In contrast to Dalí's lavish use of precious stones and gold, Alexander Calder was known to use shards of glass and porcelain in his designs. As we have seen, Oppenheim embraced found objects in her work and other Surrealist artists, such as Man Ray and Max Ernst, rarely used gemstones or other traditional materials in their jewellery making. Instead, they exploited the malleability of metal to create wearable, biomorphic sculptures. Calder was never without a pair of pliers and wire, ready to fashion a brooch in a quiet moment. The spiral is a reoccurring motif in Calder's creations, which reflects the aimless twists of the mind. 
Although the French painter and sculptor Jean Dubuffet was never officially a member of the Surrealist movement, his work contains Surrealist elements. Like Calder, he translated his unconscious scribbles into jagged, formless pendants in silver and gold. 
Surrealism gave birth to a collection of uniquely sculptural, often bizarre jewels. Playing with the definitions of art and jewellery and blurring the lines between both methods of artistic expression, they continue to captivate jewellery and art collectors alike. 
Jean Dubuffet's 'Portrait Photograph', 1927, Kurt Wyss, showing the artist holding a work from his L'Hourloupe series, the loose scribbles of which inspired his silver pendant

Max Ernst's 'Poisson Pendant' in gold

Man Ray's 'Les Amoureux'. A gold torque necklace with a detachable brooch

Man Ray's 'Optic Topic Mask': edition of 100 in gold plated sterling silver

Meret Oppenheim's kinky 'Braid Wristband in Silk and Bronze', Unlimited Edition. 

Salvador Dalí's 'Persistence of Sound' melting telephone earrings, 1950s, a masterpiece of surrealism set with diamonds, emeralds and rubies in gold.

Meret Oppenheim's 'Sugar Cube Ring', silver plated in gold, sugar cube and synthetic corundum. The ring can be deconstructed and the sugar cube replaced.

Meret Oppenheim's 'Fur Bracelet' and 'Fur Ring' in burnished gold and fur. 

Alexander Calder's 'Brooch' in hammered brass and steel wire, unique, 1940. Courtesy of Louisa Guinness Gallery.

Salvador Dalí's iconic 'Lips Brooch', circa 1960s, in 18 carat gold with rubies and cultured pearls, made for the Spanish artist by Henry Kaston