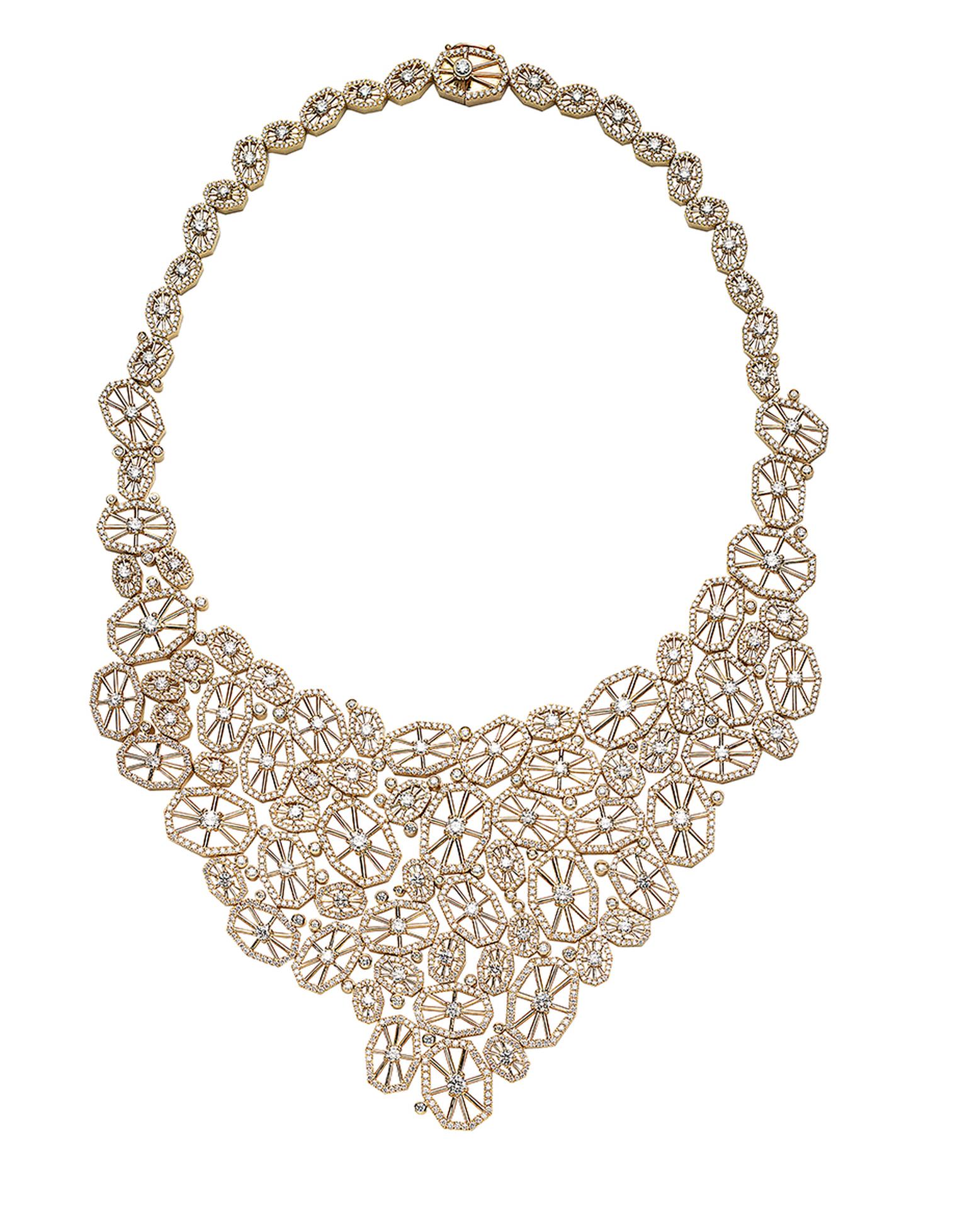 Founded in 2009, the Kuwaiti jewellery house Octium has based all its own designs - under the Octium Creates label - around variations of an octagon, hence its name. The octagon suggests infinity and modernity in one neat shape, and over the past four years Octium's designers have been inspired by this delightfully simple concept for its main collections. But as any luxury jewellery house would, Octium's special commissions or Couture pieces have a wider range of style, but always with the signature Octium look.
Octium Creates ALPHA and Series II made a strong statement with their functional, straightforward names and elegant, minimalist, pared-down designs in yellow and rose gold with diamonds. The look is cosmopolitan and urban, a sophisticated and controlled play of volumes that reflects designer Alanood Al Sabah's architectural background. Further Octium Creates collections, the Al Andalus Collection, added colour to the mix while retaining the octagonal motif in new guises. Al Andalus evokes the Moorish era in Spain, a harmonious synthesis of Arab and European cultures expressed through colour and tesselated patterns and symbols, such as moons and stars of this period. 
Octium's design concept is showing its maturity and slowly evolving to draw in new nuances and influences. The latest collection is yet to be revealed, but a look at past designs hints again at a union of Eastern and Western influences. This forward-looking, bravely modern interpretation of Arabian influences will be abstract and with a hint, rather than a direct reference, to the origins of this brand. Think triangles and geometric patterns of straight lines with fluid movement brought to life with colour and texture.
This measured approach to design - of evolving, refining, revisiting and perfecting - is a wise way to create a brand and establish an identity. It is a long-term strategy that allows a concept to fully blossom. And the way to go about creating an icon, which after all is what both the wearer and the brand desire, is not an easy task. It is these designs that have the chance to transcend the expected lifespan of a luxury good and become symbols of luxury themselves.

Luck and timing are part of the magic mix with the making of an icon, but the essence of enduring design has to do with a good idea made better over time. It is very early days yet for Octium, but its focussed and rigorous approach to design hints at a bright future for the humble octagon and its variants. By walking the tightrope between remaining faithful to the original design but keeping it fresh, Octium is approaching jewellery design with a maturity and confidence well beyond its years.
Octium Al Andalus rose gold moon earrings with brown diamonds, red garnets, light orange sapphires and citrines ($15,950).

Octium Al Andalus yellow gold moon earrings with diamonds and green amethysts ($18,250).

Octium yellow gold and diamond earrings from the Series II collection ($44,450).

Octium Al Andalus yellow gold eight point star earrings with diamonds and blue topaz ($9,750).

Octium Al Andalus yellow gold eight point star earrings with diamonds and champagne quartz ($21,750).

Octium rose gold and diamond ring from the Series I collection ($5,750).

Octium yellow gold interlocking ring with diamonds, topaz and chrome diopside ($9,750).

Octium Al Andalus rose gold and diamond dome earrings ($12,950)

Octium yellow gold and diamond bangle from the Series II collection ($30,500).

Octium Creates Couture rose gold and diamond ring (£240,000).

Octium Couture for Gemfields bespoke gold earrings, set with Gemfields Zambian emeralds and diamonds (£376,200).

Octium Al Andalus yellow gold moon bangle with diamonds, dark blue sapphires, light blue sapphires and blue topaz ($15,000).