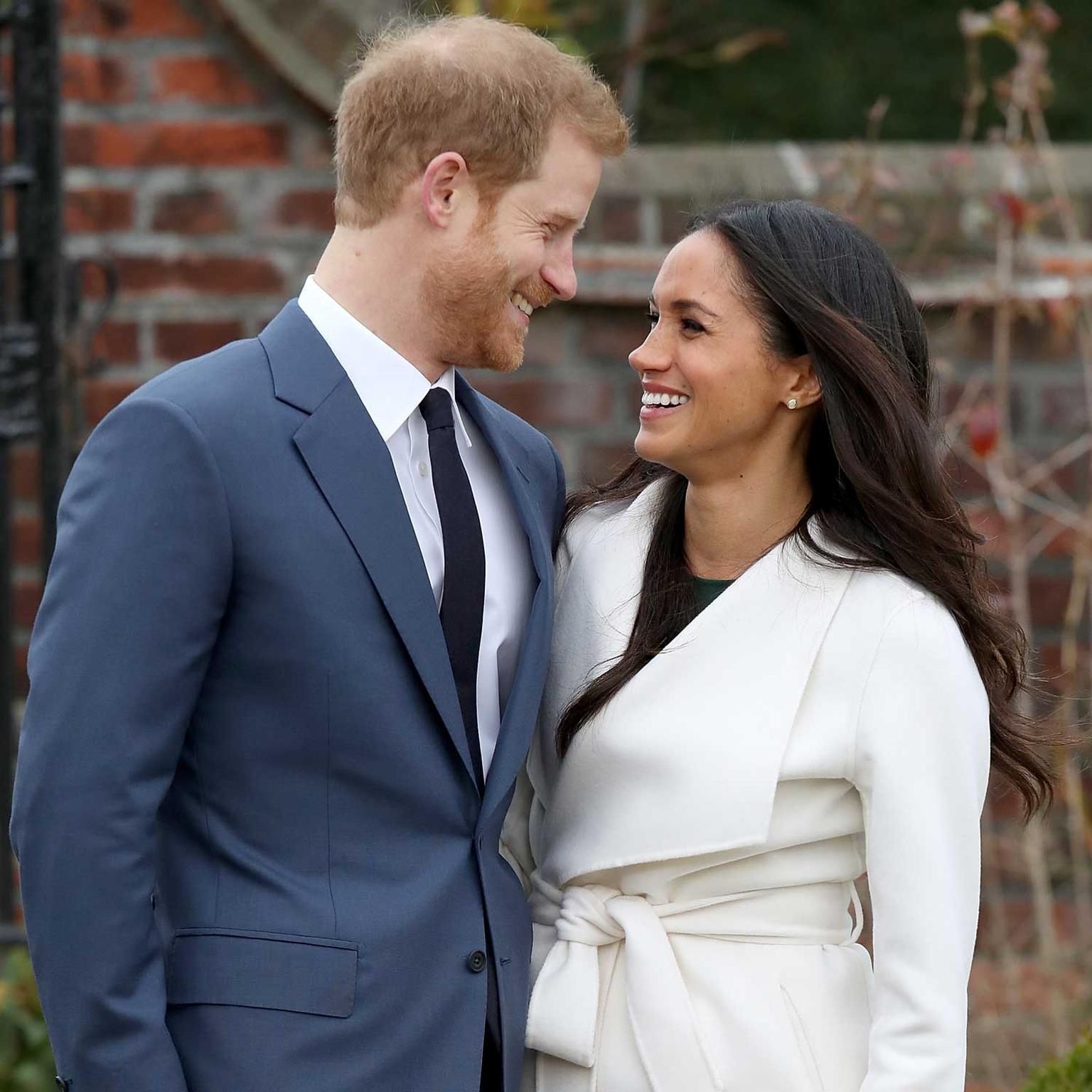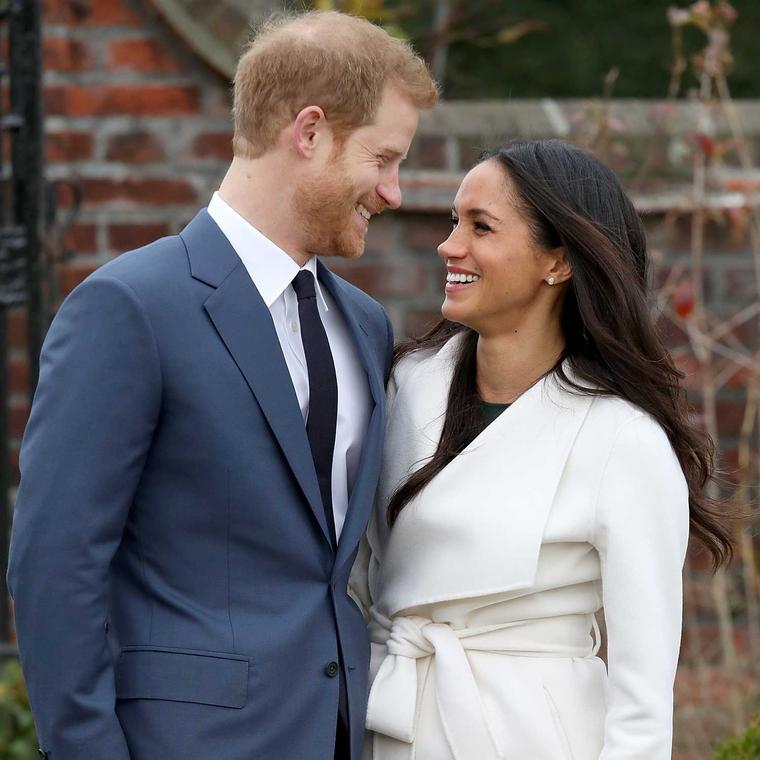 Designed by Prince Harry, today all eyes are on Meghan Markle's engagement ring, which is sure to set a trend for three-stone diamond engagement rings. We uncover the story behind this intriguing engagement ring, including its significance and where it was made, and share our selection of trilogy diamond rings to make your proposal a royal affair.
Our Monday morning editorial meeting was thrown into disarray as news broke of Prince Harry's engagement to Meghan Markle. "What about the ring?" was, naturally, our first consideration. Initial snippets of information revealed that the ring featured diamonds from a brooch belonging to Princess Diana so we assumed it would include some old-mine or rose-cut diamonds, refashioned into a new design. And we mistakenly assumed that Garrard, maker of Princess Diana's and now Kate Middleton's sapphire engagement ring, would be the jeweller of choice.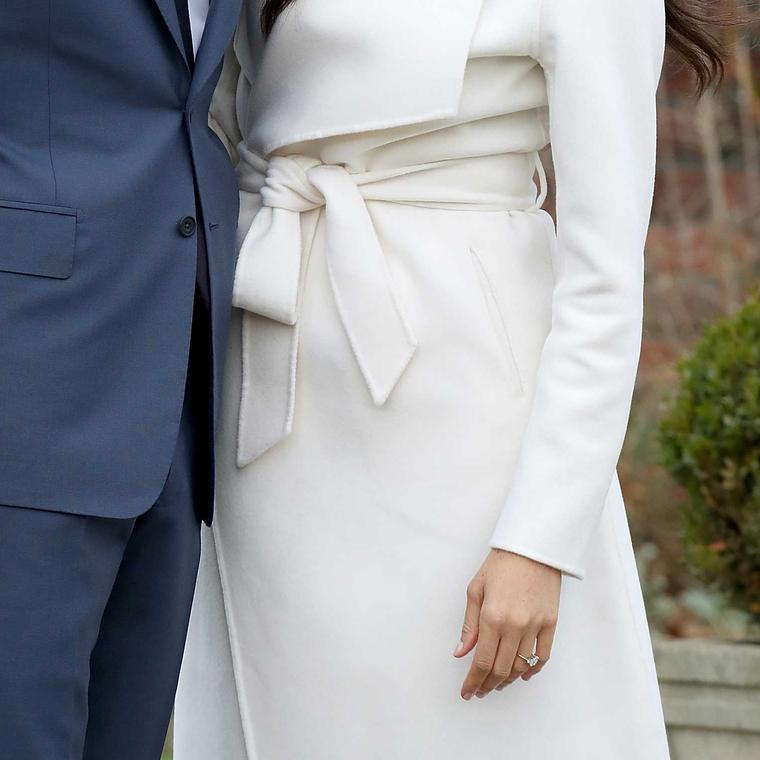 When Prince Harry and Meghan Markle stepped out of Kensington Palace to announce their engagement, finally the ring was on full view against her white wraparound coat, accessorised with a pair of Birk's opal ear studs. At first glance it appeared to be a traditional three-stone engagement ring but closer inspection revealed that it is in fact a very personal and unusual design, and in keeping with Prince Harry's determination to do things his own way.
The central diamond looks like a new cushion-cut of around 2.50-3.00 carats with two smaller brilliant cuts on either side, making it neither a classic solitaire flanked by diamond details nor a three-stone or trilogy ring usually made of a trio of similar size stones. We can tell the central diamond is a recent cut as older pre-1900 diamonds have different facet sizes and proportions and tend to be flatter than the more precise modern cuts.
The idiosyncrasies of the ring were revealed in the 6 o'clock television interview of the beaming couple, seated in the quaintly named Nottingham Cottage in the grounds of Kensington Palace, which they will now call home. Clutching Prince Harry's hand in hers, Meghan Markle said proudly: "It's beautiful and he designed it. It's incredible." And that is the key to understanding this ring. It is a memento of the things Prince Harry holds closest to his heart, which he wants his beloved to wear. 
It was to Cleave & Co that Prince Harry entrusted to make the ring. I can imagine the Prince, with characteristic determination, heading to 1 Buckingham Place - better known for making medals and decorative silver horse heads - to share his design ideas. Stephen Connelly, Director at Cleave & Co, tells us in its Britain is Great video: "Cleave are predominantly suppliers of orders, decorations and medals and all types of insignia."
Watch Cleave & Co's Britain is Great video here
The double-fronted red brick Georgian town house with a glossy black door is certainly the Queen's and presumably Harry's most local purveyor of precious objects, if not necessarily the go-to place for engagement rings. Although the workshops are not on the premises, as confirmed by a call to Cleave & Co, we can assume that Meghan Markle's ring was made in the same workshop shown in the video. Maybe Harry even visited to see the work in progress.
Now as for the design, Prince Harry explained in the television interview: "The ring is obviously yellow gold because that is her favourite and the main stone itself is sourced from Botswana. The little diamonds either side are from my mother's jewellery collection to make sure that she is with us on this crazy journey together."
When the interviewer Mishal Husain asked Markle how she felt about having Princess Diana's diamonds on her finger, she replied: "I think everything about Harry's thoughtfulness and the inclusion of that, and obviously not being able to meet his mom, I'm able to, in some special way, know a part of her through them, and of course through him. It's incredibly special. And you know to be able to have this, which sort of links where you came from and Botswana, which is important to us, it's perfect."
Now onto the main diamond. We know that after just a few dates, the love-smitten pair went on safari to Botswana. Prince Harry explained in the television interview: "…I managed to persuade her to come and join me in Botswana. And we camped out with each other under the stars, we spent — she came and joined me for five days out there, which was absolutely fantastic. So then we were really by ourselves, which was crucial to me to make sure that we had a chance to get to know each other."
Botswana is one of the wealthiest African countries thanks to its abundance of diamonds so guessing from which of the six large-scale mines or hundreds of smaller ones this particular diamond came from would be impossible. Beyond the couple's emotional link to the country, Botswana is a responsible source for diamonds as it is one of the African countries doing the most to make diamonds a force for good by making sure money goes back to the mining communities. Botswana is also the source of some of the largest diamonds found in our times.
In early November, during a cosy night in roasting a chicken, Prince Harry got down on one knee to propose with his very own design of engagement ring in his hand. And the ring, it seems, did everything Prince Harry hoped for. Meghan said yes and his mother and their special place are crystalised in one very special jewel.
Be sure the prongs holding in the gemstones in vintage rings have been checked by a jeweller. Jewellers such as Bentley & Skinner - Jeweller by Royal Appointment to Her Majesty the Queen and His Royal Highness the Prince of Wales - will check and repair jewels before selling them to ensure they are in wearable condition. 

Meghan Markle steps out yesterday with Prince Harry to announce their engagement, giving the world its first glimpse of her engagement ring. 

Cleave & Co. is the company that made Meghan Markle's engagement ring to Prince Harry's design. The firm's offices are a stone's throw from Buckingham Palace and are known for medal and insignia making. 

Meghan Markle pictured in her official engagement photo with the Royal Highness, Prince Henry of Wales, wearing Birks opal earrings (£850, available from Mappin & Webb), and (not pictured) a huge three stone diamond engagement ring designed by Prince Harry. 
With a trend for three-stone or trilogy diamond engagement rings around the corner, we have put together a gallery of Meghan Markle-style engagement rings, above. As Prince Harry's design is so unique, there are few yellow gold rings with similar size stones on the market, so a commission may be the answer if you can't wait for the rush of Meghan rings that are sure to hit a jewellery shop near you soon.
And as Prince Harry jokingly warned Meghan, all brides-to-be take note: "Make sure it stays on that finger."