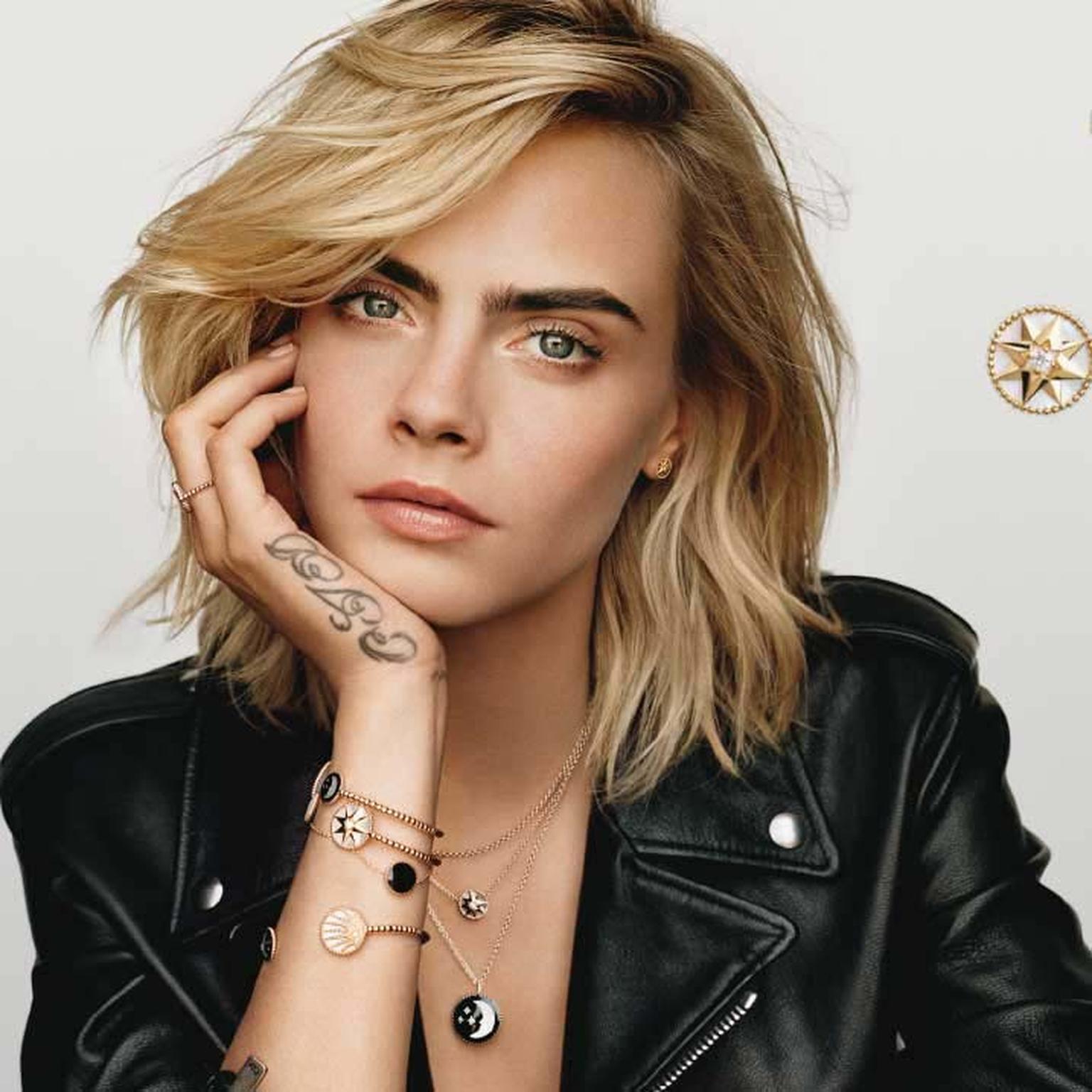 Some jewellery trends arrive with a bang and, before you know it, fizzle out just as quickly. Others seem to tap into the collective conscience, creating a snowball effect that has a lasting mark on the world of jewellery. Five years ago, these jewellery trends might just have been emerging, but have proved their staying power to become the modern classics of today. 
Rainbow gems
The trend for setting different gems side by side to form waves of colour quickly lit up the world of fine jewellery with its rainbow hues. Easy to wear and impactful even in the most delicate of jewels, rainbow gems have, in just a few years, become a modern classic. 
When the trend first emerged, I immediately treated myself to one of Jane Taylor's kaleidoscopic rings (below). If you haven't visited Jane's Instagram account yet, you should. She really is the rainbow queen, with a knack for combining gems with complementary tones and showcasing them in chunky stacks that reveal her abundant love of colour.   
The rainbow effect has been so powerful that London jeweller Robinson Pelham's (below) tagline is now "We are Modern, British, Colour". Almost every design, from its popular orbs – small huggy earrings – and EarWishes – charms designed to mix and match with the orbs – to its chunky River bracelet and Chevron earrings is available in a multi-coloured gemstone option. 
Pomellato's reputation has been built on its confident use of colour and this season sees the launch of new additions to the Iconica collection featuring rainbow gems. Beaming out from star-shaped, triangular, oval and square settings, the Maxi Iconica Colour ring (below)  injects major fun into this famously chunky rose gold band.
Lucky charms
It is easy to see why charms have quickly become modern classics. Feeding into the broader trend for individuality and personalisation in the world of jewellery, charms are versatile, highly symbolic and look great when mixed and matched with antique charms, with each communicating something about the wearer. 
In 2016, Muse Showroom collaborated with Gemfields on a unique collection of charms, envisaged by some of its much-loved designers. The result was a brilliant mash-up of talent and styles, and just a year later, the collection grew to 75 designers, leading to Muse setting up its own e-commerce site in 2018 to capitalise on their popularity. 
While they were already a popular product for other designers – think Annoushka's Mythology charms (below) and Carolina Bucci's Lucky bracelets – the Muse x Gemfields saw the trend go supersonic. Now, on the cusp of 2020, it is safe to say charms have entered the realm of modern classics.   
Hoop earrings
After embracing 80s fashion the first time around, I wasn't prepared for quite how quickly the trend for hoop earrings would re-establish itself. In the past year I've seen spectacular high jewellery interpretations, front-back hoops, double hoops, oversized hoops and everything in between, a sure sign that what began as a trend is now much more established.   
There is something reassuringly cool about hoops and that is why they have entered the realm of modern classics. Among that oft-cited but actually quite elusive group of jewels that transitions effortlessly from day to night, hoop earrings are most definitely here to stay. Try a twist on the expected with Mizuki's pearl-embellished hoops, invest in a future classic with the beautifully spiky Clash de Cartier rose gold hoops (below) or go luxuriously large with Suzanne Kalan's baguette-cut diamond Signature Fireworks hoops. 
Talismans 
The idea of wearing jewellery as a talisman, to bring luck, protect against evil or for its healing properties, dates back to ancient times. Talismans can range from powerful symbols, like the hand of Hamsa or evil eye, to astrological Zodiac star signs and even the stones themselves, which many believe are imbued with healing energies. 
The messages communicated by talismanic jewellery are powerful and speak of the wearer's beliefs, ambitions and passions. In today's topsy-turvy world, they bring solace, comfort and empowerment, and this, above all else, is why I think why they have become such a firm fixture in the world of fine jewellery.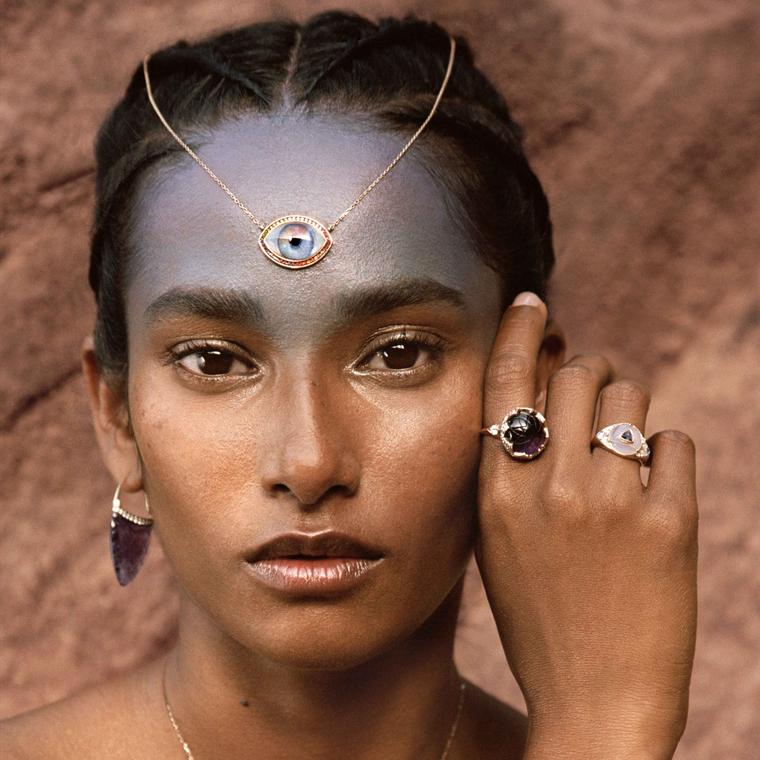 Ancient symbolism and the spiritual and mystical motifs that endure today have been the main source of inspiration for several designers who have enjoyed great success in recent years, including Foundrae, Noor Fares (above) and Brooke Gregson. For many jewellers, however, talismans have quietly slipped into their collections because they know just how appealing they are to many, like Dior's recently launched Astro Dior collection (below) of pretty gold and mother of pearl astrological pendants.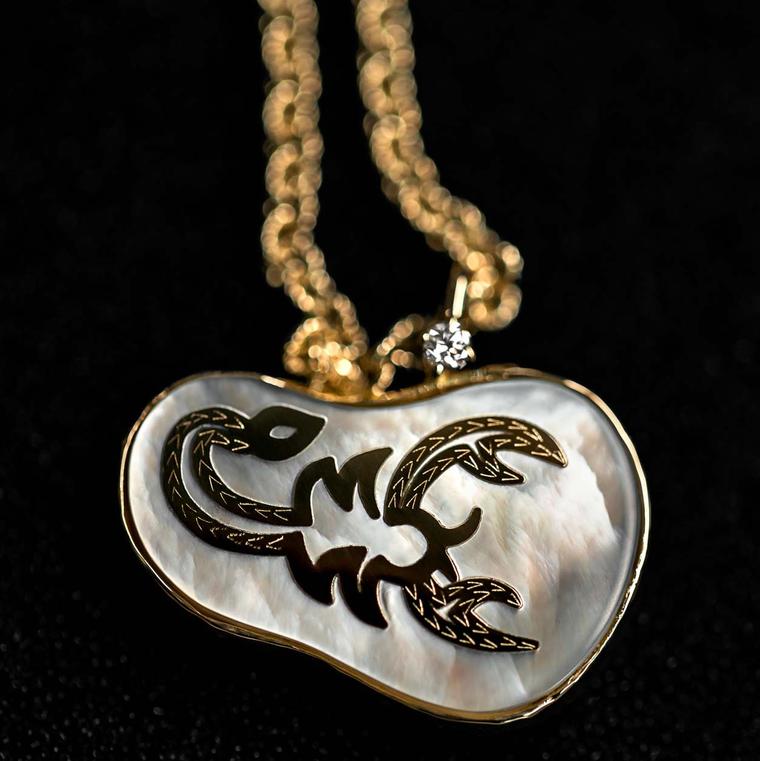 Of all the talismans I've seen recently, I love Loren Nicole's Heket ring (below), from the Nebu: Sands of Gold collection, the most. Each amulet depicts a different Egyptian god or goddess, and this cute little frog, carved out of aquamarine, represents the goddess of magic and protector of mothers. Simply adorable. 
The Astro Dior pendants tap into our enduring interest in astrological symbols such as this Scorpio jewel in mother of pearl and gold. 

Noor Fares eye pendants and ring as well as gemstones carved with ancient patterns are part of the Prana collection infused with spirituality.