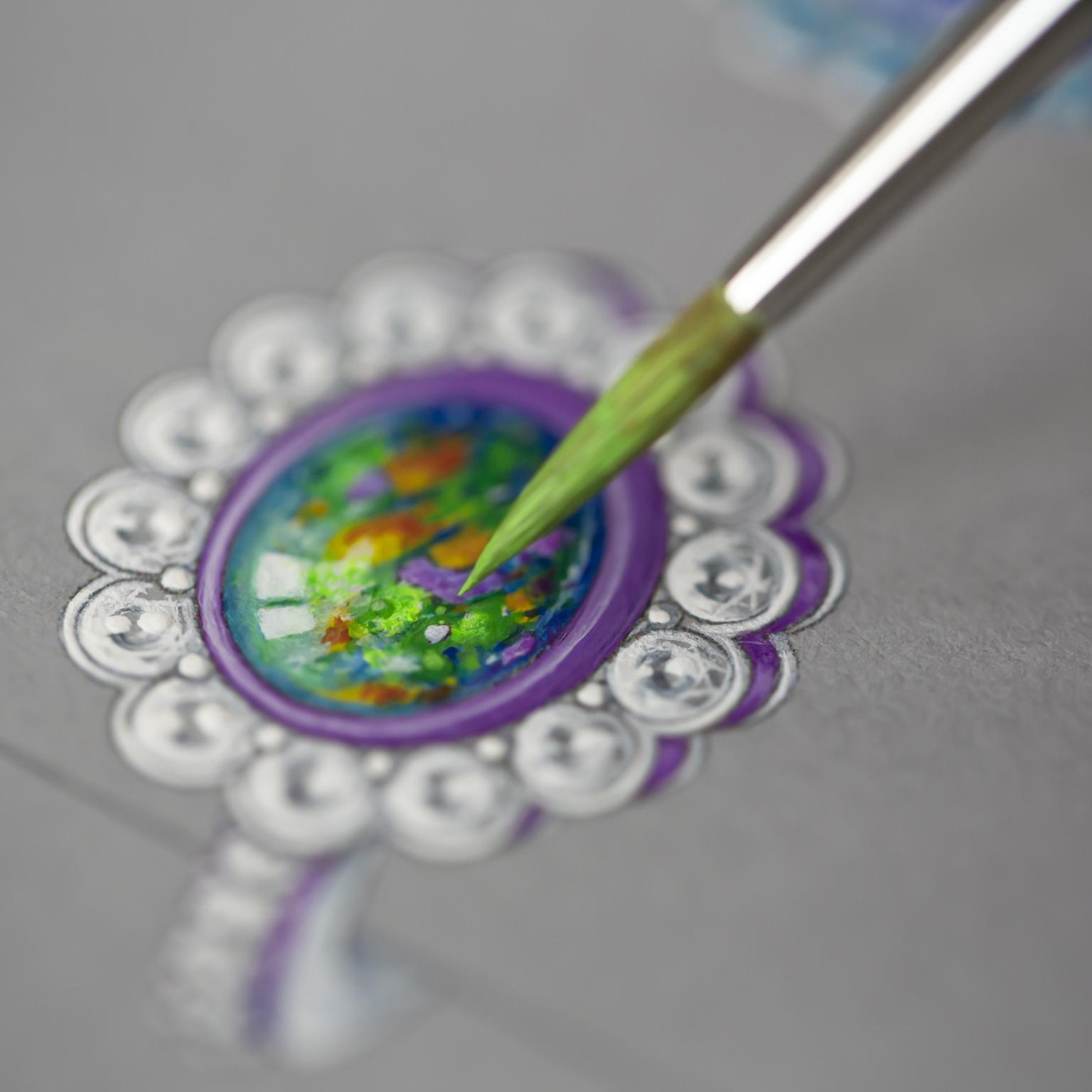 Featuring two stones set side by side – one representing you, the other me – this quaint tradition for wearing your heart on your finger dates back to the late 17th century, when Napoléon Bonaparte proposed to his future wife Joséphine de Beauharnais with a sapphire and diamond toi et moi ring. It's a look that has been revisited by almost every jewellery house over the years, but never deconstructed and then rebuilt in a radical new vision, as can be seen at Dior this season.
The new Dior et Moi high jewellery collection was designed by the visionary Victoire de Castellane, who has been disrupting the world of jewellery ever since she was named creative director of Dior's fine jewellery division more than 20 years ago. Her passion for setting semi-precious alongside precious stones to create glorious clashes of colour has had a profound influence on jewellery designers, inspiring legions of fast-fashion imitations but also putting her at the forefront of a new era of experimentation in high jewellery – a world that has, until recently, shunned stones because of their semi-precious status. The name Dior et Moi is a play on toi et moi, a wink to the designer's imaginary relationship with the late Mr Christian Dior. 
Malachite, lapis lazuli, turquoise and opals – one of de Castellane's favourite stones – are set centre stage in Dior et Moi, alongside diamonds, blue and pink sapphires, emeralds, tourmalines, pearls, rubellite and kunzite, with each stone selected for its extraordinary beauty, rather than its exceptional value. That is not to say that any of the stones are inferior, however. Quite the opposite. Dior's creative director has an eye for discovering opals illuminated by painterly streaks of fluorescence, perfectly striated malachite and flawless robin's egg turquoise displaying an even, intense blue. 
A loose, abstract interpretation of the emblematic toi et moi designs of the past, the collection comprises 39 jewels, including bangles, necklaces, earrings and between-the-finger rings, some juxtaposing two different but complementary stones, set side by side, others three in a row. On some of the jewels de Castellane introduces bold lines of lacquer sprayed on brushed gold. The colours perfectly enhance the gemstones they sit alongside. The richest ruby-hued lacquer has been placed between a mysterious black opal and a row of red spinels, while a strip of green lacquer unites a black opal and emerald in a pair of mismatched earrings, adding another layer of texture and intrigue. Many of the shiny lacquer details are only visible on the reverse of the jewels – hidden secrets revealed only to the wearer.
While de Castellane loves to experiment with the whole spectrum of coloured gems, rarely does she feature them all in a single jewel as she does here, encircling opals and a pink pearl in kaleidoscopes of coloured stones. One necklace is positively psychedelic, with a pear shape white opal encircled by a band of perfectly graduated lacquer, accompanied by a halo of vibrant stones, both of which span all the colours of the rainbow.
Alongside the wild exuberance, there are moments of delicate femininity also. Halos of diamonds form the prettiest of frames around many of the gems in the Dior et Moi collection. A single, sensational rubellite cabochon bracelet needs no further adornment, with the frilly row of diamonds extending all the way round the wrist. 
If, as I suspect, this juicy assortment of gems is aimed at a new generation of high jewellery lovers, then de Castellane has scored a bullseye. Always mischievous and never predictable, they are beautifully crafted yet playful, classically inspired yet oh-so colourful – a delight from start to finish.