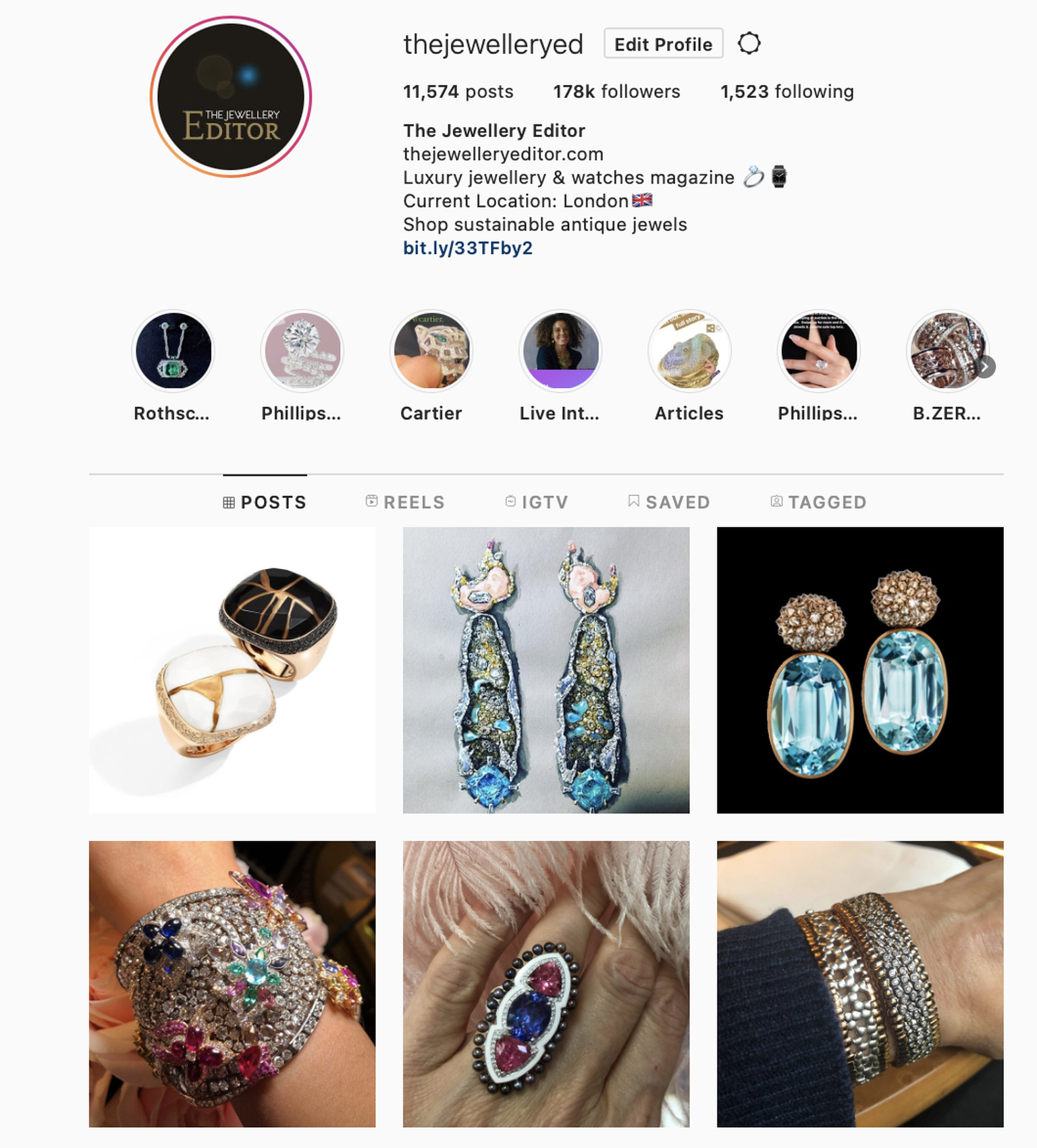 We are always curious to see what jewels our 178,000 Instagram followers really love. To find out just what makes our jewellery-loving fans tick, we have dived into our analytics to bring you the ten jewels of 2020 with the greatest reach on Instagram.
Read more about jewellery trends here.
This eclectic line-up of fine and high jewellery offers a wide range of styles. From Fernando Jorge's green agate pendant to Paula Crevoshay's breath-taking Siamese Fighting Fish brooch or Margot McKinney's show-stopping aquamarine cocktail ring, what they have in common is originality and creative flair. The number of likes that each of these jewels received is testament to the refined tast of our followers who have a keen eye for great design and craftsmanship. Green is a theme we see coming back year after year with six of the top ten set with verdant-hued stones. The popularity of green - closely followed by blue - and particularly emeralds,  tourmalines and opals confirms the trend for greeny-blue tones in tune with Nature that bring a sense of calm. Pink was the other clear colour trend whether it is pink sapphires, soft rosy morganite or kunzite.  And animals are still in vogue as confirmed by the presence of a fish, beetle and cat in the menagerie of bejewelled beasts.
Bulgari and Boucheron were the only big-name brands to make our Top 10 with independents increasingly gaining popularity, a fair reflection of what is happening in the world at large. We have to give a special mention to the inimitable Lydia Courteille, the only independent jeweller to have two jewels in our Top 10. Lydia's little boutique off the Place Vendôme never fails to delight and surprise us.
Post No. 1: Earrings by Isabelle Barrier
Isabelle Barrier's orange sapphire and green tourmaline drop earrings reached the greatest number of our followers in 2020. This Boomerang shot taken in Paris of the quivering earrings captured the imagination of our followers who were entranced by the original colour combination and elegance of these simple yet striking earrings.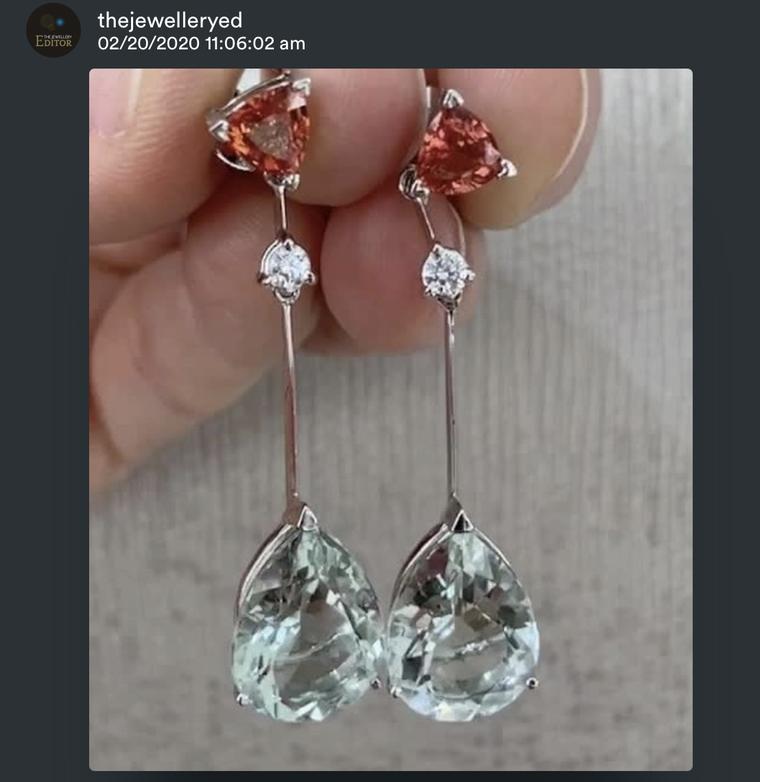 Post No. 2: Fusion pendant by Fernando Jorge
Fernando Jorge's Fusion pendant oozes sensuality thanks to its soft undulating crescent-shaped milky aquamarine that melts into a slinky chain. Always original, the Brazilian jeweller has set the aquamarine with clear topaz and diamonds for a dreamy look that won over our followers.  The necklace was shot at the designer's Shoreditch atelier against a custom-made green agate table for a full green on green winning image.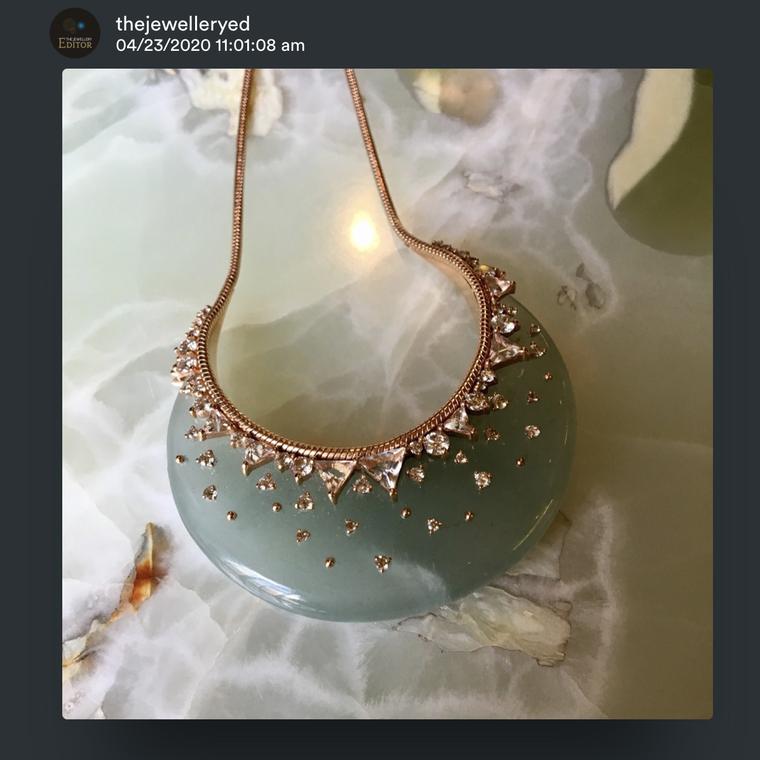 Post No. 3: Beetle pendant by Aurelie Biderman
Aurelie Biderman's cute little beetle with a carapace of shimmering pink sapphires was our third most popular post. The Parisian designer's quirky and irreverent style resonated with our followers, putting this little bug in our top three most popular jewels of 2020.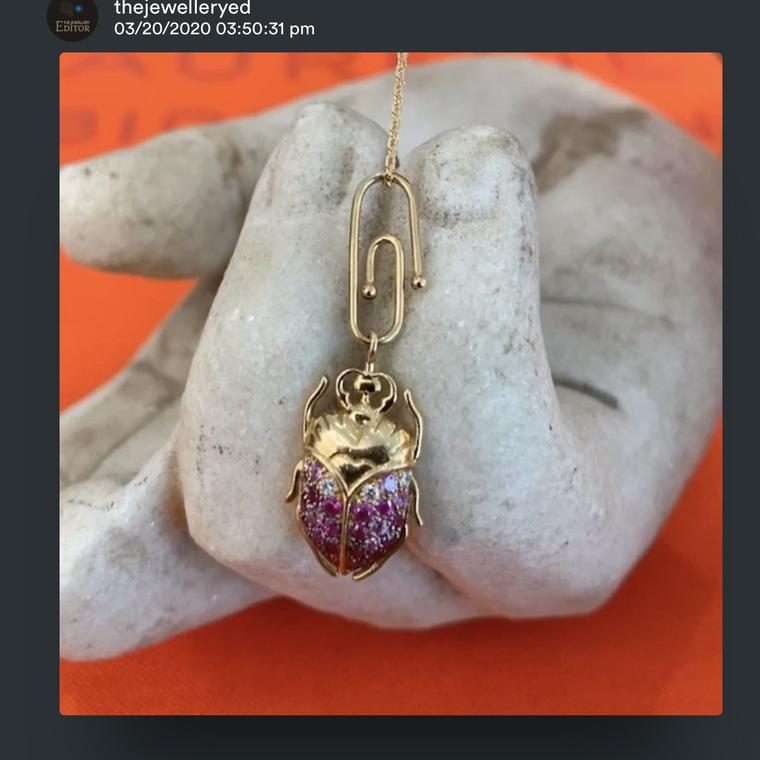 Post No. 4: La Vie en Rose ring by Lydia Courteille
Lydia Courteille has earned the distinction of being the only jeweller to make it twice into our Top Ten. Lydia whips us around the world in jewels from Guatemala to Turkey and Russia without a pause for breath to offer a fabulously eccentric, outsized, often macabre, sometimes cute, always intriguing, view of the world. The fourth most successful post is of her La Vie en Rose ring inspired by the night life of Paris. Imitating the lace of lingerie, a fine web of gold dotted with pink sapphires ripples around a dusky pink morganite. Sensual and alluring, the frisson of Lydia Courteille's La Vie en Rose collection was not lost on our followers.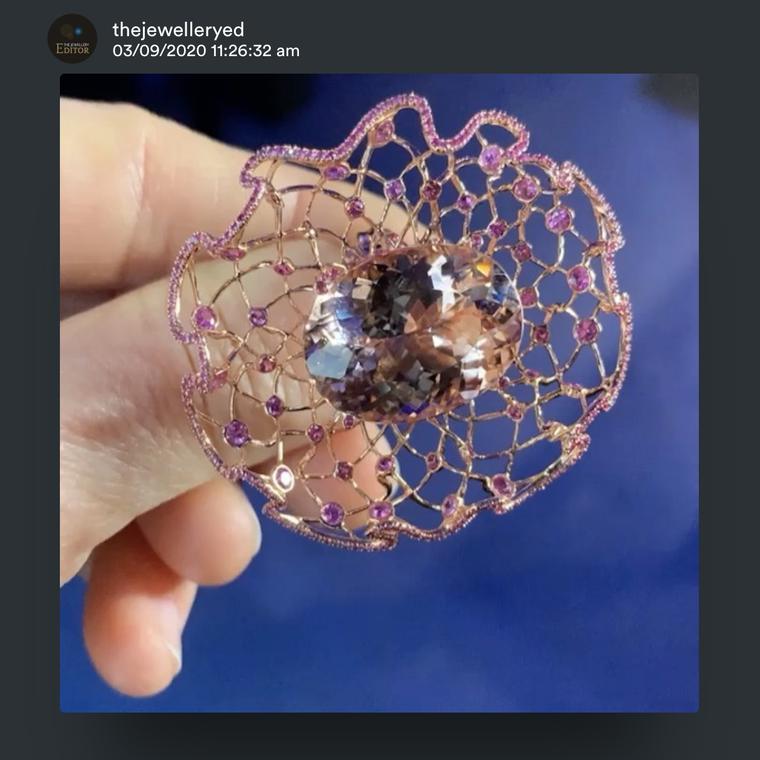 Post No. 5: Amber Room ring by Lydia Courteille
Slot number five also has Lydia Courteille's name on it and this time in a very different style of ring. This ring evokes the magnificence of the Amber Room in the Catherine Palace in Saint Petersburg.  A gold angel with yellow and orange sapphires set into its wings is perched on the side of the ring as it peers into depths of a deep red garnet.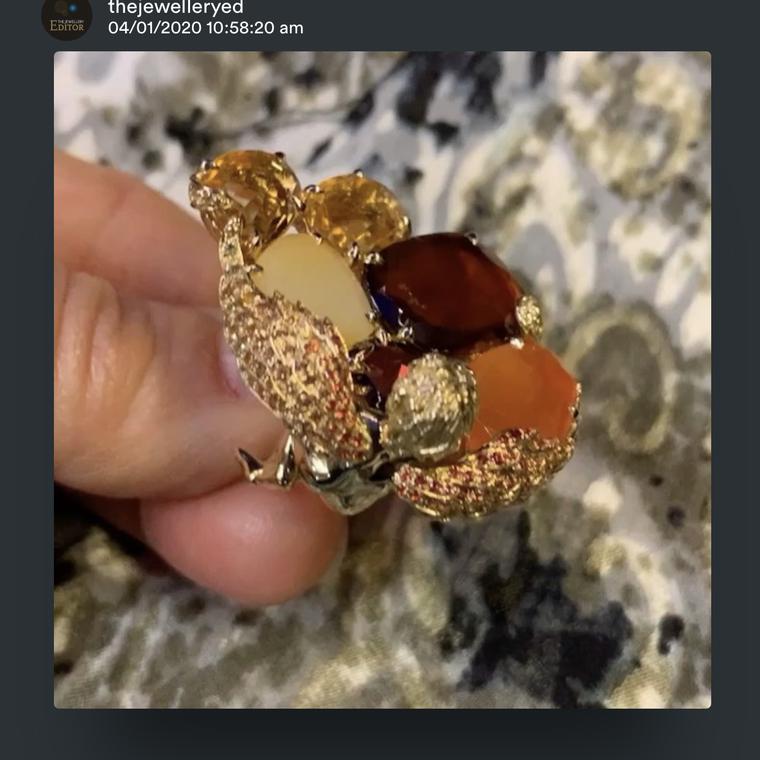 Post No. 6: Wladimir II diamond cat ring by Boucheron
Number six belongs to Boucheron's diamond and emerald Wladimir II cat ring from the Vu du 26 high jewellery collection. Wladimir was the name of founder Gérard Boucheron's cat and he strides resplendent in his diamond pelt. Wladimir II  wears an emerald necklace and has uncannily realistic eyes, typical of the delightful level of detail of this famed Place Vendôme jeweller.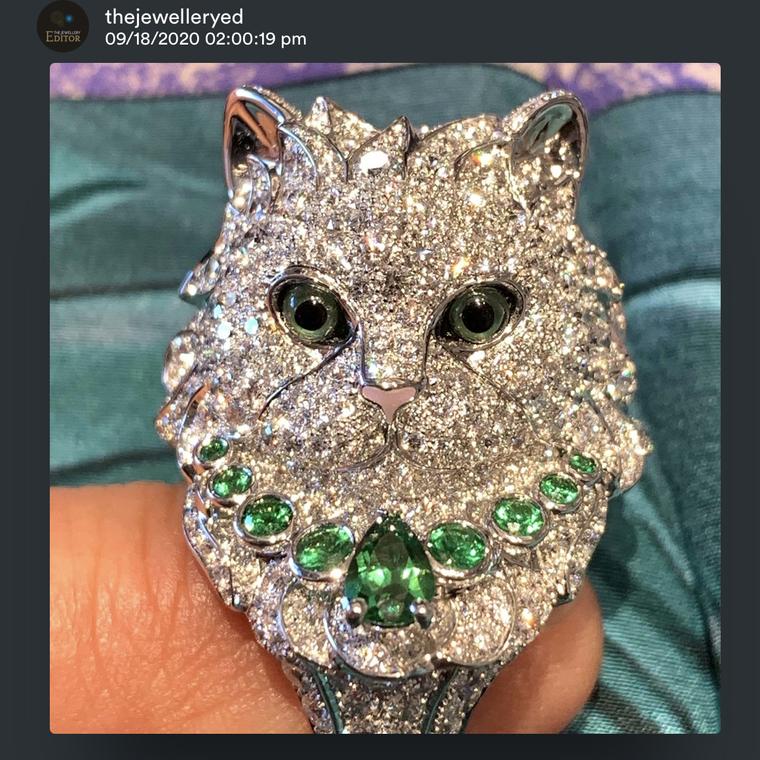 See Boucheron's Vu de 26 high jewellery collection here.
Post No. 7: Bulgari Barocko Mosaico emerald necklace 
It is not surprising that Bulgari's Mosaico emerald and diamond necklace from the Barocko high jewellery collection was a favourite with our followers. Reminiscent of the glorious opulence and breath-taking architecture of the baroque era in Rome, this necklace is set with 19 Zambian emeralds and hundreds of diamonds. The Mosaico necklace embodies the dolce vita spirit of this Roman jeweller that makes red carpet jewels that just dying to be worn. 
See more of Bulgari's Barocko high jewellery here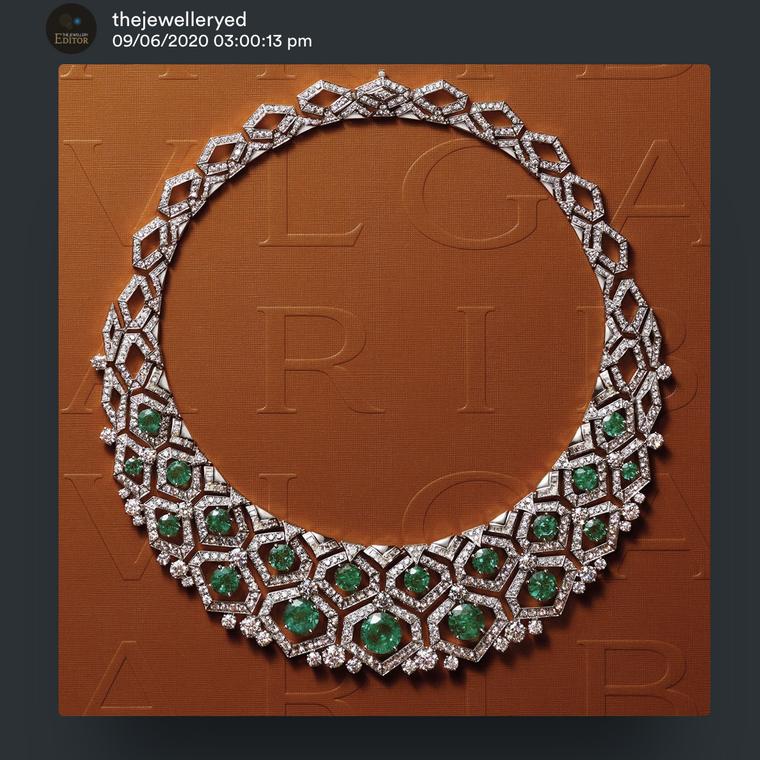 Post No. 8: Aquamarine cocktail ring by Margot McKinney
Number 8 is Margot McKinney's stunning 38.95-carat aquamarine cocktail ring. This impressive stone is framed by a fabulous colour crush of diamonds, Paraiba tourmalines, violet and yellow sapphires and diamonds. No doubt the witty photography helped grab attention for this one-of-a-kind ring by Australia's top luxury jeweller who takes the most stunning gemstones to new heights of desirability. 
Watch our video interview of Margot McKinney here.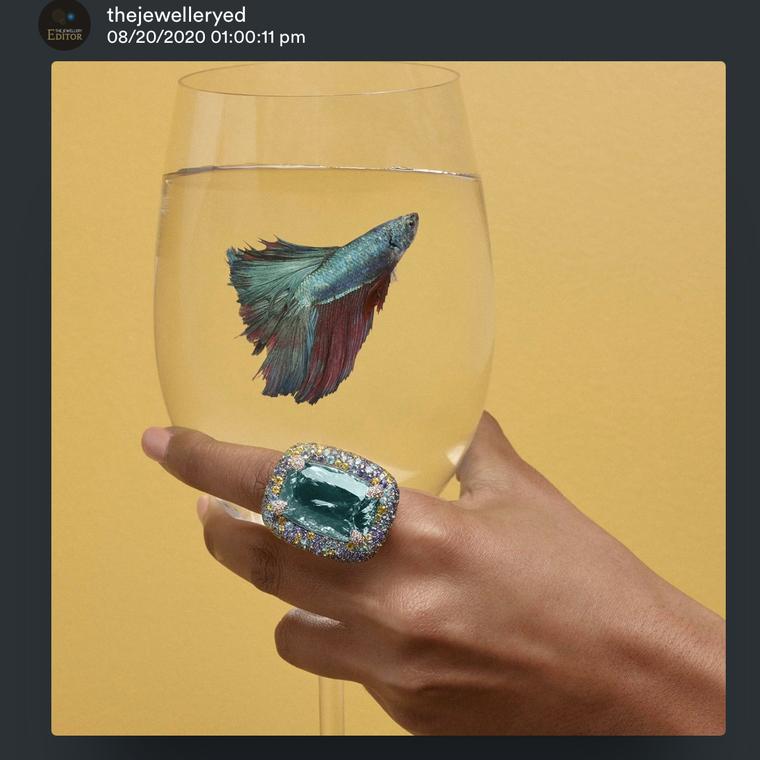 Post No. 9: Siamese Fighting Fish brooch by Paula Crevoshay
At number 9 is Paula Crevoshay's life-like Siamese fighting fish brooch. The rippling motion of the fish's fins is perfectly captured in gold and his life-like ruby eyes gaze the diamond bubbles coming out of his mouth. Crevoshay's exquisite museum-worthy jewels are a favourite with our followers who appreciate her refined design and craftsmanship bursting with life and colour. Crevoshay, formerly a fine artist discovered her passion for painting with gems while travelling in India and now lives in New Mexico. 
Meet Paula Crevoshay in our video interview.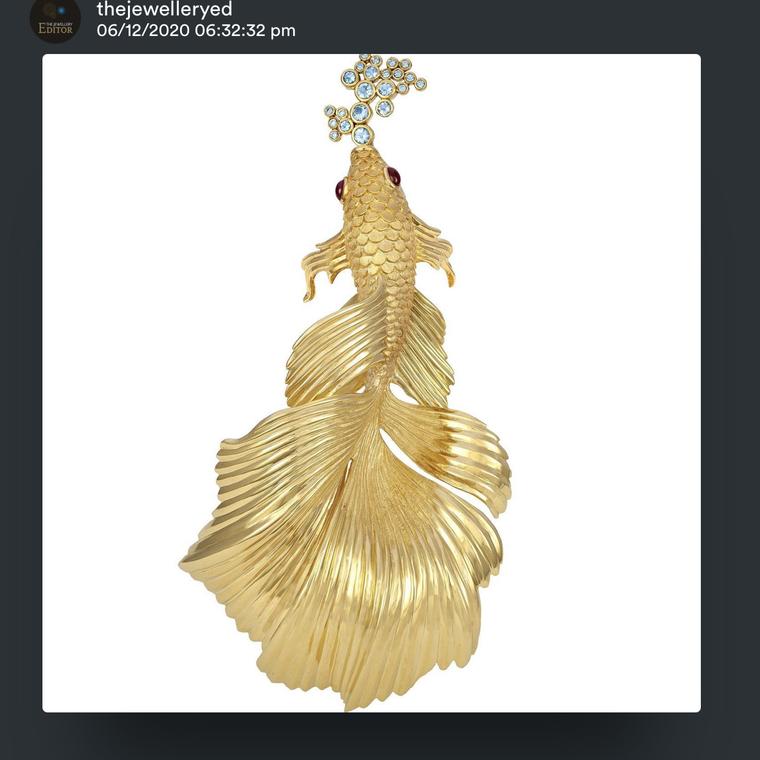 Post No. 10: Gold and opal inverted hoop earrings by WWake
Hoop earrings were a big trend in 2020 and this pair with opals set on the inside by Wing Yau were a prime example of this style. The young American designer, who was formerly a sculptor and performance artist has shot to success with her unusual jewels under the WWake brand that resonate with a new generation of fine jewellery fans including Rihanna, Zoe Kravitz and Emma Watson.