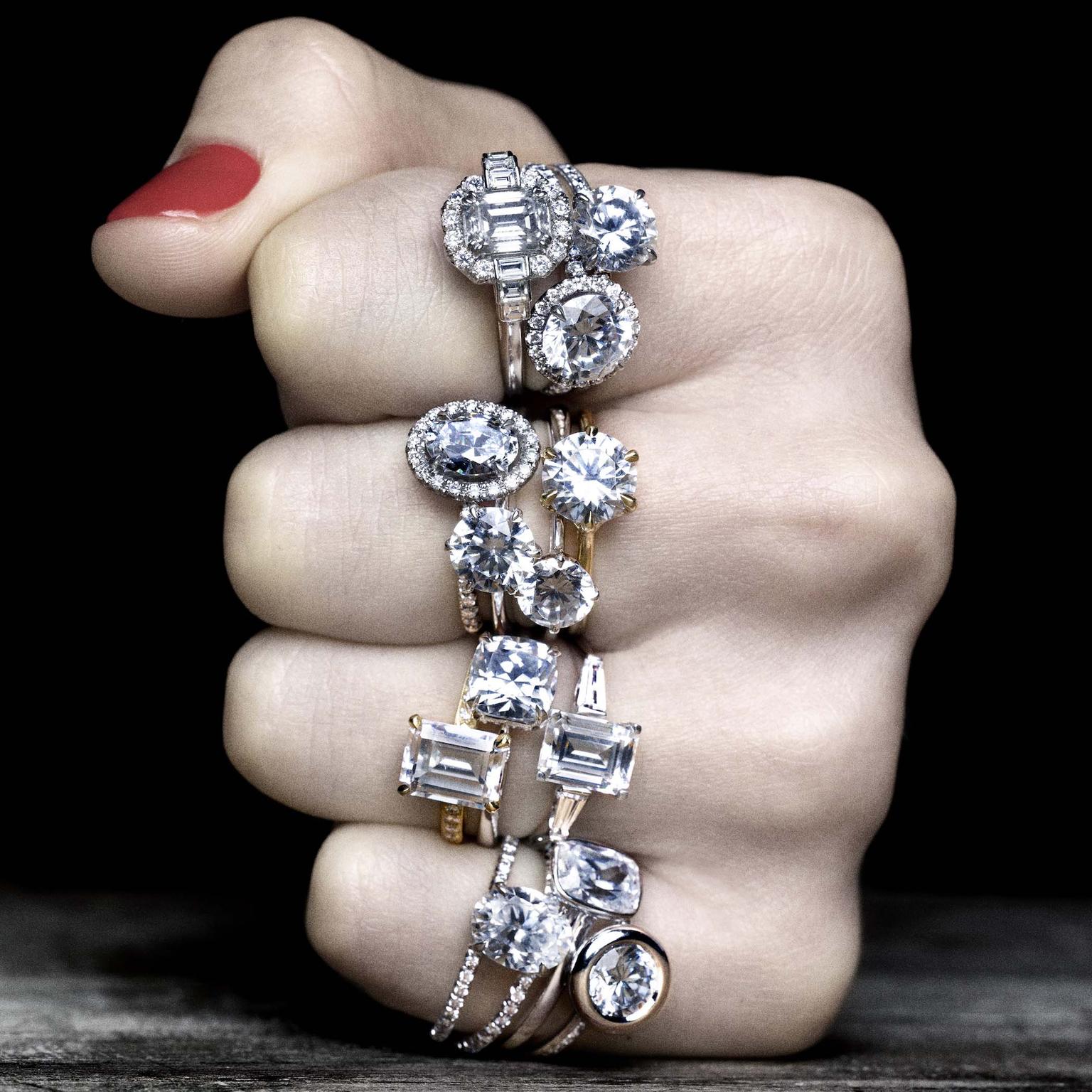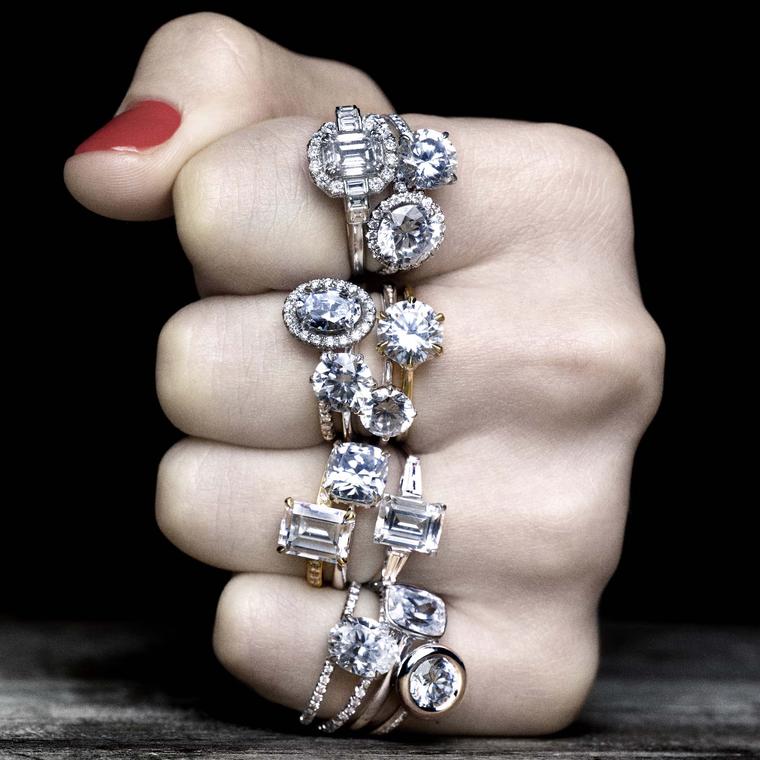 Walking the red carpet during this year's Cannes Film Festival in a bespoke haute couture gown crafted by Chanel, Penélope Cruz (below) was the vision of a seasoned starlet. The dress was significant, hailing from the late Karl Largerfeld's final collection for the Parisian house. So too were her earrings, as the diamonds glinting back against the flashbulbs were not mined but grown in a laboratory. The earrings were from Penelope Cruz's collaboration with Atelier Swarovski.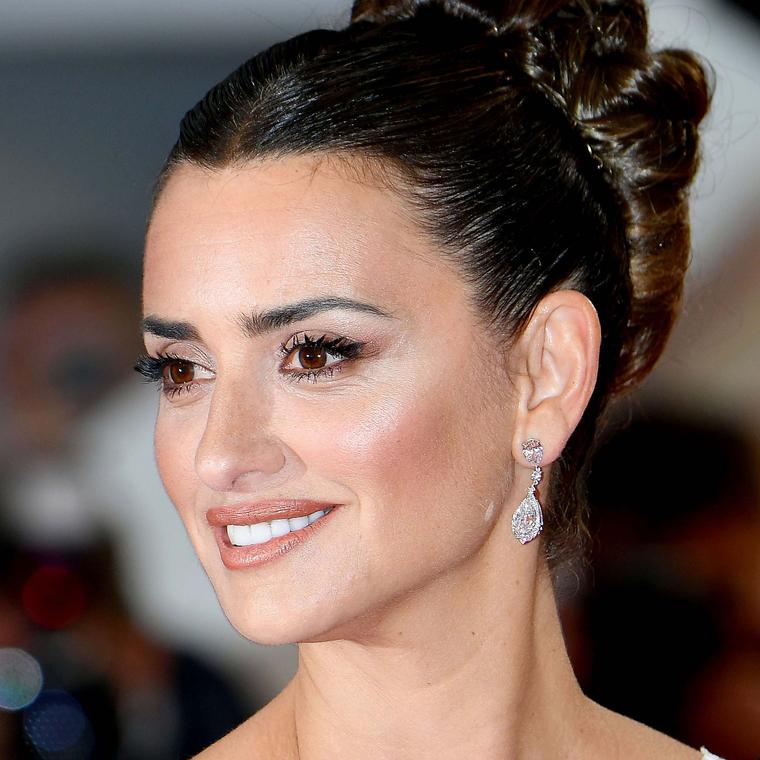 How are laboratory-grown or 'cultured' diamonds created?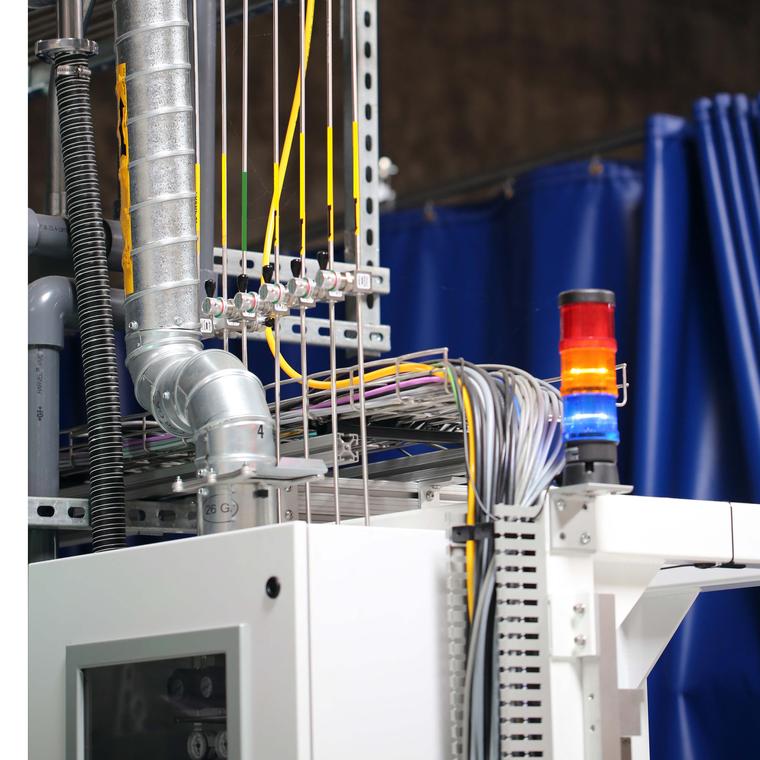 Laboratory-grown diamonds are crafted by exposing carbon to a simulation of the exact geological conditions it needed millions of years ago to turn to diamond beneath the earth's surface. Lab-grown diamonds are not synthetics but a scientifically summoned version of the real thing. Grown in pristine conditions over a matter of months, depending on the required size, diamond factories are popping up all over the world, from China to California's Silicon Valley (left). Gemmologically and aesthetically identical to their organic counterparts, it takes special laboratory equipment to be able to tell them apart from mined diamonds – the naked eye, no matter how trained, is not enough. 
Who is using lab-grown diamonds?
These new contenders have become a flash point in the jewellery industry as more jewellers such as Stephen Webster's collaboration with Atelier Swarovski (above),  Alessa Jewelry and Anabela Chan start to embrace the tech-assisted stones. A pivotal moment for the lab-grown movement occurred in January when The Duchess of Sussex was pictured wearing a pair of Felicity earrings by lab-grown diamond brand Kimaï – a style that instantly sold out, according to the brand's founders Sidney Neuhaus and Jessica Warch. Both are the daughters of traditional Antwerp diamond dealers, turned off by an insider's view of the business and driven to create fine jewels their Millennial contemporaries could afford. Today lab-grown diamonds represent less than 4% of the diamond market's share but experts predict that this is set to grow.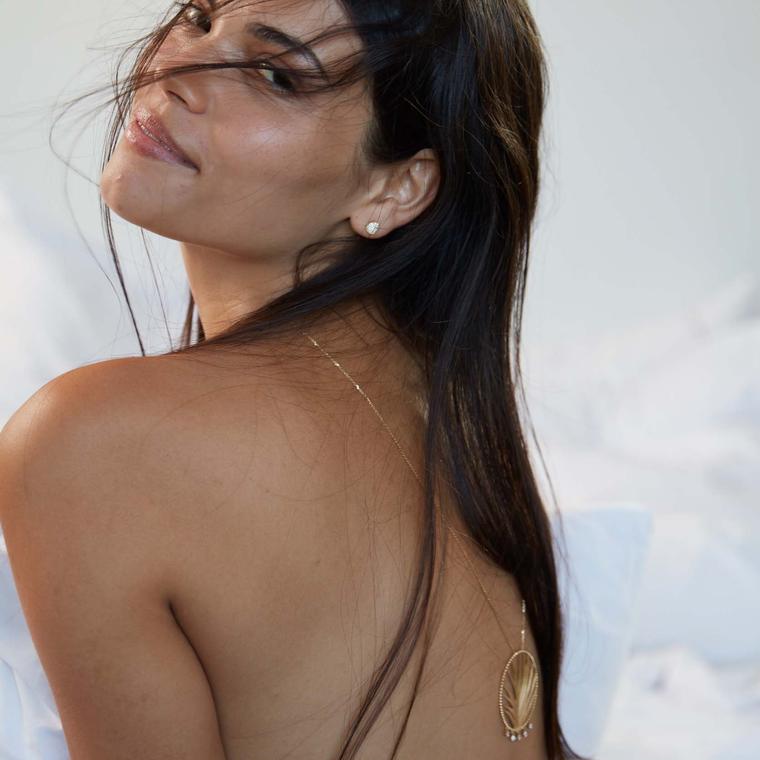 What are the benefits of lab-grown diamonds?
As well as significant savings that allow you to reduce your budget or supersize your diamond, part of the allure of lab-grown is a supply chain that promises no human rights violations and less environmental damage. Though a recent report – funded by a collective of diamond miners – has suggested that the high temperatures required to create lab-grown diamonds cause a larger carbon footprint than mined diamonds, prompting the US Federal Trade Commission to send letters to eight companies warning them off describing the gems as eco-friendly.
The earrings that Cruz wore on the French Riviera are part of a collection she designed with Atelier Swarovski, and they showcased the Austrian brand's largest lab-grown diamonds to date, pear shapes of more than 3 carats each. All of Atelier Swarovski's fine jewels are made in Fairtrade or recycled gold and set with stones from its own Swarovski Created label of lab-grown gems; a decision driven by demand for sustainable jewellery, according to Nadja Swarovski.
"Jewellery customers today are looking for brands that match their own values and offer them responsible choices," says Swarovski, who was this year honoured with the Fashion Institute of Technology Social Impact and Sustainability Award. "They are looking at ways to reduce their impact on the environment, and they are increasingly looking at every single step of the supply chain. Created diamonds are part of this wider movement for more considered, conscious consumers."
"Cultured diamonds are about giving people a choice to invest in sustainable luxury accessories," says Laura Chavez, founder of Lark & Berry (above). The brand recently dressed Oscar winner Regina King in lab-grown diamond jewels at this year's Met Gala and sells lab-grown diamonds of up to 7 carats. "Cultured diamonds are far easier on the environment – and, yes, easier on the pocketbook. [Our customers] love that they're getting a better diamond at a fairer price point."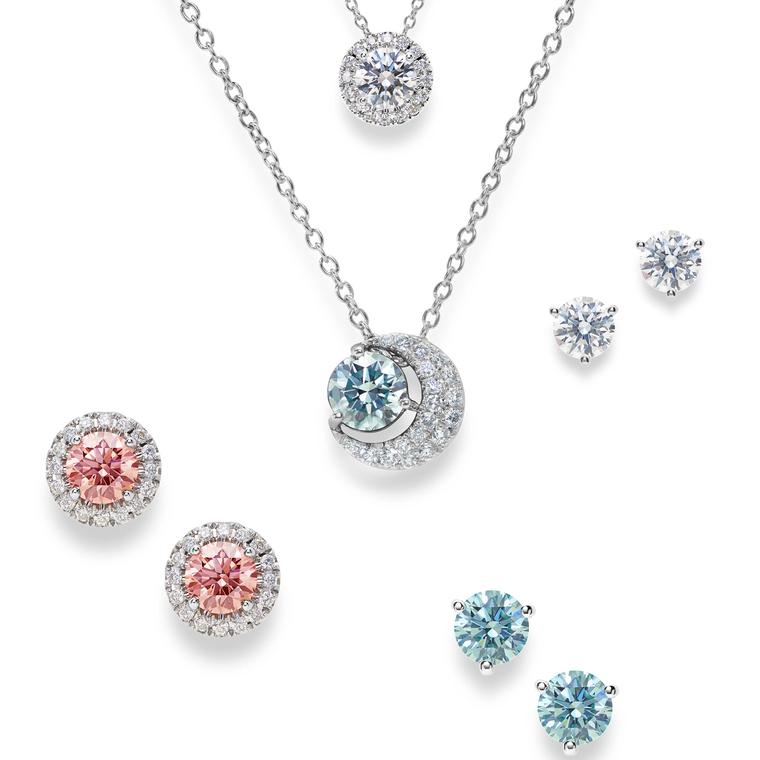 Can colour diamonds be grown in a lab?
Lab-grown diamonds come in all the shapes, sizes and colours (above) of their mined predecessors, each with their own unpredictable inclusions and quirks. As such, the lab-grown diamonds can be graded by laboratories like the Gemological Institute of America (GIA) and priced accordingly. The certificates issued by the GIA for lab-grown diamonds give all the information on the Four Cs, as well as polish, symmetry and fluorescence, though go into less detail on colour and clarity than mined diamond reports.
How are lab-grown diamonds differentiated from natural diamonds?
To clearly mark the stones out from natural gems, the gemmological laboratories' report list the diamonds identification as 'Laboratory Grown' and the report number is laser inscribed – invisible to the naked eye – onto the lab-grown diamond's girdle to ensure future transparency.
What's the price difference between lab-grown and natural diamonds?
While the difference in prices of mined versus grown diamonds differ from stone to stone, the average saving to be made on a comparable white diamond is about 30%. Though Alan Frampton of Chichester and London jeweller Cred, which within two years of introducing lab-grown diamonds to its stores now relies on them for 70% of its sales, says this can increase to a 70% discount once you get above a carat.
How big can laboratory-grown diamonds be?
As technology continues to improve, so will the sizes of gem-quality stones, which have already hit upwards of 16 carats. Where the biggest prices differences are seen in the coloured diamond sector. Due to the rarity and higher prices of natural coloured diamonds, lab-grown offer significantly higher discounts.
Does De Beers have lab-grown diamonds?
De Beers has been growing diamonds for industrial use for over 40 year but only more recently of gem-quality. Since then, De Beers has jumped on the bandwagon, launching its own brand of lab-grown diamond jewels, Lightbox (above), last year. With a flat pricing structure of $800 a carat – meaning the stones are ungraded – and capping sizes at 1 carat, Lightbox is pitching to the fashion and gifting markets. While some view it as a heritage miner keeping up with the times, others see it as a shrewd move to devalue lab-grown stones.    
Will Millennials want lab-grown diamond engagement rings?
"Lab-grown diamonds are the same atomic material as mined diamonds, so it is hard to see why [De Beers] are saying one diamond isn't meant to last forever and the other is," says Martin Roscheisen, chief executive of Diamond Foundry, a prolific Silicon Valley producer that has won investment from actor Leonardo DiCaprio. "It is definitely a different market from ours, as our pieces are not meant to be temporary." Diamond Foundry is focused on bigger lab-grown diamonds (below) and the bridal market, with cuts over 6 carats. Though last year, it grew an enormous block to facilitate the cutting of a ring made entirely from diamond; a design dreamed up by Apple's creative duo Sir Jonny Ive and Marc Newson and auctioned off for charity (RED), raising $256,250 at Sotheby's in December.
Research by MVI Luxury Consumer Research in 2018 reports that 70% of Millennials would consider a lab-grown diamond as an engagement ring, a 13% increase since previous research in 2017, suggesting that the Diamond Foundry has positioned itself in a growth segment.  
Can lab-grown diamonds hold their value?
Roscheisen believes that lab-grown diamonds are now "officially mainstream", but for those buying into the exquisite exactness of these carbon copies, the biggest question that remains is will a lab-grown diamond hold its value? Traditional tech patterns suggest not: as technology improves and production increases, prices generally drop. Conversely, as diamond mines dry up, prices will increase for natural gems salvaged from beneath the earth.
The counter argument to this is pearls. While incredibly rare natural pearls can now sell for millions, their cultured counterparts still command exorbitant prices. What is clear is that smaller, lower quality natural diamonds are finding it hard to compete  with their lab-grown counterparts and prices for these natural stones has fallen. 
Industry pundits predict that the diamond jewellery market will become stratified. At one end the traditional jewellers will continue to use larger top quality  and coloured natural diamonds while the bottom will fall out of the lower end of the market that has to compete with small lab-grown diamonds. We are already seeing how the big name jewellers are setting themselves apart with an emphasis on unusual colour gemstones in high jewellery collections as well as the promoting the art of the jeweller as opposed to just the intrinsic value of the diamonds and other gemstones. 
For all the chatter about lab-grown diamonds – be it praising them on the red carpet or belittling them as fashionable fakes – at this stage, nobody really knows and the potential for consumer confusion is ripe. The bottom line is that the choice between mined and man-made diamonds is very much a matter of taste. The investment value of a diamond now remains a roll of the dice.  
Additional research by Maria Doulton
Anabela Chan proves that laboratory-grown can be creative with pieces such as this Blossom Coral Ring in gold vermeil, with  pink bamboo coral cabochons and 273 laboratory-grown and created champagne and white diamonds. Retail £1,390.00

The Diamond Foundry in San Francisco grows diamonds in its facility that can be cut and polished into different shapes and sizes. Leonardo di Caprio, star of the Blood Diamonds film, has invested in this new carbon neutral company.   

Focussing on white, pink and blue diamonds, De Beers Lightbox has a flat pricing structure of $800 a carat and caps sizes at 1 carat. While some view it as a heritage miner keeping up with the times, others see it as a shrewd move to cheapen lab-grown stones.

The Spanish actress Penélope Cruz is one of the names that Atelier Swarovski has collaborated with in creating both laboratory-grown diamond and colour gemstone jewels. These diamonds are 3 carats each and the largest to yet be seen on the red carpet at the Cannes Film Festival 2019.

De Beers took the dramatic move of launching a brand of jewellery using laboratory-grown diamonds set it silver and gold-plated silver to appeal to a younger audience and clearly differentiate them from their mined diamonds. 

Kimaï's Leaf necklace is made of gold and lab grown diamonds by this Antwerp-based company that looks to bring quality and design to this new sector of jewellery without harming the planet. £1,055

Solar technology powers The Diamond Foundry's plasma reactors in San Francisco where diamonds are grown that the company says are 'morally pure'.

A wide range of options set California's Diamond Foundry on the path to convincing lovers that laboratory-grown diamonds can indeed be used in engagement rings instead of the traditional mined versions.