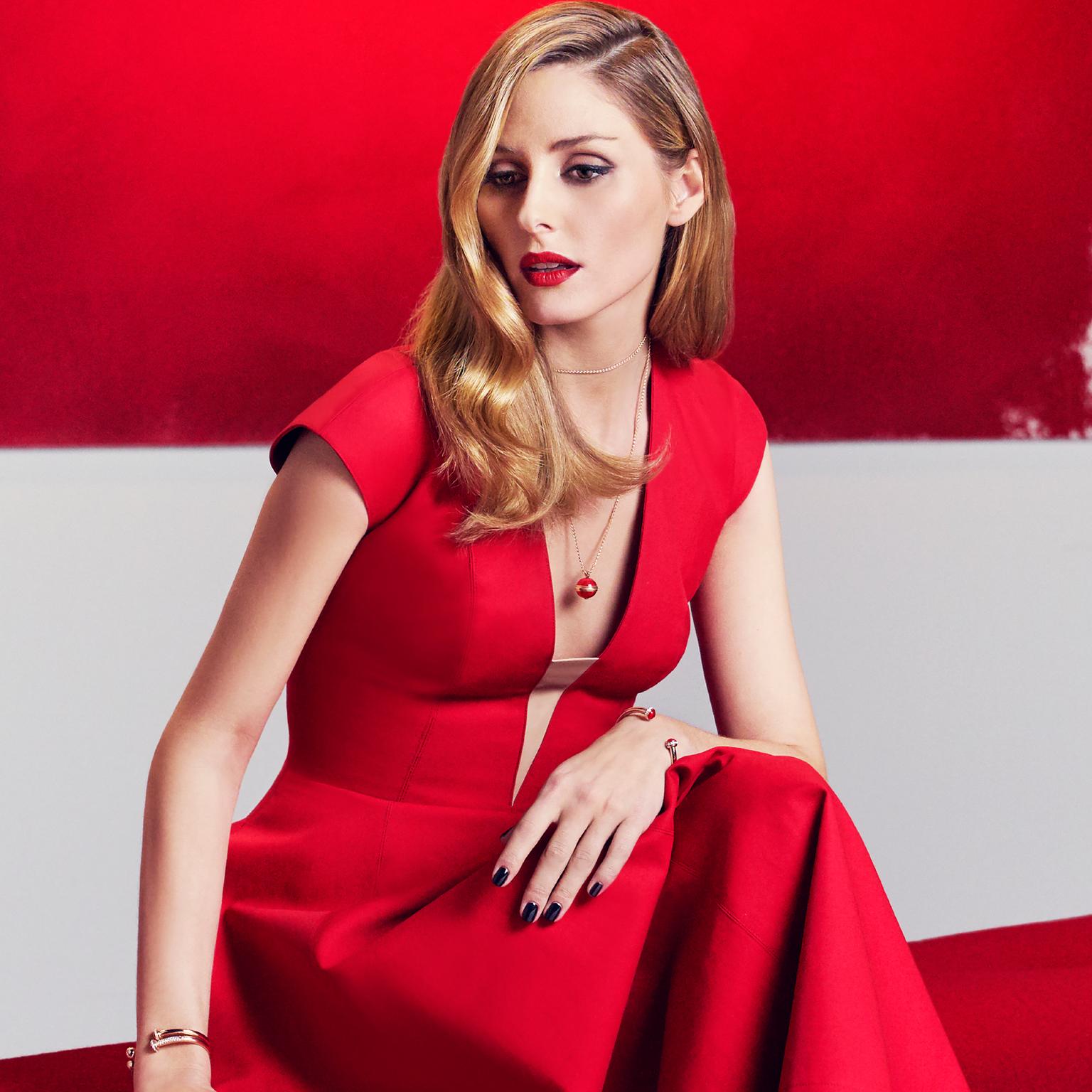 As much as we all love sapphires, diamonds and emeralds, sometimes a well-placed malachite or turquoise will create an effect just as desirable for a fraction of the price. With designers looking for new effects as prices for the traditional gems sky rocket, the most innovative are turning to opaque materials with some very appealing results. What's more, the subtle allure of these less-flashy stones chimes with a sophisticated younger audience. Trend-setter Cara Delevingne often favours black onyx over diamonds, a clear indication of what is likely to be on a Millennial's jewellery wish list.
The beauty of hard stones is not just skin deep. Because of their opacity, they tend to be cut in cabochons or bead shapes rather than faceted, allowing jewellers to expose interesting bands of colours as well as playing with volumes and the natural textures of the stones.
But why had we forgotten these gracious gifts of Nature? Tainted with references from the psychedelic Sixties, the era that brought us hot pants and man medallions, hard stones were relegated to costume jewellery or tourist-tat status. But once again, jewellers are being drawn to the patterns and rich, earthy colours that occur naturally in hard stones such as malachite, turquoise, carnelian, lapis lazuli and tiger's eye.
Cartier Paris Nouvelle Vague Mischievous ring in yellow gold, set with lapis lazuli, chrysoprase and diamonds, launched in 2013. 
I first started to see these opaque gems edge back into the jeweller's palette some five years ago when the top Maisons began experimenting with them in high jewellery creations. In 2013, Van Cleef & Arpels' Pierres de Caractere collection paid homage to lapis lazuli in a ring that held its head high alongside emeralds and diamonds. Later that year, Cartier's Paris Nouvelle Vague bubbled with lapis lazuli and chrysoprase cabochons, once and for all shaking off any hippy vibes.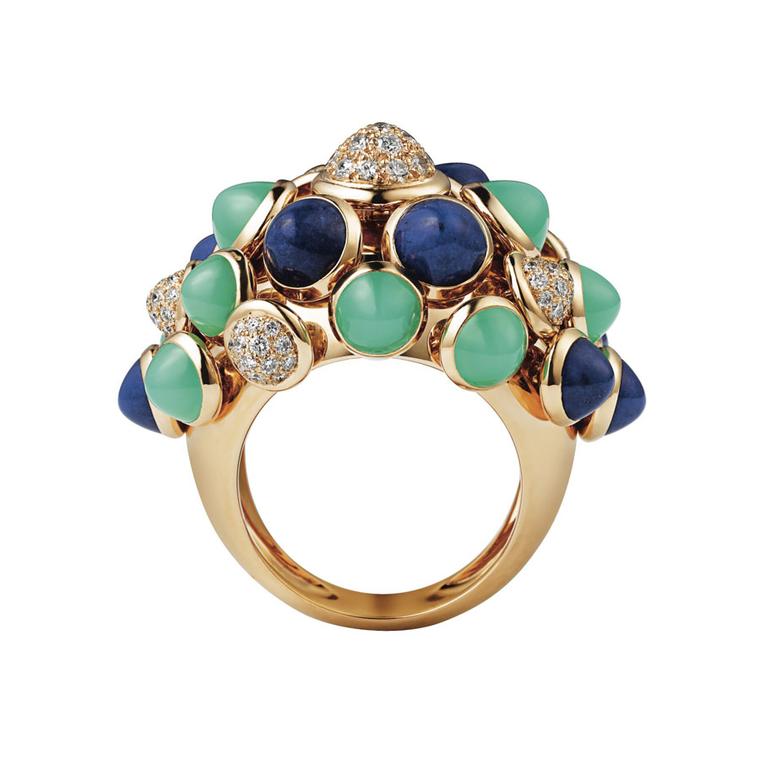 The stand-out confirmation of this trend was Chaumet's Lumiere d'Eau necklace from 2014 with its cascades of top-quality midnight-blue lapis lazuli beads, which boasted a beauty on a par with sapphires.
Since then, top-quality hardstones have been making their way into a wide range of jewellery and, most recently, into some very cute everyday jewels designed to appeal to a younger audience.
Van Cleef & Arpels' Alhambra jewels are one of the most ubiquitous ambassadors for the beauty of hard stones and its malachite and tiger's eye sautoirs are some of the most iconic everyday jewels of our times.
Used in diminutive proportions and selected for their richness of colour, Louis Vuitton's new Color Blossom BB jewels pop with the rich colours of plump Monogram flowers carved out of malachite, lapis lazuli and turquoise.
Bulgari's brand-new Serpenti Viper rings, baby sisters of the original Serpenti jewels, use rich red carnelian and inky-black onyx to enhance their graphic lines with the glow of the smooth hard stones contrasting with the brilliance of diamonds.
Piaget proudly announces that its Possession collection now "welcomes ornamental stones", another word for hard stones that extends to include mother-of-pearl. The result is a range of petite jewels punctuated by rich bursts of colour. The tactile nature of smooth carved stones adds to the allure of these very desirable charm-like jewels.
Boucheron replaces a pavé of diamonds with rich blue lapis lazuli and onyx in its snake-form Serpent Bohème jewels. Chez Dior, a whole galaxy of hard stones beam out from the popular and well-priced Rose des Vents charms.
Victoire de Castellane, Dior's fabulously kooky Creative Director of jewellery, places gold stars over the stone for a layered architecture reminiscent of old-school compasses, while over in Geneva, Chopard's new Happy Hearts jewels make a feature of the natural striations or bands of colour found in malachite and tiger's eye with arresting results.
Chaumet literally plays with colour with the Jeux des Liens range launched last year, which takes the famous X motif of the Maison and adds flashes of turquoise, lapis lazuli and mother-of-pearl. The effect is très mignonne without losing an inch of the elegance.