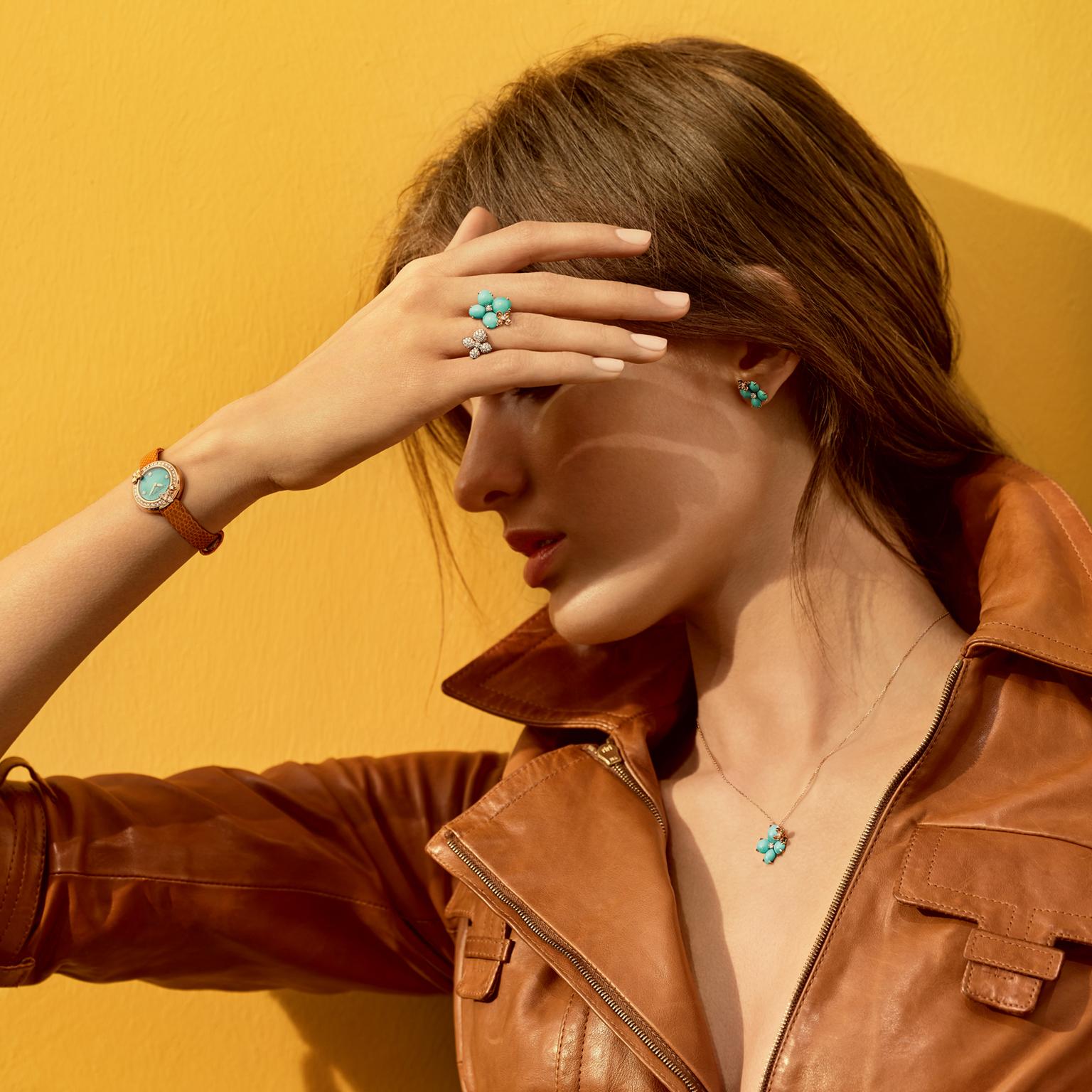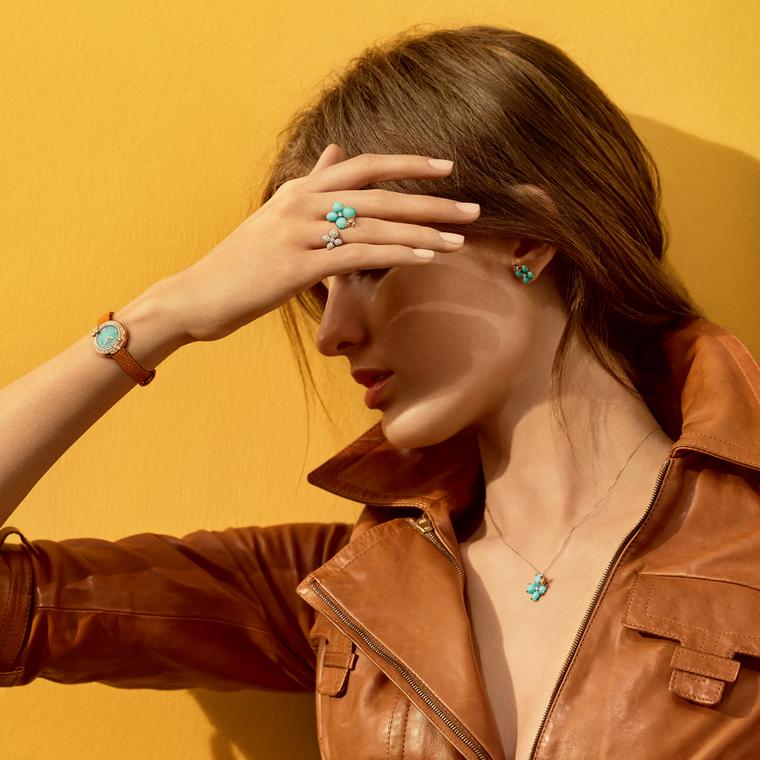 Chaumet's kaleidoscopic new summer jewels and watches are inspired by the near-mythical halcyon days of poolside bliss as brought to us by Hollywood of yesteryear. Launching for summer 2017, Chaumet presents three new pop-art-bright families that will sit pretty on bronzed skin.
The famous Liens jewels, first seen at this Parisian Maison in 1907, express love in the simplest of forms. This romantic X motif has evolved over the years and its most recent incarnation is the Jeux de Liens, or game of liens.
Chamuet brings a kaleidoscopic of colour to its latest collection of summer jewels, the perfect accessory sun-bronzed skin.

Chaumet's colourful new Jeux de Liens bracelets are perfect for summer stacking. 

Chaumet's very feminine floral Hortensia collection is enhanced with the addition of a long sautoir-style necklace in rose gold and diamonds.

Poolside chic with Chaumet's new Hortensia Astre d'or jewels in brushed rose gold and diamonds.

For a fresh summer look, Chaumet's Hortensia jewels are available in turquoise with a matching mini jewellery watch. 
The clean lines of the jewels are playful, young and coquettish, enriched with new colour combinations ideal for mixing and matching. The simple Art Deco spirit of the X motif is enhanced with plump, carved natural gemstones in swimming-pool-blue turquoise and darker lapis lazuli, pretty pink opal, cool mother-of-pearl and zesty green chrysoprase. 
The two-strand bracelets and necklaces are so delicate that they sit lightly on the skin with a range of colourful options to create your own summer stack. My favourite new arrival is the blush-pink opal pendant, above, set in skin-flattering rose gold with the shimmer of a single diamond. The look is relaxed yet always chic.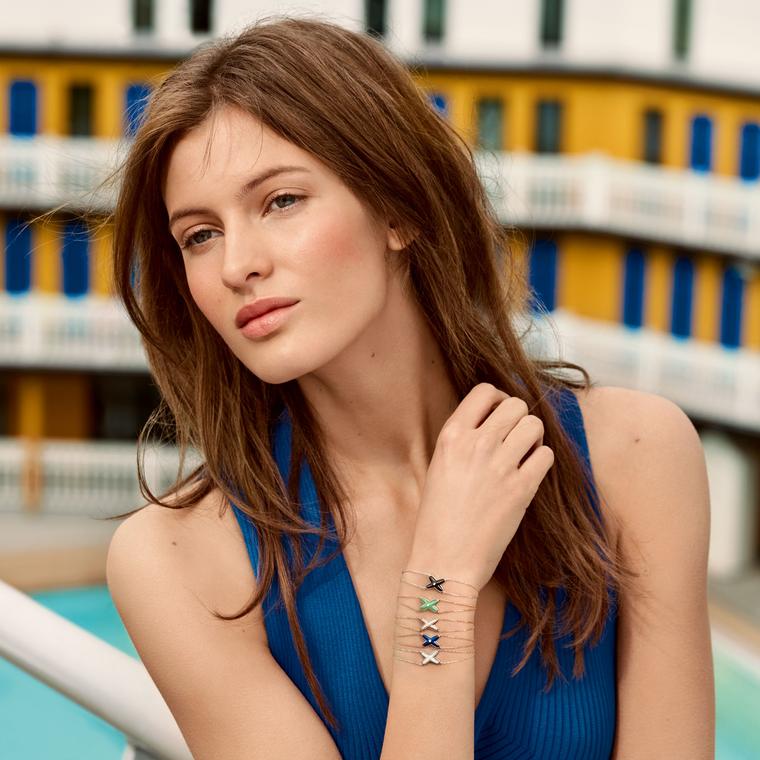 The Hortensia flower is a constant in Chaumet's garden thanks to the Maison's early commissions from its generous patron Empress Josephine. Fresh and delicate, the season's new Hortensia jewels offer a cool respite from the summer sun with rose gold, diamond, turquoise, malachite and lapis lazuli flowers. This very feminine floral design is enhanced with the addition of a long sautoir-style necklace, pendant, earrings, ring and bracelet in brushed rose gold with a pavé of diamonds.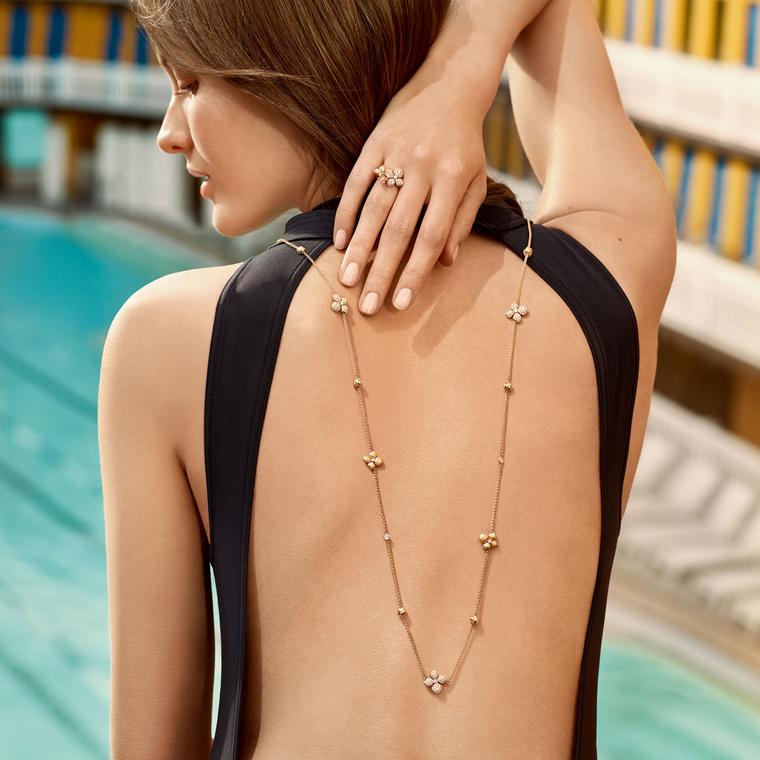 And if you think that cocktail watches only come out at night then the Hortensia Eden will prove you wrong. Bursting with bright colours and a dazzling array of straps to match or contrast, these mini jewellery watches in rose gold bring the colours of a summer garden to the wrist.
Dials made from slices of deep-green malachite, cool blue turquoise, midnight-blue lapis lazuli, creamy mother-of-pearl and tender pink opal can be teamed up with powder-pink, fuchsia, green, orange or blue straps in either lizard skin or satin. Three hortensia flowers are placed around the diamond-set bezel for an enchantingly feminine final touch. 
With relaxed, sun-drenched days ahead, Chaumet's colourful new jewels and watches will add a pretty, punchy final touch to your summer look that will last long after your tan has faded.