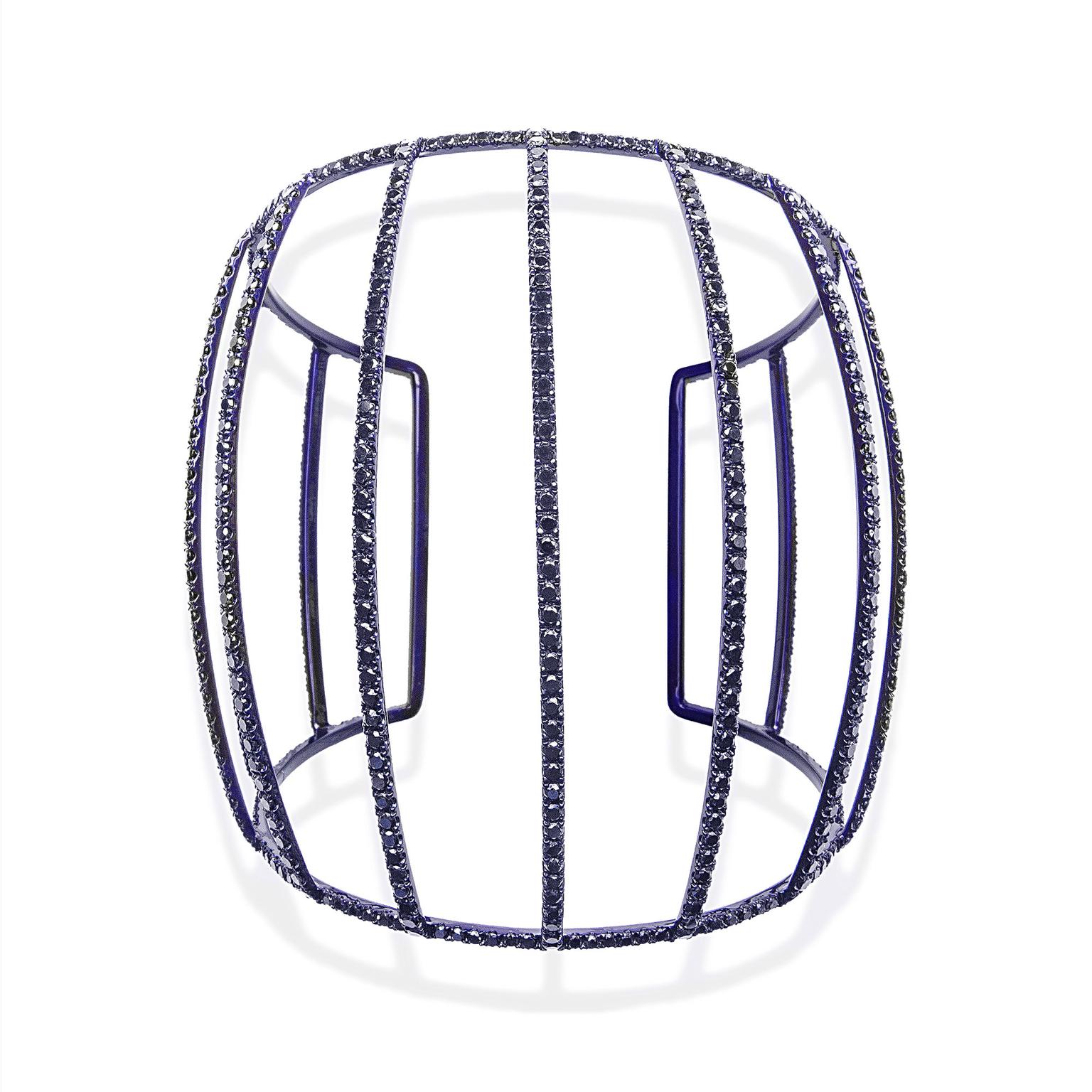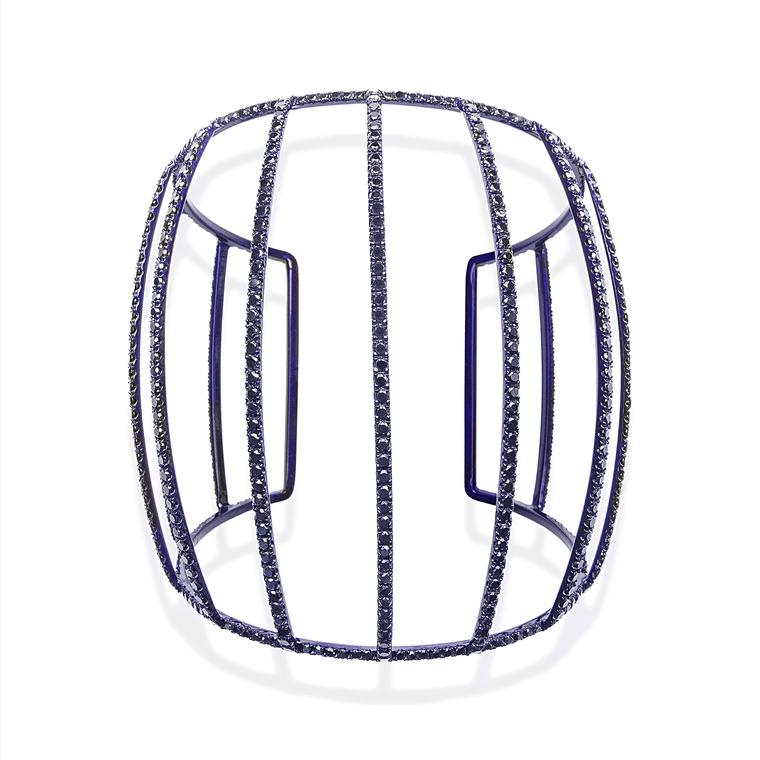 The rigid rules and parameters of geometry may seem at odds with the free-flowing creativity we tend to associate with fine jewellery, but geometric shapes with their hard angles and edges have long been a source of inspiration for jewellery designers - especially those whose work veers towards the clean, minimalistic end of the spectrum.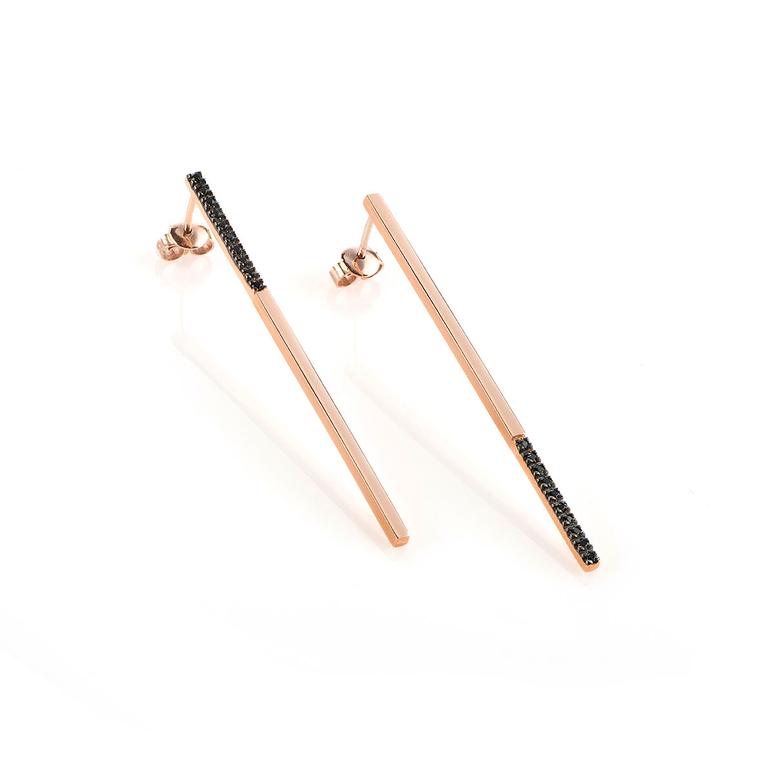 A new collection of Myriam Soseilos jewellery, Skyline, was inspired by the geometric architectural lines of a cityscape dominated by imposing skyscrapers. The skylines of major cities such as London, Hong Kong, New York and Paris are brought to life in jewels crafted from rose gold and set with diamonds or coloured gemstones. From the pyramid shape of the glass-fronted Shard to the curved roof of the Olympic Velodrome, the strong yet playful pieces pay tribute to some of our most iconic contemporary landmarks.
Read more on MyriamSOS jewellery
With a name that means "ice" in Greek, the new Krystallos range of Noor Fares jewellery is inspired by the ancient belief that crystals were eternal ice. The geometric points and lines in this collection from the Lebanese jewellery designer are softened with iridescent gemstones in frosty pastels such as amethyst, smoky quartz, rock crystal and lapis lazuli.
See more Noor Fares jewellery designs
A classic Saudi Arabian geometric pattern is reflected in the Banajir collection of bangles by Paris-based jewellery brand Nuun, founded in 2014 by Nourah Alfaisal. Available in pink, yellow, white or black gold, with or without diamond pavé, the bracelets are sold in pairs, with jagged edges that fit seamlessly together to give the impression of being one jewel.
Named one of JCK's Rising Stars in 2015, Ralph Masri worked for Pomellato before setting up his own fine jewellery brand in Beirut. His latest collection, entitled Sacred Windows, is a colourful and modern take on the windows and stained glass artwork often found in cathedrals and churches.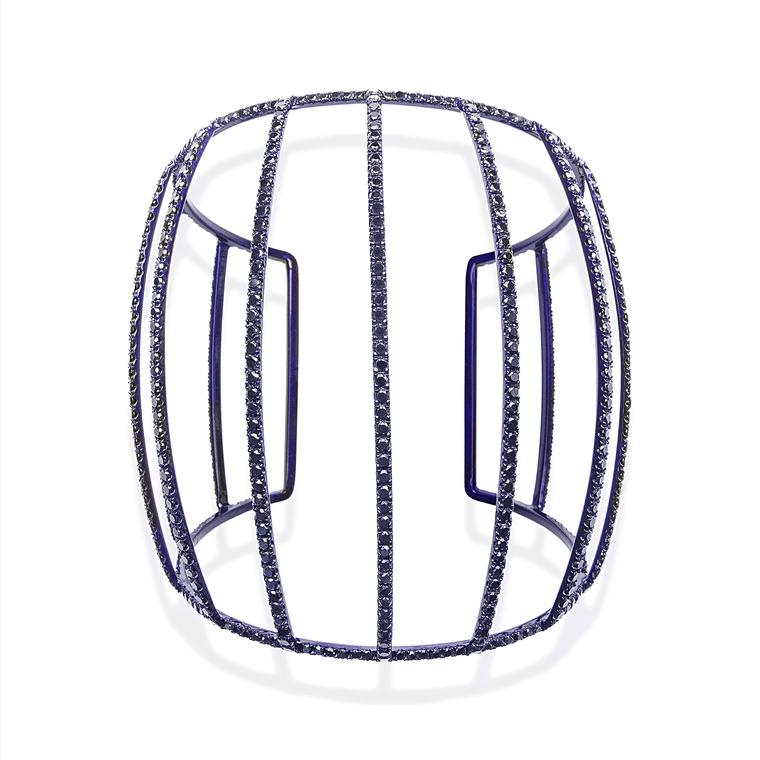 Pared-down silhouettes are imbued with a refined elegance in the sculptural pieces created by Charlotte Dauphin de la Rochefoucauld for her Maison Dauphin jewellery brand, launched in 2014. Architecturally clean lines and voluminous shapes add a sense of lightness to cage-like necklaces and cuff bracelets with diamond-studded lattice patterns.
Another newcomer on the jewellery scene is Paris-based Nouvel Heritage, which creates one-of-a-kind jewellery with a distinct nod to the past. Cascades of triangular-shaped coloured gemstones bring to mind the fringing associated with the Roaring Twenties, while other pieces recall the curves and textures of ancient Celtic jewellery.
One of the most ancient geometrical shapes, the Egyptian pyramids, were often incorporated into late 19th century jewellery, which in turn has influenced Swiss jewellery designer Nana Fink's Adorée collection. Pyramids in red or white gold dangle from earrings or adorn the smooth curves of chunky bangles that were also inspired by the clean lines of 1930s industrial design.
From razor-sharp angles to smooth circles and elegant sweeping lines, these jewellery designers are giving geometry a cutting-edge cool that my maths teachers never managed.
Find out what other jewellery trends you'll be coveting in 2016
These earrings in rose gold with black diamonds from the new Skyline collection by MyriamSOS are inspired by the world's longest building - the Klystron Gallery at Stanford University.

Noor Fares pendant necklace in yellow gold with an inverted amethyst pyramid, from the new Krystallos collection.

Noor Fares earrings from the Krystallos jewellery collection in gold with quartz spheres.  

These Banajir bangles by Nuun, seen here in diamond-set white and black gold, are made to order and come as a pair that fit seamlessly together.

Ralph Masri earrings from the Sacred Windows collection in gold, set with grey diamonds and pink sapphires.  

Maison Dauphin pink gold necklace set with white diamonds.  

Earrings by Nouvel Heritage in pink gold with blue opals, white diamonds, red spinel and rhodolite.

Art Deco-inspired cuff bracelet by Swiss jewellery designer Nana Fink in silver, embellished with hand-mounted red gold pyramids.

Cuff bracelet by Maison Dauphin in black rhodium-plated white gold set with white diamonds.