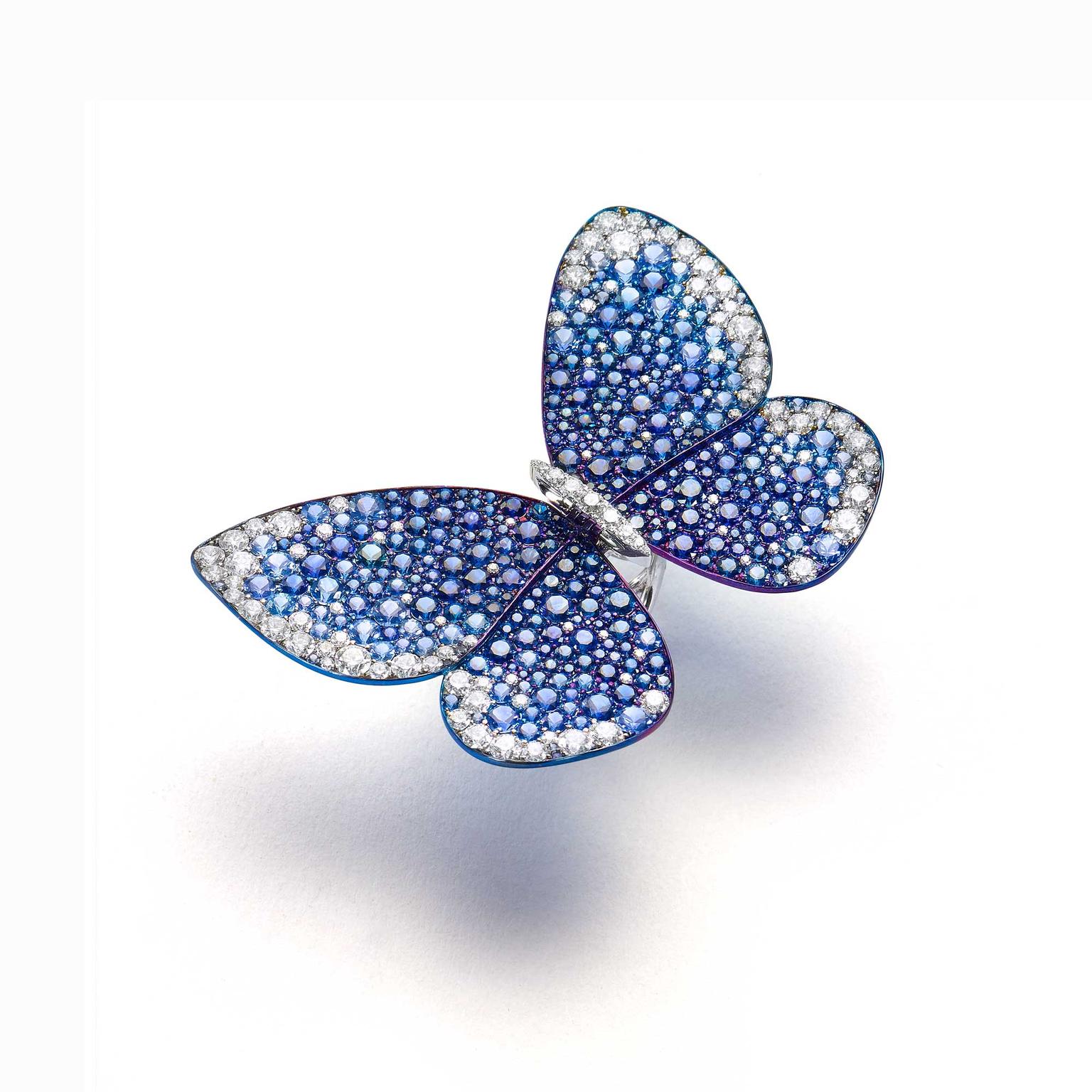 By Åse Anderson
The delicate beauty of iridescent wings fluttering their way across butterfly rings, necklaces or earrings is a sight we will never tire of. A popular motif in jewellery design for many centuries, butterflies have lent a whimsical and delicate touch to fine jewellery this year.
View more whimsical butterfly jewellery here
In the Victorian era, butterflies, along with other insects such as beetles and wasps, often featured on ornate pieces crafted from gold and coloured gemstones. Art Nouveau jewellers were inspired by the butterflies in Japanese art and used the very finest enamel to recreate the insect's shimmering translucent wings. Today, jewellery designers across the globe continue to be fascinated by the butterfly's intricate construction and, perhaps also, by its status as a symbol of rebirth and transformation.
The limited-edition Butterflies collection from the Annoushka/24 jewellery range features the warm tones of yellow gold and brown diamonds. "In this collection I am trying to capture the fleeting moment when a butterfly settles," explains British jewellery designer Annoushka Ducas. Produced in limited quantities of just 24 pieces, the cascade of exquisitely crafted butterflies do indeed look as if they have been caught in the midst of a carefree, fluttering moment.
See more from British jewellery designer Annoushka here
Hong Kong-based Dickson Yewn has used wood and coloured gemstones to create the lifelike butterfly brooches in the new Dream and Reality high jewellery collection. Found in India and Southeast Asia, the striped blue crow has a dark brown body glossed with a distinctive bright blue and vibrant white, which Dickson Yewn has recreated with the help of diamonds and sapphires. The tropical Esmeralda butterfly, with its transparent wings covered in a faint dusting of scales, is also brought to life through precious stones such as rose-cut diamonds and pink sapphires.
The beautiful and innovative butterfly rings from the new Glenn Spiro jewellery collection prolong that ephemeral moment when a butterfly lands on your finger. Crafted from feather-light titanium set with diamonds and coloured gemstones, the rings feature a clever mechanism that allows the butterfly's wings to flutter as the wearer bends her finger. "The butterfly is a classic jewellery motif," says Glenn Spiro, "but we wanted to make it more interesting, so we came up with a way to animate these bejewelled insects at the command of their owners."
See more Glenn Spiro jewellery here
Australian jewellery designer Jordan Askill has put his own abstract spin on the iconic butterfly motif in his first ever Georg Jensen jewellery collection, Askill. Launching next month, the collection of 3D jewellery includes butterfly rings, necklaces and earrings in oxidised silver set with gemstones such as amethyst and blue topaz. There are also a number of limited-edition pieces in black rhodium with black diamonds. Jordan Askill says the collection was inspired by the transient geometrical patterns found in nature. "I was fascinated by the idea of movement, flight and light," he says. "There is something so mathematical in that, that the idea of using design technology to explore this in jewellery was natural to me."
If the thought of having your own precious ruby or sapphire-encrusted pet butterfly takes your fancy, head over to Knightsbridge next month when the Papillon collection launches exclusively at Harrods. 
Glenn Spiro titanium and white gold butterfly ring set with 431 brilliant-cut Burmese rubies and 253 brilliant-cut white diamonds. 

White gold and titanium butterfly ring with diamonds by Glenn Spiro.

Jordan Askill for Georg Jensen amethyst butterfly bangle in oxidised silver

Jordan Askill for Georg Jensen butterfly earrings in black rhodium with black diamonds.

Jordan Askill for Georg Jensen amethyst butterfly necklace in oxidised silver.

Esmeralda butterfly brooch from Dickson Yewn's new Dream and Reality high jewellery collection.

Dickson Yewn Striped Blue Crow male butterfly brooch from the Dream and Reality high jewellery collection.

Glenn Spiro butterfly ring in titanium and white gold set with 332 sapphires and 334 diamonds.